By Jennifer Cox
Smaller weddings make ambitious projects more doable since there are less people to accommodate. One way to really wow your guests is to offer one or more beverage bars. You can set something up for just about any type of drink – coffee and/or tea, sweet treats like floats or milkshakes, juice bars, and even grown-up concoctions including martini bars.
The most important thing to remember when setting up a beverage bar is to include enough different options so that it's fun – but not so many that it's overwhelming. More simple set-ups can be self-serve, like coffee and tea bars. Display drink-appropriate glasses at the head of the table and then spread out ingredients in order.
Coffee urns for differently-flavoured cafes and boiling water with bowls of tea bags should be first as well as fancier coffees, like espresso and lattes. Put out cream(s), sugar(s) (fancy sugar cubes are always fun), fancy liqueurs and even flavoured syrups, and then toppers like freshly-whipped cream and fancy shakers filled with cocoa, cinnamon, and nutmeg. Small bowls of garnishes that include cinnamon sticks and shaved chocolate add a nice touch.
More complicated beverage bars for indulgences like floats and milkshakes are manned better by a professional. Different flavours of soda and ice cream can be dolled out by a hired bartender to alleviate messes and confusion. Also be sure to offer seltzer water, whipped cream, sprinkles, syrups, cherries, and vintage striped bendy straws.
Cocktail bars are a whole other project and something that would also be better handled by an actual bartender. If you're putting out a martini bar, offer up a variety of garnishes like olives, pearl onions, orange and lemon slices, lychees, carved radishes, and even edible flowers. Have your bartender create a signature martini for extra pizazz. Get personalized cocktail napkins too.
Cheers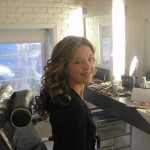 Jennifer Cox is a Montreal based freelance journalist who loves everything from weddings to foodie news, photography & candy!
Save