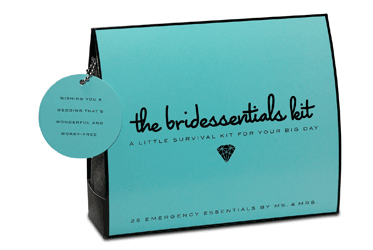 By Jennifer Cox
On the day of your wedding you'll experience a barrage of emotions, not to mention a few unforeseen curve-balls – maybe your stomach is a tad on the queasy side, you have a slight headache, or you didn't find time to eat. Enter the DIY Wedding Day Emergency Kit.
Being the anal gal that I am (and having an equally-anal mom, from whom I learned my tricks!), we tried to cover all of our bases and put together a DIY Wedding Day Emergency Kit for the hotel, where I stayed with my parents the night before the wedding.
We included the following key items:
Medications: Tylenol, cold tablets, Pepto-Bismol, and (blush) anti-diarrhea pills
First-aid items: Band-aids, cotton balls, and Q-tips
Snacks: Granola bars, muffins, fruit like bananas and apples, bottles of water, and mints/gum
Toiletries: Deodorant, oil-blotting sheets, body spray, lotion, tissues, clear nail polish, nail file, etc.
Odds and ends: Safety pins, bobby pins, lint brush, scotch tape, extra pantyhose
I'll admit – I took a few swigs of the Pepto-Bismol bottle the morning of the big day, and before heading out to the salon my bridesmaids and I devoured the bag of muffins my mom picked up. The water and Tylenol were definitely used by a few people who were getting ready with us, and a safety pin saved my train when we couldn't bustle it properly.
Don't let something like a lose strap, a queasy tummy, or unexpected tears cause you one iota of stress – prepare for the unexpected by putting together your own little survival kit. If you can't be bothered with another "to-do," make a list of what you need and call on the help of your mom, mother-in-law, maid-of-honour or bridesmaids to not only assemble your kit but to also be responsible for bringing it on the special day. Pack everything in a fun cosmetic box or canvas bag (maybe even monogrammed with your new initials!).
When you have a just-in-case kit all prepared, you can rest easy knowing every single detail has been taken care of, right down to your own well-being.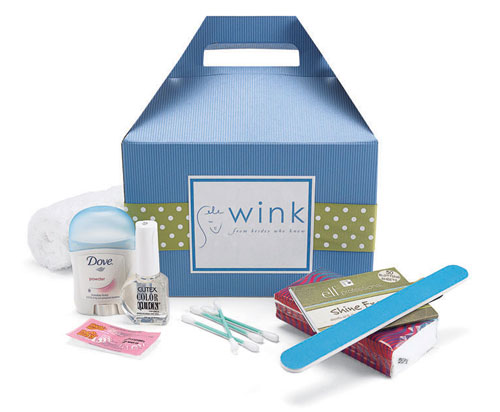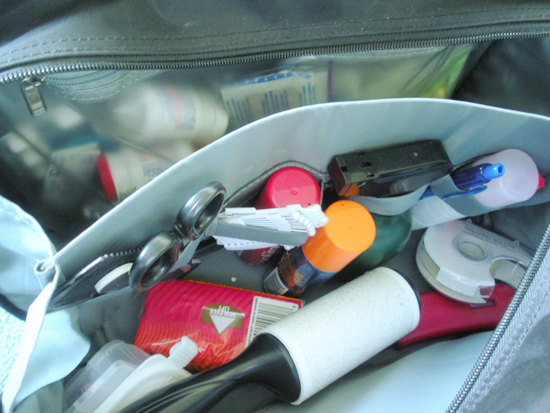 First Photo: Bridessentials; Second Photo: Bridal Guide; Third Photo: Project Wedding; Fourth Photo: Sweet Stylings
Jennifer Cox is a Montreal based freelance journalist who loves everything from weddings to foodie news, photography & candy!