Natalie and Nathaniel wanted a celebration based on love; the love between the two of them and the love they have for their families. And they pulled it off for $11,000.
They chose a small wedding in a very intimate setting: their parents backyard. Their families worked tirelessly on Natalie's DIY projects before the wedding including a beautiful altar, benches and little touches throughout the ceremony and reception.
Photographer Sarah Kathleen did an amazing job capturing this fabulous DIY wedding.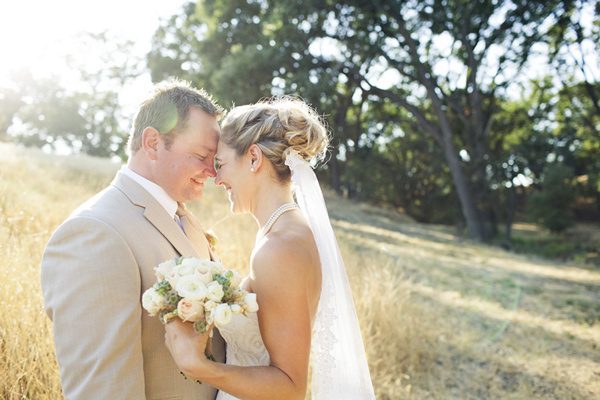 Natalie, 32 & Nathaniel, 36
Paso Robles, California
Wedding Date: August 18, 2012
Number of Guests: 73
Wedding Cost: $11,000
Wedding Ceremony Location: Paso Robles-private residence (bride's parents' home)
Wedding Reception Location: Paso Robles-private residence (bride's parents' home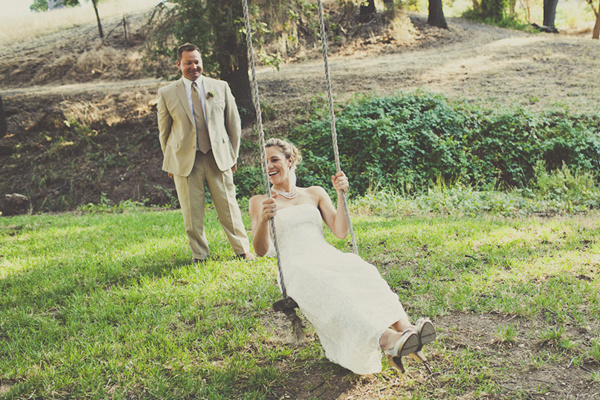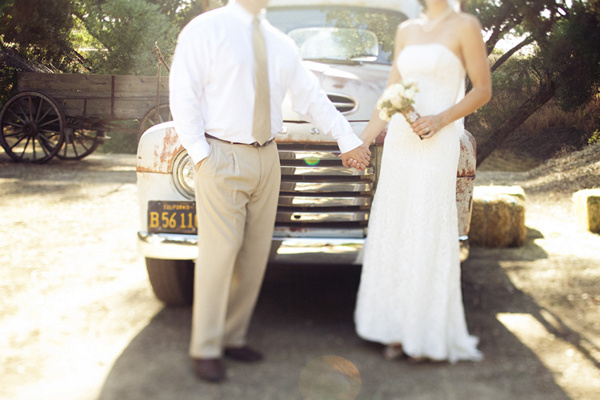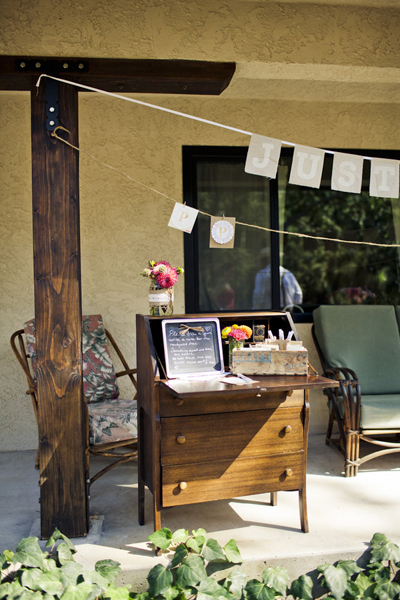 Why did you have an intimate wedding?
Nate and I both always knew we wanted a small wedding.  The day is about us and our love and we really just wanted to share that with those who are truly closest to us!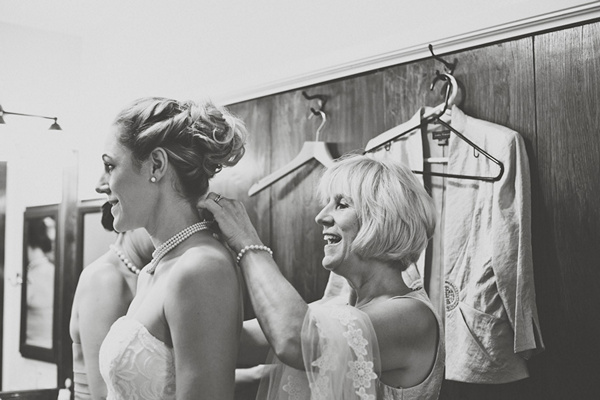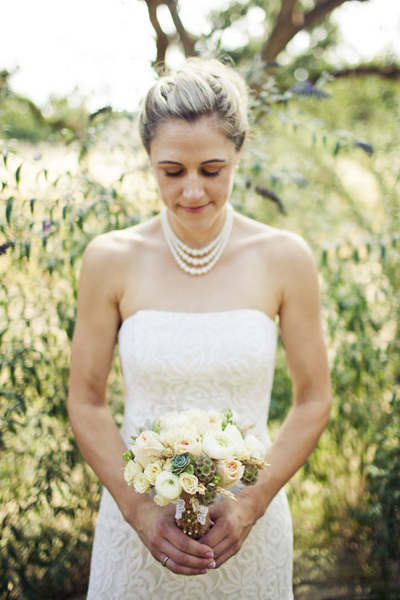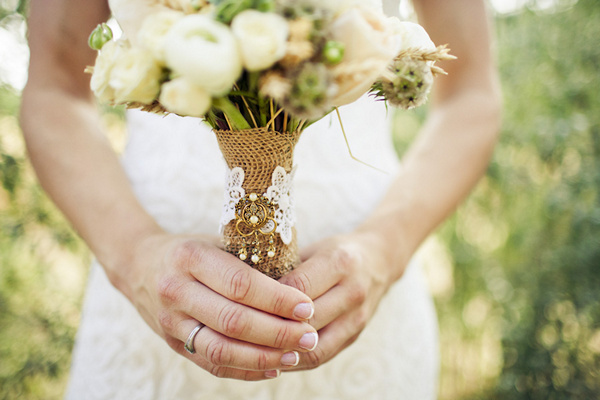 What are some the challenges that you faced planning an intimate wedding? 
The hardest part was the guests list!  We both come from very large extended families with friends from Tennessee, Kentucky and Ohio and it was very hard to know where to draw the line on our guest list.  We knew that we wanted to keep it small, but did not want to hurt anyone's feelings either!  To do that we just had to truly draw the line at our immediate family and closest friends and explain to everyone that it was a very small and simple wedding at my folks home.  We wanted to be able to enjoy our night and our guests and talk to everyone who came without running around trying to see who we did not say hello to all night.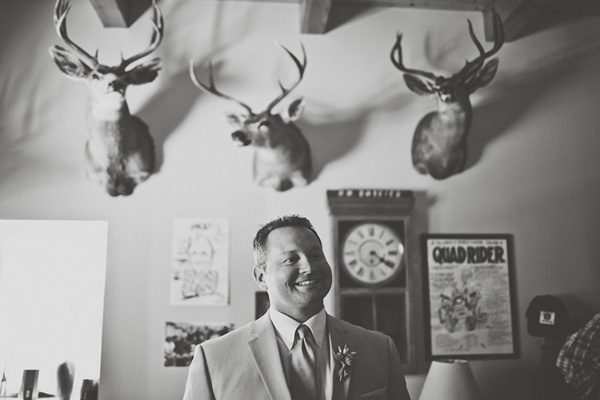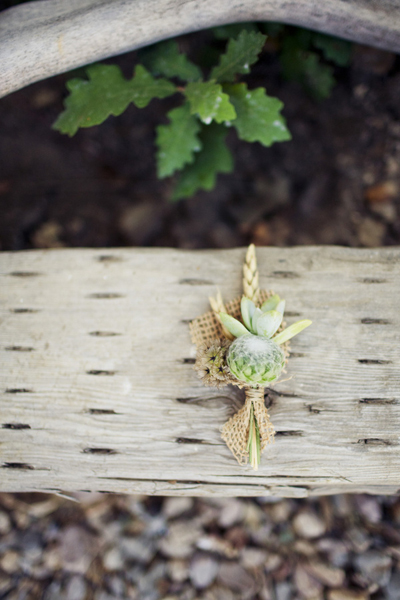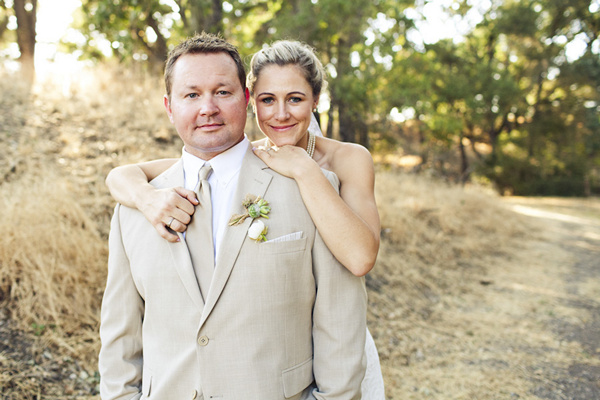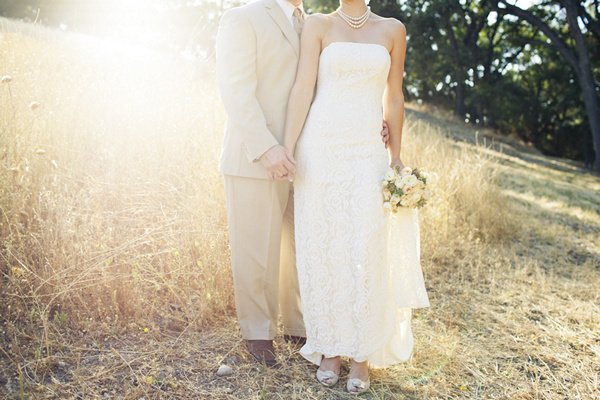 Was it difficult to pare down the guest list?
It was very difficult to pare down the guest list!  Everyone wants to be a part of something as special as a wedding, however, it is just not possible to do so.  We knew we could not enjoy our evening with our friends and family if there were too many people there, even if we loved them all.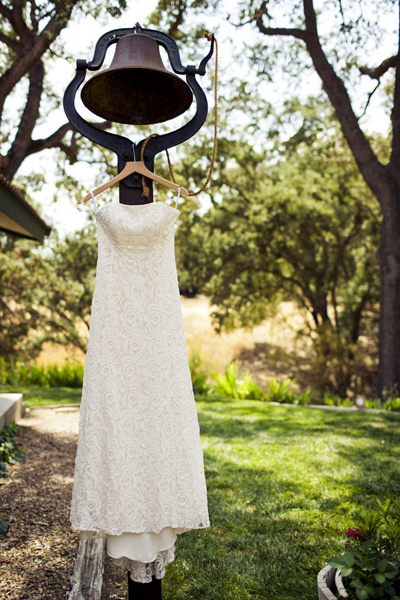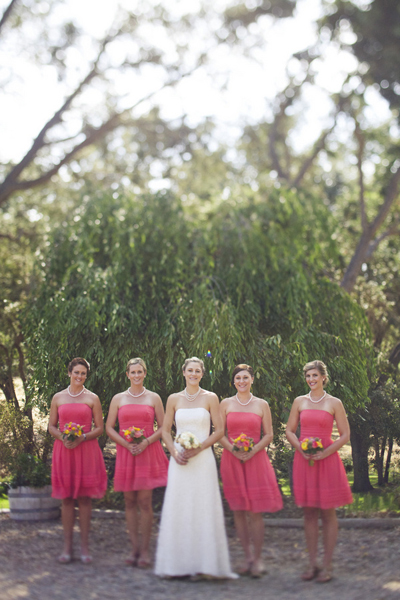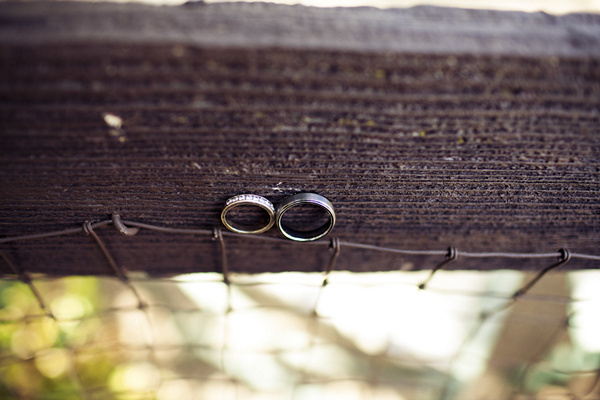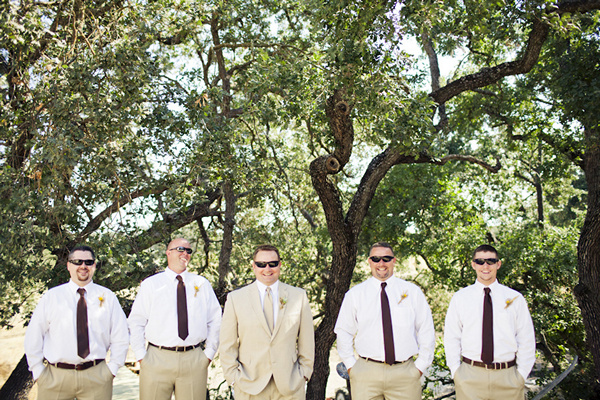 Did you have any 'issues' with the small guest list from friends and family? If so, how did you address them?
I was afraid of some family being confused or hurt as to why they were not invited, but once they learned it was an intimate wedding that we wanted to keep very small, they understood and respected that.  Thank goodness!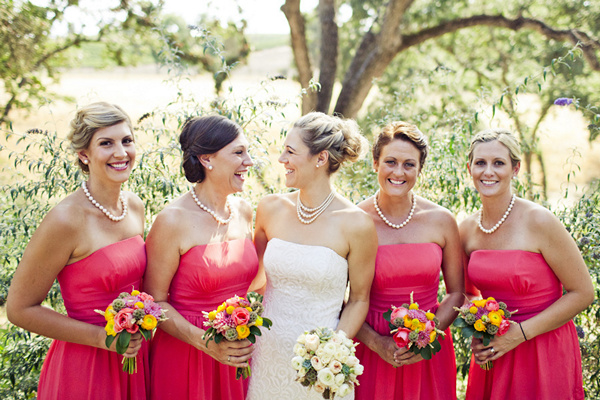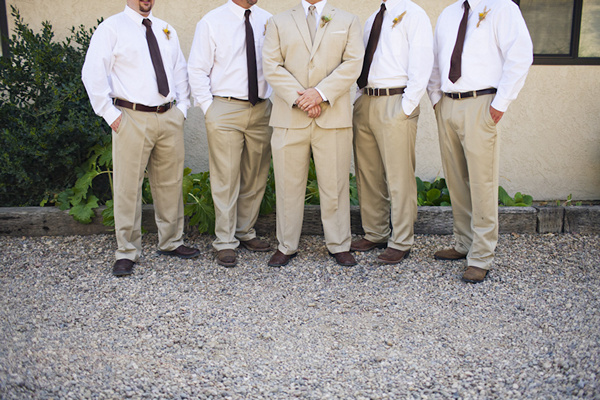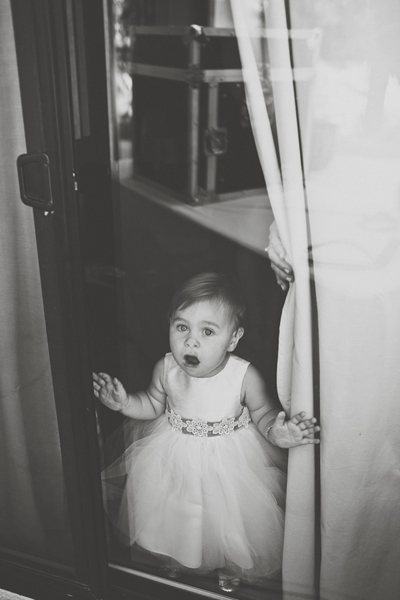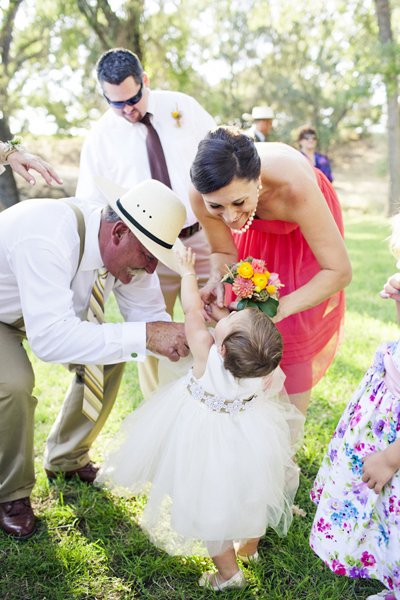 What were the highlights of the ceremony? 
One of the highlights of the ceremony was the truck ride ride down to the ceremony spot; my girlfriends and the kids in the back with me and my dad in the front. (Dad drove an old, refurbished, 1948 Ford.) Those few moments riding with my dad knowing my life was about to change forever are priceless to me! The boys met us and walked the bridesmaids up to the altar.  It was fun to watch and added a fun vibe that I wanted the wedding to have. Something different and yet, everyone knows how much that truck means to my dad and it has been in our family for years, so that made it very special!  Plus, it was fun to take pictures on after the ceremony… Having our friend marry us and looking around to see so many faces that we love and enjoy our days with meant the world to us was another highlight. Next was standing there looking at my best friend and knowing all of these great people support us and our future together.
My dad and Nate built the altar we were married on and also the benches our guest sat on.  My mom and I covered each bench with a vintage 'paper bag feel' wrapping paper to allow the guests to be more comfortable than just on the wooden benches.  Plus the paper really added a touch of the country/vintage look we were going for.  We already have friends borrowing the benches for their wedding this weekend, ha! My dad planted the safflower and barley to be the background behind us and the alter as married.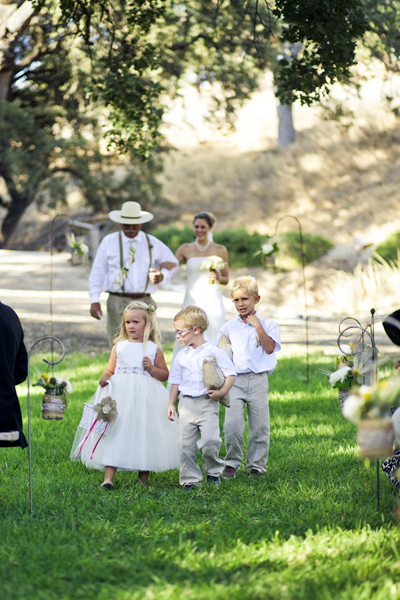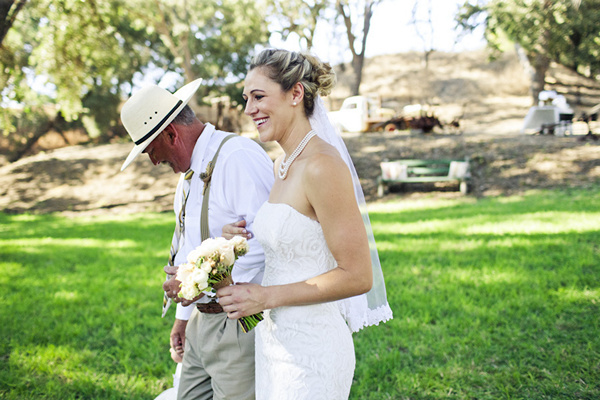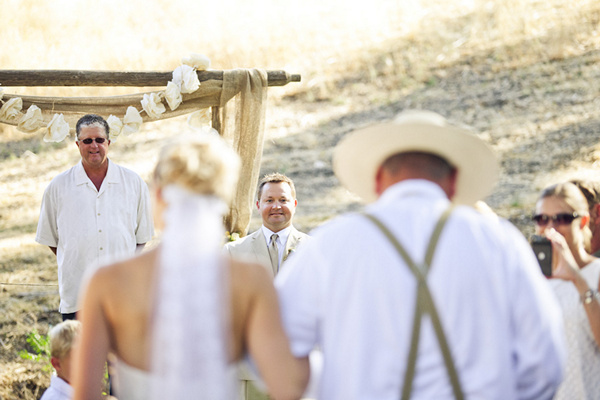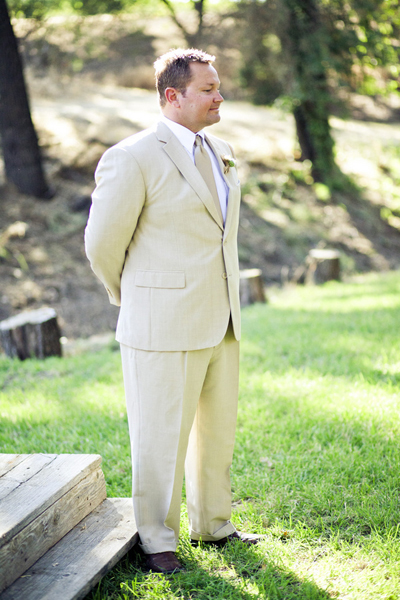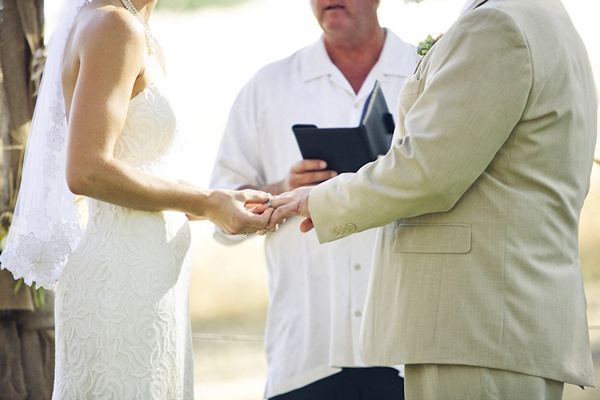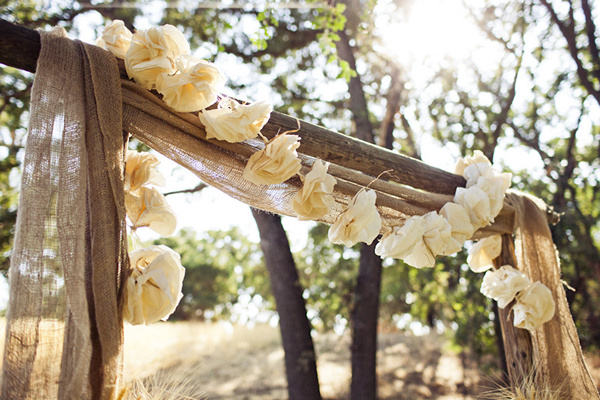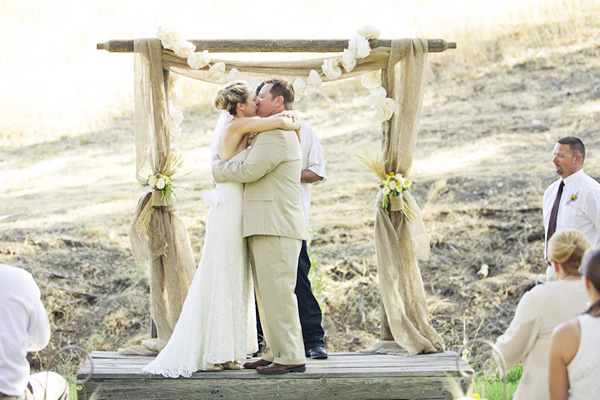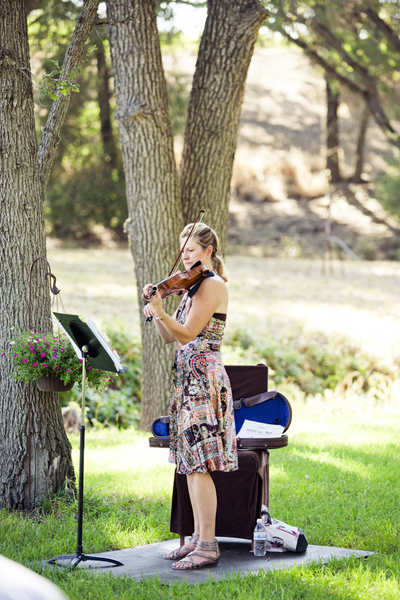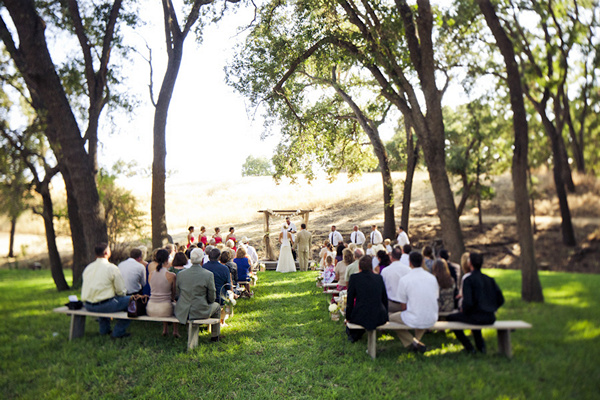 What were the highlights of the reception?
After the wedding our guests strolled up a small driveway to the house for cocktails and appetizers as the wedding party and family members stayed below for pictures. On their way to the ceremony they had a chance to write a sweet note of encouragement, congratulations, or wedding advice for us and hang it on a string draped between two pillars.  They also had a chance to take their picture in a fun photo stop that Nate and Dad also built!  My mom and I made fun mustaches, glasses, necklaces, and lip/smiles to holdup to your face as the pics were taken. This added some fun in the cocktail hour!
The speeches that our family members gave at the reception were hilarious, touching, funny, and started the evening off perfectly!  Each person added something about Nate and I that only they could share, which made the evening of our marriage more special than they could ever know.  We became one that night and to have our siblings tell stories and my dad welcome Nate into the family was exactly how it should have been.  The food was amazing and my girlfriend was the caterer, so she knew exactly how to make the food and presentation just perfect for Nate and I and our vision.  The dance floor lit up with garden bulbs and the best DJ around, was the icing on the cake for me!  I love twinkle lights and this way everyone could fully enjoy each other and their night dancing away under the bulbs.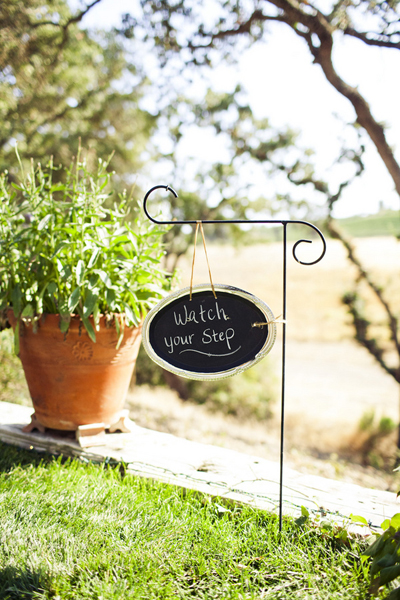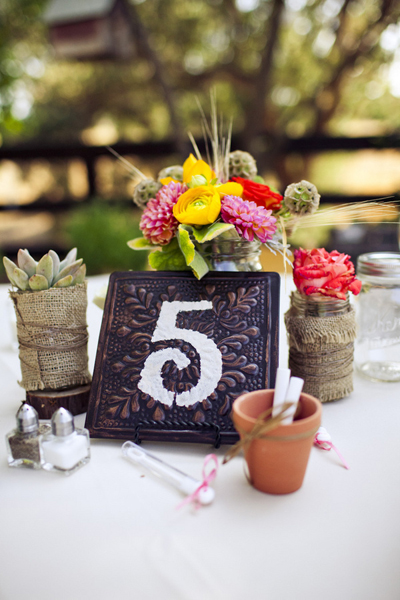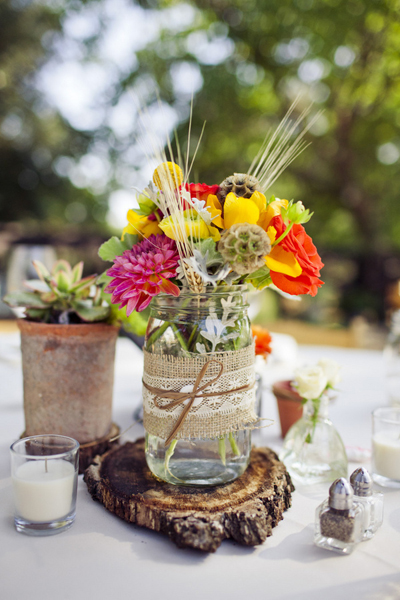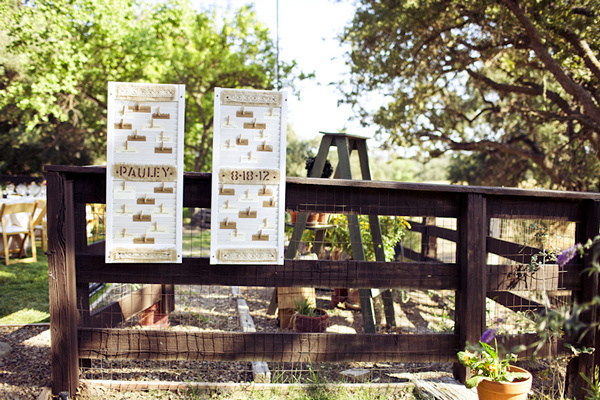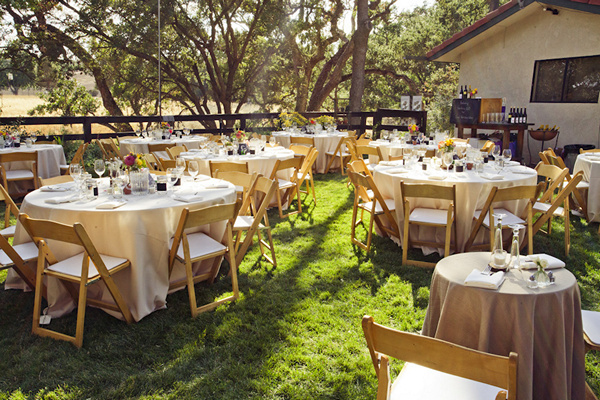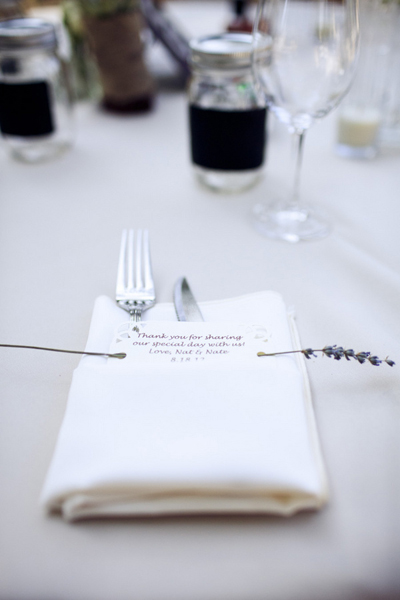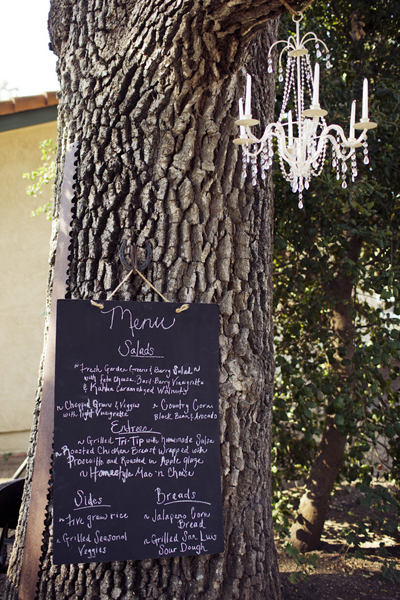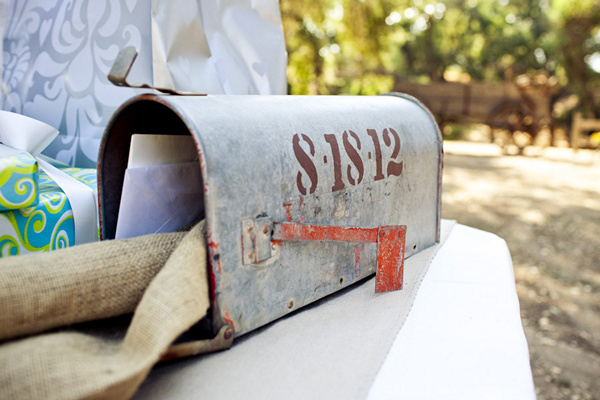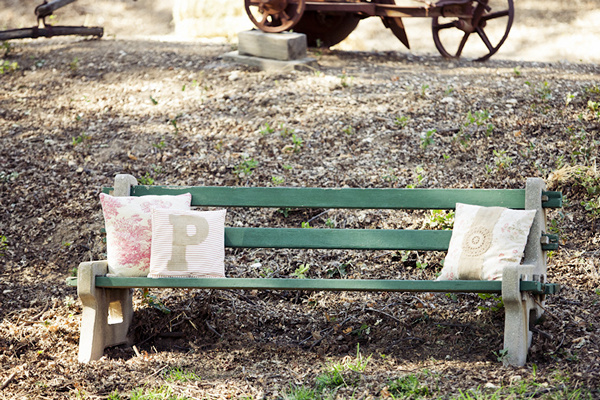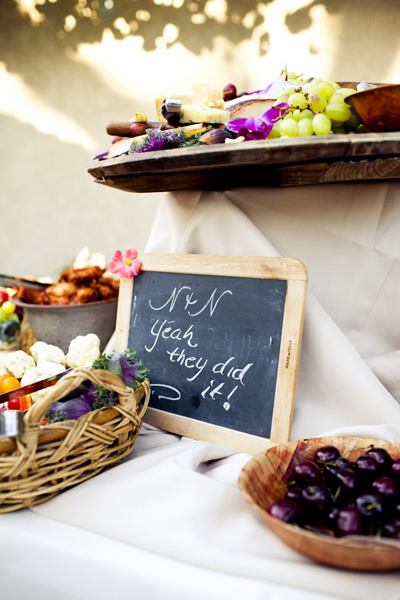 What was the best thing about having an intimate wedding? 
Overall, the best part about experiencing our intimate wedding was the lead up!  The months of preparation and working together with my parents and my fiance to make my day everything I wanted and a day I would never forget.  We worked every weekend together for months getting the 'props' ready, the flowers the way we wanted it and always getting along and enjoying that time together!  My parents worked endlessly and happily to help make our day special for us, how amazing is that!  I feel Nate had an opportunity to get to know my parents and them get to know him better throughout the process, too!  That meant so much to me to work with my mom and watch my future husband work with my father so closely and lovingly.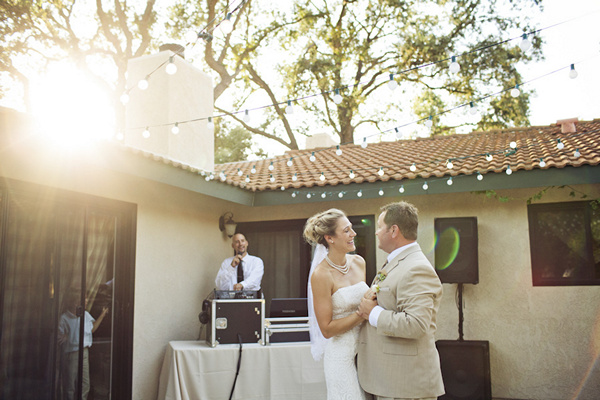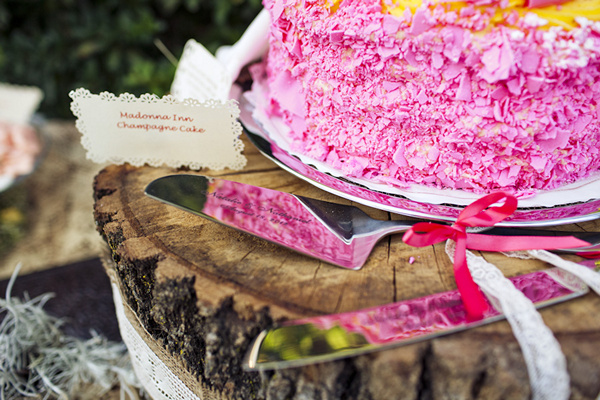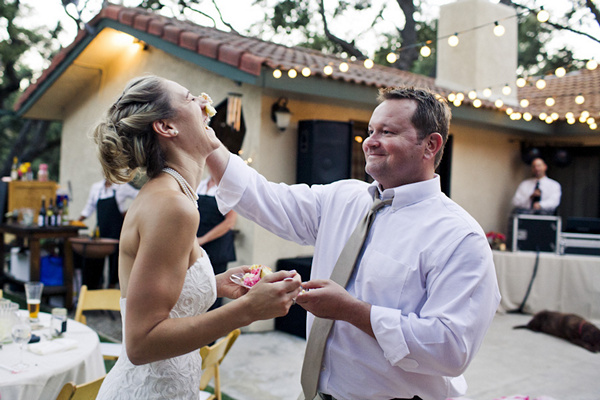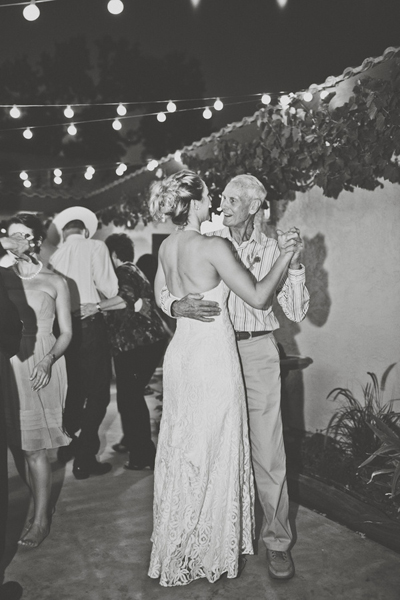 What advice do you have for couples who are considering an intimate wedding?
I would have to say that before ever choosing a direction, a design or a place, choose the feel you want your big day to have and go with it!  Make sure you know what you want first, because you can make it happen even if you might think it is impossible.  Your loved ones and friends are there to help make it happen for you and the will!  Do not be afraid to dream big and use your ideas no matter you might think others think about them. In the end it will all come together and you and your guests will enjoy it!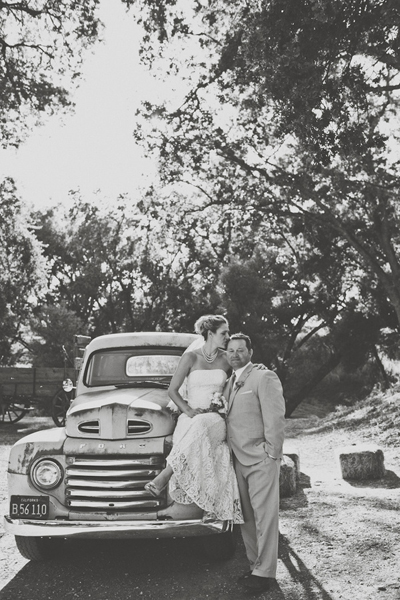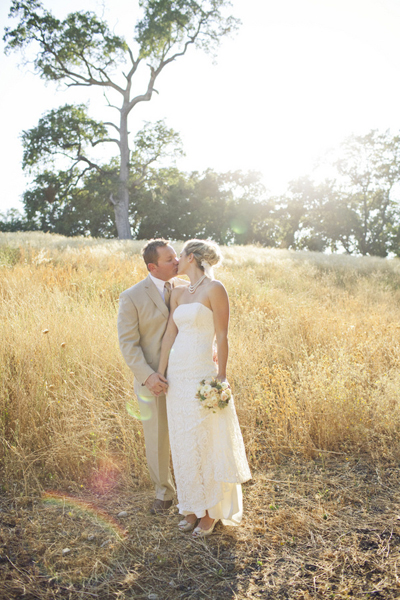 Vendors
Caterer:  All Seasons Catering by Kathleen Dagnall  (Amazing food and professional help with it all. Kathleen is much more than a caterer, she puts her heart out there for your wedding day, along with helping to smooth any kinks in the day.  She organizes the look and feel to exactly how you want it to be.)
Florist:  Katie Noonan's Wine Designs by Katie Noonan (Katie was so patient with my needs and what I wanted for our flowers.  It was 100 degrees the day of the wedding and she made sure every flower was where I needed to be to stay fresh and safe out of the heat!  Her professional and experienced knowledge allowed her to take on some last minute changes without ever skipping a beat and I loved the finished product even more.)
DJ:  Jeff Mora's Mobile Music by Jeff Mora (Jeff was so great! My sister and I went to high school with Jeff so we knew he had a fun-loving attitude but he impressed us more than ever with his personal touches and great DJ'ing attitude.  He was able to bring more personality and love to the night with not only his music but his sweet personality!)
Photography:  Sarah Kathleen Photography by Sarah Kathleen (Sarah uses her unique attitude and photo sense to capture your day and special moments they way they should be, naturally!  I am not into the 'posed' and perfect picture-and she was able to take the day and make it more special and personable than I thought possible.  Her talents and sneaky moves as the day went on allowed her to grab so many candid and loving moments without ever really being noticed!)