Cara, 23 & Ken, 30
Lac du Bonnet, Manitoba
Wedding Date: October 10, 2010
Number of Guests: 25
Wedding Cost: $5,000
Wedding Ceremony Location: the deck/dock of parents cabin
Wedding Reception Location: parents cabin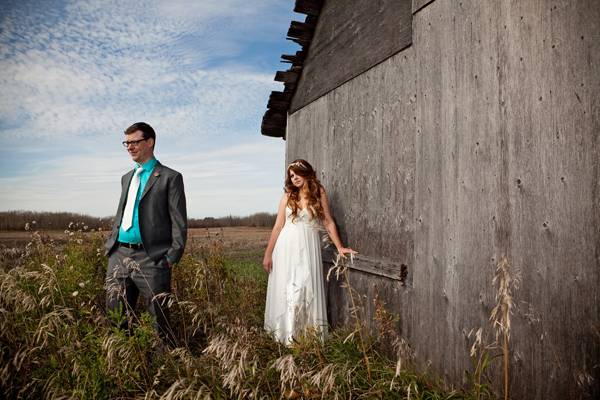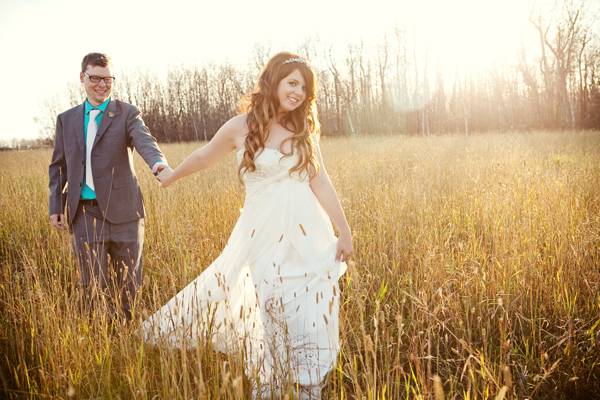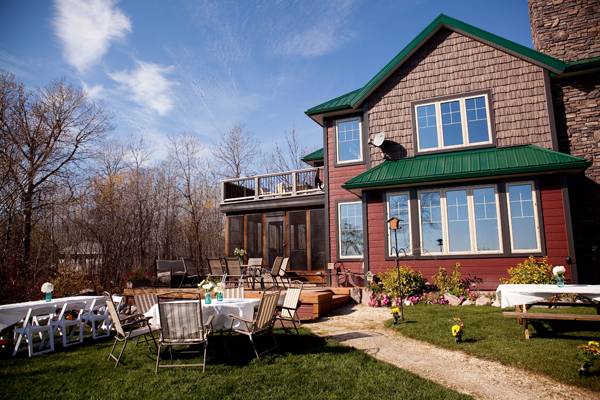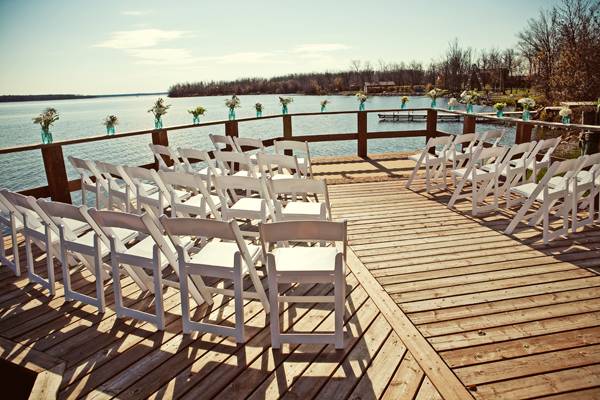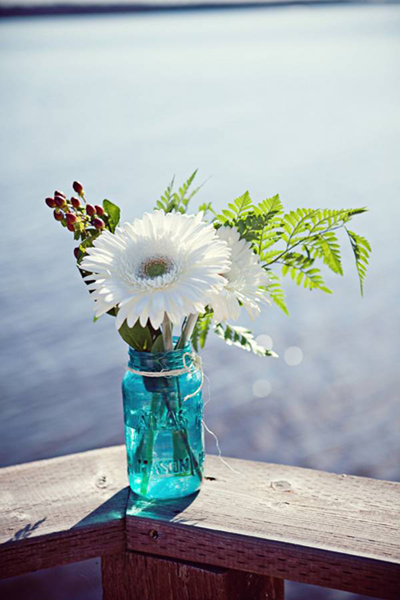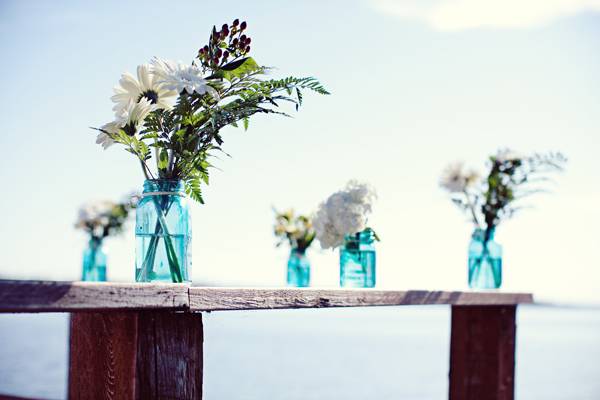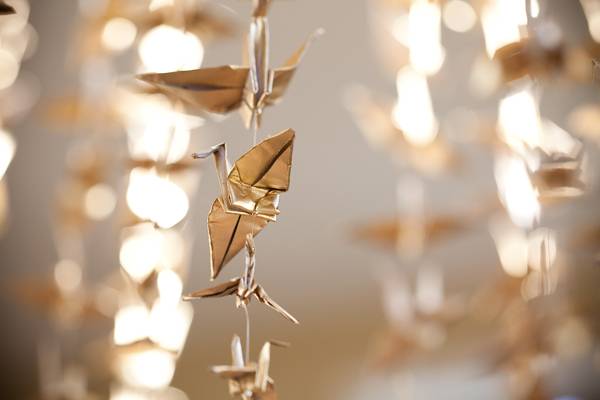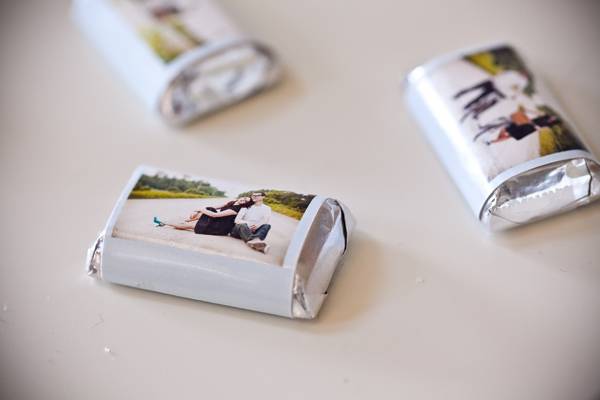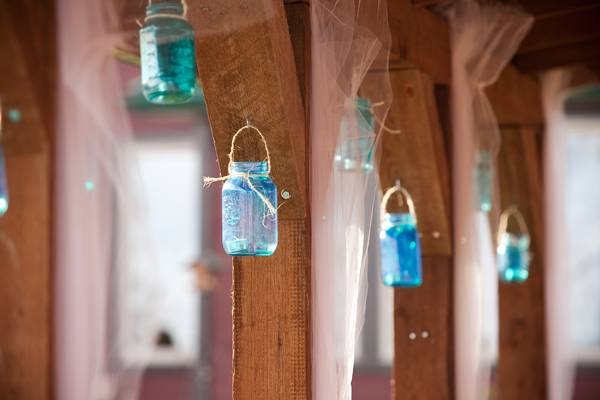 Why did you have an intimate wedding?
Ken and I are the kind of people that don't really care for huge extravagant parties. We're homebodies and would much rather spend the night together at home watching a movie than go to a fancy lounge or party. We've known each other for 9 years now and when we decided to get married it wasn't because we wanted to have a big gathering with all our friends and family. We wanted to do it, to finally make it official. Ken could've just as easily gone to city hall and signed some papers. I, of course, wanted a little more than that. So, we decided to only invite our immediate family and keep it very personal – just the people that knew the growth of our relationship and where we came from.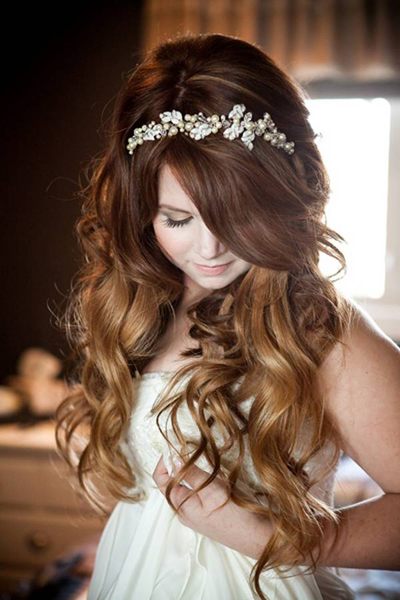 What are some of the challenges that you faced planning an intimate wedding?
I think my biggest challenge was getting help. Having such a small wedding included having a small wedding party. Our wedding party consisted of our 3-year-old nephew as our ring bearer, our justice of the peace (Ken's best friend who we got ordained) and Ken and I. Normally that wouldn't be a "challenge" right? No need to worry about bridesmaid dresses, rehearsals, etc? Well… yes, that was a bonus, but our wedding was a DIY wedding in every sense of the word. Ken and I made everything. And I will admit, I lost my mind a little bit. We were engaged in June and married in October and in that time I was not only in school, but I was also making everything for the wedding. I sewed and stamped around 50 favor bags. Custom dyed around 100 mason jars. Turned 50 into lanterns, and 50 into vases. Made corsages and bow ties for the pets and boutonnieres for all the men. Custom designed our wedding bands. Had our friend ordained. Wrote the entire ceremony. Made 50 or so custom wrappers for chocolates. Each chocolate had a different engagement photo on it, and when you opened it up there was the password to our online photo gallery. Painted wedding directional signs that my brothers made to get guests from Winnipeg to the cabin with ease. Not to mention, all the other little things every bride does. And to top it all off … Ken and I folded 1,000 paper cranes, painted them gold, strung them together and hung them from the ceiling of the cabin. All of this would've been a whole heck of a lot easier with a wedding party to pass duties to.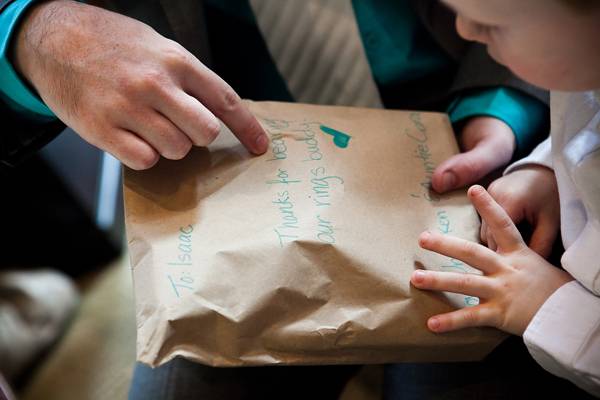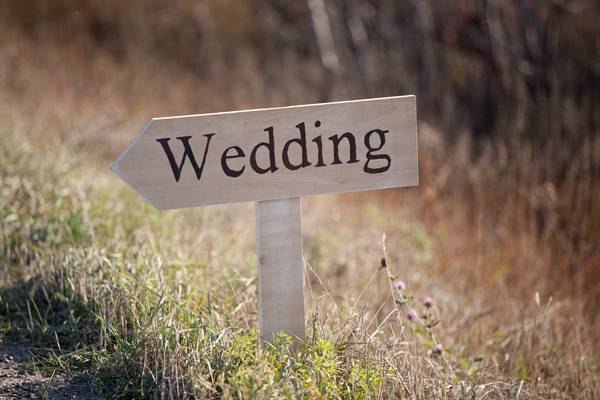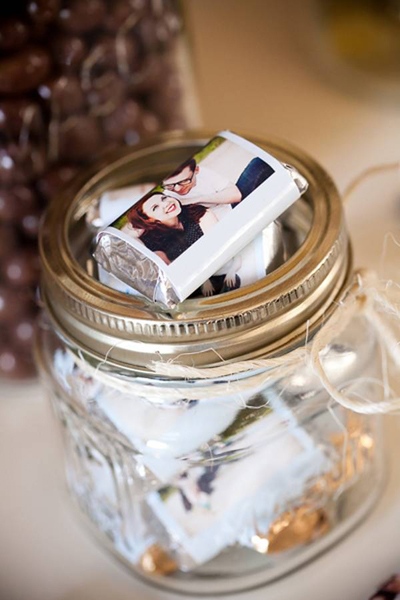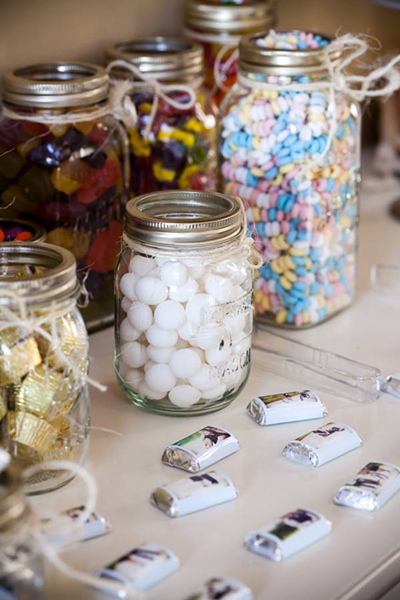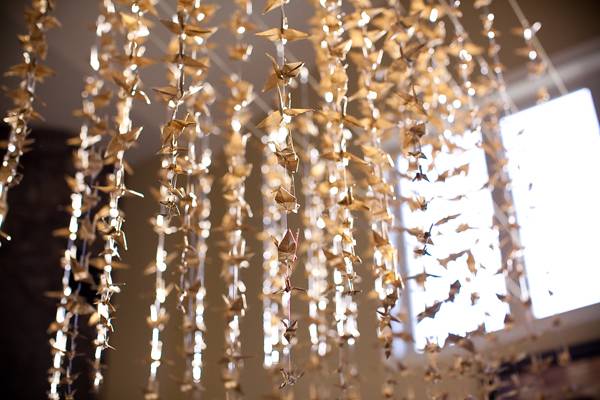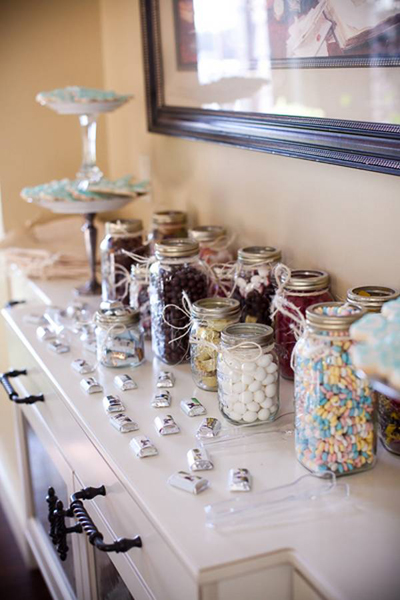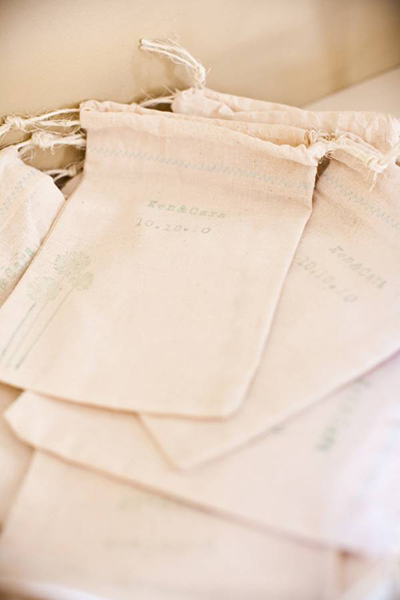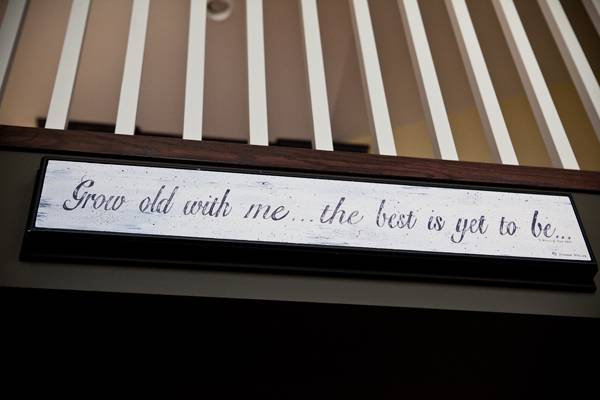 Was it difficult to pare down the guest list?
Because we knew it would be just immediate family it was pretty easy. About a month before the wedding, we sent a casual email to our close friends and extended family basically saying: "Hey, we're having this wedding thing on October 10th. If you're not doing anything, you're welcome to swing by." That way, the invitation was there, but there was very little pressure for them to actually come. I actually really enjoyed doing it that way because when people came that I wasn't expecting, I was really excited to see them. It was a nice surprise.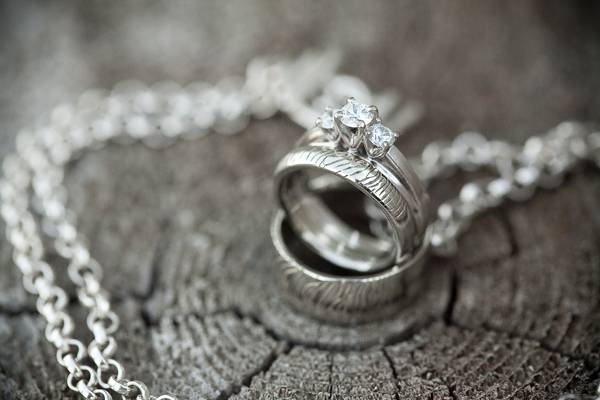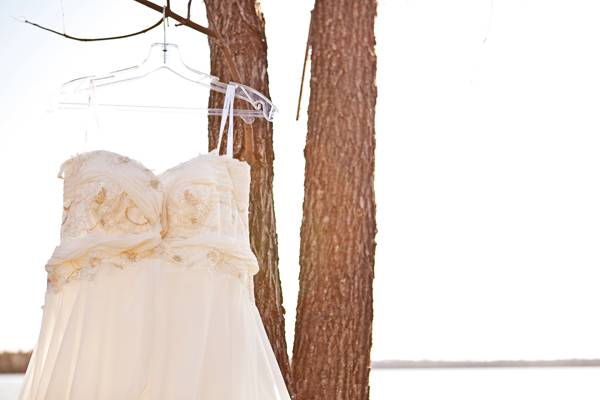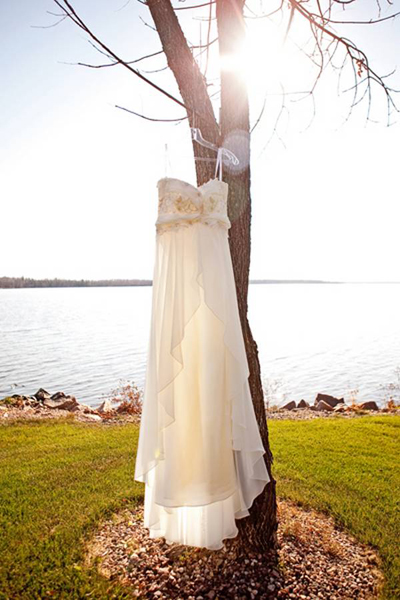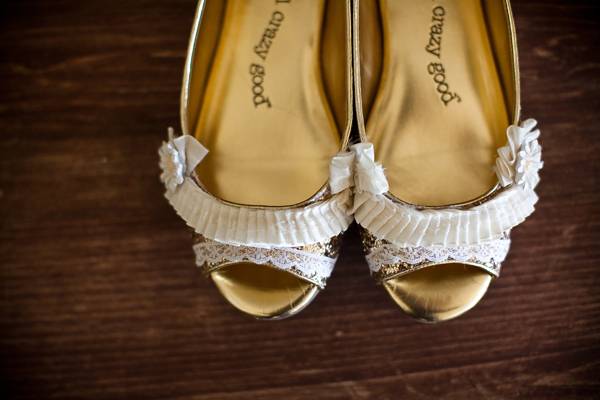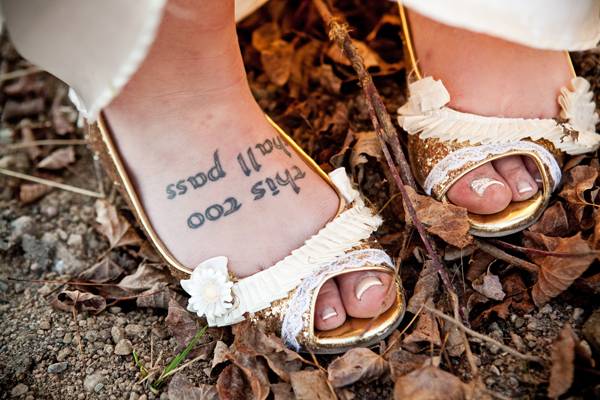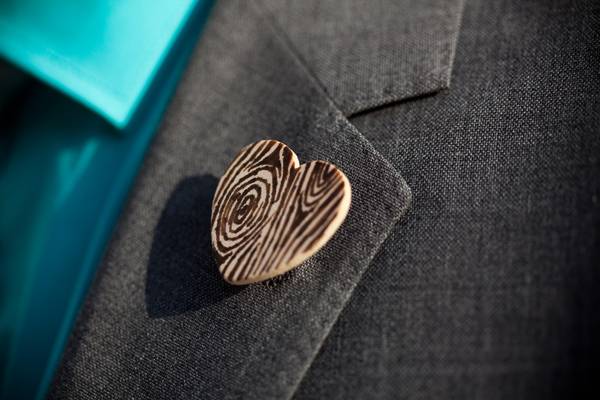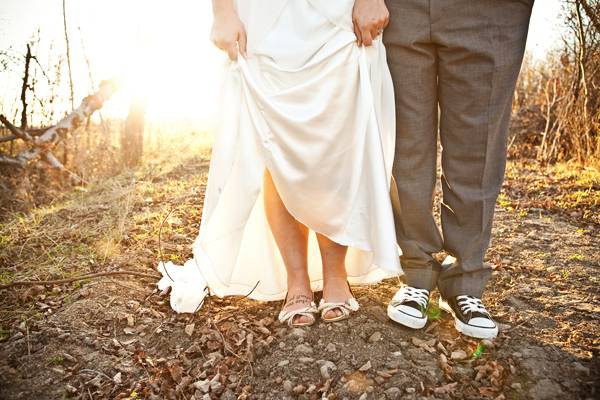 Did you have any 'issues' with the small guest list from friends and family? If so, how did you address them?
Honestly, everyone was really understanding of our request. The small struggles we did have were just with my parents being the life of the party at the lake. Their cabin is kinda like party central. I basically compromised with them and asked that the wedding remain just close family for the ceremony, and anything after that was open to whomever.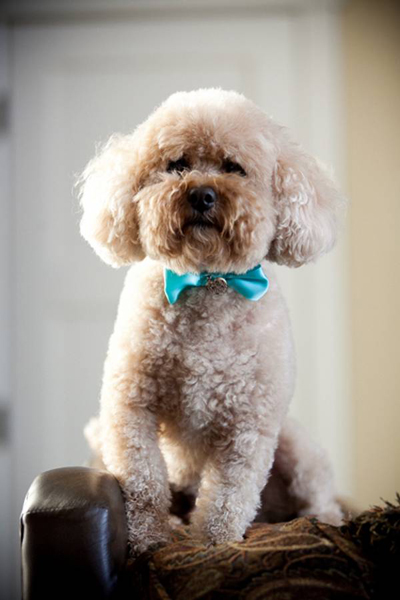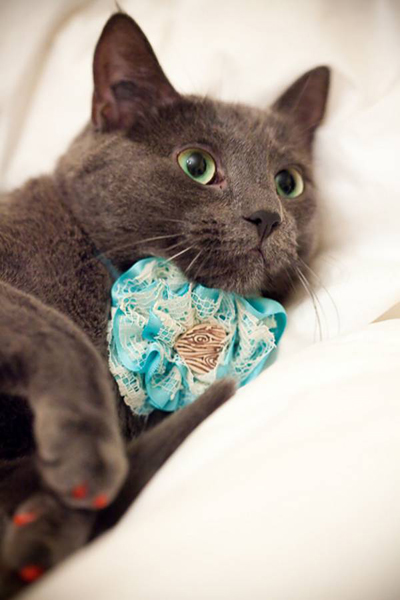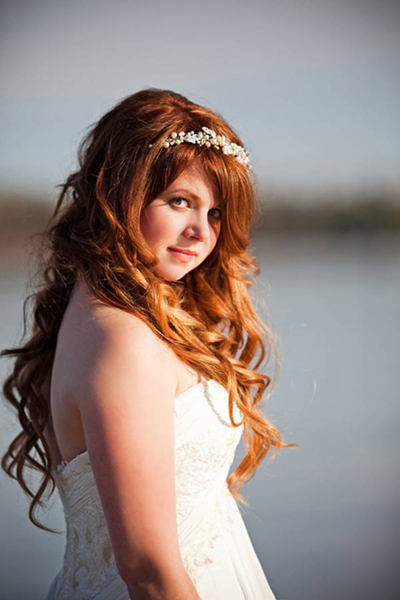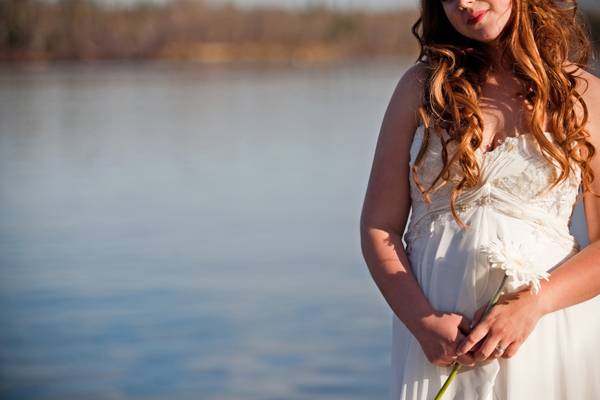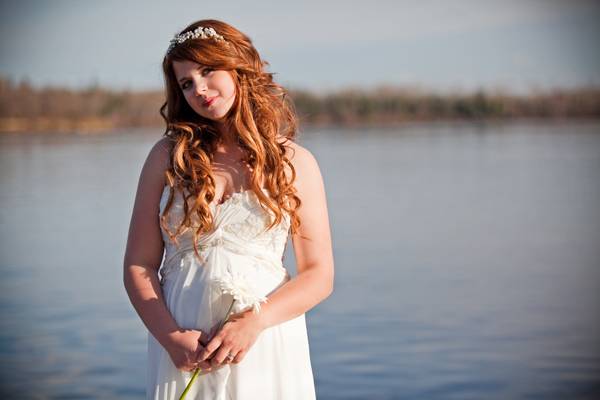 What were the highlights of the ceremony?
Ah! That's a tough one to answer. Ken doesn't tend to take many things seriously and his vows were no exception. When it was his turn to read his vows, he searched his pockets, looking embarrassed like he forgot them. Finally, he pulled out a ripped up piece of wrapping paper and started to read off a shopping list. Stopped and said "Oh, oops. Wrong paper." He searched again and pulled out the newspaper crossword puzzle, which his actual vows were written on. The other part that seemed like it came straight out of a movie was when our JP started to say the ol' "if you have anything to say about this marriage…" my dog who was sitting in the front let out a bunch of barks. The only time he barked the entire ceremony and it was perfectly timed. And finally, the ending to the ceremony was very "us." Ken and I were best friends for 6 years before being a couple so we have a lot of "buddy-buddy" tendencies still. Opposed to sealing our vows with a kiss like most, we had our JP read out "Ken, you may now high-five your bride!" It felt a lot more victorious than kissing (which we did after high fiving anyway).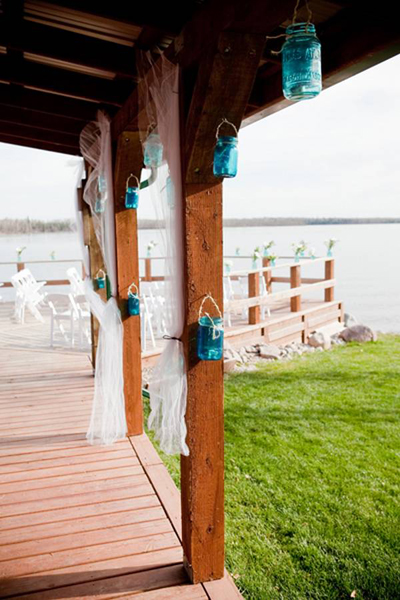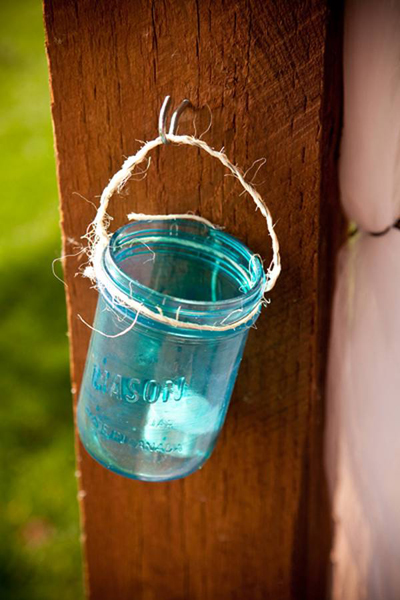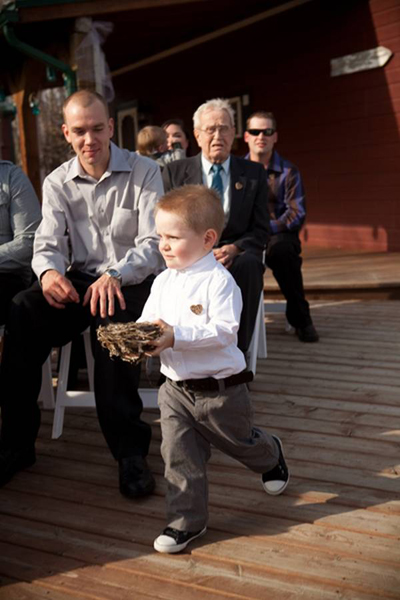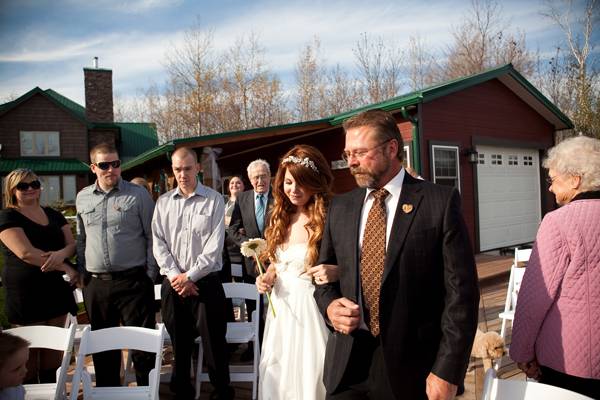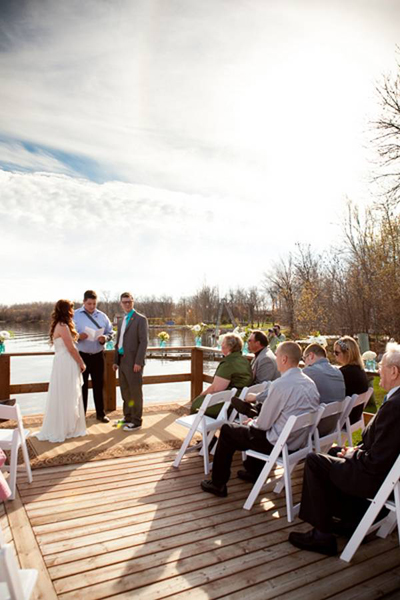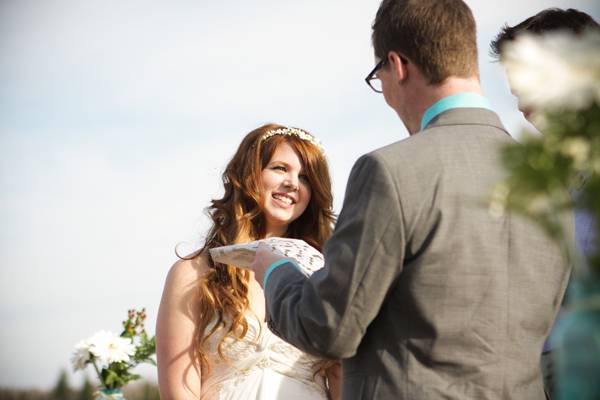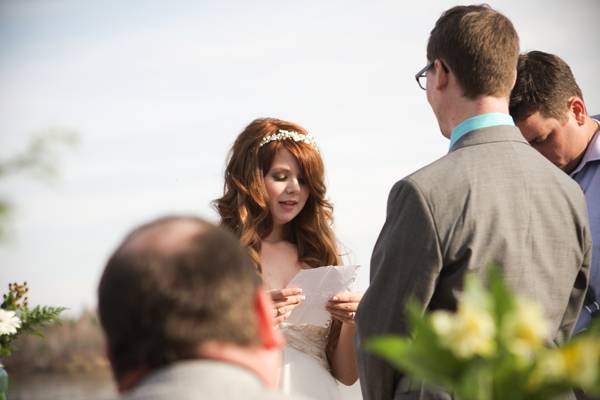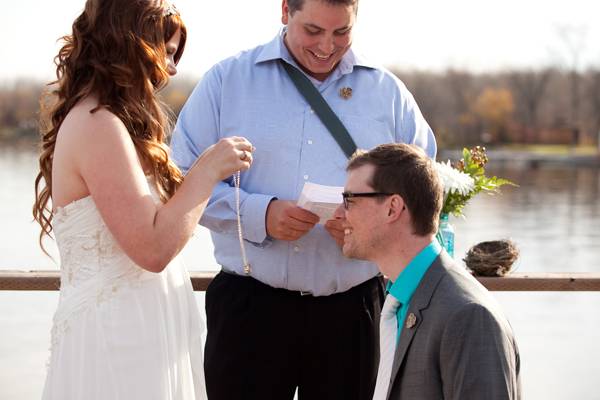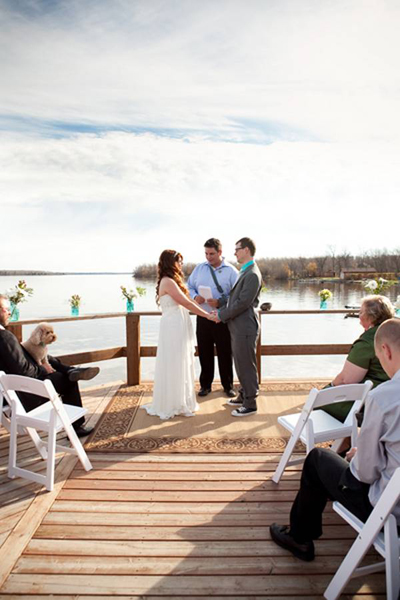 What were the highlights of the reception?
Our reception was really casual. After the ceremony, most of our guests actually changed into sweats!! We played some Beatles rock band, took some more fun photos, had a delicious meal with local grown fruits and veggies. But I think the best part was after the toast to the bride and groom. Ken and I are huge dorks, and like I said, would rather play board games than go out drinking, so we made a crossword puzzle with clues about us. I tied them each up with a pencil attached and we said anybody that would like to try it could, and the first person to finish would get a custom painting from me. (I'm a fine arts student). We expected everyone to kind of groan and laugh, and just tease us about being such dorks, but we ended up having a full on competition break out. It was so fun to watch. There were some questions only one guest would know the answer too, so all our guests suddenly started to interact and ask each other questions to get clues. People that you wouldn't think to have a fun chat at a small wedding would start laughing together. It was really entertaining and so nice to have a reminder that the people there were meant to be there.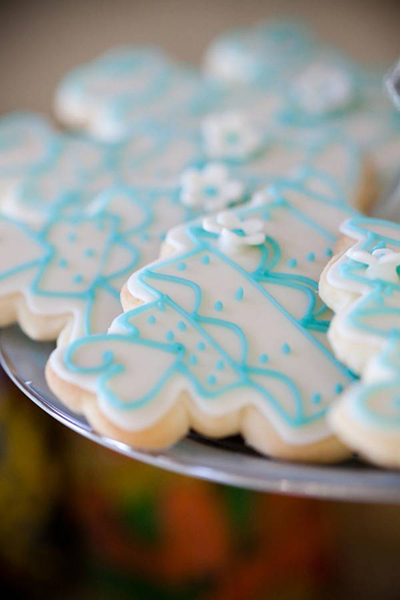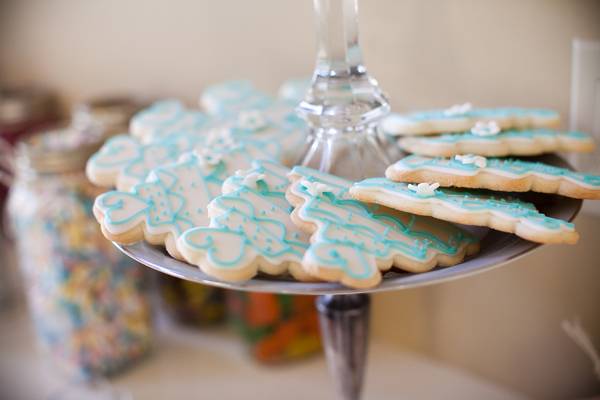 What was the best thing about having an intimate wedding?
It may sound really small, but not having to be introduced to someone at the wedding. Like most people, Ken and I don't really act ourselves around people we don't know. This wasn't the case at our wedding. Everyone there we knew, and knew well. There was no pressure in regards to making sure I said hi to every guest by the end of the night, because it was impossible not to!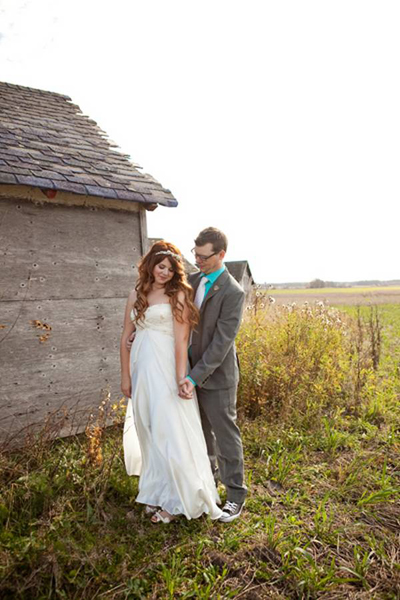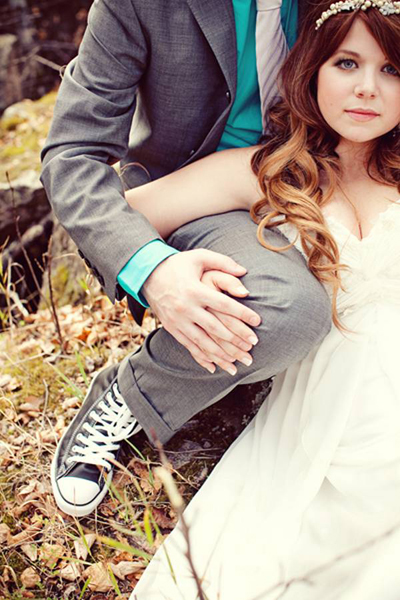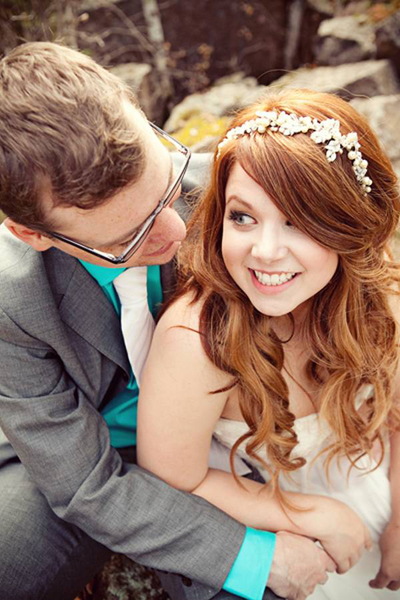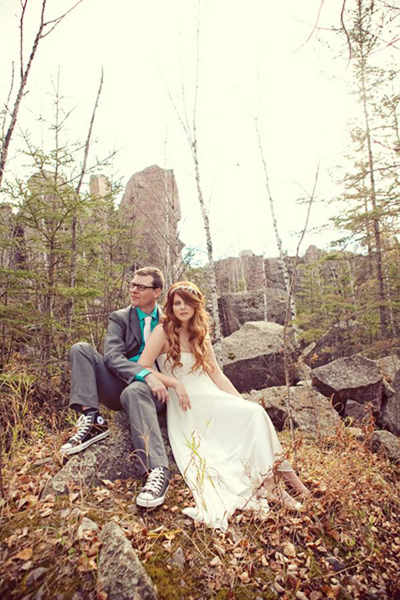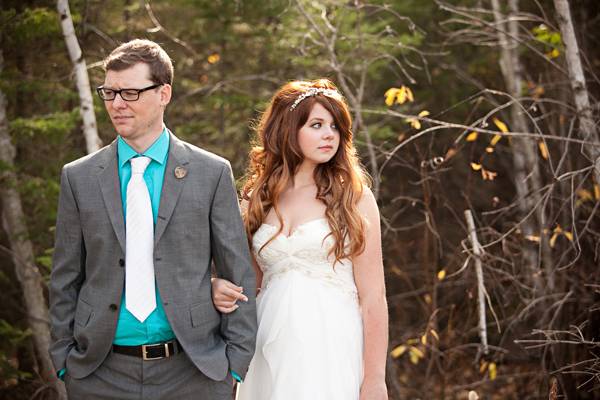 What advice do you have for couples who are considering an intimate wedding?
Don't let other people's feelings take over what you want. I've talked to so many brides that say something like "but so-and-so will be so hurt" and "but my mom wants to invite her second cousin from Finland". They'll get over it. Have a good photographer who will take tons of photos that allow the viewers to feel like they're there and share them with the guests that would "be so hurt". They'll see how special it was and forget all about their grievances. Compromise if it's a huge issue. Later when things calm down from wedding craziness, have a dinner somewhere with the people you wanted to invite but couldn't. Or do what we did … casually invite anyone that wants to come a month before. If it's on a long weekend like ours was, chances are they'll already have plans and your wedding will still remain small.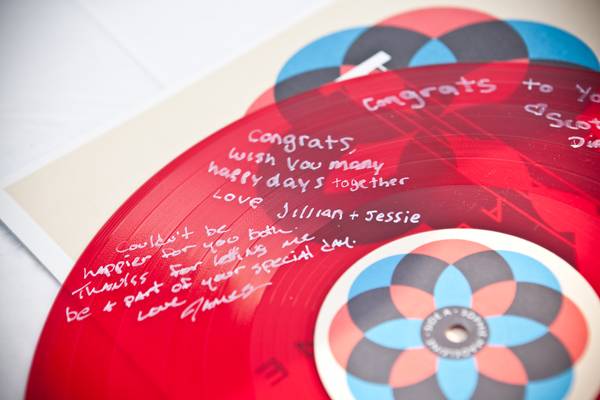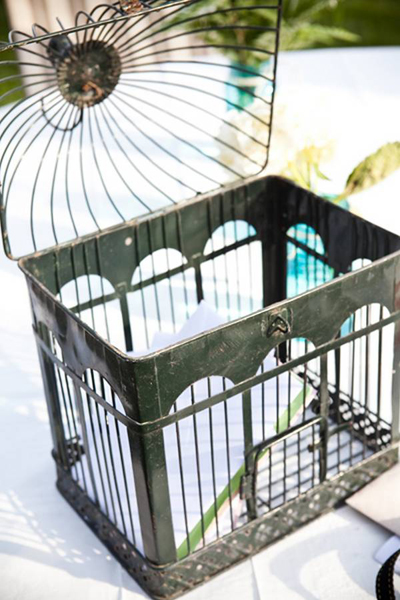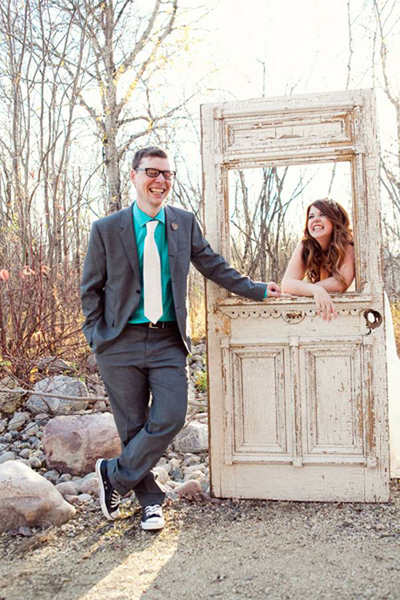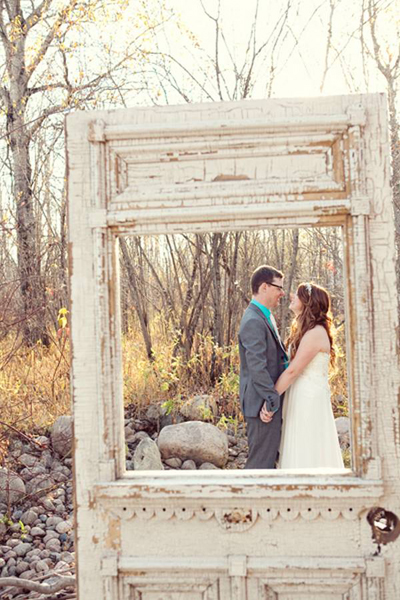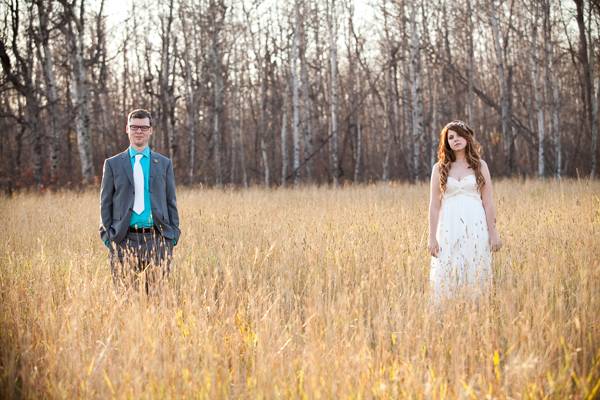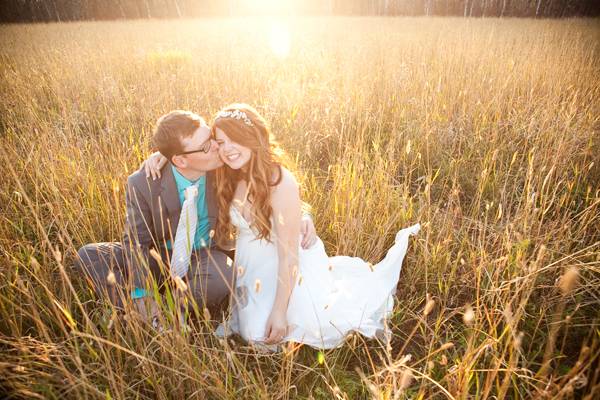 Vendors:
Photography: Sugar and Soul Photography
Hair: James Ouellette of Hair FX
Makeup: Meagan Perron
J.P.: friend was ordained for the day
DJ: iPod
Cookies: Cut it Out Sugar Cookies by Joanne
Food: Debbie Small
Dress: Chantal's Bridal
Suit: Club Monaco
Brides Shoes: OxfordHeaven
Grooms Shoes: Converse Allstars
Headpiece: BeSomethingNew
Earrings: ShlomitOfir
Garter: Let's Dance Garters
Rings: Bryan Johnson Creations
Flowers: Costco, and then my mother arranged them the morning of the wedding.
Linens: Party stuff
Invitations: Midkid
Decor: Midkid