Jesse + Hannah from Tim Harris on Vimeo.
Jesse and Hannah did not welcome the idea of having a big, expensive wedding – so they eloped.
Instead of a traditional wedding, they spent their big day in Louisville, Kentucky going to wonderful restaurants and wandering around the city before heading to a church to get hitched.  Hannah's childhood pastor and good friend was their officiant, which made their wedding feel more personal than a courthouse wedding.
"It was a beautiful day, full of the love Jesse and I have for each other, as well as our love of good food and simplicity," says Hannah.
Interestingly, the couple met while interning on an organic farm in Kentucky called Bugtussle Farm. (They also met their wedding photographer, Tim Harris, while working at the farm.)
"Jesse moved from NYC to the farm to learn about making natural/biodynamic wines, and I moved from Chicago to the farm because of a fascination with beekeeping.  It was a huge change for both of us, but as our year on the farm progressed, I fell in love with the hard work, the simple life (no electricity!), the animals, and the vegetables.  And I also fell in love with the other intern! Jesse proposed our last day at the farm, while we were picking carrots in the garden," says Hannah.
And perhaps the coolest thing of all? They're putting the money they saved on their wedding towards their own organic farm! Check out Rough Draft Farmstead to read about their awesome endeavor.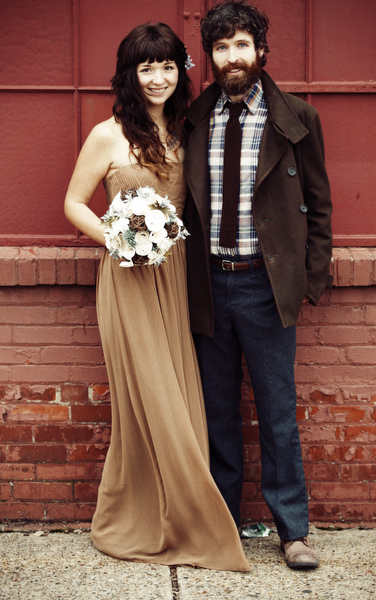 Hannah, 25 and Jesse, 29
Louisville, KY
Wedding Date: December 21, 2011
Number of Guests: none
Wedding Cost: Under $1,000. Our main expense was the photographer. We managed to use a lot of friends and thriftiness for the day. (My childhood pastor officiated, he hooked us up with a church for free. I made my own bouquet and found an inexpensive dress. We honeymooned for free at a friend's log cabin/farm.)
Ceremony/Reception Locations: Obviously, this was more like an elopement, so we didn't technically have a ceremony or reception. We tried to just go to a lot of fun places, restaurants that we knew supported our local farm friends and fun locations to take photos. (Hillbilly Tea, The Beer Store, Harvest Restaurant) It was a really simple day full of nice activities and walking around … simple, but really special. Definitely a day we can remember every detail of, which I think hardly happens for most traditional brides/grooms with the stress and build-up to their huge wedding day.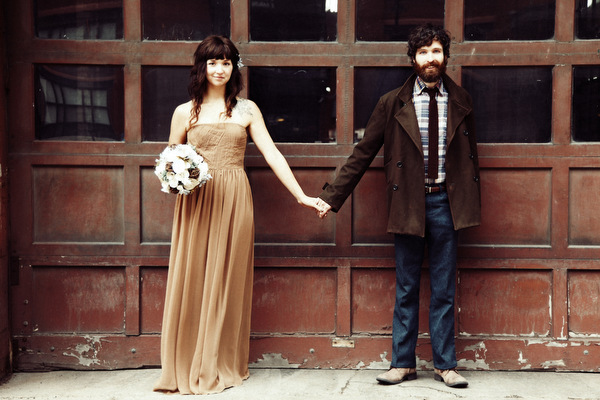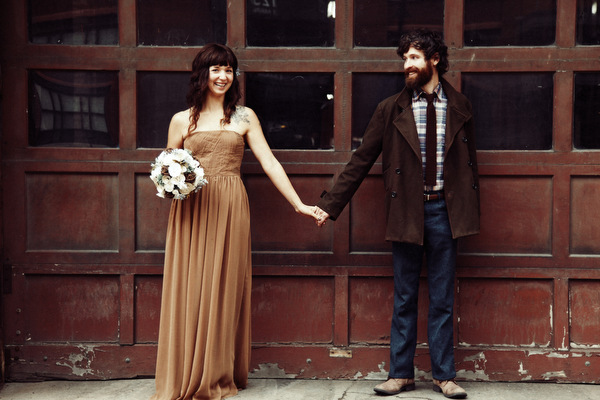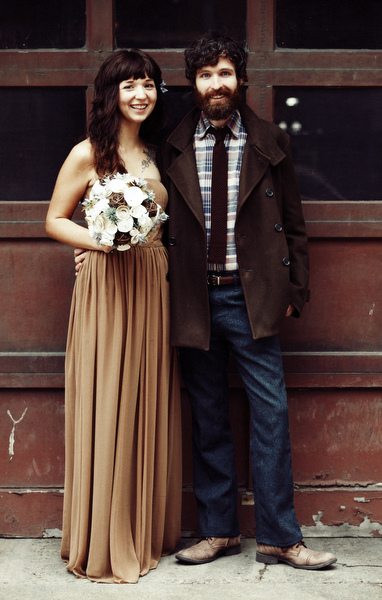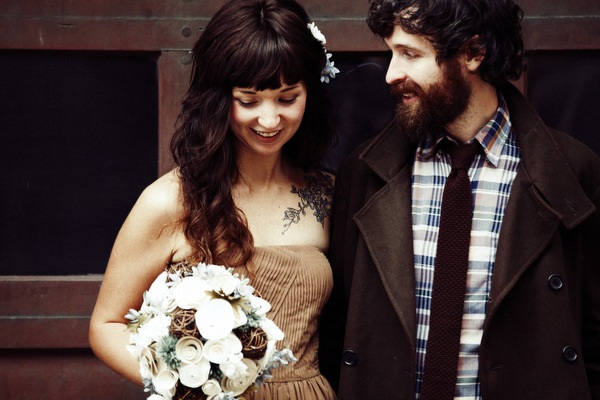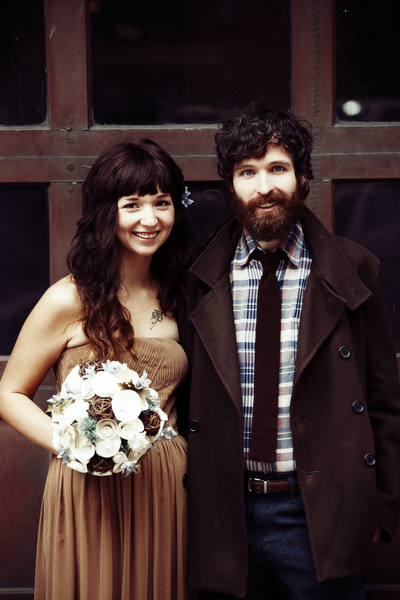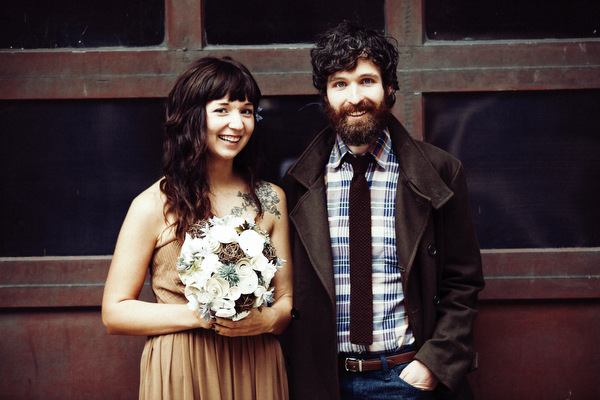 Why did you have an intimate wedding?
We had a simple wedding because it is what made sense for us. I think this is important because a small wedding is NOT for everyone. But for us, we are about to start this little farm and life together, all about small impact, sustainability, and simplicity. It just did not make sense to spend a ton of money on an event like this when we could be investing in seeds or a greenhouse or the like. We still absolutely plan on having a big reception later this year – when we can have it on our farm, with all of our food that we have grown. This way, we are celebrating our life that we have started, and we can invite as many people as we want! We do understand that it is somewhat harsh to have NO guests, but it was a slippery slope for us. As soon as one person was coming, it turned into two and then ten and then a hundred. That is why we made the video. It was a way to let people experience the day.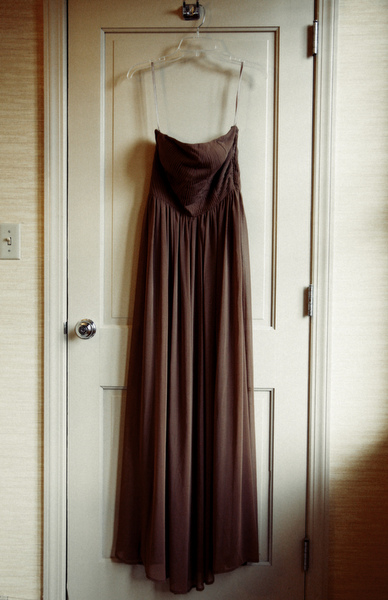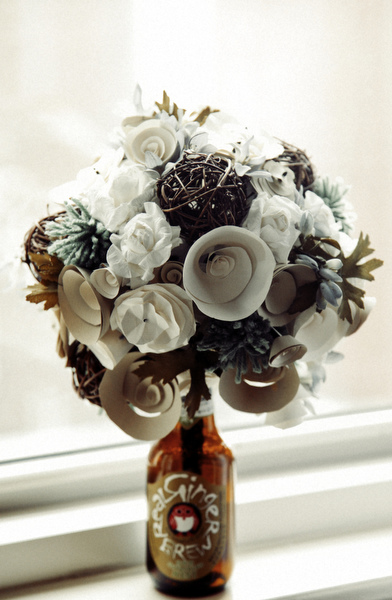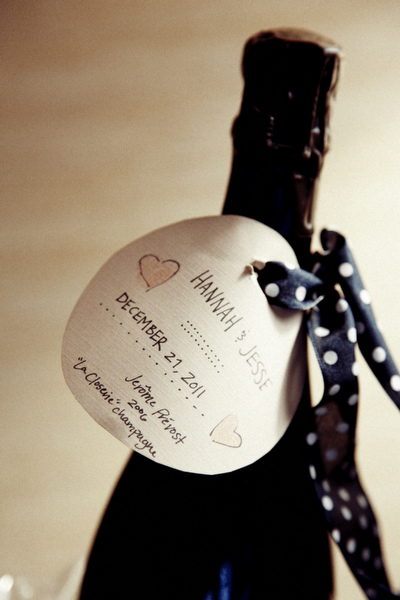 What are some of the challenges that you faced planning an intimate wedding?
We knew we wanted a small wedding and for us, it wasn't difficult choosing the little places and events we wanted to be a part of our day. But in terms of everyone else (family and friends), that is where there is some difficulty. Jesse and I know that a wedding means different things to different people and we really didn't want to hurt feelings or disappoint people with our choice to essentially elope. With our families and friends … they know us, they know we have chosen to live simply and to have small-impact. They also know we are saving every single penny right now for our farm! But for our loved ones, we splurged on the photographer, so that even though TECHNICALLY no one was there, everyone can still share in the day with us. It is a challenge, especially if you are people-pleasers like we are! But in the end, it is about Jesse and me and about our lives and our happiness. And also, ee still plan on having a big reception this year, but we want it to be on our farm and full of our own food we have grown. A celebration of our lives together, rather than a celebration of simply that first day together.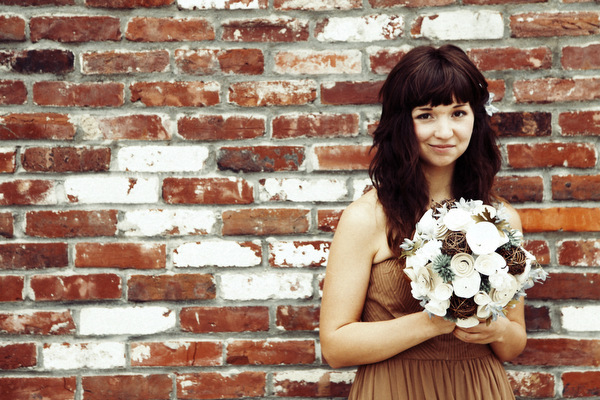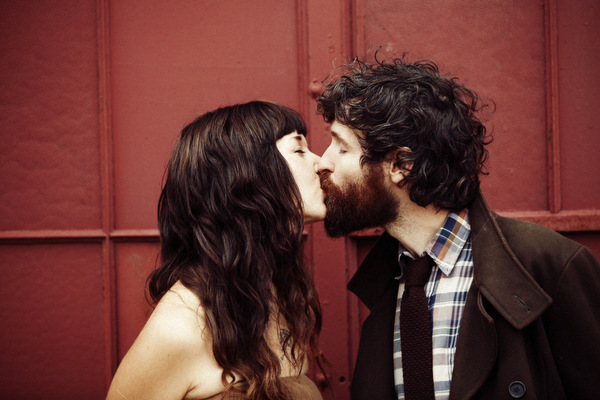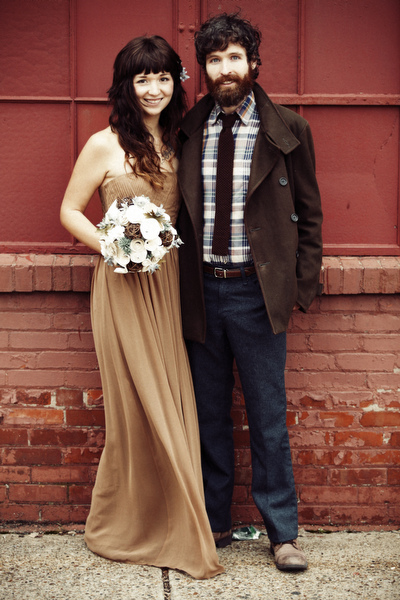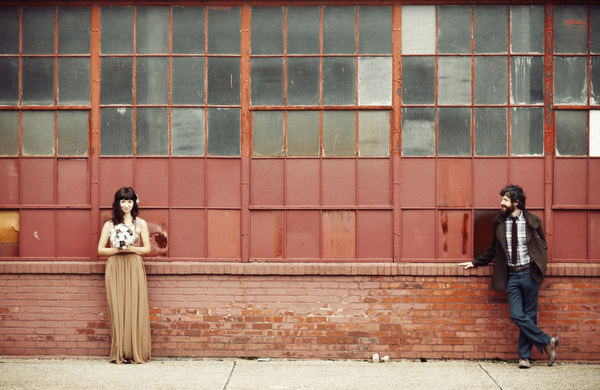 Did you have any 'issues' with the small guest list from friends and family? If so, how did you address them?
I know some people's feelings were hurt, and I do hate this, but I feel like if people truly know Jesse and I, then they understand why we did our wedding this way.  We WILL have the reception eventually. Basically, it comes down to the fact that this was our day. Our friends and family love us, and the lifestyle we have chosen. For the most part, the video and pictures have been a fair substitute for a traditional ceremony.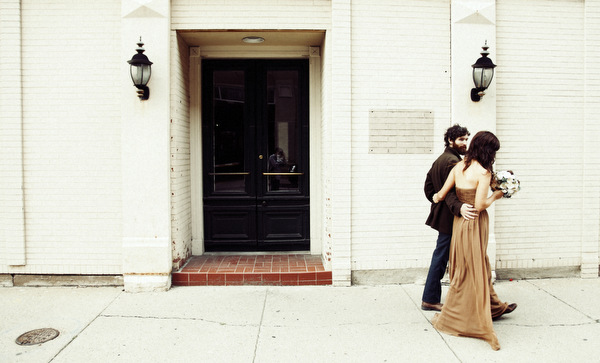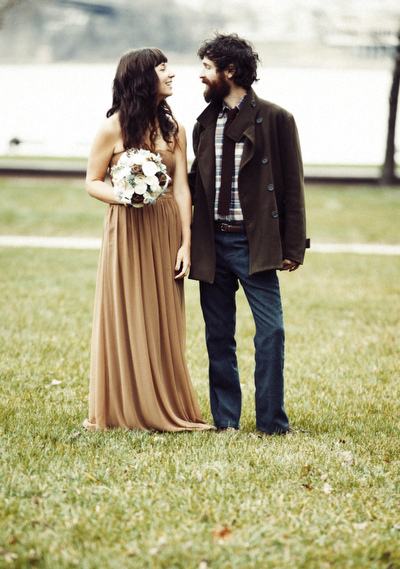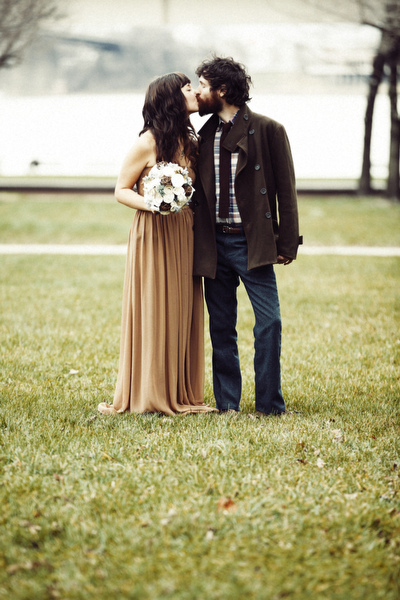 What were the highlights of the ceremony?
The vows, the one traditional part of the day, were so beautiful to us. The day did seem to have such a casual air to it, so as we all the sudden found ourselves saying those familiar words, the weight of what we were doing felt very real and powerful. We were getting married!!!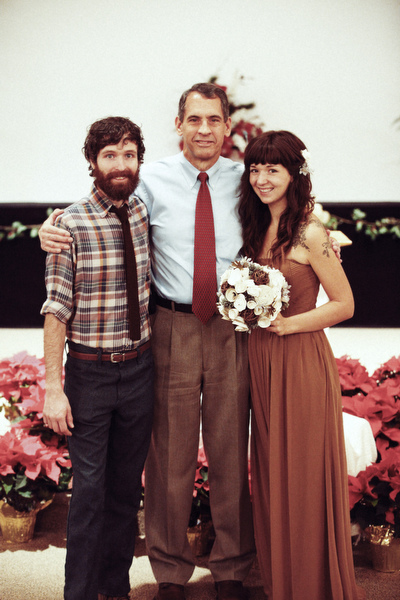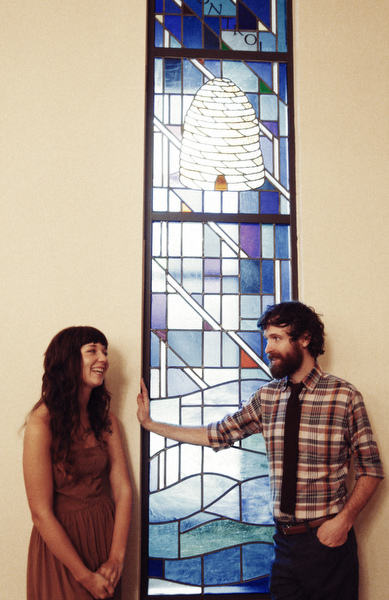 What was the best thing about having an intimate wedding?
The best thing about our intimate wedding was the complete absence of stress or pressure! I would imagine and have heard from friends that a traditional big wedding day is a whirlwind of emotion and stress that ends up feeling like one big blur. When you have been planning and saving up for a year, all culminating in a single day where you are on stage in front of tons of people, I can only imagine! But I am confident that Jesse and I will always remember every lovely little detail of our wedding day. It was simple and casual while also being extremely special. There was not a lot of expectation, no preforming, no real input in terms of money and planning. There is a sweetness in spontaneity that I believe can be lost in all the extravagance. Without a huge wedding, the focus is on the couple and their love for one another. So although I know it is not for everyone, I think an intimate wedding's best component is that of the memory it creates.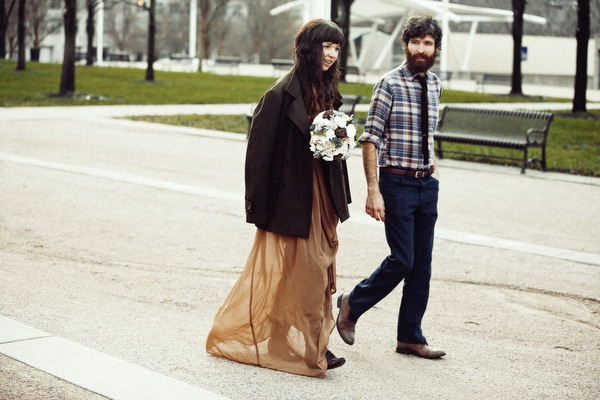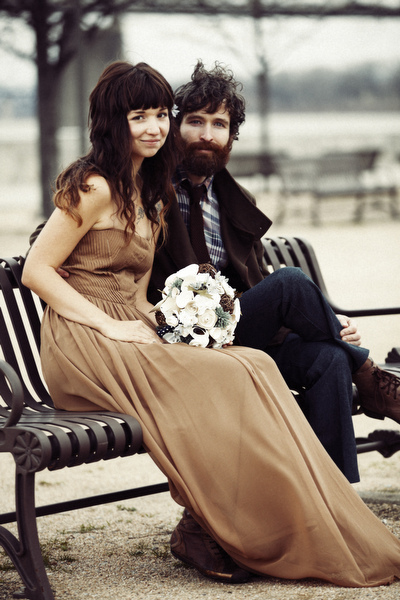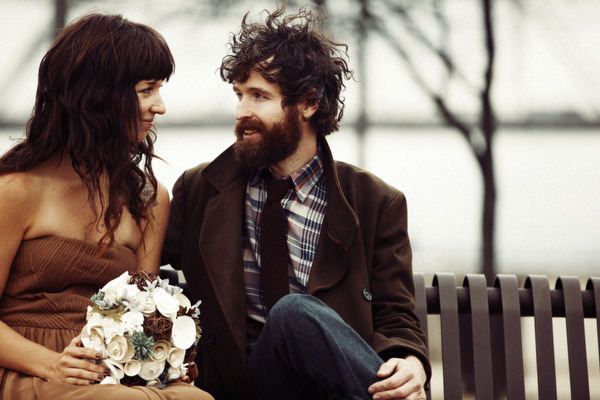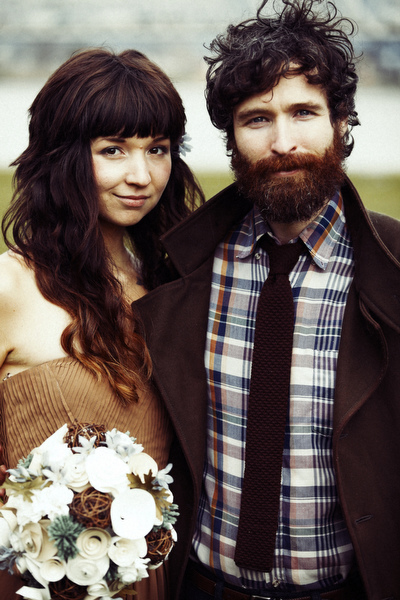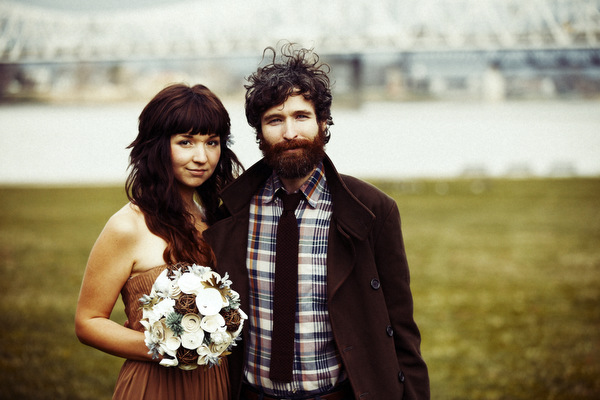 What advice do you have for couples who are considering an intimate wedding?
Do what YOU want to do. Make it a day you will remember! Try not to get so stressed out and worked up that you will forget all of the lovely little moments of the day. If you want a huge wedding and that is what you love, do it! But I would recommend smaller … because it still feels really sacred and special, if not more so!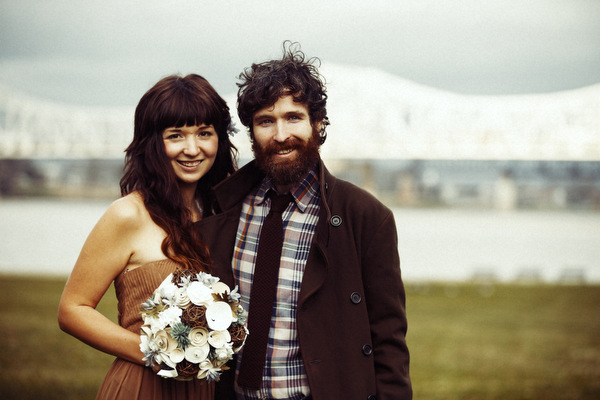 VENDORS:
Photographer: Tim Harris Photography
Dress: Aryn K
Hair Clip and Bouquet: DIY
Groom's Outfit:Vintage
Church: Melbourne Heights, Louisville
Hotel: Brown Hotel, Louisville