Katie and Brett had a beautiful, rustic wedding at Cama Beach State Park in Washington shot by Kirk Mastin Studio. The reception was held inside the park's historic boathouse, which was originally built in the 1930's and is still operational.
"I admit that at first I was hesitant about having the reception in the boathouse. Brett had a vision for how we could convert this industrial, functional space into the intimate dinner party atmosphere we wanted but I just couldn't see it. However, with the chilly and windy weather, sitting outside on the covered porch was not an option so Brett, the groomsmen and their spouses rolled up their sleeves and set up the reception inside," says Katie.
The result?
"I was amazed when I walked into the boathouse and saw that Brett and his friends had created exactly the magical, romantic, rustic and intimate dinner party that we wanted," says Katie.
Catherine "Katie", 31 & Brett, 34
Camano Island, Washington
Wedding Date: September 25, 2011
Number of Guests: 26
Wedding Cost: $15,000
Wedding Ceremony Location: We celebrated our wedding at the beautiful and rustic Cama Beach State Park on Camano Island, Washington. The ceremony was held on a waterfront lawn in a secluded area of the park overlooking Saratoga Passage. We chose this location because we wanted to be outside amidst the brilliant fall leaves and fresh air, a view of the water and the simple sounds of nature like waves lapping on the shore and birds flying overhead. With this lovely backdrop, all we needed to add were white chairs and flowers bordering the grass aisle. (The florist gave us a great tip to place these flowers prior to the ceremony because flower girls tend to not actually drop very many flowers as they walk down the aisle.) Katie was walked down the aisle from the nearby bungalow cabin by both of her parents.
Wedding Reception Location: Our reception was inside the historic Center for Wooden Boats at Cama Beach State Park, a short walk from the ceremony location. We liked that the Center was simple and had local historical meaning. The boats themselves became part of the decor, featuring a special one that Katie's Mom and Brett had painted during a family vacation to Cama Beach the previous summer. The weather cooperated and the Center's large sliding doors were opened to a spectacular view of the sunset over the water during dinner.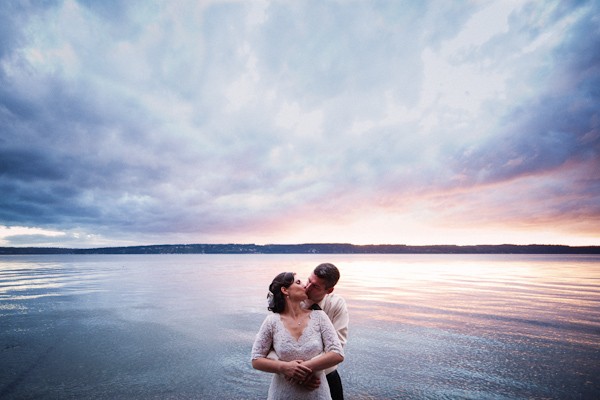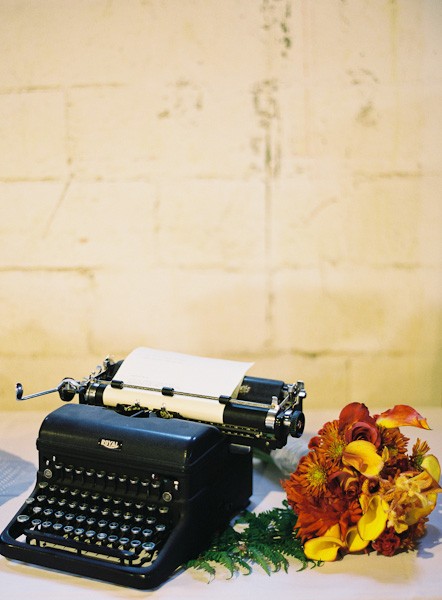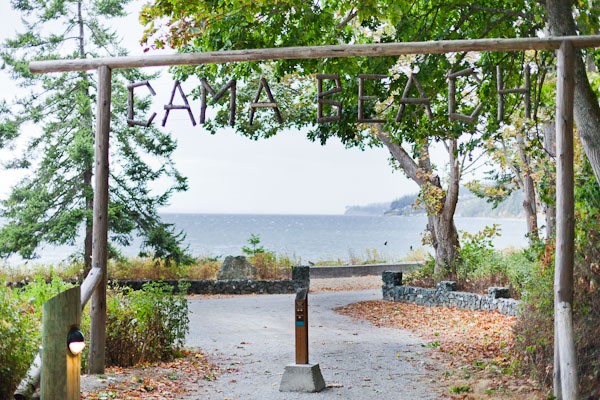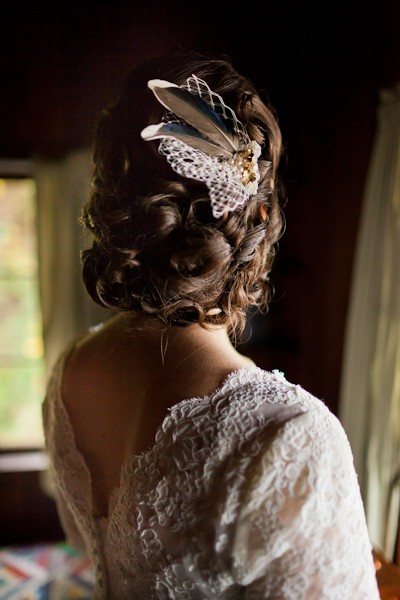 Why did you have an intimate wedding?
We chose to have an intimate wedding because we wanted to spend the most important (and expensive!) day of our lives consistent with what we enjoy and value. We wanted the event to reflect our unique personalities, not what the wedding industry or anyone else said we "needed" or "should do." When we socialize, we prefer small parties with our closest family and friends, good local food, reflective quiet moments mixed with laughter, environmentally-friendly choices and beautiful outdoor settings. We used this as a model for the wedding.
We also limited our wedding to close family and friends so that the event was more personal and meaningful for all those in attendance. We wanted each of our guests to have an active role in the wedding and feel appreciated for their integral involvement both in the day-of and in our lives.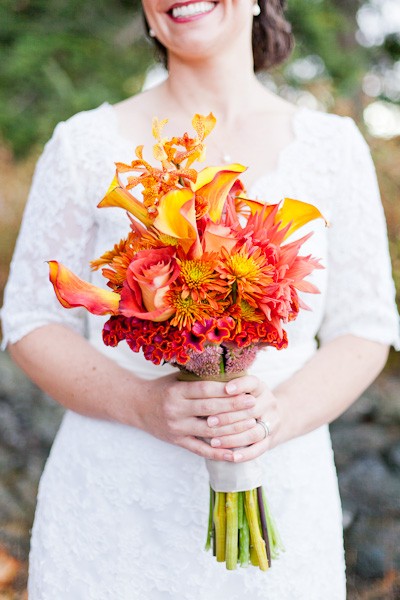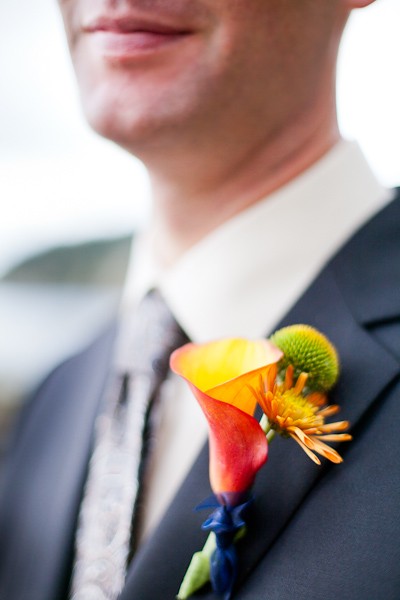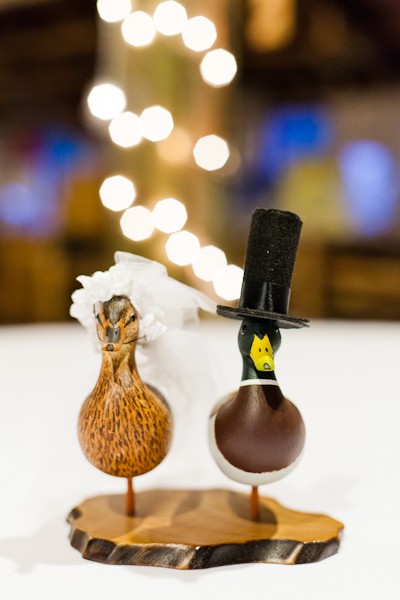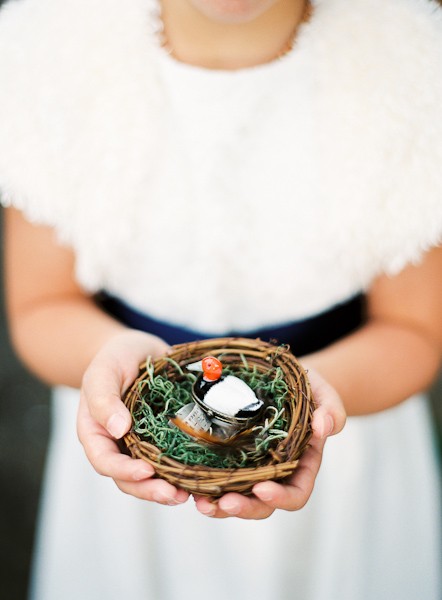 What are some of the challenges that you faced planning an intimate wedding?
The first challenge was picking a location from the wide array of choices for a small wedding. Ultimately we decided that the somewhat remote and quaint location of Cama Beach suited us perfectly. We often take long weekends to relax and explore small towns and remote waterfronts throughout Western Washington and wanted to share this with our friends and family. We particularly liked the idea of renting the refurbished 1930's waterfront cabins for all of our guests to stay overnight.
In addition, planning the wedding took more time than we expected. We were surprised that it takes as much work to plan an intimate wedding as a large formal wedding. You have just as many tasks on your to-do list, you just order (or make) smaller quantities. In fact, since we had a small wedding we were financially able to customize almost everything, which created even more work! For example, Cama Beach State Park was a blank slate with no event planner or vendor lists. At first this seemed great because we could really make it our own. However, we had to anticipate and procure everything from scratch, from a special permit for gatherings in the park to renting and setting up chairs/tables/dishes etc to a mirror for Katie to use when she was getting ready in one of the cabins, with no vendor suggestions and limited quality local vendors. Further complicating things were the standard Park rules which were not set up for large events, such as limited car access to the ceremony and reception areas and a firm 3pm check-in time for the cabins, even for the bride preparing for 3:30pm photos!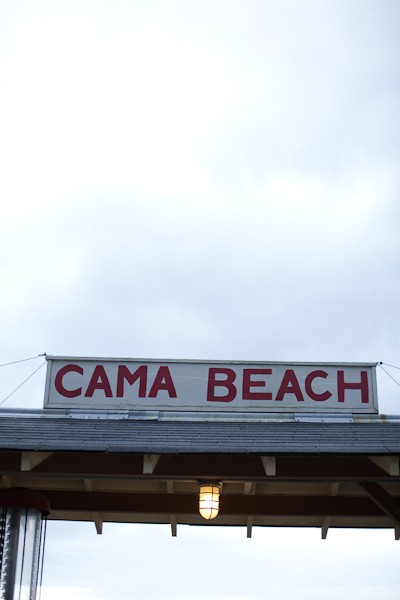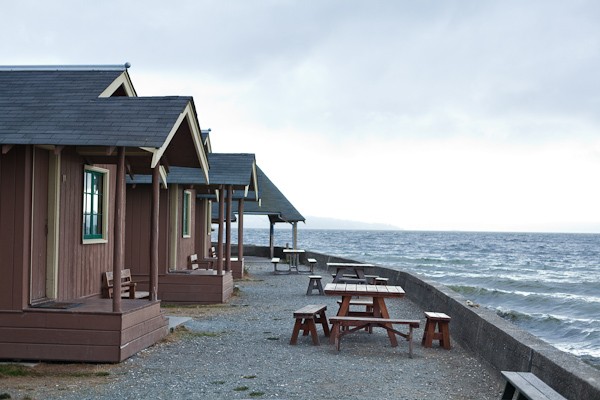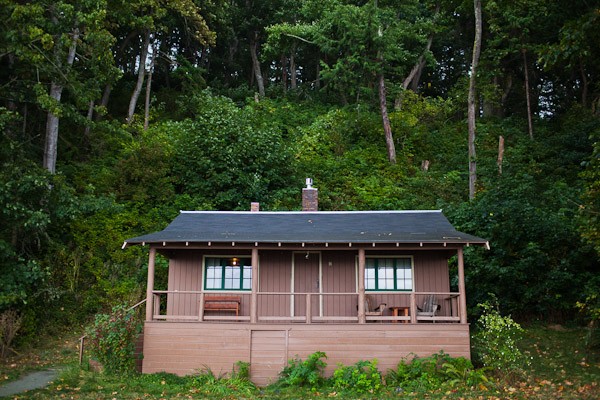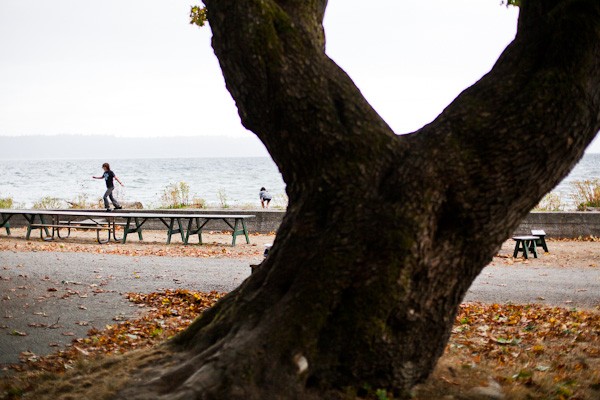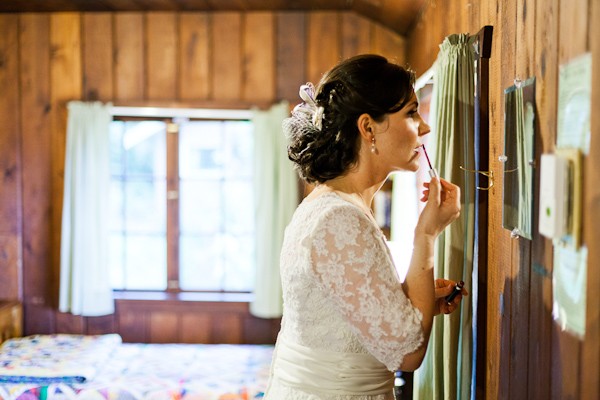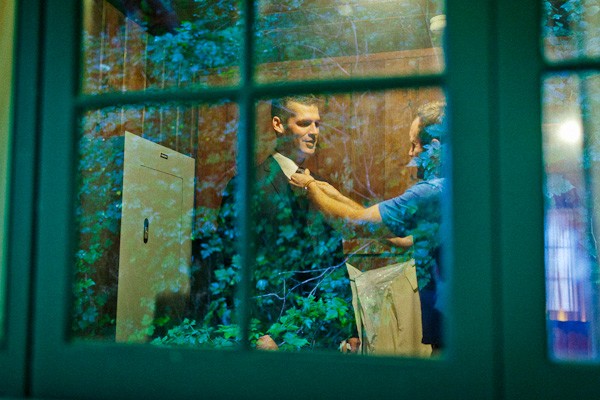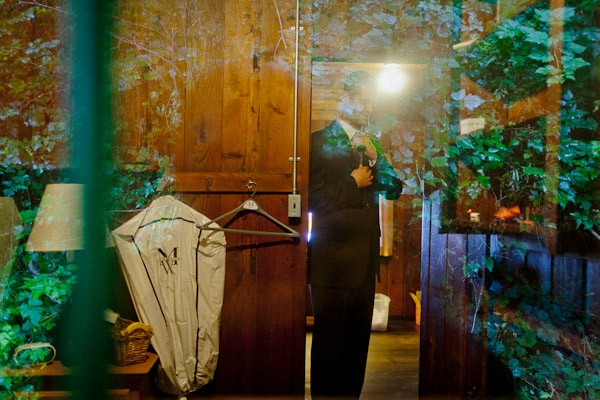 Was it difficult to pare down the guest list?
It was not very difficult for us to limit the guest list because we knew that we wanted a small wedding from the start. We each had about fifteen very close family or friends that we wanted to invite. Katie has a big immediate family so her side was just her parents, siblings and their families (including Katie's seven nieces!), and one close friend. Brett's immediate family is smaller so he invited his parents, brother, a close aunt and a few more close friends.
Due to the small size, we thought about not having a traditional wedding or bridal party. However, as time went along and we planned a bit more, we both realized it was important to have our guests actively involved in the wedding and that we liked some traditional wedding formalities like having Katie's parents walk her down the aisle, exchanging vows and blessing of the rings.
Having a small guest list allowed us to spend more time and money on each individual aspect of the wedding. For example, we designed and made custom wedding invitations incorporating a watercolor Brett had commissioned from a local artist as an engagement gift to Katie, printed on wood veneer and tied together with a feather and dark orange satin ribbon. They were beautiful and so uniquely us!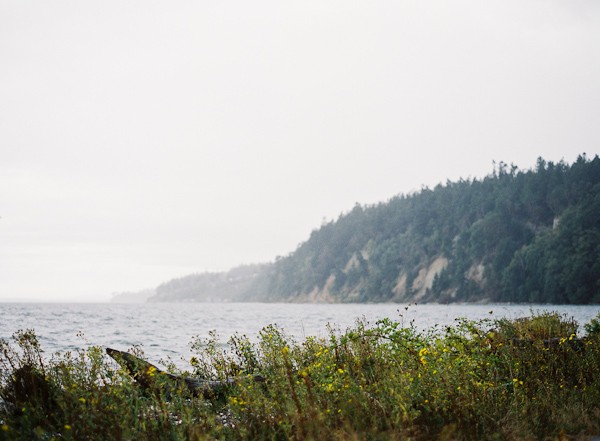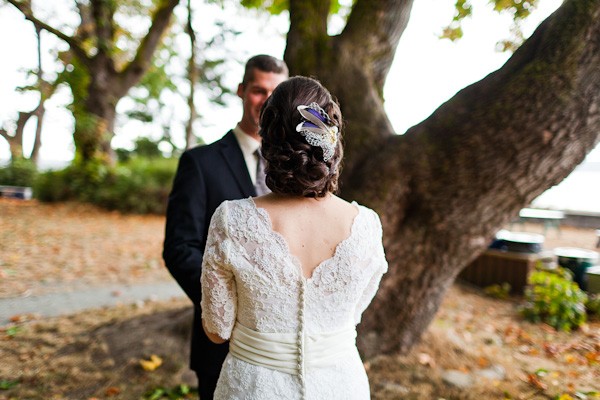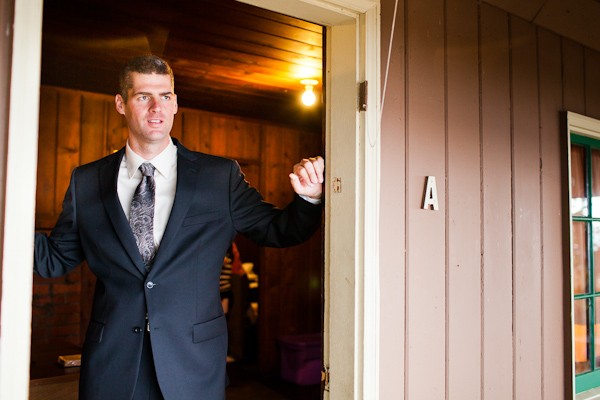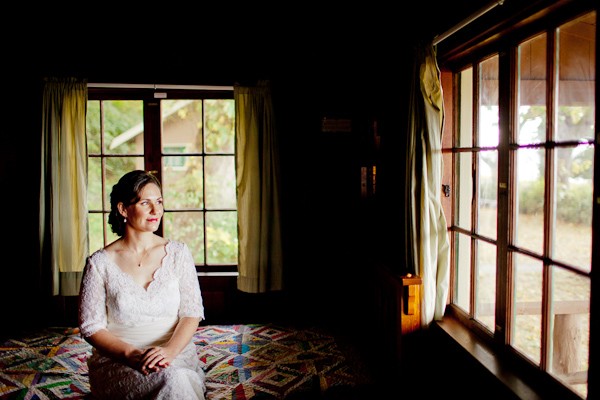 Did you have any 'issues' with the small guest list from friends and family? If so, how did you address them?
At first all of our friends and family encouraged us to have a small, non-traditional wedding or even elope! However, once we started sending out our invitations each of our parents were surprised that we weren't inviting extended family. We decided that each of us would be in charge of communication with our own family and we firmly but gently reminded our respective parents that the guest list was intentionally small and exactly what we wanted.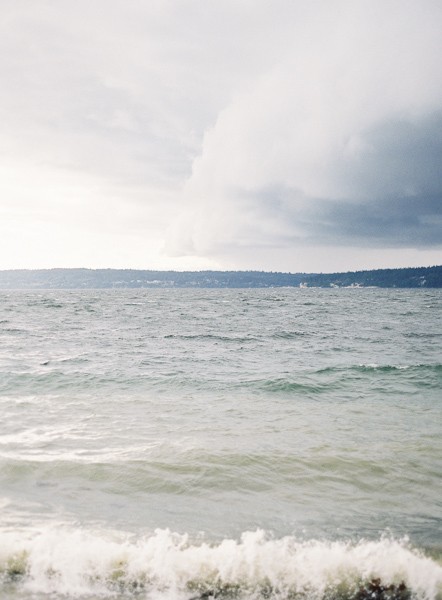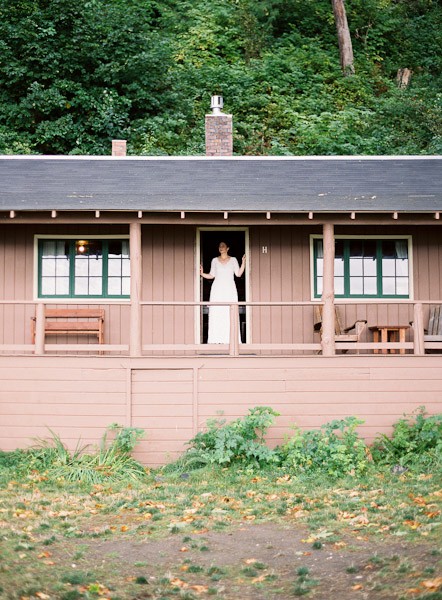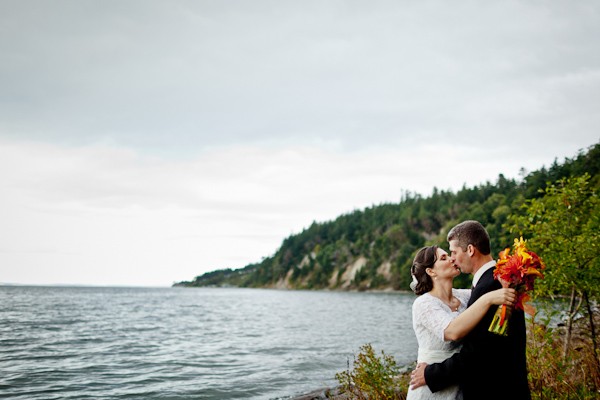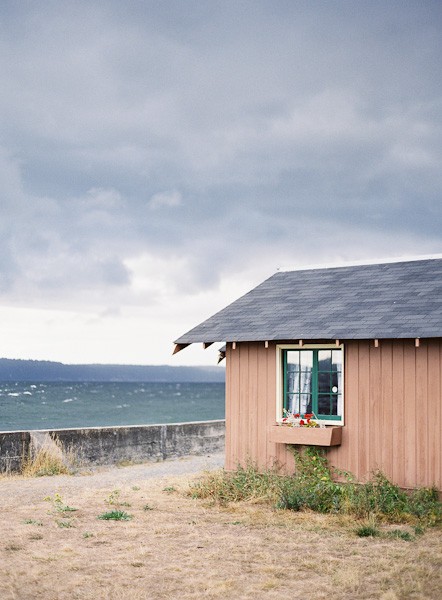 What were the highlights of the ceremony?
When Brett arrived at the park at noon, it was so windy that there were white caps on the Passage and black clouds were rolling in. Shortly after Katie got there at 3pm, the drizzle turned into a deluge! All of the chairs had been set up outside (at Katie's insistence) and were drenched. Miraculously, the rain stopped and the sun came out just before the ceremony was scheduled to start. Groomsmen towel-dried the chairs and the sun flitting through the clouds made a magical background to the waterfront ceremony. Our amazingly talented classical guitarist played songs we had picked to reflect us and the vintage setting: "Wonderful Word" for the party processional, "Unforgettable" for the bride's recessional and "How Sweet it is To Be Loved By You" for the recessional.
One highlight of our ceremony was planning it cooperatively together. Our officiant, Reverand Peter Luton of our Unitarian Church, recommended using the planning as an opportunity to discuss what marriage meant to each of us and to incorporate our values into the ceremony. We read and discussed many sample vows and readings together; learning deeply about each other and our future together and guiding us in the vows we wrote together.
Reverand Luton was another highlight of the ceremony. We already knew he was a fabulous speaker from church but we were both impressed and grateful for the leadership he provided throughout the rehearsal and ceremony. Unlike us, he had done this a few times before and knew what to do to make everything go smoothly. He was confident, clear and easy to hear (often a challenge at outdoor weddings), and maintained the perfect balance of spirituality and light-heartedness throughout the ceremony.
Another highlight, made particularly meaningful by having a small wedding of just close friends and family, was asking each set of parents and then all of the guests to pledge their support of our new marriage, prior to our own "I do's."
Finally, Brett's dad and Katie's mom gave short readings. Brett chose "It's You I Like" by Mr. Rogers for his Dad to read and Katie chose "The Art of Marriage" (slightly edited!) for her Mom to read.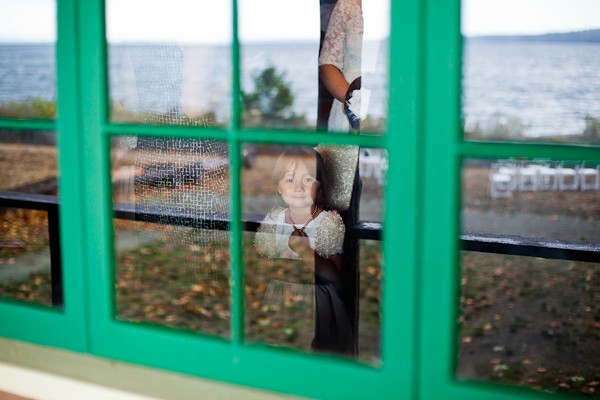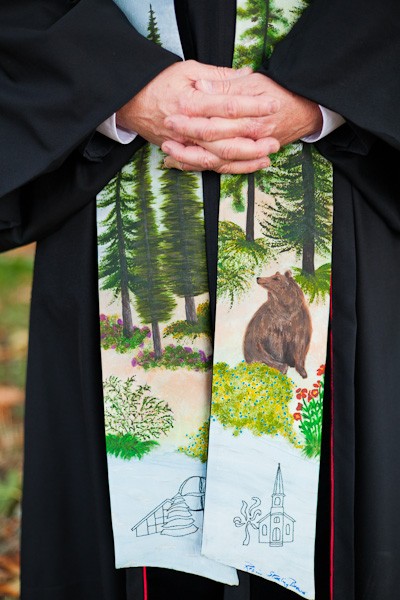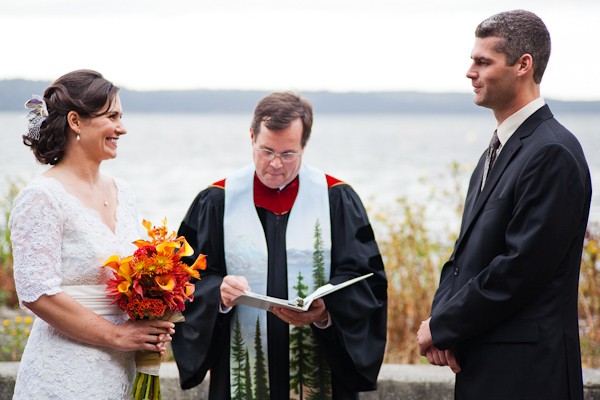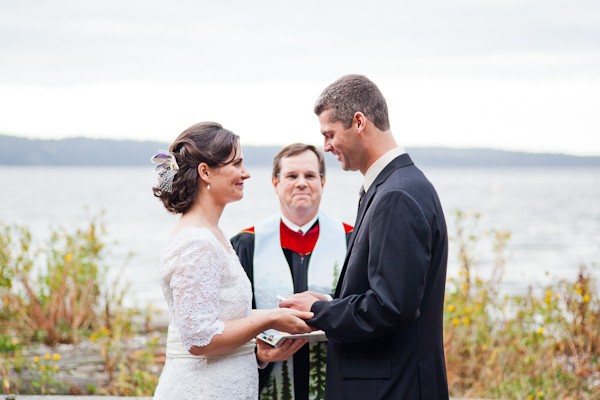 What were the highlights of the reception?
Brett and his friends wrapped white lights around the beams and boats, set up tables draped in white linens and decorated with deep orange flowers in antique blue mason jars, fresh green fern fronds and faux-candles in white lanterns. (Real candles and fire were not allowed inside the Center. Unfortunately we discovered on the day-of that this included prohibiting the propane heaters we had rented!) We chose clear stemware and white chairs, linens and china to keep things simple and so that the colors of the flowers would pop.
We had planned several unique, personal touches for the reception, including an antique typewriter for guests to leave us notes, the original watercolor Brett had commissioned from a local artist for Katie as an engagement present (which we had printed on wood veneer for the front page of our invitations), a metal sculpture of an ampersand symbol hung from the rafters between us, an acoustic guitar playing our favorite (mostly classic oldie) songs, and name-cards created by Brett, which continued the nature theme with herons and reeds.
Brett combines his love of nature and history in his hobby of collecting antique wood duck decoys. His fellow decoy-collecting friend carved and painted a pair (male and female) of mallard ducks for the "cake" toppers. Katie's mom made a veil and top-hat for the ducks and they presided over mini pumpkin pies made by Katie's sister, Sasha. The months leading up to the wedding included lots of fun and tasty pumpkin pie, cheese, and wine taste-tests!
Since we had a relatively small wedding, we were also able to spend more per person to serve our favorite local wines and organic foods at the reception. Katie and her family are foodies so it was particularly important to her that the dinner be delicious, beautiful and sustainably-sourced, which it was! We started dinner with each guest nibbling on their own plate of all of our favorite local cheeses, complete with hazelnuts, mini-pears and pickled fig compote. Then we had a buffet of field greens with pears, blue cheese and walnuts, farro pilaf with kale and baby tomatoes, chilled green beans with balsamic drizzle and parmesan curls, roasted seasonal root vegetables with apple cider vinegar, wild mushrooms on baked polenta, and king salmon. I (Katie) purposefully picked foods that don't have to be piping hot to be delicious, since buffets always get cold. Everyone agreed that the food was exceptional!
It was also important to us that Katie's seven nieces feel included in the festivities. So we decorated their spots at the dinner table with finger puppets of local animals and their own small bottles of sparkling cider and provided a kids' craft table with coloring and jewelry-making to keep them entertained after they had finished eating.
Since we had rented cabins for guests to stay the night, we continued the celebration with s'mores around the campfire late into the evening. My (Katie's) favorite moment of the whole day was dancing in the dark under the stars with Brett, softly singing "Dream a Little Dream of Me" together, with our loved ones chatting around the fire nearby and the waves lapping at the shore. Happiness!
Katie's family hosted a brunch in their cabin the next morning. Then everyone saw us off, with the kids blowing bubbles. Brett had arranged for a local car collector to drive his 1938 Cadillac down to the beach to pick up the bride and groom and whisk them away…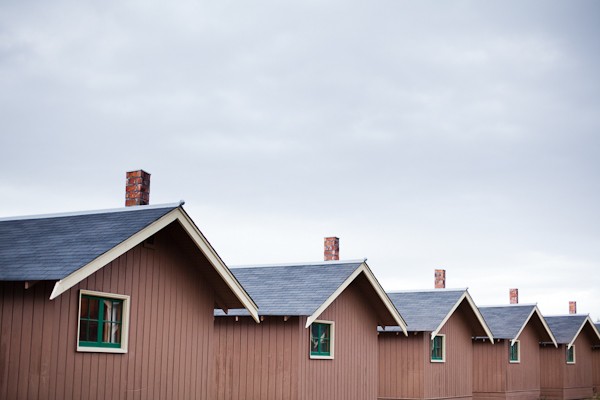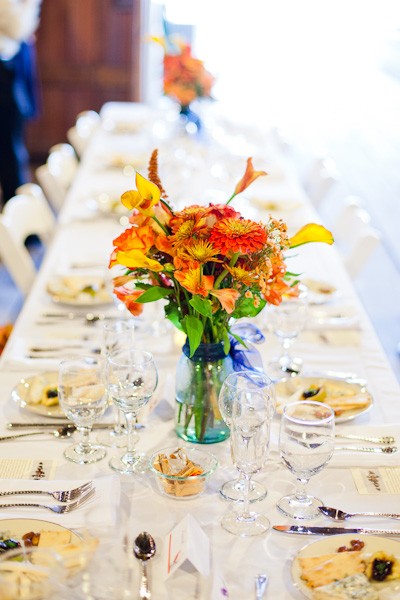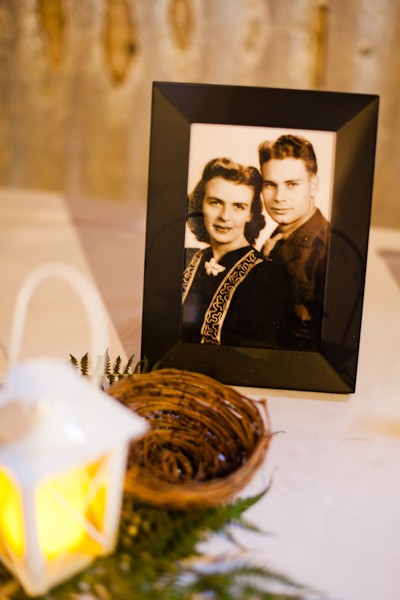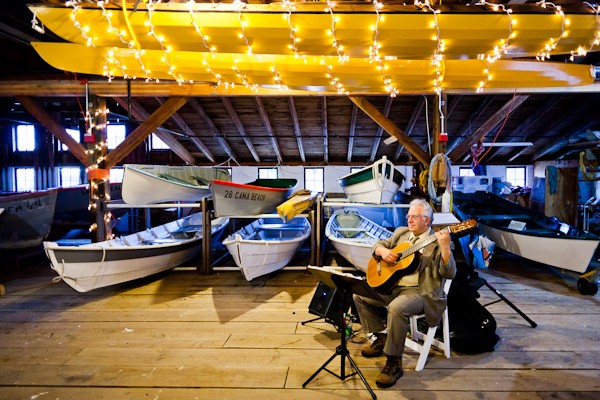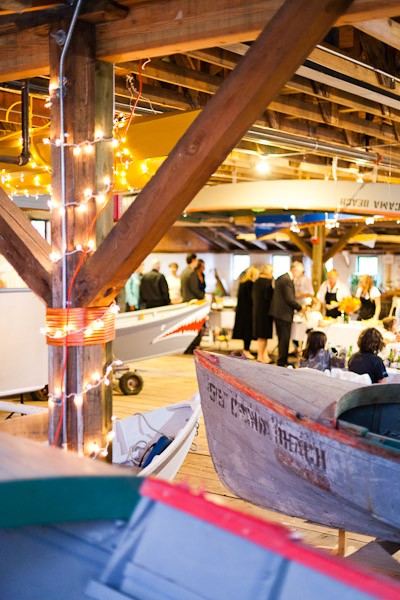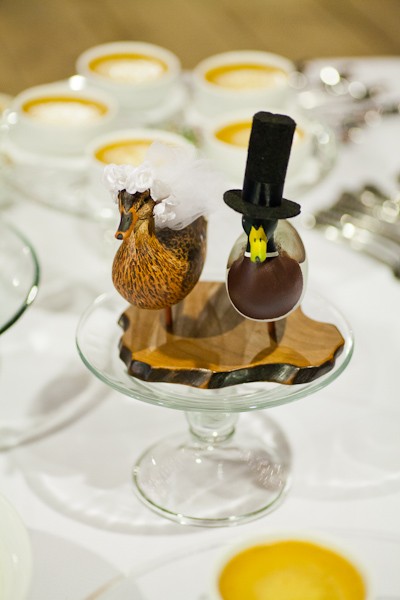 What was the best thing about having an intimate wedding?
We are glad we had an intimate wedding because it reflected what we value and enjoy the most. The wedding brought together our closest friends and families in a place that has special meaning for us. Keeping it small allowed us to incorporate many details that reflect our interests and passions.
We also enjoyed involving our guests before, during, and after the actual wedding. Everyone there helped us in some way. For example, for eight weeks prior to the ceremony Katie met with her dress-maker, sister and mom weekly to have her dress made. These visits, often combined with pie-tasting, cheese-tasting, and wine-tasting for the reception (hard work, I know!), were great fun and more frequent than we usually get together.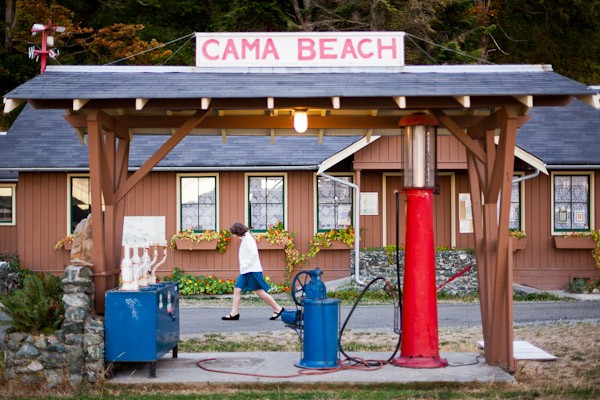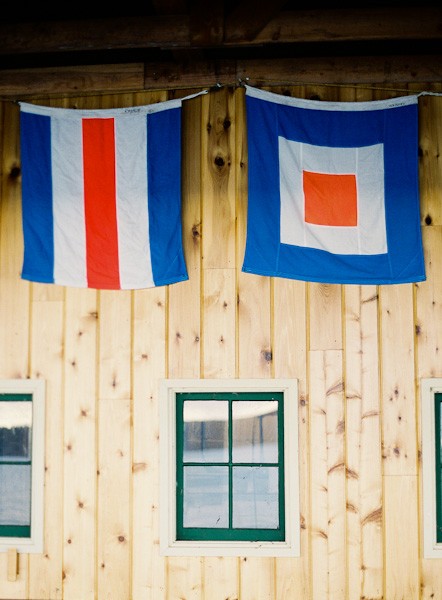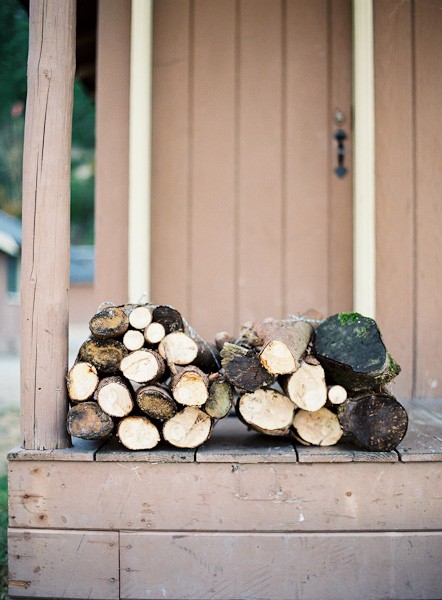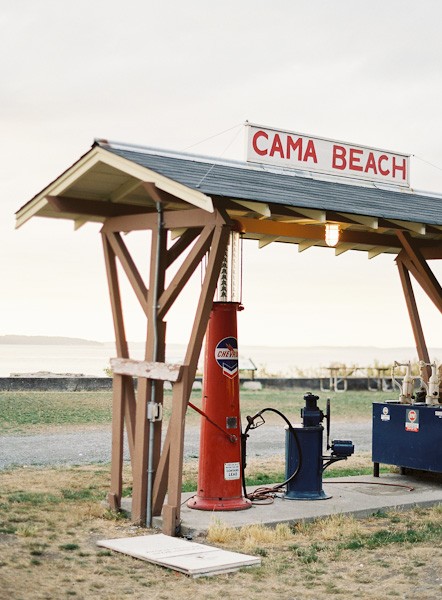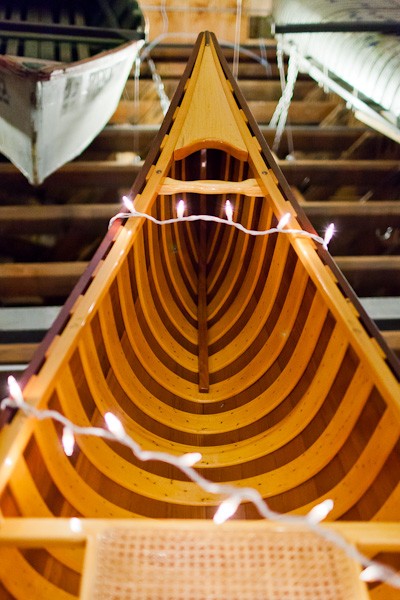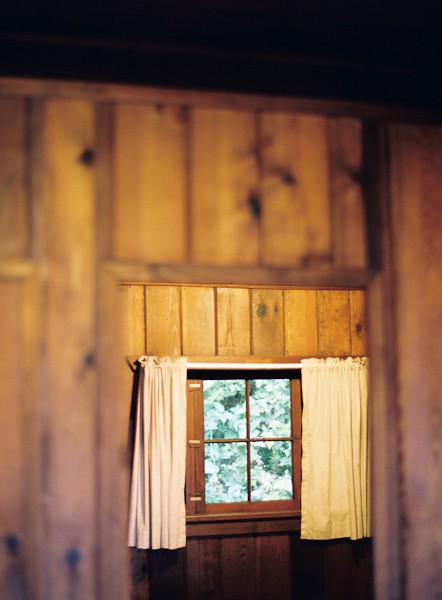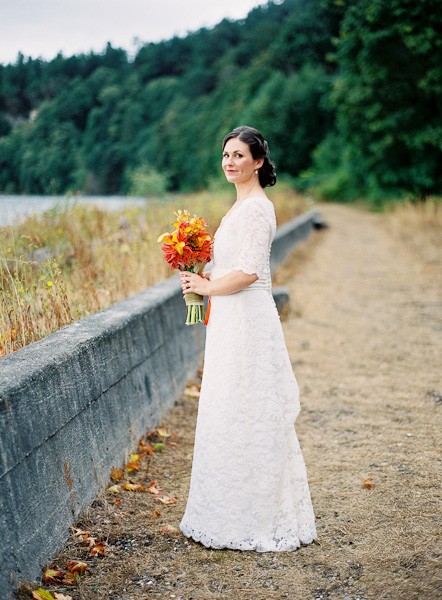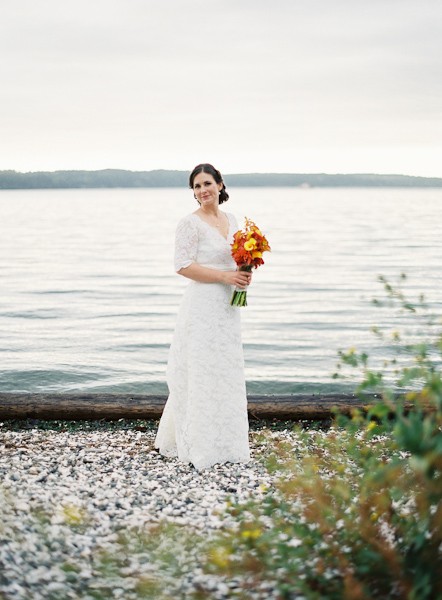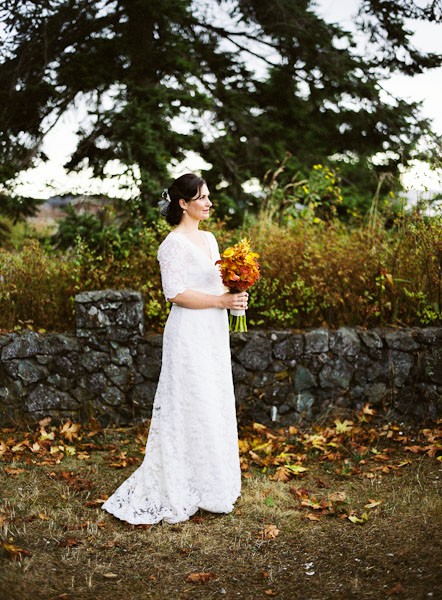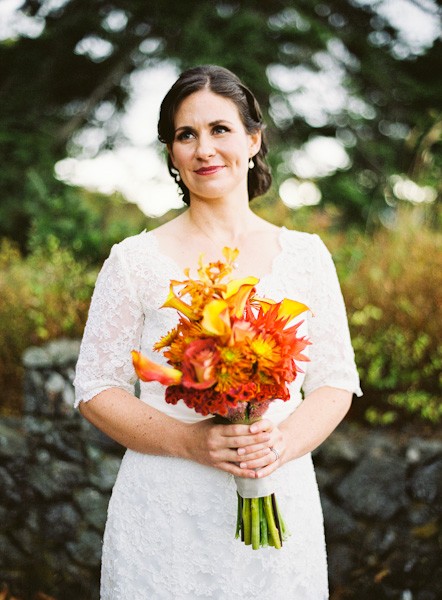 What advice do you have for couples who are considering an intimate wedding?
Understand and discuss with each other your hopes and dreams (and fears) for your wedding, expectations for planning and the event itself, limitations, etc.
Write down a to-do list, including a deadline, budget, and primarily responsible party for each wedding planning task. Divide up the responsibilities based on your interests and availability. Consider not doing tasks that you don't have time for or aren't particularly interested in doing.  For us that meant no save-the-dates or website, which no one missed!
Let your family and friends know what to expect, including who you are inviting, as early in the planning process as possible.
Decide how much work you want to do yourselves and choose your location accordingly. If you choose a "simple" wedding in a location that has no standard event protocol, vendor lists, or event planners, expect that the planning effort will not be simple at all, even if it is small! Luckily for us, we both have previous planning experience to manage all of the details. We also had many gracious family members and friends that helped before, during, and after our wedding. However, in retrospect Katie would have hired an invisible host(ess) for the day so that Brett and the guests had not been so busy "taking care of things" on the day-of.
Make your wedding a reflection of who you are as individuals and as a couple!  Really think about what is important to you. Don't just go by what everyone else does or what is expected. (Unless that suits you, in which case go for it!) Be flexible, compromise with each other, and be supportive of each other's dreams.
Always remember that the relationship comes first and the wedding planning the perfect opportunity to discuss your hopes and dreams for the day-of and for your married life ahead, deepen your knowledge and love for each other, and practice team work and conflict resolution—skills you'll need after the wedding too!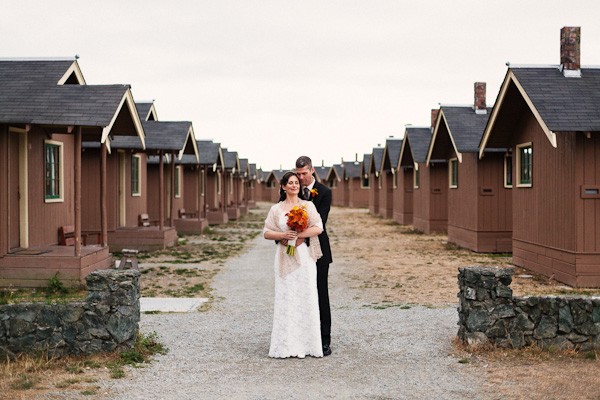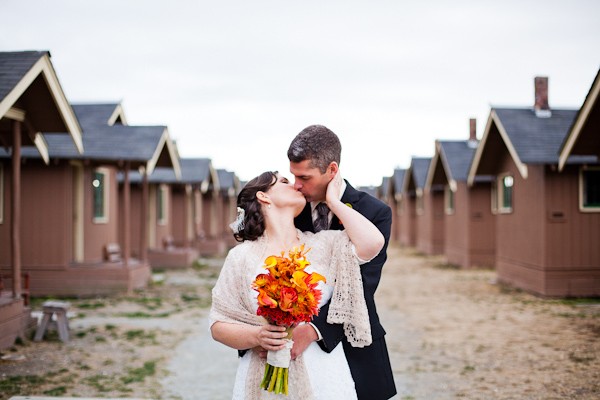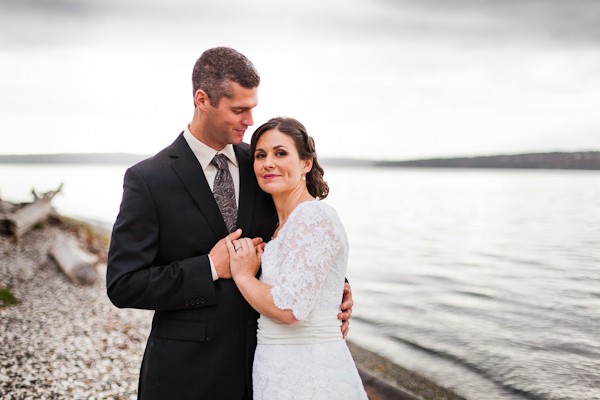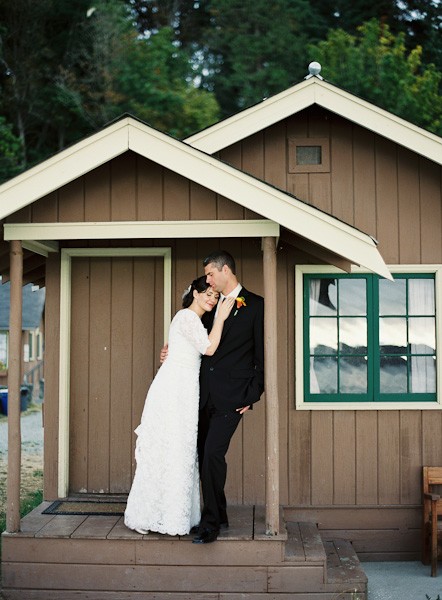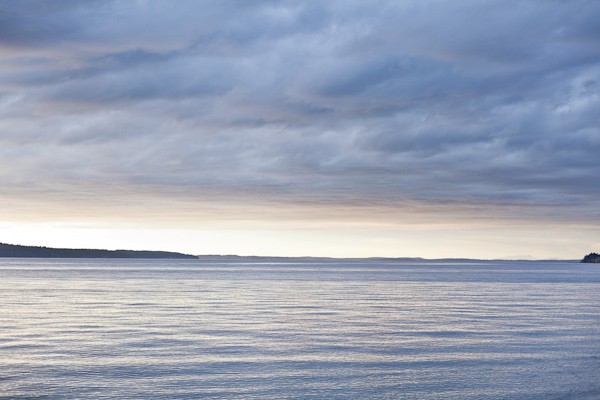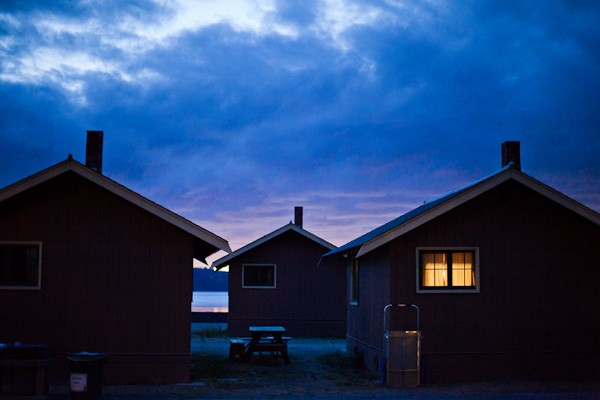 Vendors:
Catering: Scandia Coffeehouse
Pies: Sasha Henry
Cheese: The Cheese Cellar
Photography: Kirk Mastin Studio
Guitar Music: Barry Pollack
Ceremony Venue: Cama Beach State Park
Dinner Venue: Center for Wooden Boats
Rentals: Consumer Rental
Wedding Dress: Poetry of the Dress
Florist: Jungle Luv
Officiant: ESUU Reverend Peter Luton
Wood Duck Boxes: Washington Waterfowl Association
Bride's Hair and Makeup: Gene Juarez, Bellevue