Out of the dozens of real weddings we've featured on IW, this is one of my all time faves.
Darin and I visited Norway a few years before we got married and the breathtaking scenery in these photographs brings back beautiful memories.
I love everything about this wedding. I especially love the fact that the couple embraced the unexpected elements of the day and let spontaneity work its special magic.
"Every other moment we seemed to have something to 'wow' at," says Tegan.
Thanks to Daniel K Cheung for the incredible photos!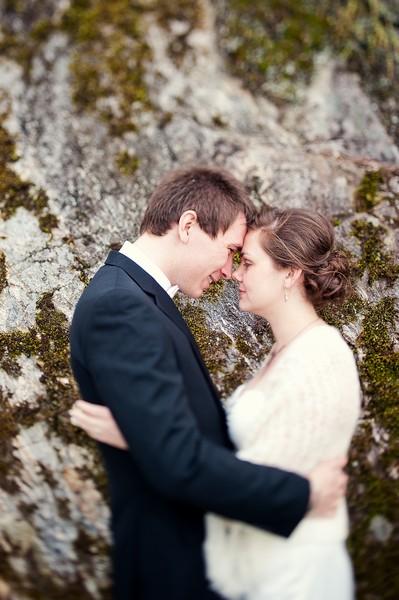 Tegan, 25 & Philip, 25
Skjerjehamn, Norway
Wedding Date: May 5, 2011
Number of Guests: 8 plus the photographer (all flown in from Australia).
Wedding Cost:  $8,200
Wedding Ceremony Location: We were very lucky to have a day with beautiful clear weather (this area of Norway is known for having rain 300+ days of the year), so the ceremony was out by the water in front of an old hotel called Skjerjehamn. The hotel was built around 1891, but recently renovated and filled with an eclectic mix of art/artifacts in the original style by the eccentric, tycoon owner. Skjerjehamn is a tiny island connected via causeway to a larger island, both of which form part of a large system of old broken down fjords on the Norwegian Coast, about 100km North of Bergen.
Wedding Reception Location: Inside the old part of the hotel. It was built as a hotel, but feels more like a large family house. A feeling that was helped by the fact that, as chance would have it, we were the only guests for the two days of our stay (the hotel can stay around 80). We had our dinner in the original dining room.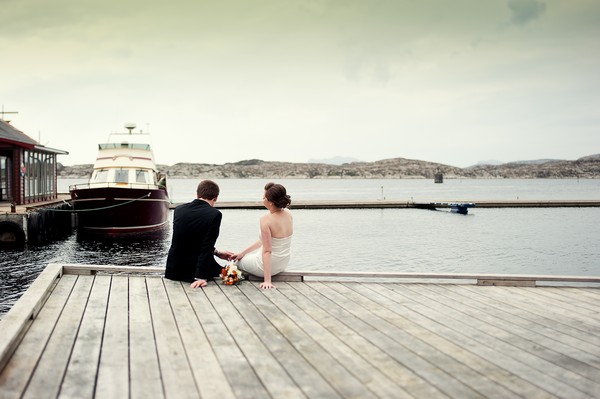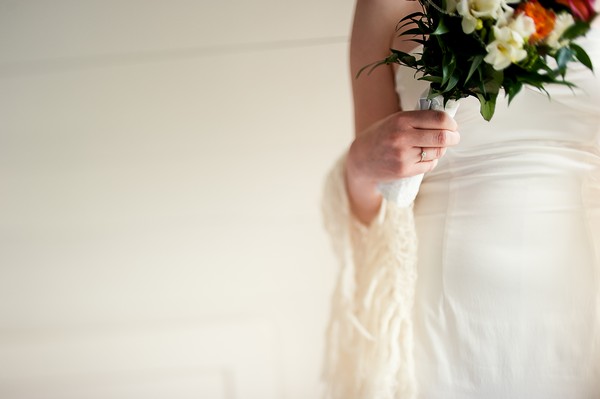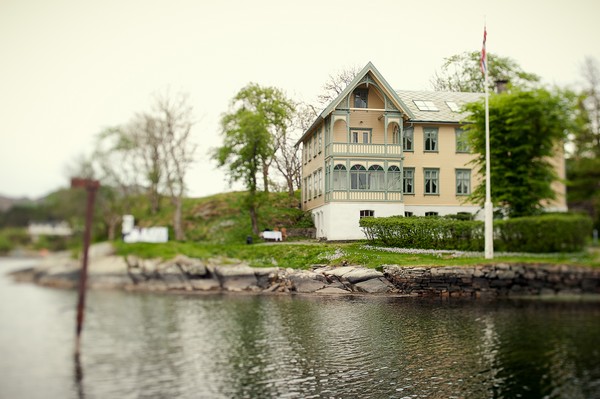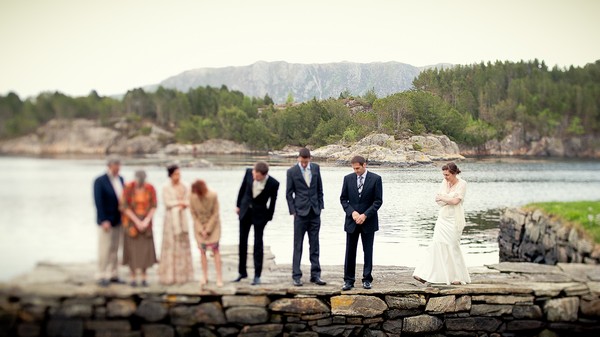 Why did you have an intimate wedding?
TH: I was never a child who fantasized about my wedding day, or even really thought about getting married. The thought of suddenly becoming a person who cared about which shade of white my tablecloths were did not appeal, neither did the idea of being the center of attention. I'd also never been to Europe, so this seemed like a good opportunity.
PV: I, on the other hand, joked about wanting a fairytale wedding (probably subconsciously I wanted one). Luckily, Tegan swayed me into the idea of eloping. In the end we felt a little silly doing it on our own, and so a very small guest list was assembled (originally just parents), most of whom we knew would never be able to make it, but all of whom we genuinely wanted to be there. I think about 20 people were invited.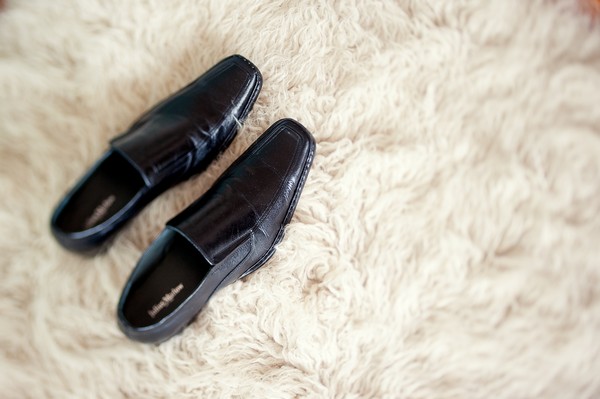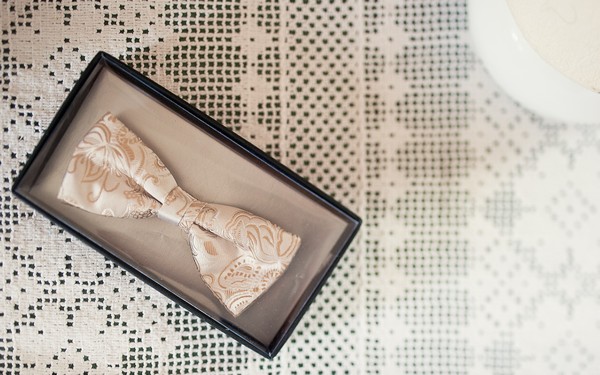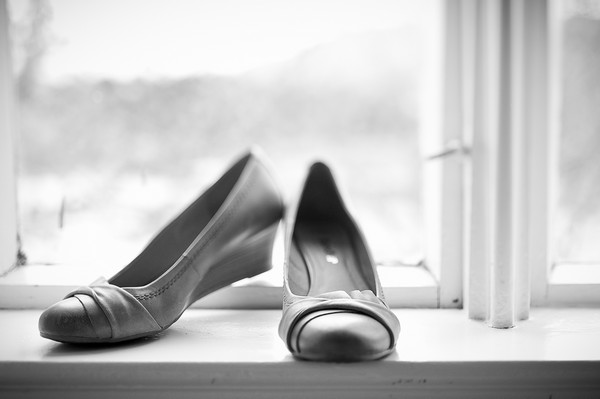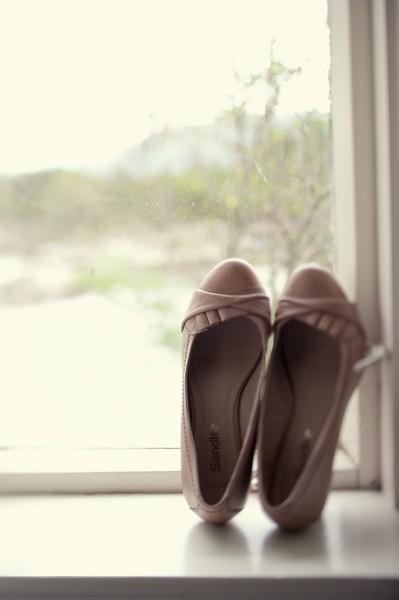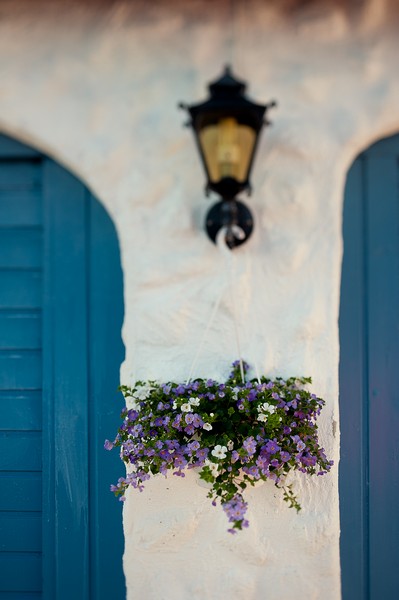 What are some of the challenges that you faced planning an intimate wedding?
TH: We were concerned about going to a bigger hotel and feeling like we were rattling around in it. I know our wedding was very small, but I didn't want to feel more conscious of that as a result of being put in a massive room. The location was, therefore, quite important. Skjerjehamn is a hotel that can house about 100 people, but is broken up into two or three buildings. We were in the smallest, which was perfect.
We had a huge amount of trouble finding a person to do my hair and makeup from Australia. I ended up booking a person half an hour in the wrong direction (the ceremony location was two hours from Bergen). I should have applied the same approach to hair as I did to flowers, show up to a convenient hairdresser when we got to Bergen, and found one with an appointment available.
PV: More so than the challenges of an intimate wedding were the challenges of an intimate wedding in a foreign country, one in which we didn't speak the language. Trying to find the perfect hotel, as Tegan says, was quite a challenge, and up until I actually saw the hotel, I was still unsure about the venue.
Actually, one funny thing that was hard was finding something to put in the ceremony. With a bigger wedding, you can kind of go for things like live music/walking down aisles, people speaking etc.. For a time, we struggled to fill up what felt like an amount of time that we'd be happy with.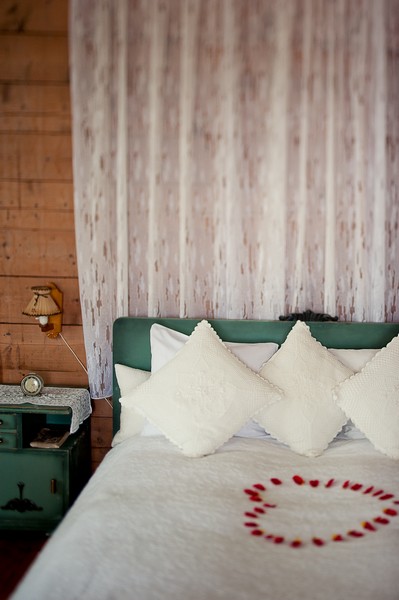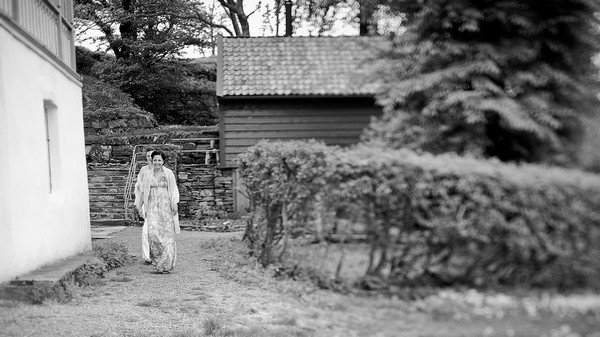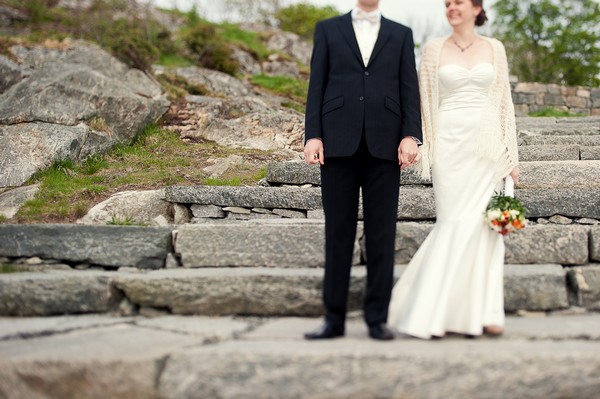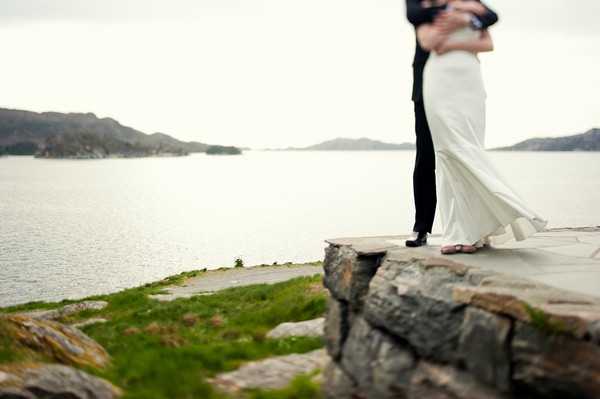 Was it difficult to pare down the guest list?
Not really, the location managed that for us.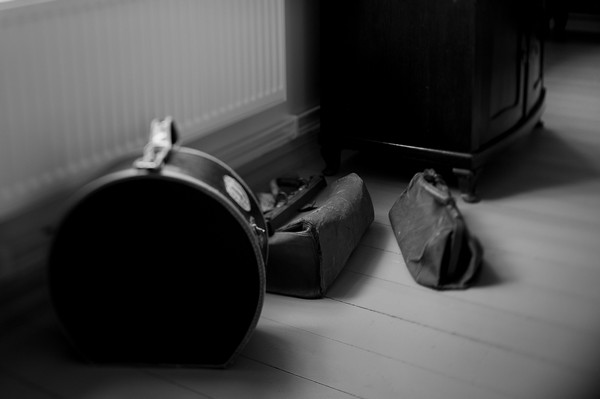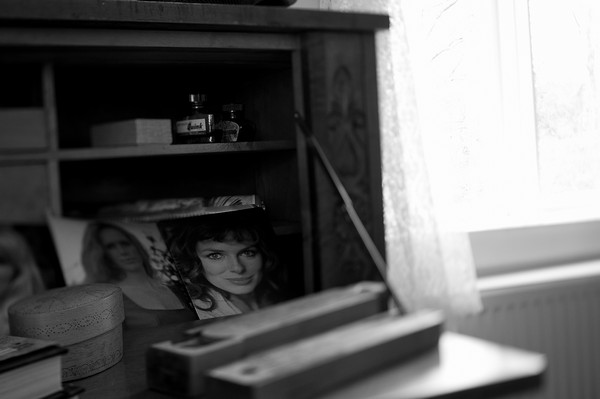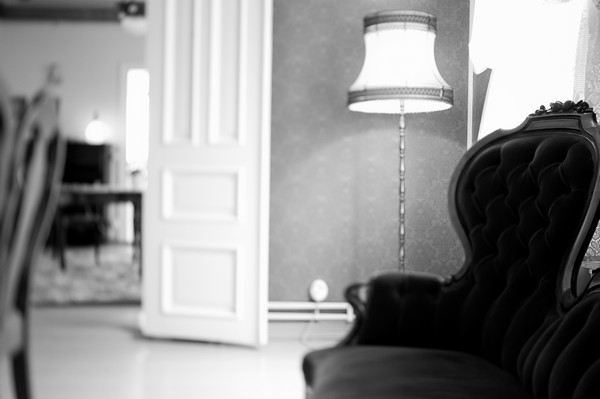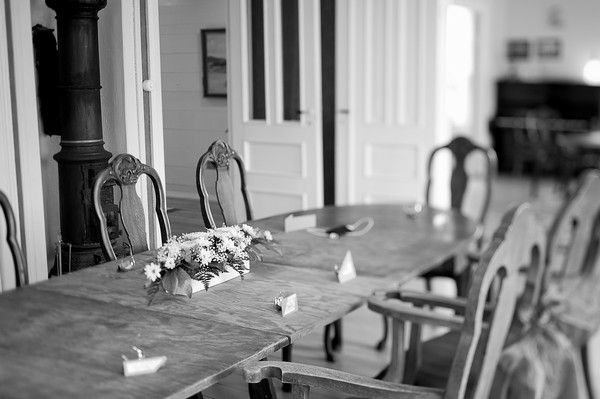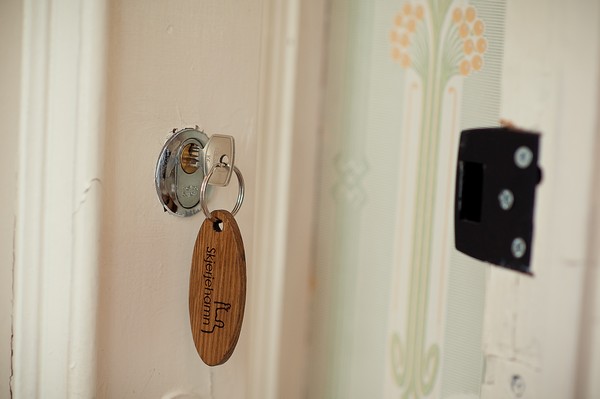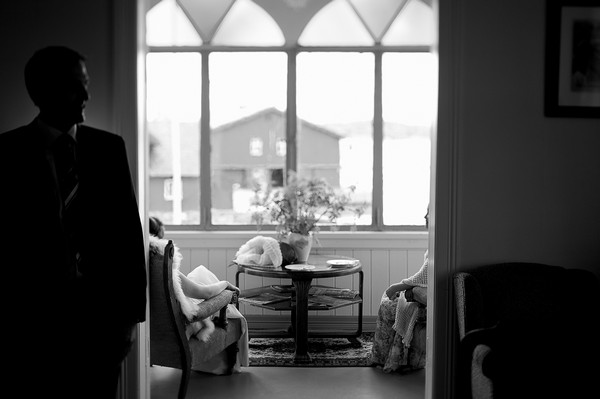 Did you have any 'issues' with the small guest list from friends and family? If so, how did you address them?
TH: Philip's grandfather was disappointed that he wouldn't be able to see his first grandchild's wedding. We spent part of our 'honeymoon' in the Czech Republic, where Philip's family is from, and made sure to visit places that were important to his grandfather, particularly the university where he had worked, then spending the time with him later showing him the pictures and hearing the stories he wanted to tell. I think that made him feel better about it. Because we only had that one person, we were able to personalize our response.
PV: I also feel some regret that our siblings and a few close friends were not able to make it, but that's the way it turned out. I think that if everyone we invited had come, it would have felt very different.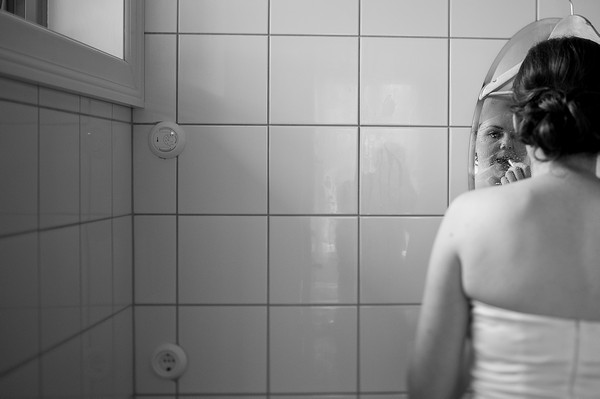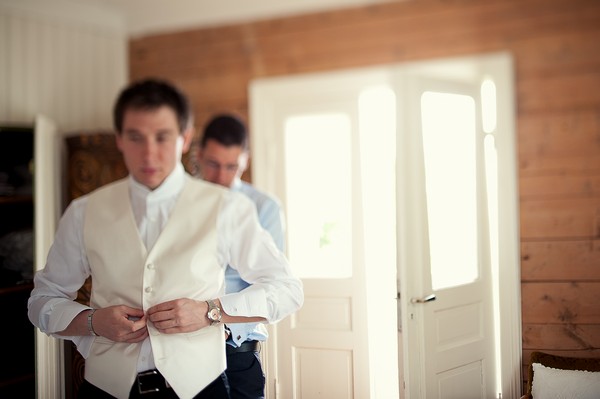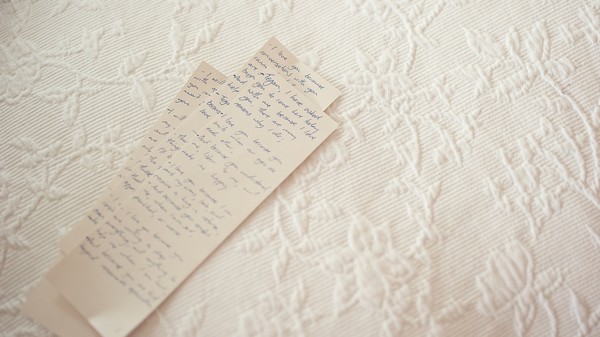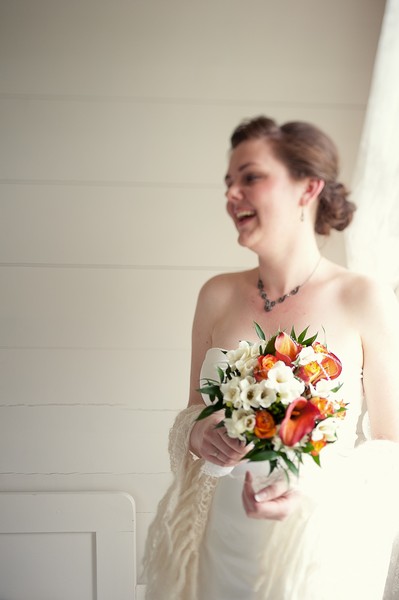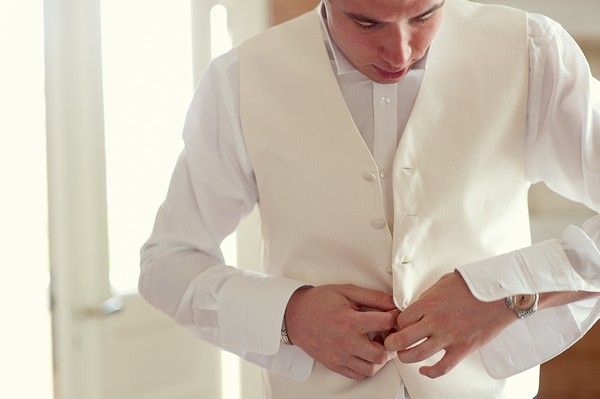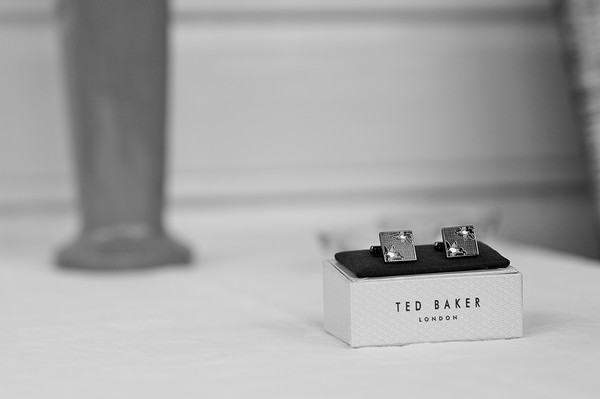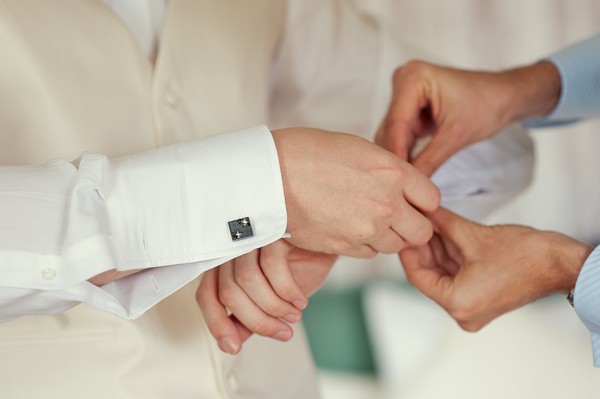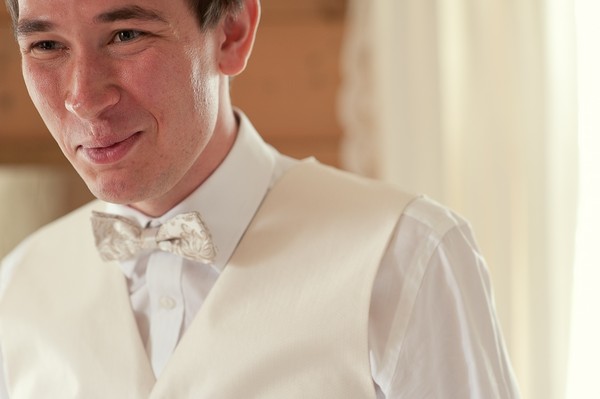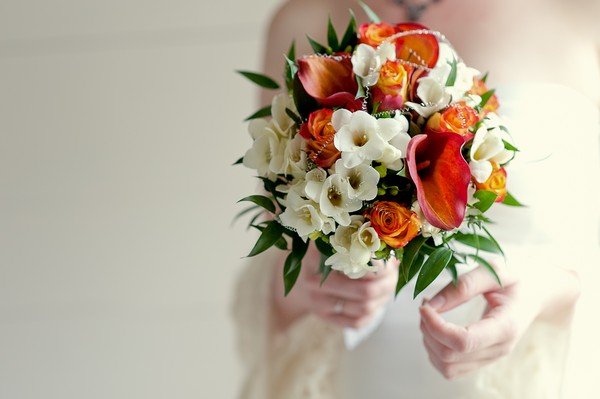 What were the highlights of the ceremony?
TH: I particularly enjoyed the boat metaphors. Our celebrant, it turned out, had a bit of a thing for boats…
PV: I liked our choice of giving poems to our best man / maid of honor. The choice of poems still makes me laugh. That and our vows, both of which reflected our personalities perfectly, and hence still make me laugh.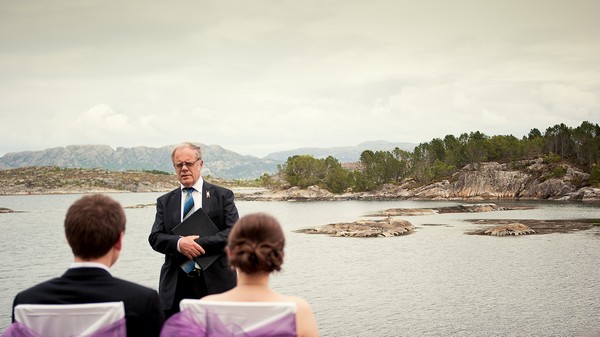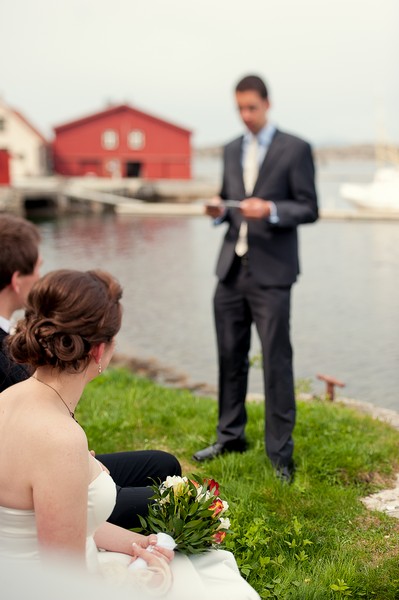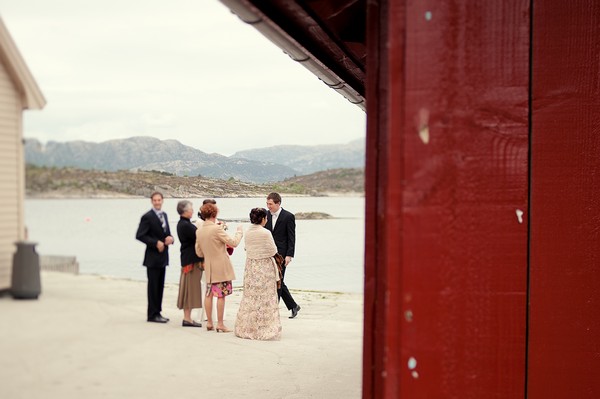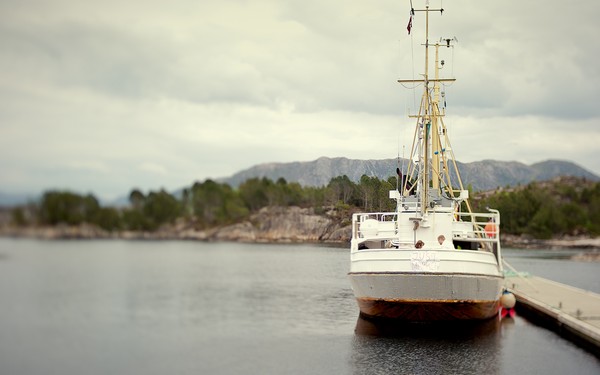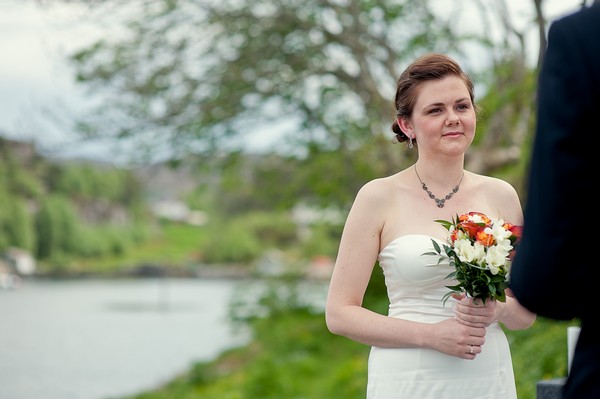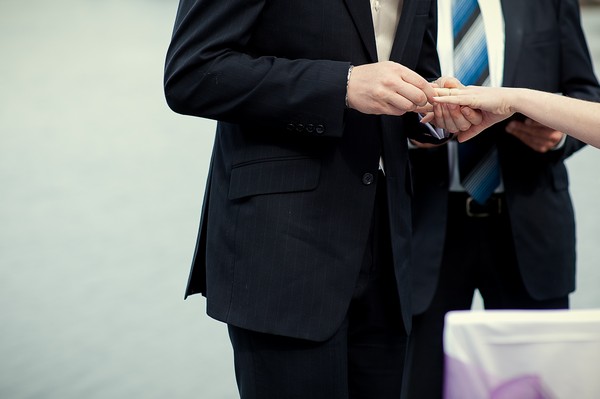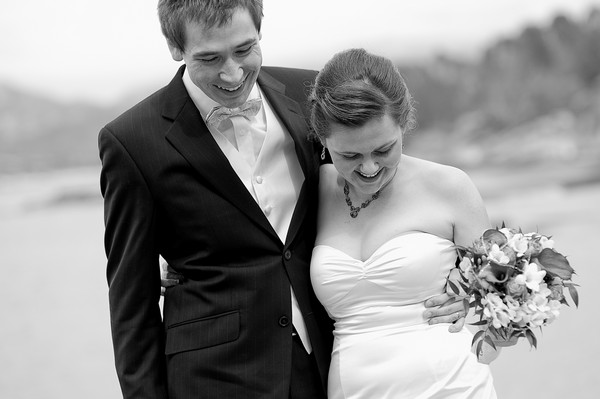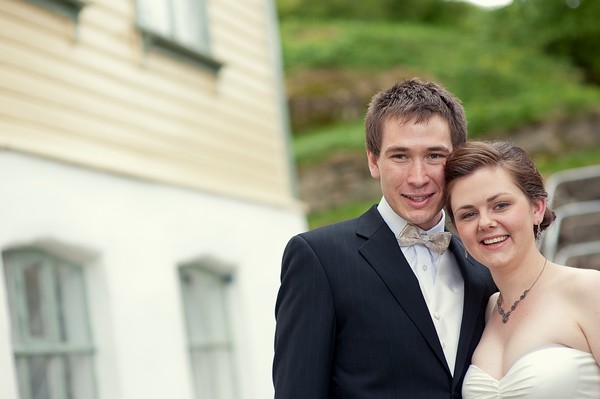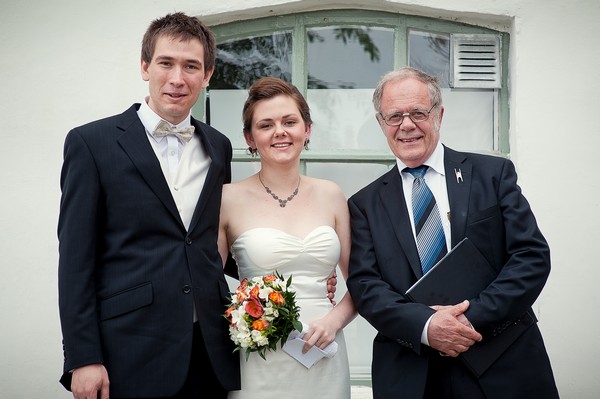 What were the highlights of the reception?
TH: The food! We ordered a 3 course dinner. We were presented with a 7 course degustation of the best the area had to offer. I have never, ever been so overawed by food.
PV:  I had been told beforehand that dinner was 'not what we'd ordered', but instead a 'wonderful surprise'. Well, they weren't kidding; the food was something to behold! The night before we had picked some spectacular wines to go along with it. Unfortunately we are missing a photo of one course due to a stolen phone.
The whole thing was quite amazing in and of itself, in fact at one point  the whole party broke down in laughter at the whole experience and the fact that yet another course was being brought to the table.
While technically not a course, I think my favourite was our wedding cake, made that morning by Martin, the head-chef/boat-driver 😉
Oh, and this may be part of the reception (I guess), but we went out of an old fishing boat for a few hours after the ceremony. Once on board (some feat) we were surprised with platters of perfect, fresh strawberries, and bottles of champagne 🙂 The boat also had a trail of cans and a just married sign! All this from me asking: "Any chance of maybe doing a boat trip around the fjord or something after the ceremony?" and being told "sure, we'll sort it out".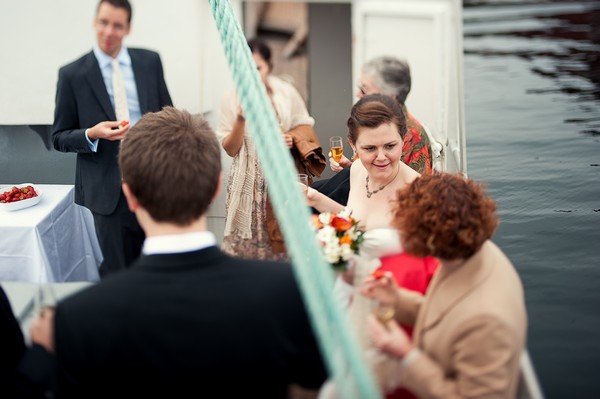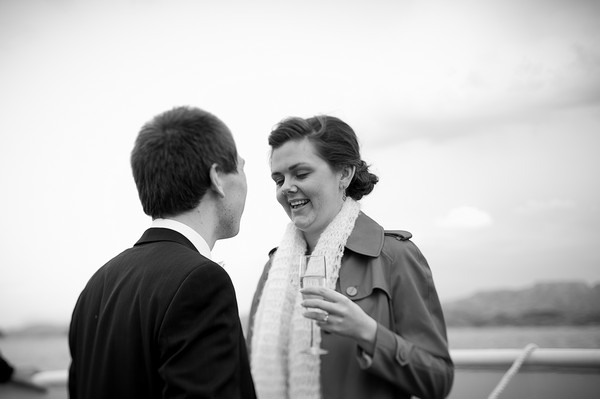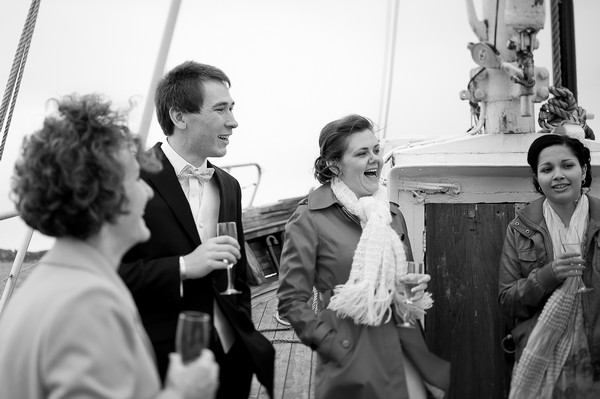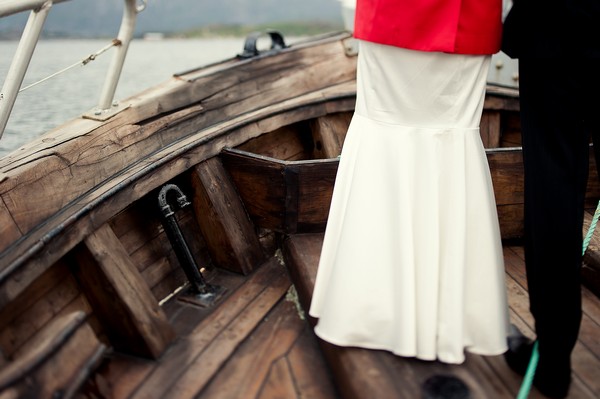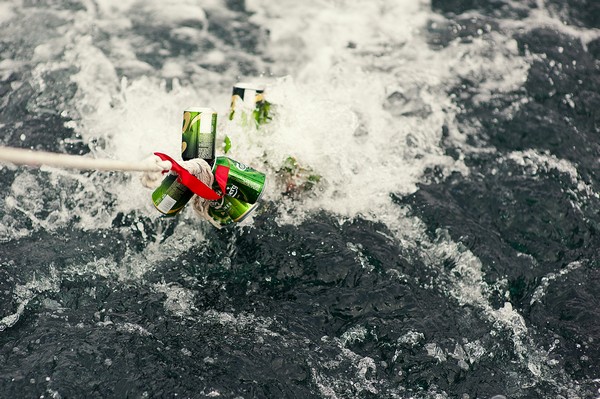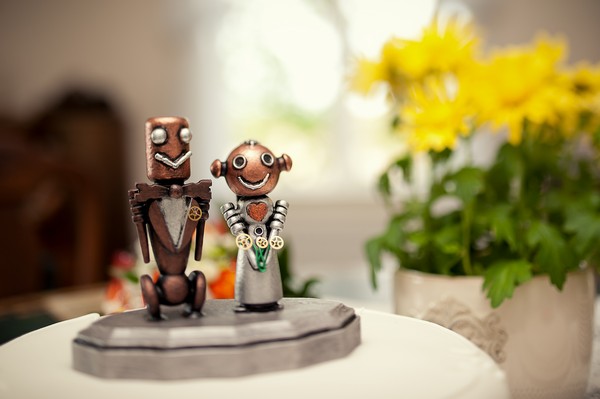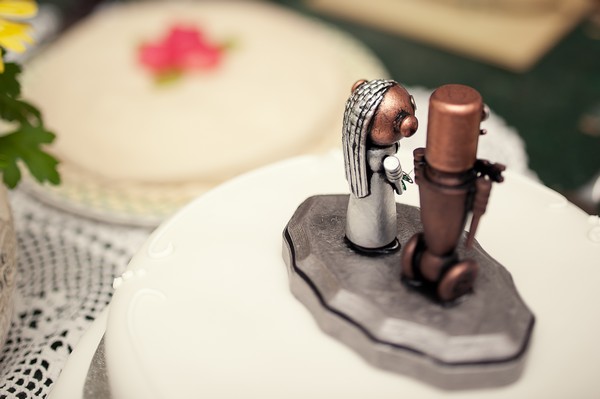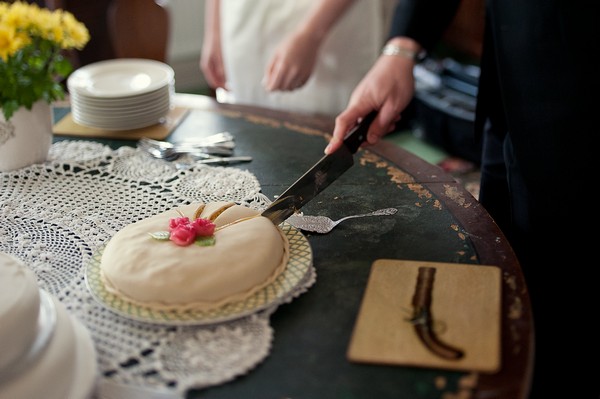 What was the best thing about having an intimate wedding?
PV: Intimacy? Nah, the best thing is probably getting to do what you want. It may be a selfish view, but it was our wedding, and so we should get to enjoy it. I've been to quite a few weddings now where things run to a script, the bride and groom barely get to sample the food/drink, and don't get to enjoy the day.
PV: Plus the budget. We had, what I consider a pretty amazing wedding, from the food to the service, to the general feel of the place. That would have been impossible for us with a bigger wedding.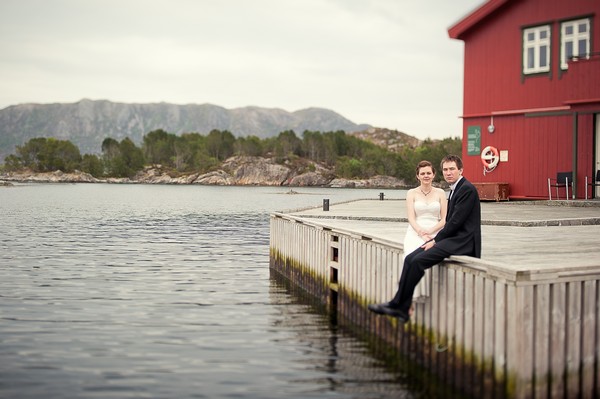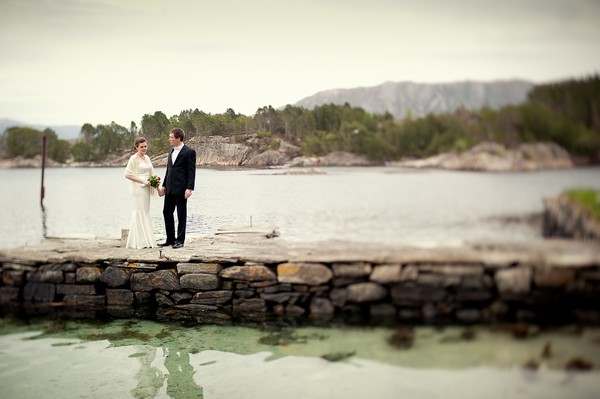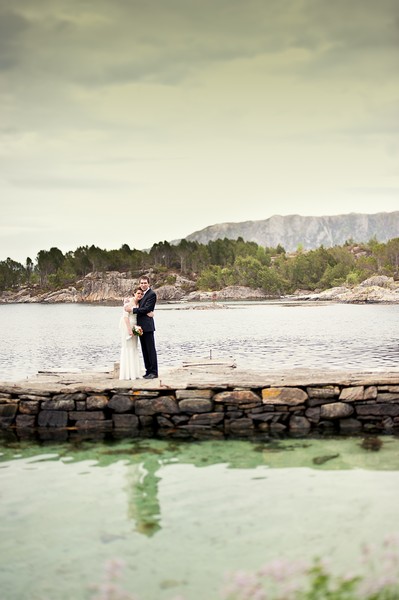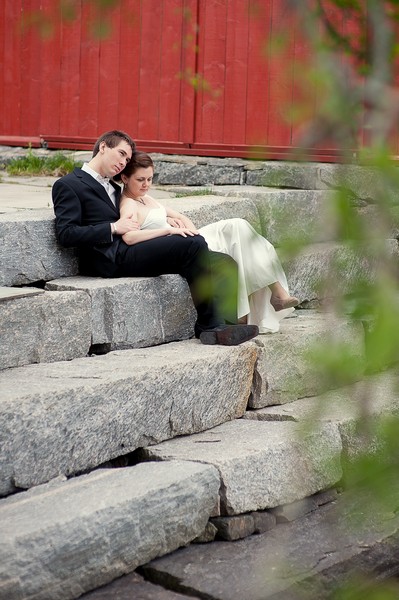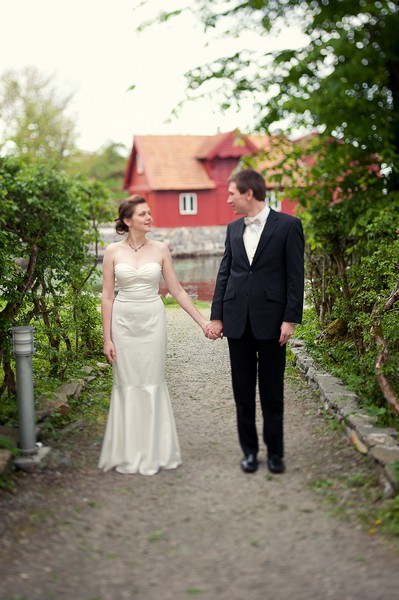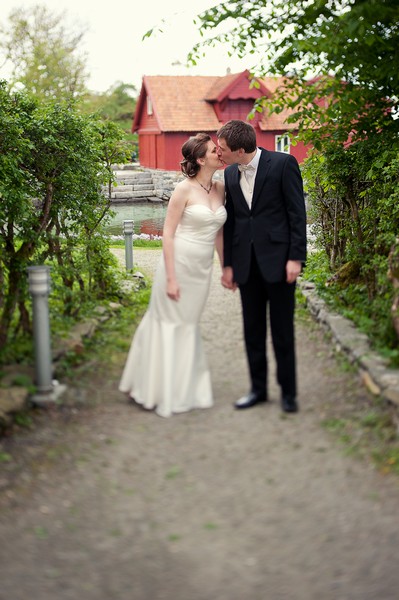 What advice do you have for couples who are considering an intimate wedding?
TH: We took a very relaxed approach to the organization of the wedding and allowed the people who knew the place we were going do their job to lead us. This worked out amazingly well. The staff of Skjerjehamn were fantastic in the level of care. We ran out of superlatives. Every other moment we seemed to have something to 'wow' at. We chose Dan, the photographer, on the basis that his style seemed to suit us, and he would fit in with the group. So this is my suggestion: employ people you trust to do their part and don't fret about the small things. I wandered up to a flower vendor at the market the day before the wedding, pointed at a few flowers I thought were pretty and asked her to make me a bouquet. No fuss.
PV: Tegan hit the nail on the head. Don't fuss. You aren't the best at doing the things, but try to make sure that the people you hire are. With a smaller wedding there is a lot less to worry about and if something goes wrong, it seems like it would be a lot easier to roll with it. For example, one of our wedding cakes melted, but the chef at Skjerjehamn was able to bake us a new one in the morning. Obviously we didn't pick him specifically for that reason, but it highlights the point of trusting the people you choose to do the heavy lifting.
If you want to get photos you like, get a photographer you like and much more importantly get along with and trust. I totally recommend Dan 😉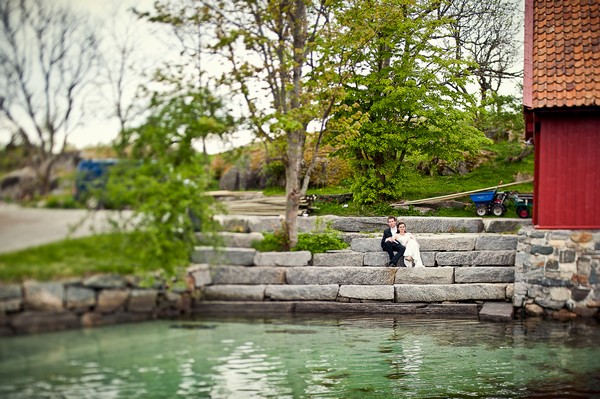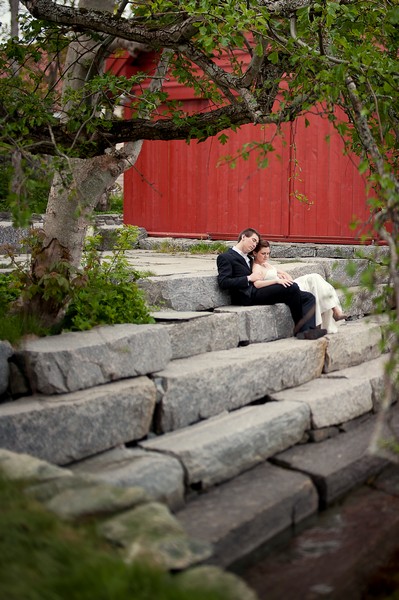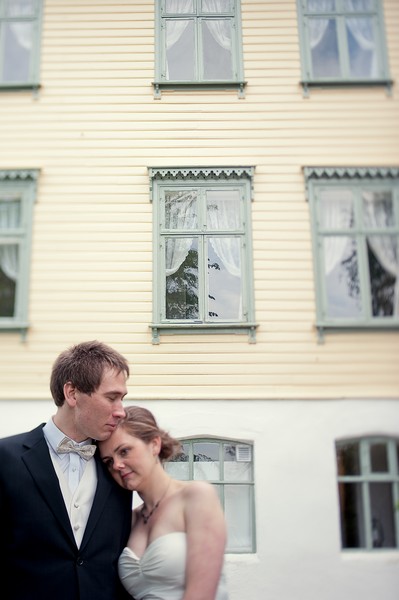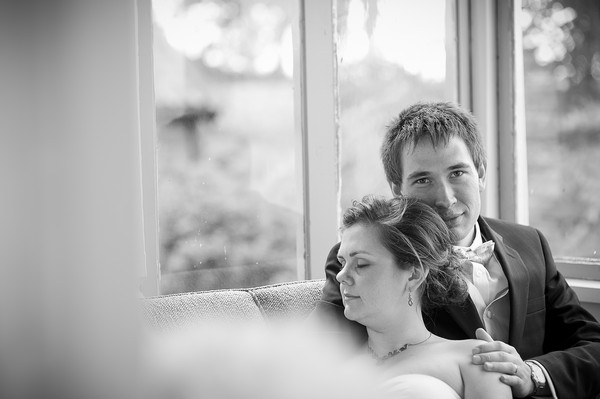 Vendors:
Venue/Catering: Skjerjehamn
Wedding Photographer:Daniel K Cheung
Dress:Charlie Brown
Flowers:Third stall from the left at the waterfront market in Bergen.
Wedding cake: We ended up with four cakes by a series of accidents. One from Hobart, Australia (where Phil's parents live), one from London (where we stopped over), one from Bergen, and one made for us by the chef at Skerjehamn. The plan had been to have one traditional fruit cake (Hobart and London) and one traditional Norwegian cake (Bergen and Skerjehamn). The best (as a non-lover of fruit cake) was the one from Skjerjehamn – White Lady Cake – you must find a Norwegian and have them make it for you!)