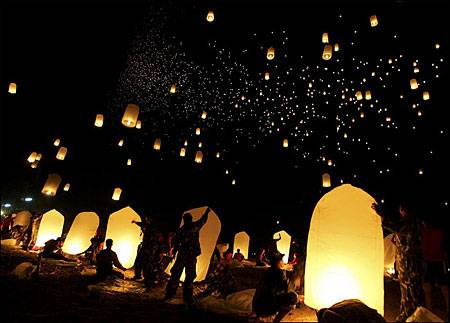 By Jennifer Cox
Brides and grooms want their weddings to be memorable, and one way couples are adding that "ooh" and "ahh" factor to their special day is by releasing sky lanterns. A long-time tradition at Asian festivals for thousands of years, paper lanterns were used to celebrate the Chinese New Year and as a signaling device. Countless were launched to rid the people of their worries and to decorate the city's sky with light. The flame would symbolize knowledge and wisdom.
There are several vendors who sell sky wish lanterns, which are now 100% biodegradable and come in a wide range of flame-resistant papers. They're touted as being a calm, beautiful tradition as guests release their lanterns to light up the night sky. They can fly in the air for up to 20 minutes to more than 1,000 feet in altitude and will travel several miles in distance, after which the flame is supposed to blow out and gently float back down for a safe landing.
However, it's precisely this lengthy trip that sky lanterns take that can make them potentially dangerous (very dangerous, in fact). They can't be controlled once they've been released and they could drift into trees, building rooftops, fields, and other combustible materials while the heat source is still burning, which could create a significant fire hazard.The Saskatchewan government (The Office of the Fire Commissioner), for example, formally asked fire departments to caution members of their community about the potential fire risks of the flying lanterns.
So if you do decide to integrate a sky lantern release into your wedding, make sure you adhere to all safety warnings and proceed with extreme caution.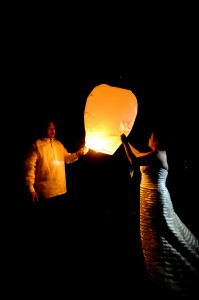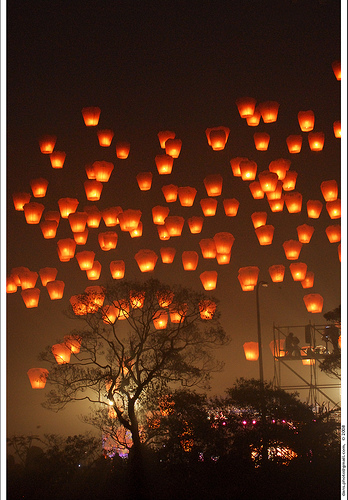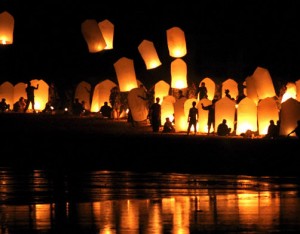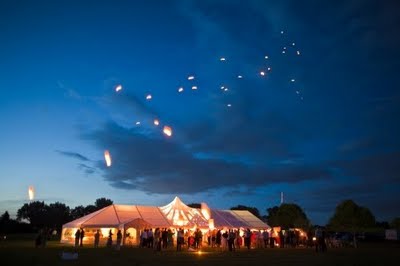 First Photo: Weddingo; Second Photo: Event Accomplished; Third Photo: Fireworks Arcade; Fourth Photo: Scissor Paper Stone; Fifth Photo: Chasing Rainbows Kissing Frogs
Jennifer Cox is a Montreal based freelance journalist who loves everything from weddings to foodie news, photography & candy!