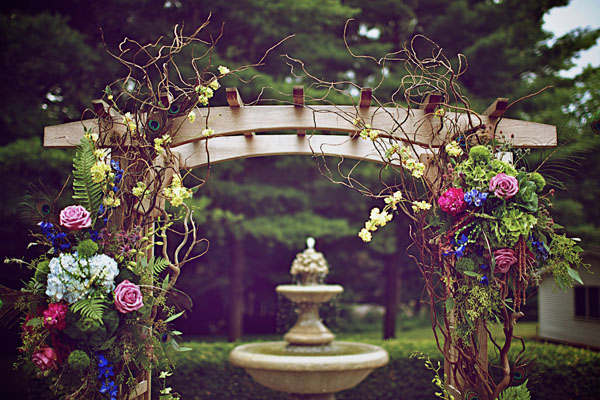 One of the great things about having a small wedding is that you can pay more attention to details. Your guests will notice that you put more effort into the little things and will appreciate your ideas. One of the areas that is often forgotten is altar decor. As more and more people get married outside of a church setting there becomes an open space where everyone will be staring. It just screams for decor. And altar decor does not need to be expensive. It could be as simple as the image below: some ribbons tied to a string. But do you see the statement is makes? It brings the audiences focus on you and your groom. (and makes a fabulous backdrop for photos) While scouring the web I have found a ton of beautiful examples that would cost little but make a big statement.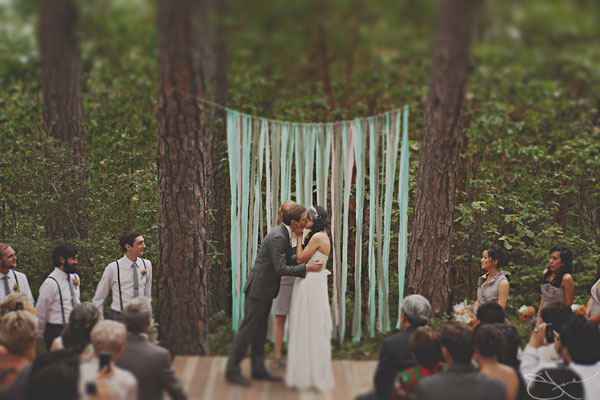 This simple backdrop gives a surfing themed wedding the extra boost that it needs. Having a surf board on each side leads the eye to the bride and groom naturally and helps to tie in their theme.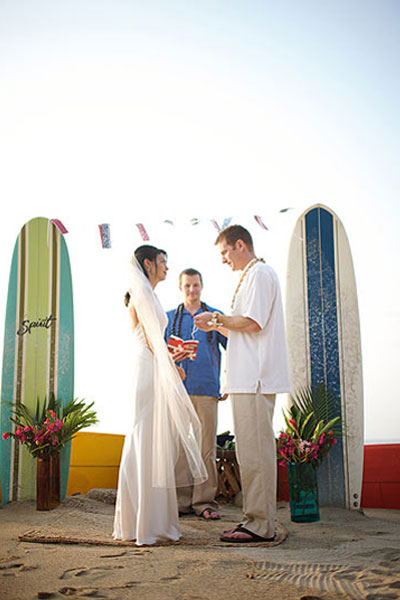 This particular altar piece looks like a lot of work. But if you had everyone at your bridal shower make a couple of pinwheels to contribute to its design it could be very manageable. And just look at how stunning it can be!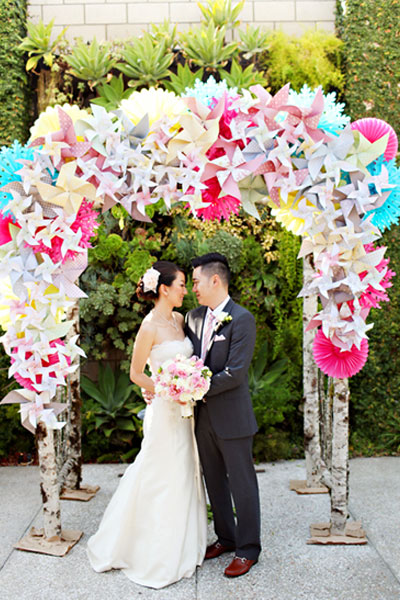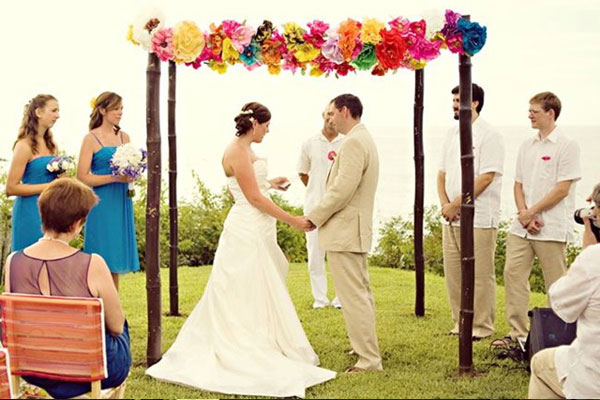 I've seen a lot of Hollywood weddings where the brides go all out and cover their altar or chuppah with expensive flowers -even diamonds. You can see make a gorgeous impression – without a Hollywood budget – using plenty of greenery and fresh flowers.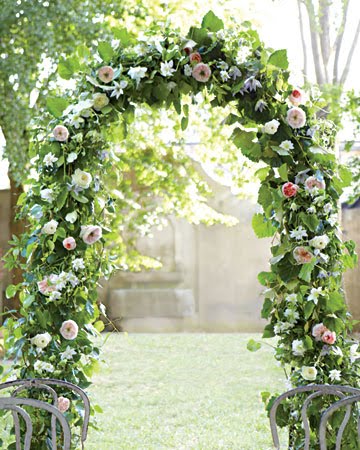 I love this idea  where the brides have made flowers out of tissue paper or origami paper. It is less expensive than real flowers but still brings in the wow factor that comes along with a piece like this.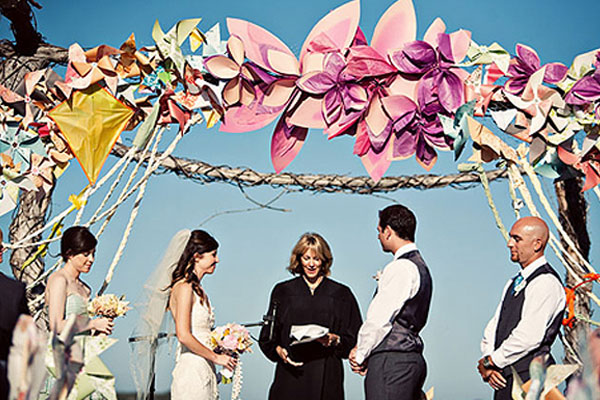 Again, this 'ribbon wall' is a simple and easy way to bring your color scheme to life during the ceremony. If there's a breeze it will catch the wind like in the photo above and add a little whimsy to your special day.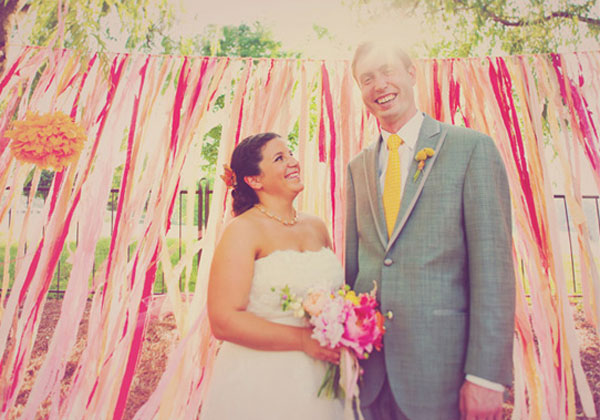 This altar piece was made from pieces of mirror being cut into small circles and strung on beading wire. It reflects the light perfectly and looks almost like diamonds. I like the extra touch of the tulle on the sides of the piece to give it softness.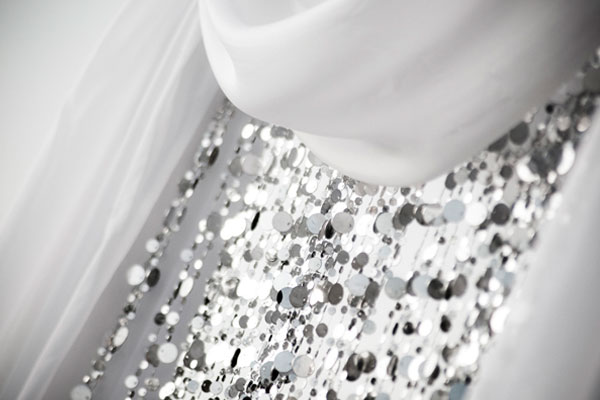 A simple idea. Remember when you were a kid and you made paper chains? Incorporate your wedding colors and go crazy with the chain making. It also gives a nice symbol of your lives linking together. I like the way this particular chain arrangement is draped around the couple instead of just behind.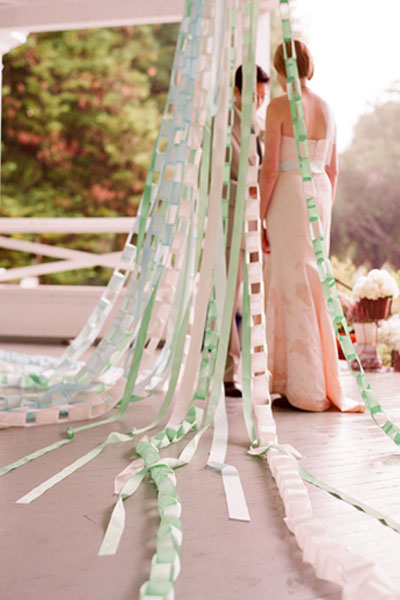 Ribbons are very popular this year and I like this simple twist on the 'ribbon walls' that we have seen. This bride added some large paper flowers to add some romance to the piece.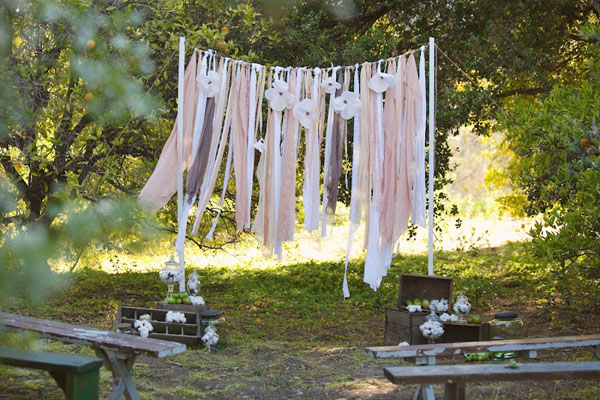 I know what you are thinking: that is a lot of folding! A paper crane backdrop would make for fabulous altar decor! You could use colored paper or make a statement with all white cranes. It also helps that in Japanese tradition that the bride who folds a thousand origami cranes will be granted a wish by a crane like a long and successful marriage.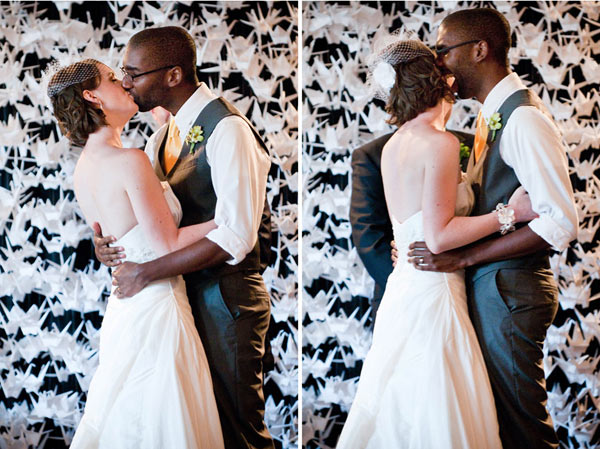 When I found this one I just had to share. I love the bold colors and the interesting design. This would be great as an altar piece as it would definitely draw attention to the front and could also be used as a great photo op after the ceremony.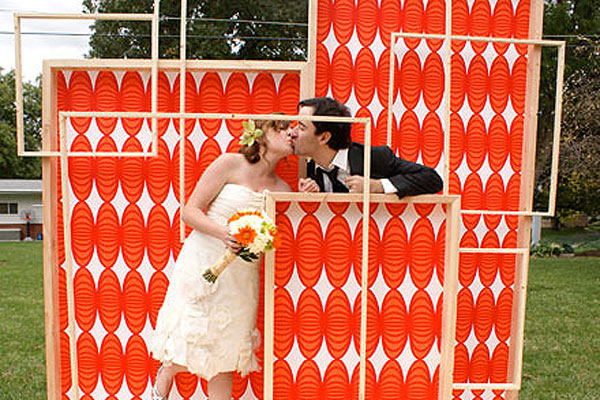 As 'ribbon walls' go this one is by far the most interesting. I think this bride took pieces of material and cut them into strips as opposed to using ribbon and then made a canopy above the ceremony space. This brings a great ambiance to the room but also draws the eye from the back to the front of the space.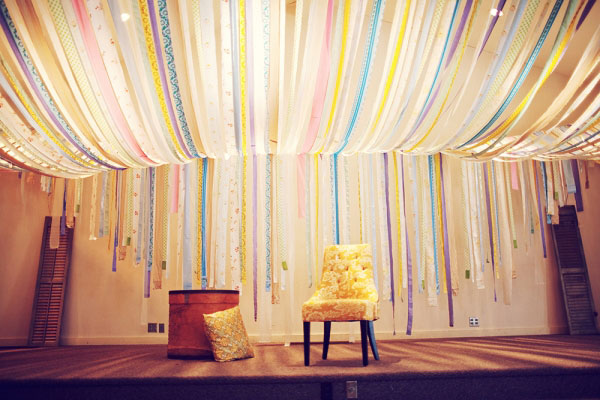 And last but not least, who doesn't love balloons? This altar piece definitely brings a playful element to this outdoor wedding!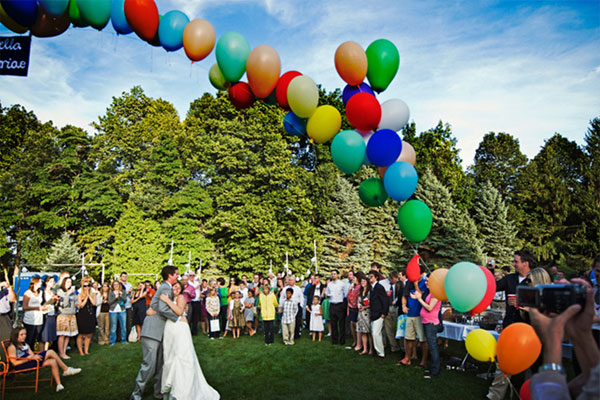 Photo One: Candi's Floral Creations;  Photo Two: Stone Crandall;  Photo Three: The Knot Australia; Photo Four: 618 Studios; Photo Five: Jillian Mitchell Photo Six: Martha Stewart: Photo Seven: Ashley Rose Photography; Photo Eight: W. Scott Chester Photography; Photo Nine: Heather Holt Photography ; Photo Ten: Beaux Arts Photographie ;Photo Eleven:  Stephanie Williams Photography; Photo Twelve: Altmix Photography.com; Photo Thirteen: Lindsay Trapnell; Photo Fourteen: Deidre Lynn Photography; Photo Fifteen: TimWill Photography