What are you planning for your grand exit? Confetti? Sparklers? Ribbon wands? Here we will explore some 'send off ' ideas for your small wedding.
Throwing rice has been tradition to wish prosperity and luck to newlyweds, but if it's ingested by birds it can be deadly. One alternative to rice is confetti. It can be made very easily by using colorful paper and a hole punch, but as you can see, there are many different ways to make your confetti unique.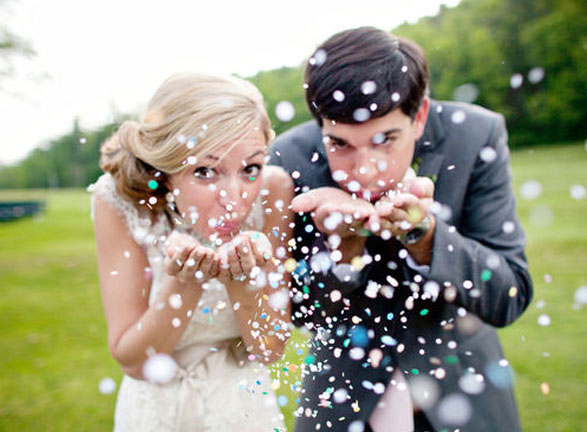 I love the idea of putting the confetti into the front of your wedding program like this image below. It adds lots of color to the program but is easily removed from the package to be thrown at the right moment.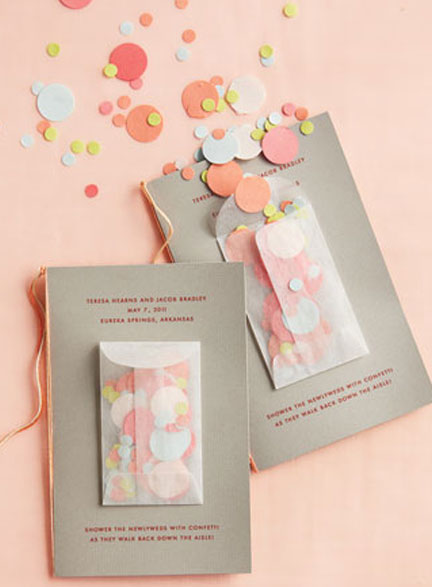 This couple cut their confetti larger so it would show up in photos. This DIY container is interesting because guests can easily throw the confetti directly from the tube.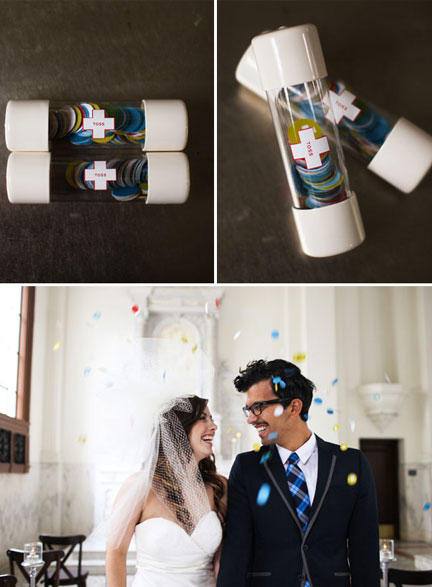 Some brides think a little more outside the box and include different kinds of seeds or even black-eyed peas for their exit. (Might be kind of painful.)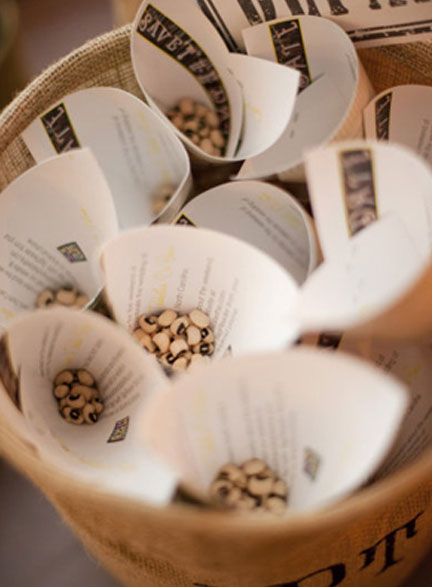 Cones filled with lavender not only smell great, if you include the lavender in your bouquet, it will tie your theme together.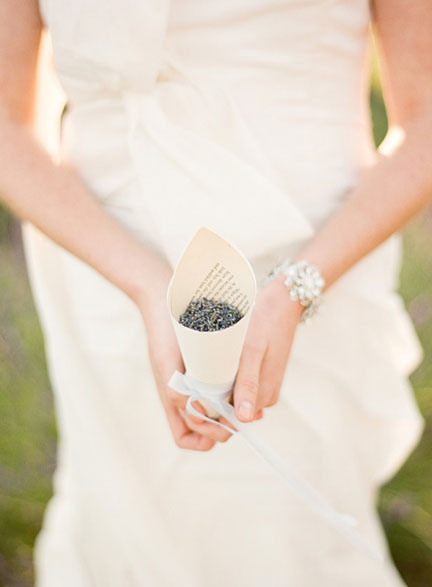 I love the idea of using sprinkles as a rice alternative! They are very colorful and add some fun to your ceremony. I wouldn't suggest using them in a church ceremony as they may stick to the floor but they would be fine outdoors.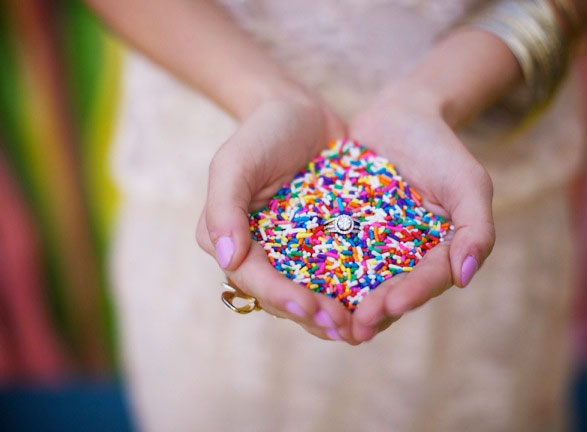 Rose petals add a more romantic feel to your send off and can be purchased in any color to match your theme. I like that this bride chose to include her love of books by using pages to create the cones.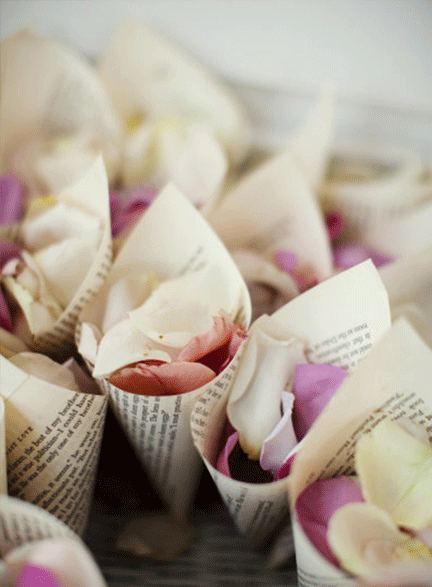 I really like the idea of throwing colored pom poms for your exit. They wouldn't hurt when being thrown and you could purchase them in any color scheme.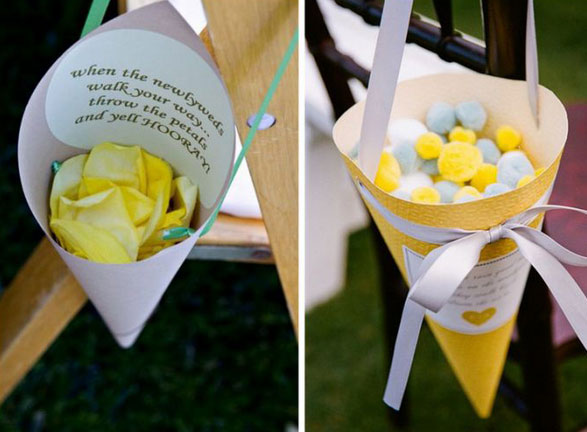 If you aren't keen on having something thrown in your face while trying to find your way down the aisle, ribbon wands have become very popular and are easy to make yourself.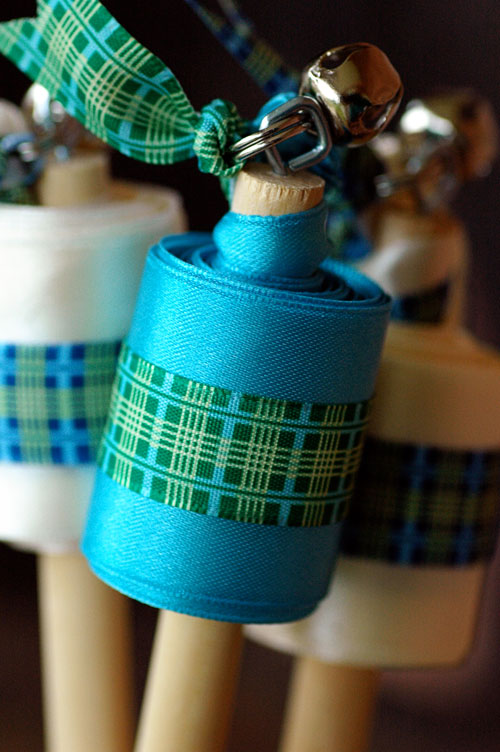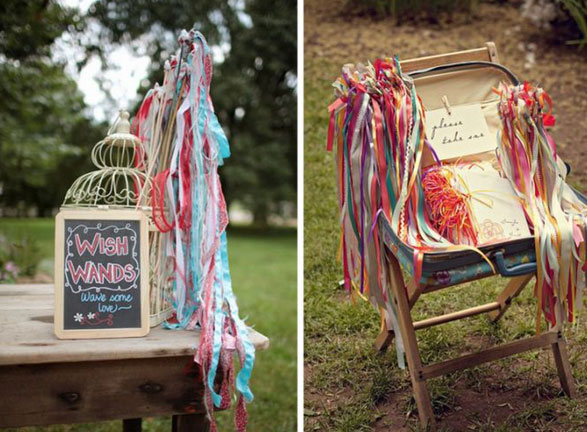 Flags are really big for 2012. They are showing up as decoration for cake toppers, backdrops and they would be great for your exit. These particular flags have the program printed on the back.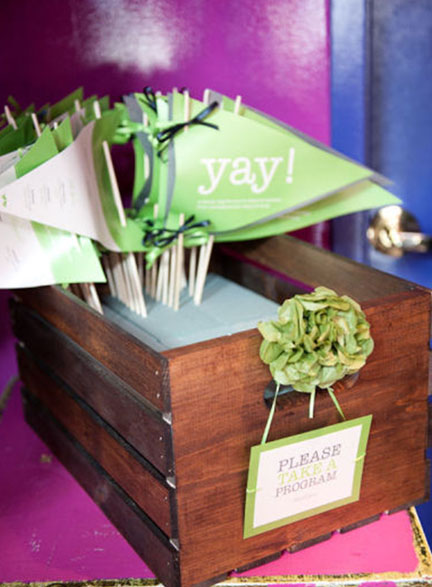 This couple gave everyone balloons and then they let them go when the bride and groom passed by them. (Not great for the environment.)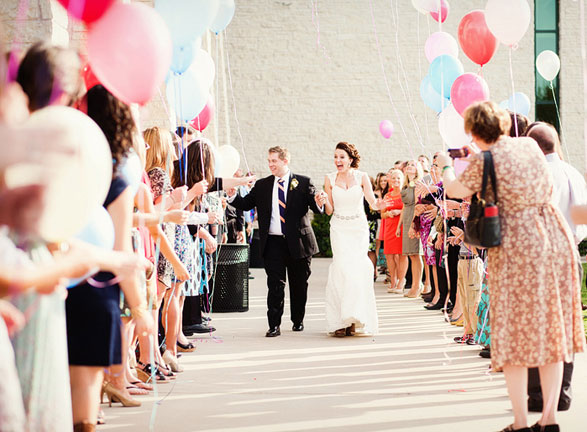 If your wedding is at night, these glow sticks would be great for guests to wave around.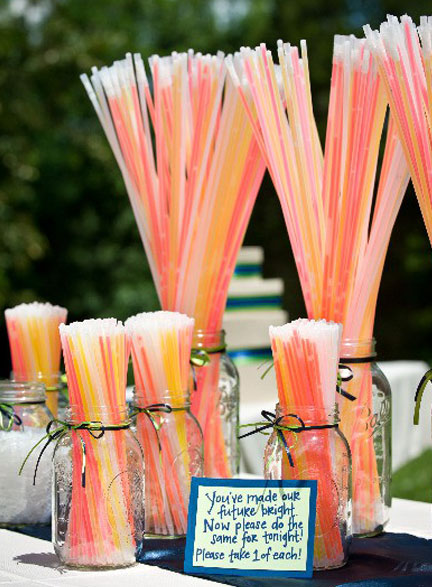 Or even better, why not some sparklers? They make for a very grand exit!
Or my personal favorite, some bubbles floating in the air. It creates the perfect photo without the mess of confetti!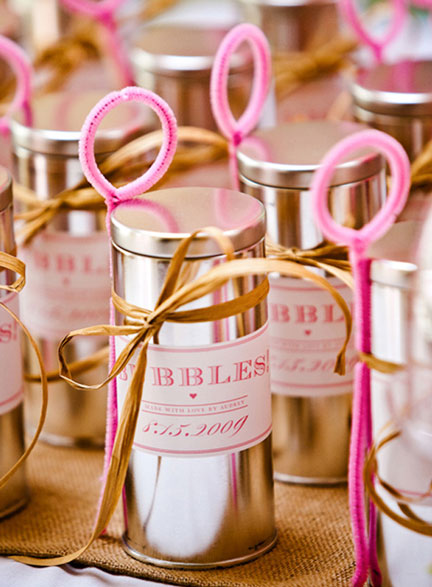 And don't forget about the importance of packaging!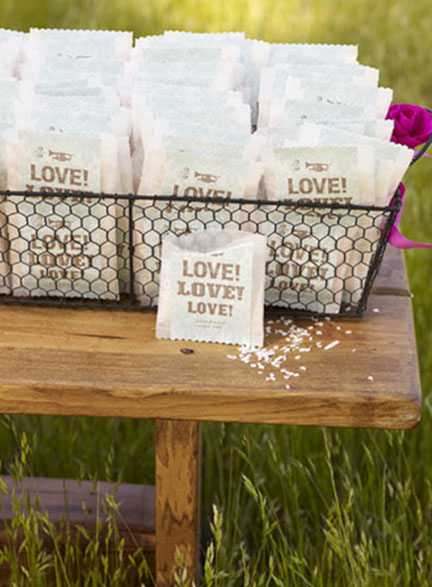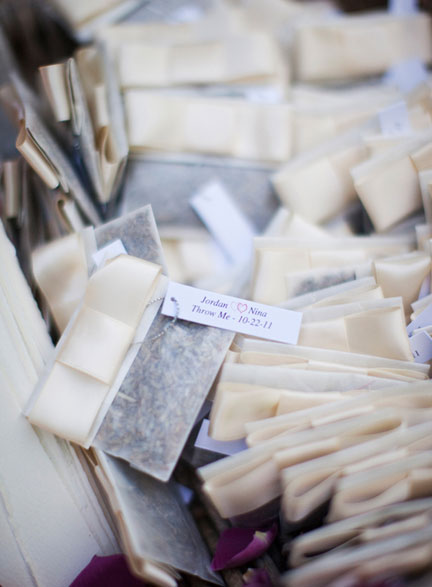 The package below is a handmade party popper that shoots out shiny string and confetti (great for a New Year's wedding)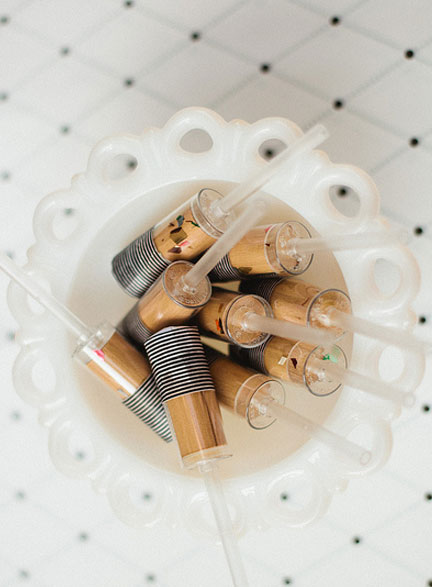 Photo One:  Nancy Ray Photography; Photo Two: Martha Stewart Weddings; Photo Three: Jasmine Star; Photo Four: Studio 56 Photography; Photo Five: KT Merry Photography; Photo Six: Diana Rush; Photo Seven:Miranda Laine Photography; Photo Eight: Oh Lovely Day; Photo Nine: IntimateWeddings;  Photo Ten: Style Me Pretty; Photo Eleven: Anna Briggs Photography; Photo Twelve:  Allison Davis Photography; Photo Thirteen: Glamour; Photo Fourteen: My Yellow Umbrella; Photo Fifteen: The Belle Magazine; Photo Sixteen: Hello Lucky!; Photo Seventeen: Christina Diane Photography; Photo Eighteen:  Dez and Tam