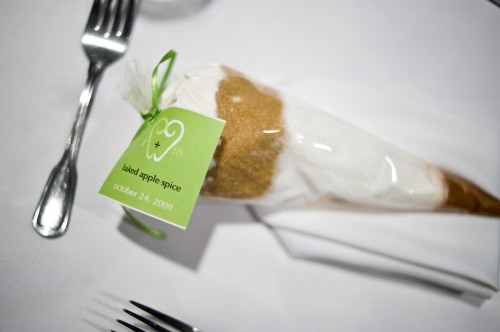 By Jennifer Cox
Looking for ideas for DIY favors? I created a green apple theme for my fall wedding last year, and I really wanted to do something homemade as well as give something useful for our wedding favors. I toyed with the idea of attempting apple jelly, but the idea of boiling and cleaning and spooning hot apples into 60+ jars was a tad overwhelming. So instead, I decided to give our guests the dry ingredients for baked apple spice.
I'm known for my layered jars at Christmastime – they make for beautiful (and relatively inexpensive) homemade gifts. So I applied the same technique to my wedding favors and, to add another touch, I used clear cone-shaped bags. I bought all the ingredients at Costco (to cut down on costs) as well as printed and cut my own favor cards. It worked out beautifully – I used pedestal bowls of green apples as centrepieces and was prepared to donate all the leftover fruit to a shelter – in the end, guests decided to take the apples instead to go with their spice mix (and they congratulated me for my foresight – if only they knew)!
Here's how to make baked apple spice favors:
Supplies (this makes ONE DIY favor- multiply these measurements by the number of favors you'll need)
– ¾ c. white sugar
– ¾ c. brown sugar
– ½ c. flour
– 1 tsp. cinnamon
– 6-inch strip of thin ribbon in the colour of your choice
– 2-cup clear cone-shaped bag
1. To make filling the bags a breeze, put the bag inside a glass and stretch the opening of the bag across the opening of the glass – it will keep the bag from toppling over.
2. Fill the bags in this order: cinnamon, flour, brown sugar, white sugar, making sure to even out and gently pack each ingredient firmly in place (but not so much that the bags' seams split) – if you leave any air pockets the ingredients will shift and blend into one another.
3. Tie the top of the bag firmly closed.
4. Attach a small notecard with a design on one side (a logo, picture, the date, etc.) and the following instructions on the other:
Baked Apple Spice
Cut 8-10 apples and place in buttered dish. In a pan on the stovetop, mix spices with 2 tsp. butter and 1 c. water. Boil, simmer till thick and pour over apples. Bake at 350° for 35 mins.
First Photo: davina + daniel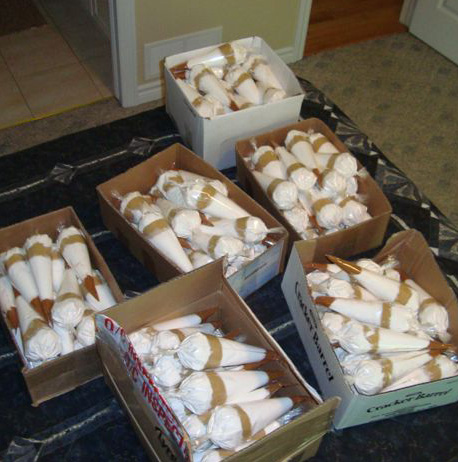 Jennifer Cox is a Montreal based freelance journalist who loves everything from weddings to foodie news, photography & candy!