By Jennifer Cox
Centerpieces are the focal point of a table setting, and some scrumptious new edible centerpieces have been taking over wedding tables. And for good reason: First off they're a very eco-friendly option – whatever is not eaten by guests can be composted, donated to charity (such as whole-fruit centrepieces, like bowls of apples or lemons), or planted (like potted herb plants).
Most basic edible centerpieces are similar in price to basic floral arrangements. Unlike flowers however, gourmet edible centrepieces can be devoured by your guests! Who wouldn't love some fresh strawberries enveloped in gourmet chocolate? Or lucious pineapple to cleanse their palate?
Many edible centrepieces can also be relatively simple do-it-yourself projects. Tall vases or pedestal bowls full of apples, oranges, lemons or pears make for an elegant understated focal point. So does a particular "course," such as a beautiful antipasto platter, a rustic bread basket, or individual wedding cakes for each table.
Looking to make your own DIY edible arrangements? Check out these fruit centerpieces from wikihow, and herb centerpieces from Martha Stewart and Soiree.
First Photo: Woman's Day; Second Photo: Brilliant Event Planning; Third Photo: Let's Entertain; Fourth Photo: Edible Arrangements; Fifth Photo: The-Glass-Co; Sixth Photo: Edible Arrangements; Seventh Photo: hello moyle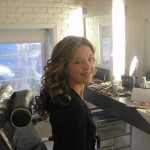 Jennifer Cox is a Montreal based freelance journalist who loves everything from weddings to foodie news, photography & candy!
Save