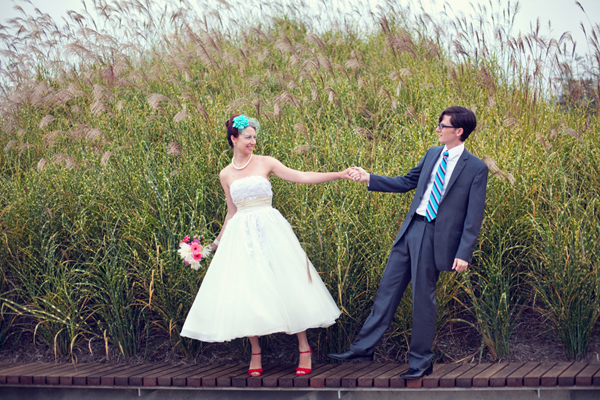 Amber, 26 & Ben, 29
Encino, California
Wedding Date: September 18th, 2010
Number of Guests: 75
Wedding Cost: $13,000 (approximately)
Wedding Ceremony Location: Ben's Aunt's backyard
Wedding Reception Location: Ben's Aunt's backyard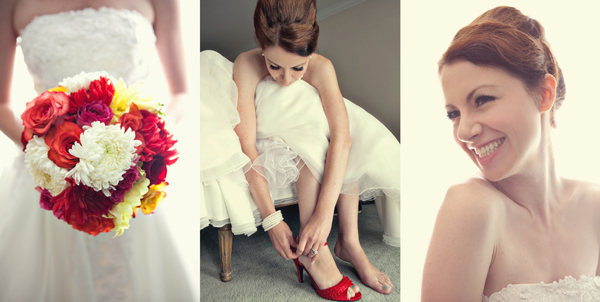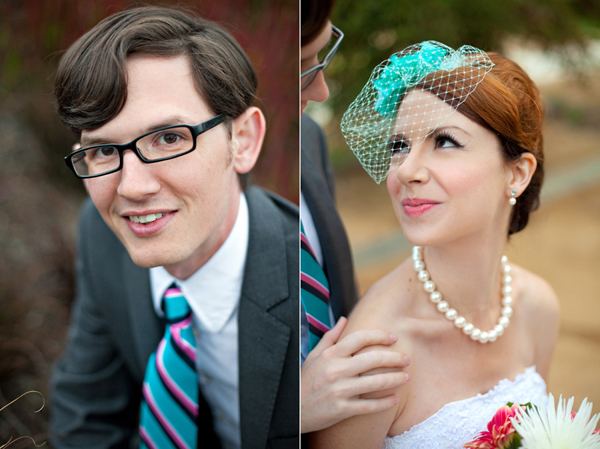 Why did you have an intimate wedding?
Ben: We both think that big weddings are kind of gross. Not the bigness, per se, but the fact that it just can't be an intimate event once it gets to a certain size and once enough other people get their hands into planning it. Why would we have a wedding other people set up for us when, instead, we can have our ideal mega-fun party that is also our wedding?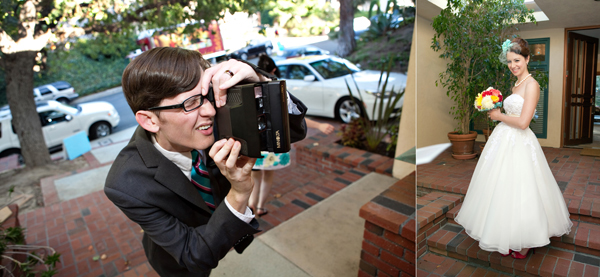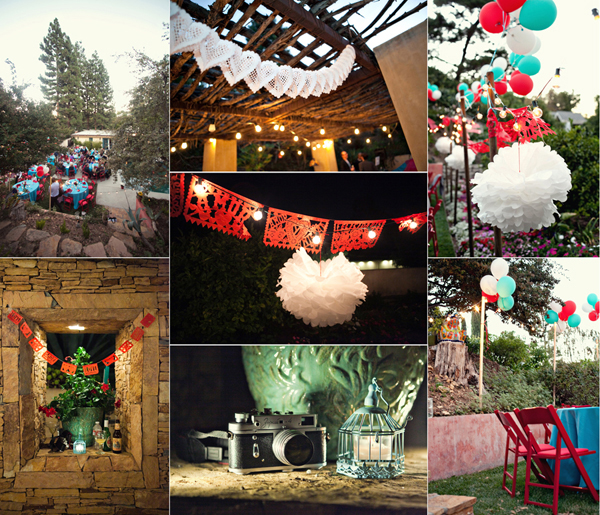 What are some the challenges that you faced planning an intimate wedding?
Ben: Doing everything ourselves was a big challenge. Designing and printing invites, building our photobooth, doing all the location setup and decorating, we didn't hire out for much more than our photographer and our caterer. It's both the most fun and absolutely most stressful part of doing the wedding this way. At the worst, two days before the wedding, we looked at each other and said "Why didn't we run off and elope somewhere? This is terrible." The day after that, right before the wedding, it all kind of calmed down and it was smooth sailing after that. It was totally worth the effort and madness to make it happen. Because we did it all ourselves it was also exactly what we wanted, despite some minor head-butting about what we wanted to do and what tradition dictated. Our way won out, and it was super fun.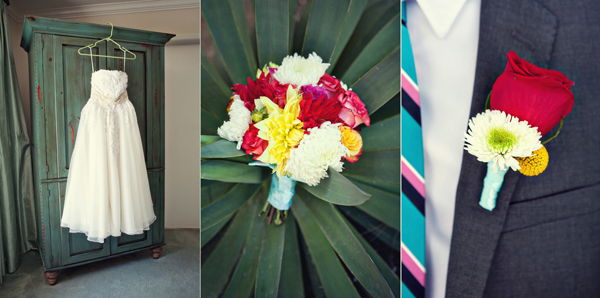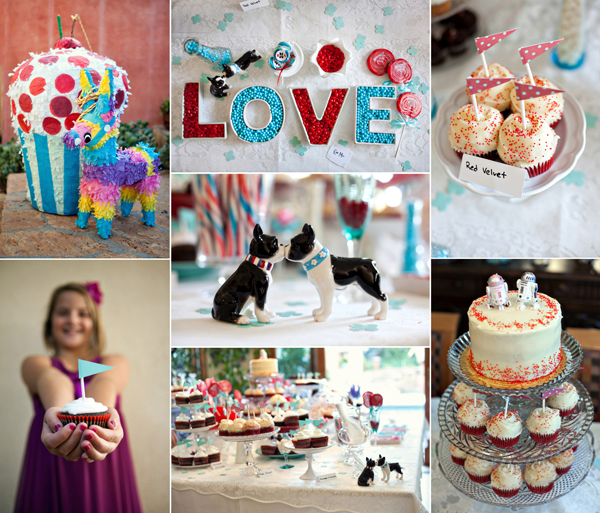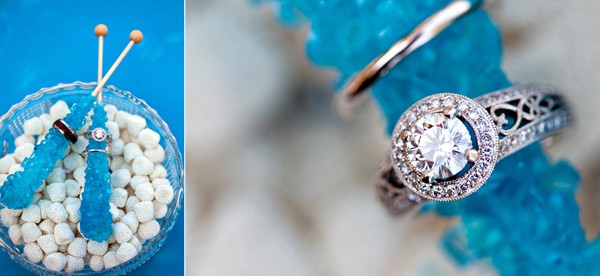 Was it difficult to pare down the guest list?
Ben: Since my family isn't local and are all spread about the Midwest, and Amber's family is not huge, it was actually pretty easy. The guest list was quite a bit bigger than the list of folks who attended due to the distance.
Did you have any 'issues' with the small guest list from friends and family?
None.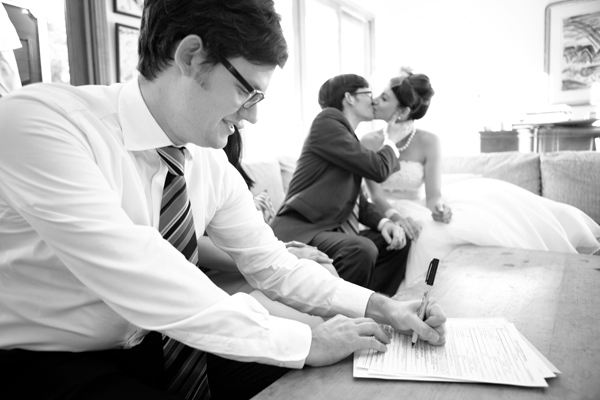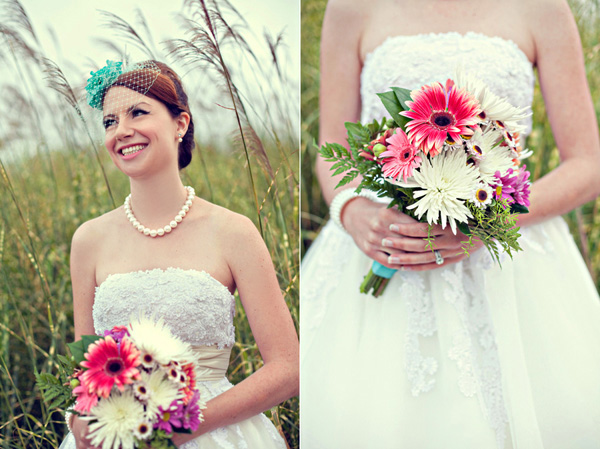 What were the highlights of the ceremony?
Amber: Walking out with my father, to one of my favorite Wilco songs, and seeing so many friends and family standing there in the gorgeous backyard.  I loved having everyone standing because I got to walk through them in a much more intimate manner than if it had been an aisle in seating.  I got to see all the guests' joyful expressions up close and that was amazing.  It was like I got to share a tiny personal moment with every guest I made eye contact with.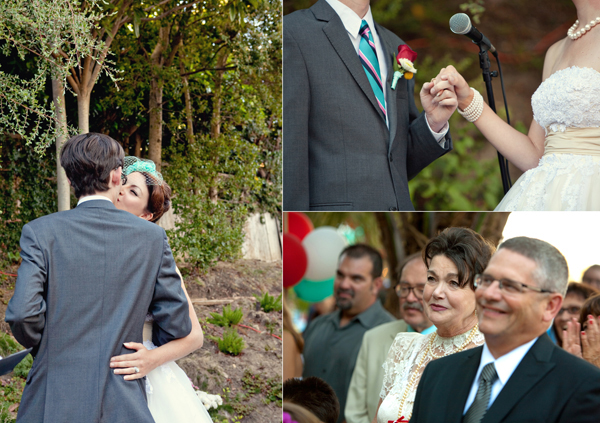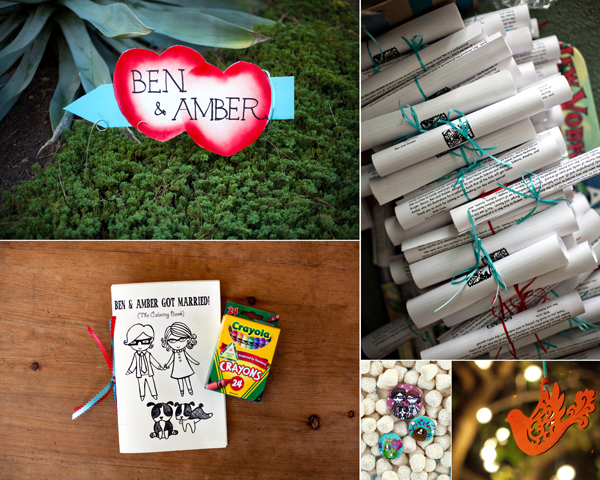 What were the highlights of the reception?
Amber: The photobooth really stole the show.  It was adorable and awesome to see grandparents tugging on sleeves and herding people in there.  I love how it wasn't just the young people who got excited about it.  Even the caterers had a blast taking pictures later in the night!  I feel like it's got to be a special wedding if even the caterers are having a great time. It was even better for Ben, he and his brother built the photobooth for the wedding and seeing it go over so well was pretty great.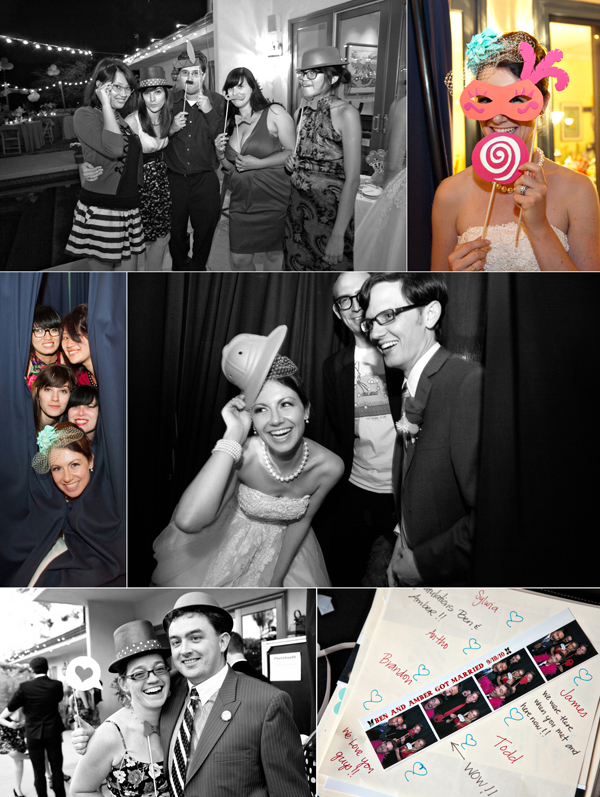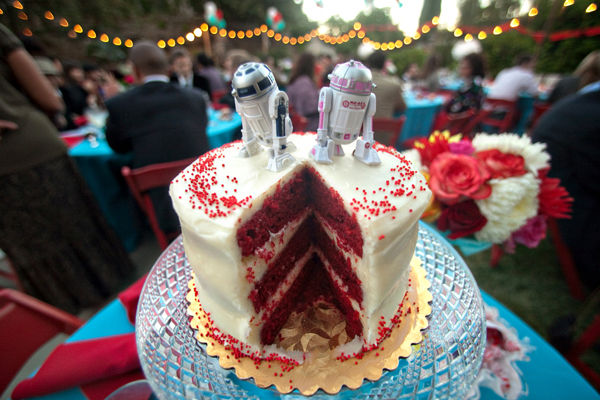 What was the best thing about having an intimate wedding?
Amber: It was wonderful having the time to really take part in everything.  Because we had a smaller guest list I was able to participate in everything and take time to really make memories with more of the guests, such as dancing with the preschoolers and cheering for the pinata batters.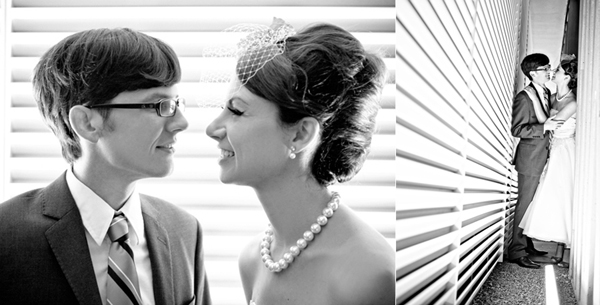 ]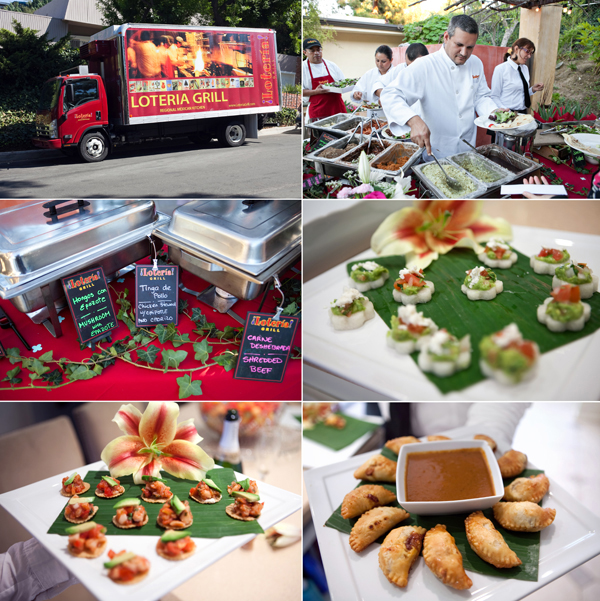 What advice do you have for couples who are considering an intimate wedding?
Amber: Having a smaller wedding gives you a lot more freedom in really every aspect of what you are able to plan.  Because our wedding was small we were able to use a non-commercial venue, we weren't tied to specific caterers and other expensive (and generic) vendors.  We got to have exactly the food, drinks, and DJ we wanted, all while saving a TON of money AND making our wedding more fun. Oh and whatever you do, get a good photographer!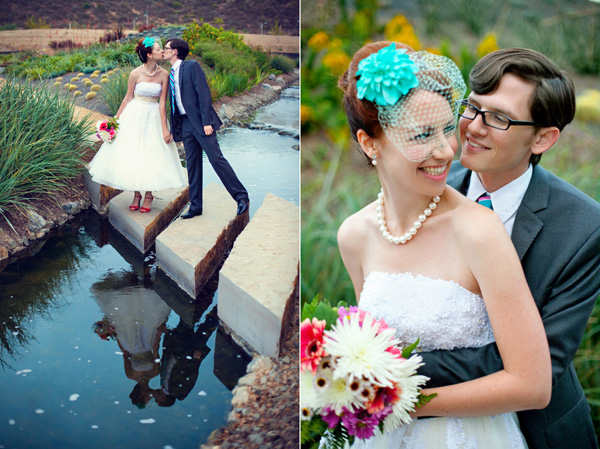 Vendors:
Wedding Dress: Made to order off of Ebay for $130 shipped.  (Simply search "custom wedding dress" to see many examples)
Shoes: Gabriella Rocha
Wedding Hair: Linda Drsata (Amber's mom)
Wedding Makeup: Amber – makeup by Sephora
Engagement and Wedding Rings: Engagement ring mounting by Parade, custom head and shank by Philip's Diamond Shop in Marion, IA. The diamond was also hand cut at Philip's by Ben's father, Phil High. Ben's wedding band is by Fable Jewelry.
Menswear: Joseph Abboud at Men's Wearhouse
Caterer: Loteria Grill
Wedding Cake: Auntie Em's Kitchen – red velvet cupcakes. Homemade Guinness cupcakes and vegan margarita cupcakes by Ben's Grandma and family.
Invitations: Amber & Ben
Florist: Linda Drsata (Amber's mom)
Entertainment: Photobooth by Ben (you can rent it now!), DJ Scott T Sterling, pinatas, and candy.
Bridal Veil: Homemade by Amber and Sakura Minamida
Photography: Sherri J Photography
All other details: All illustrations (save the date postcards, coloring books, buttons, and stickers) by Amber, Sakura Minamida, and Amelia Cantlay.