Ah, the romance of Paris. A perfect place to run off and get married, don't you think?
Blair and Judson, who hail from Atlanta, Georgia, invited 16 of their nearest and dearest to their charming Parisian elopement.
"We loved traveling with our best friends, and it was amazing to have all the people we care most about together for a long weekend in my favorite place in the world. Because we were with all the people who love us most, there was no pressure to impress," says Blair.
Thanks to Kim Petyt from Parisian Events for sharing this wedding with IW, and to Heidi Geldhauser from Our Labor Of Love for the incredible photos!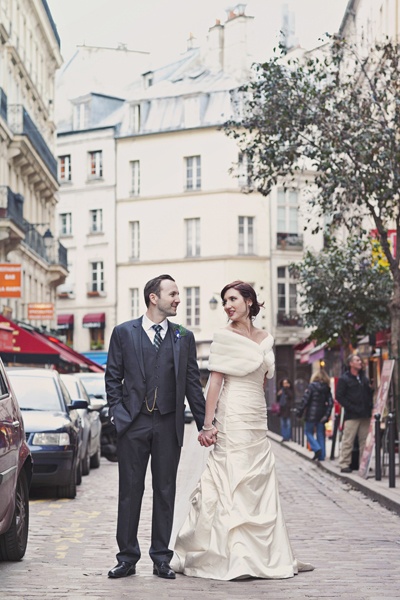 Blair, 26 & Judson, 31
Paris, France
Wedding Date: March 5, 2012
Number of Guests: 16
Wedding Cost: $10,000
Wedding Ceremony Location: Square du Vert Galant, Ile-de-France, Paris
Wedding Reception Location: Angelina, Rue de Rivoli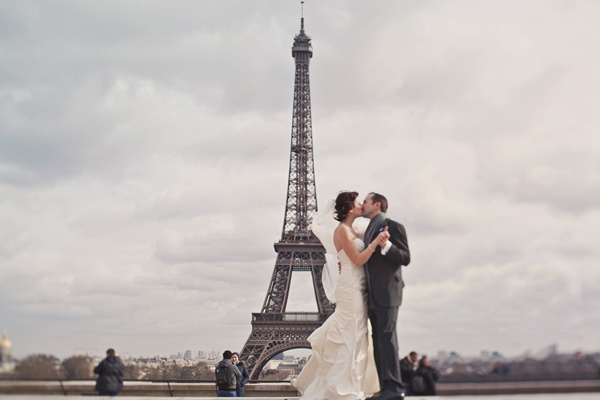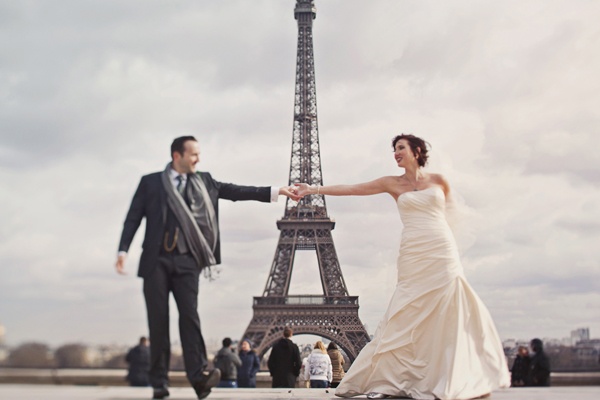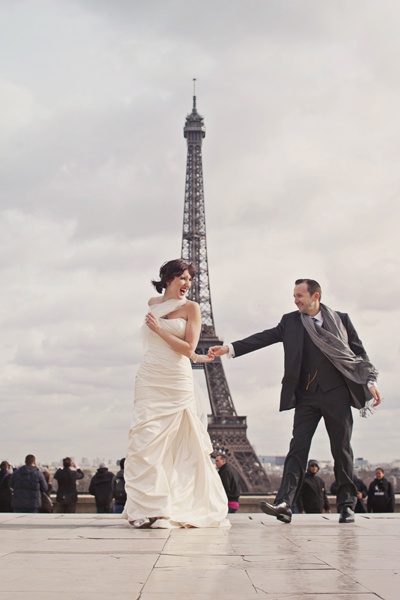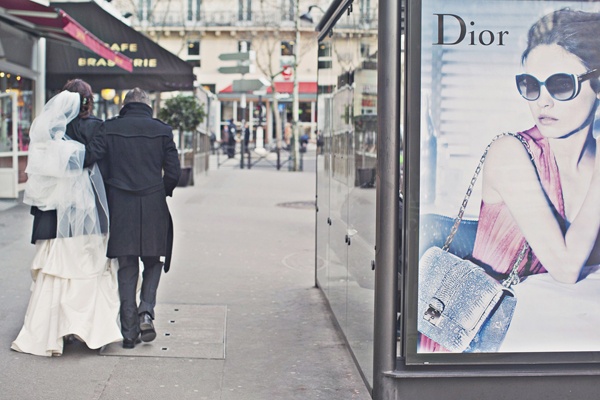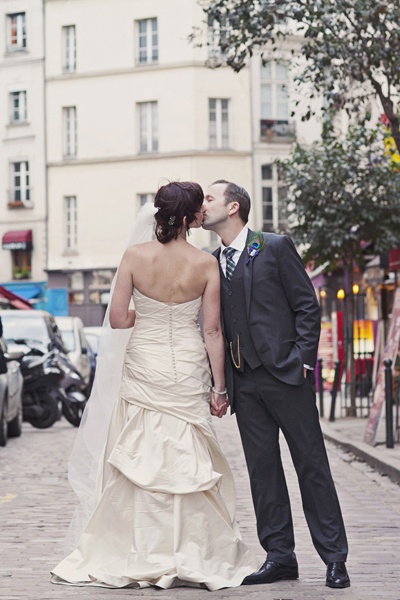 Why did you have an intimate wedding? 
Blair: Both Judson and I have been to our share of weddings, and although we love attending our friends' weddings, we hate how the guests never get to spend time with the bride and groom, unless they're IN the wedding. We didn't want all of our friends to come to town to watch us take such a big step, and then not get to spend time with them. We kept it small so we would be able to spend quality time with every person at the wedding, and it worked out so well for us.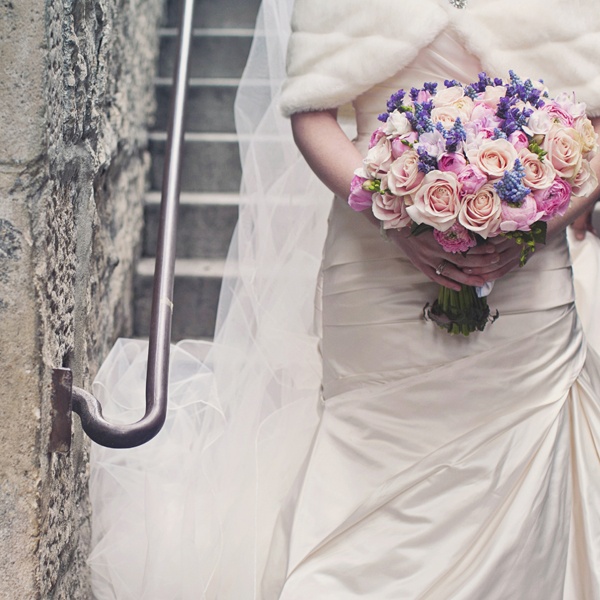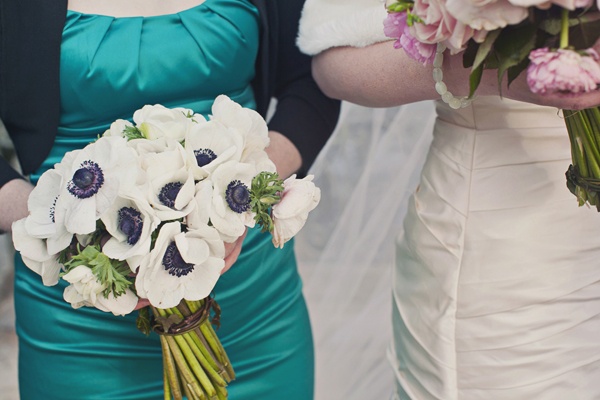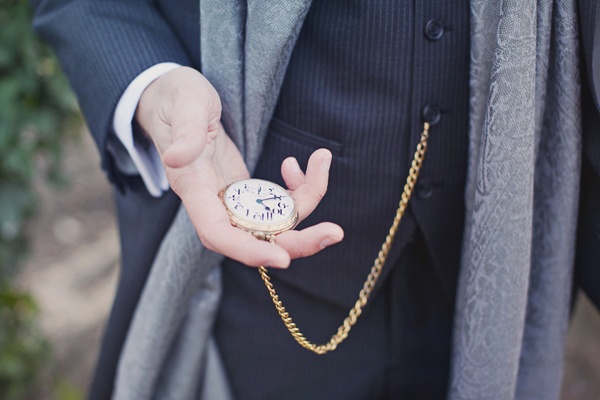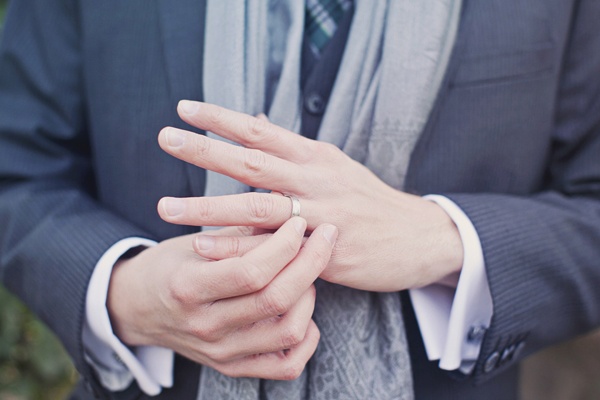 What are some of the challenges that you faced planning an intimate wedding? 
Blair and Judson: Finding lodging for everyone was difficult, but it was important to us that we all be able to stay in one place – especially since most of the wedding party didn't speak French and wasn't familiar with the city. Eventually, we found a place large enough for everyone, but it took quite a bit of internet surfing and perseverance. Also, because it was such a small wedding, we took on a lot of the nitty-gritty details ourselves, which was a lot to handle toward the end.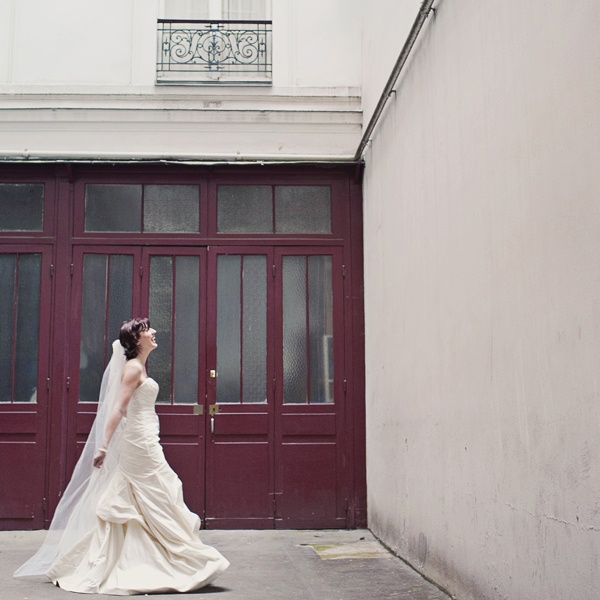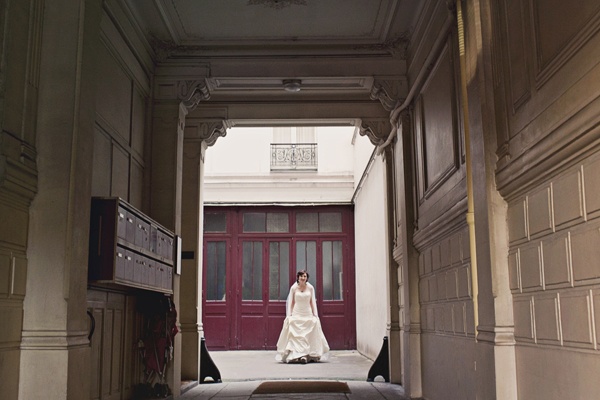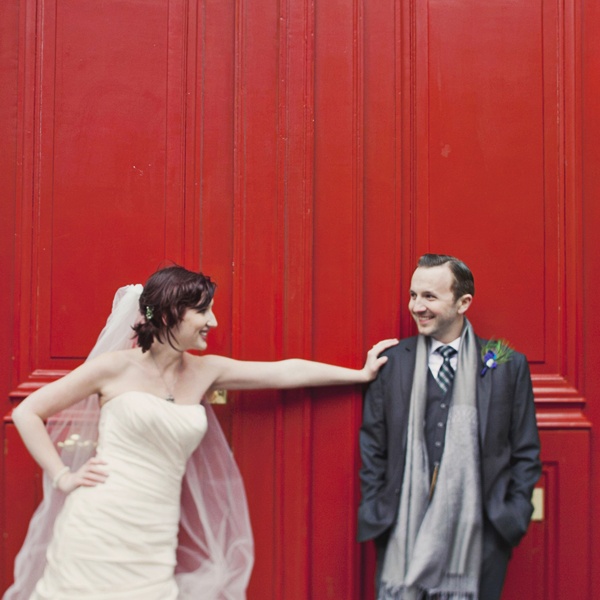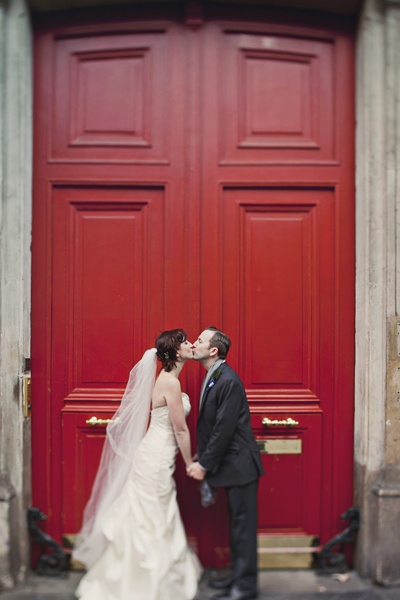 Was it difficult to pare down the guest list?
Blair and Judson: No, because we made it a point at the very beginning of our planning to create very specific lines. By including ONLY immediate family, we didn't have to worry about any family member being offended because they weren't included.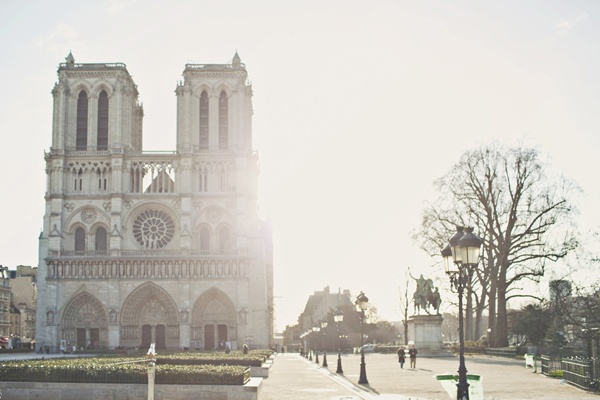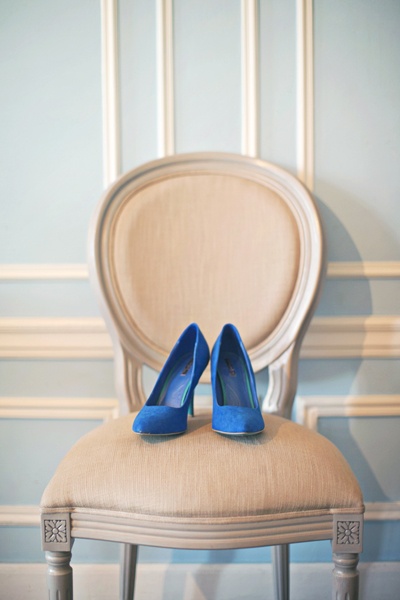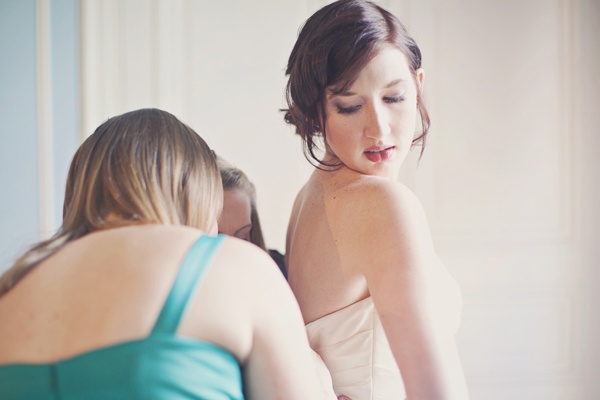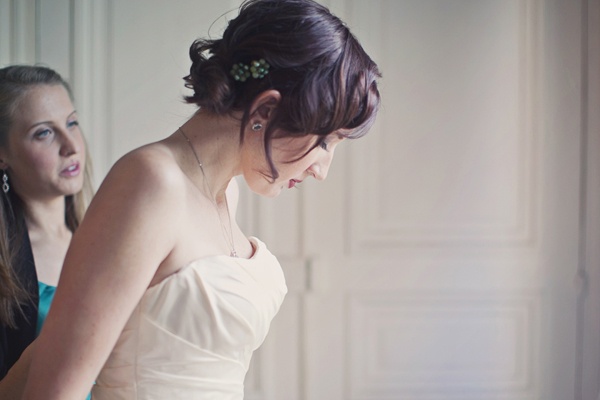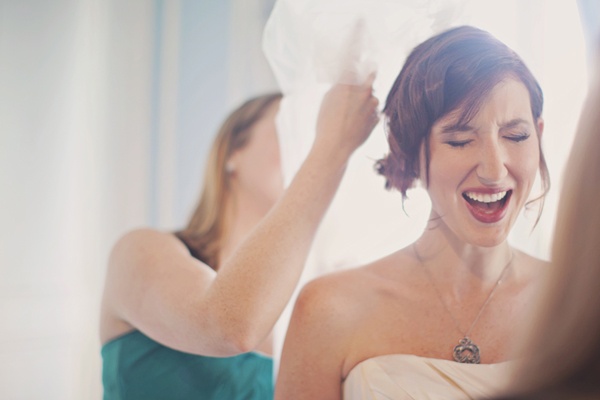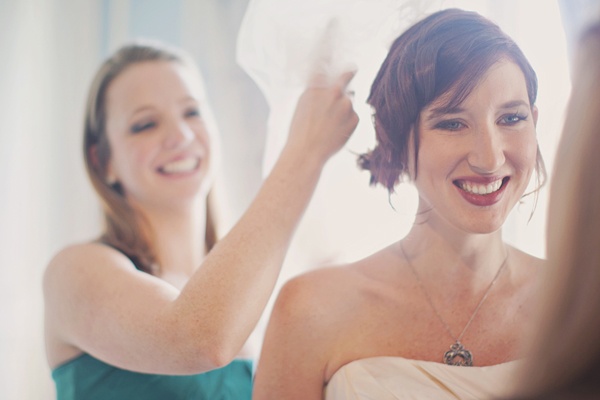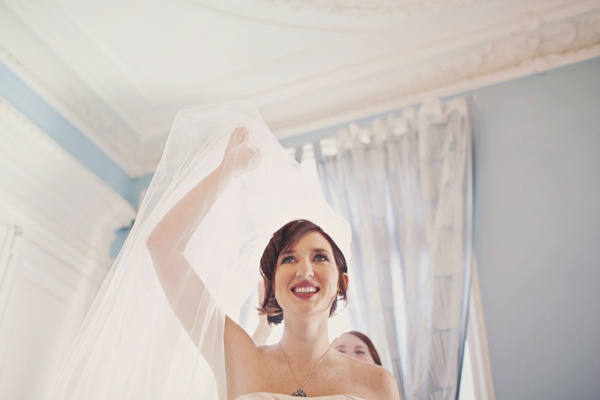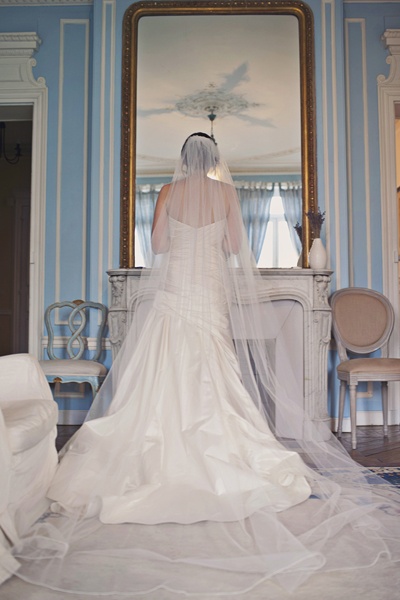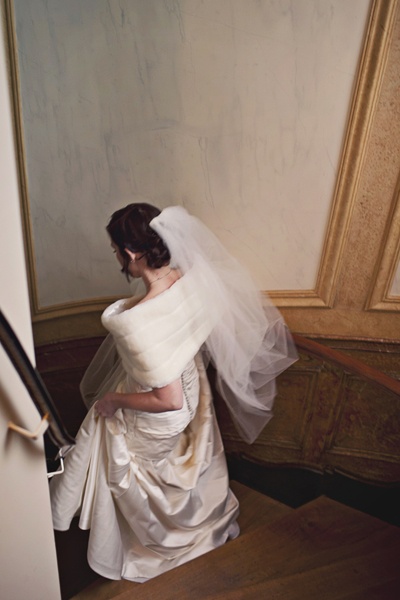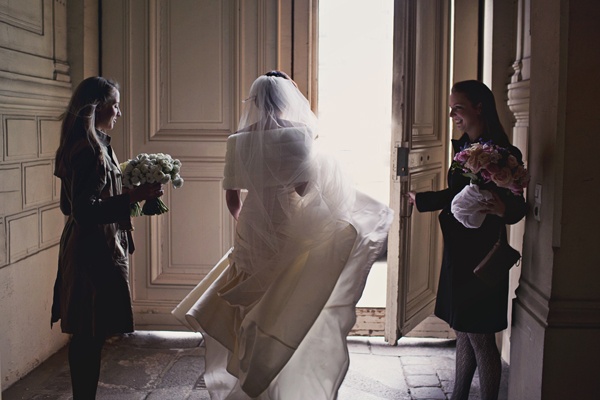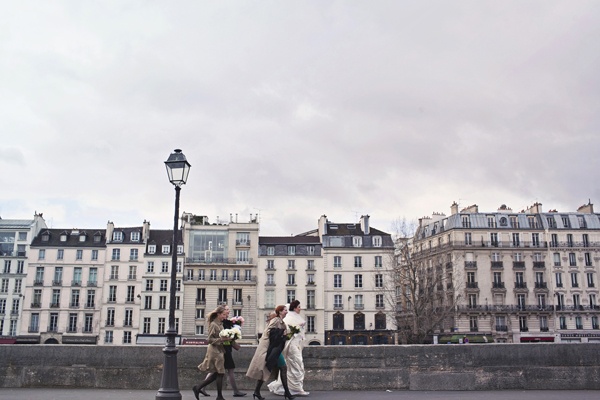 Did you have any 'issues' with the small guest list from friends and family? If so, how did you address them?
Judson: You have to deal with breaking a few hearts. We kept running into situations where close friends or relatives offered to find their own way to Paris and join us for the wedding and we had to gently turn them down. Allowing anyone outside of the core group to attend suddenly made it unfair to everyone else that wanted to come but couldn't. Because we got married in France, where the requirements for a union to be recognized are so strict, we had to get married at the courthouse in the US before we left. This provided a good opportunity to have a few close friends attend that wanted to come to the wedding but couldn't.
Blair: We are currently planning our stateside reception that will include ALL of our friends, so we're still going to be able to celebrate with everyone.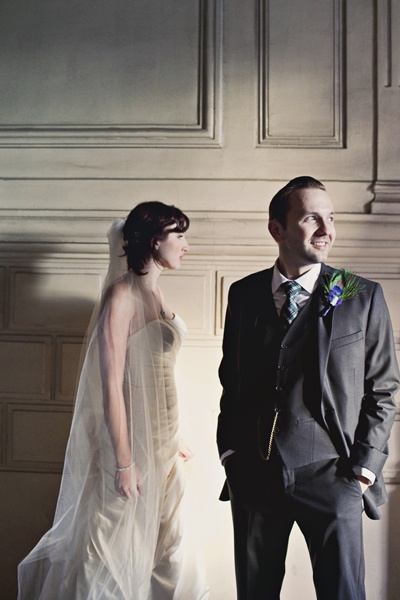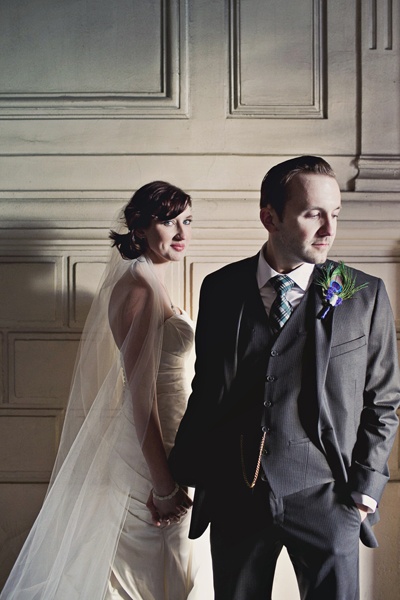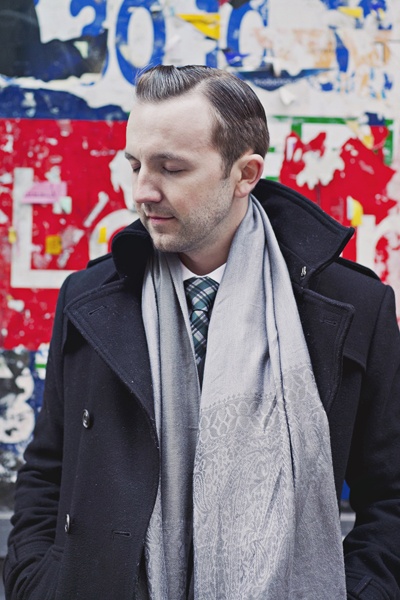 What were the highlights of the ceremony?
Blair: Judson (a designer) decided to draw his vows instead of writing them. I thought the adrenaline was going to get me through the ceremony without any tears, but the second he pulled out his hand-drawn vows, I started crying.
Judson: For me, obviously, seeing Blair round the corner in her beautiful dress and watching her veil shoot straight out in the wind was a highlight. By the end of the ceremony, a group of onlookers had gathered around on the overpass and an enormous elementary school group on a field trip had gathered in the park. As we departed the ceremony together, we stopped to kiss and the kids exploded with cheers and jeers—even the teachers were clapping! That was surprising and amazing.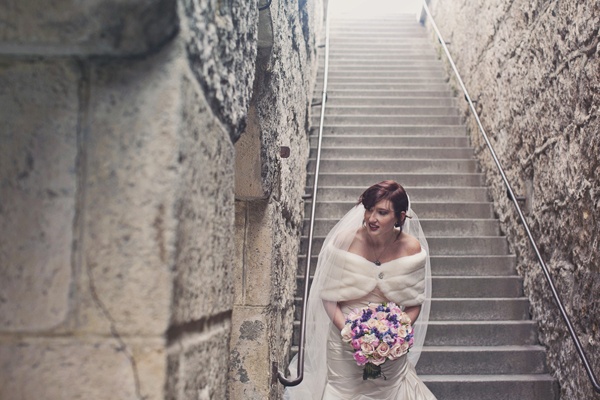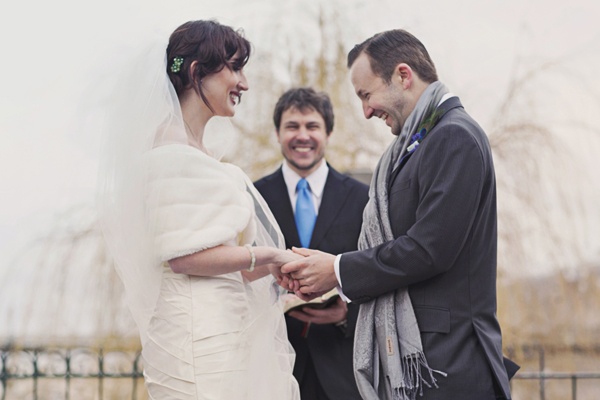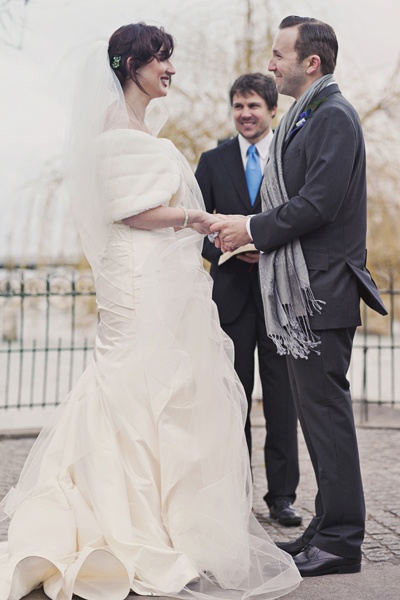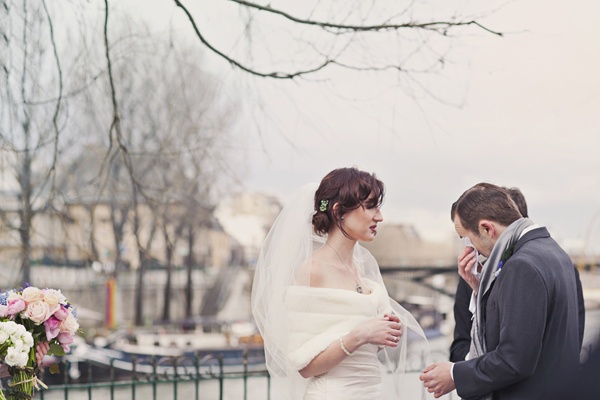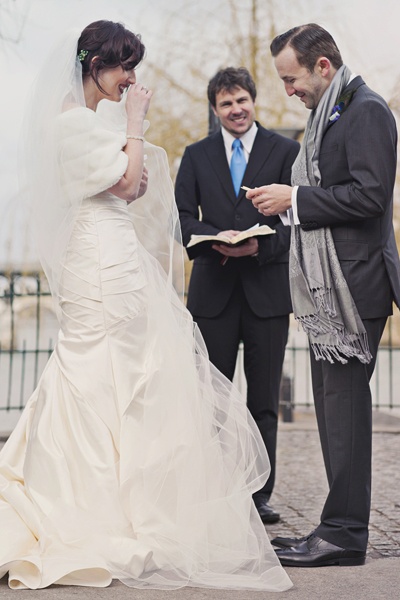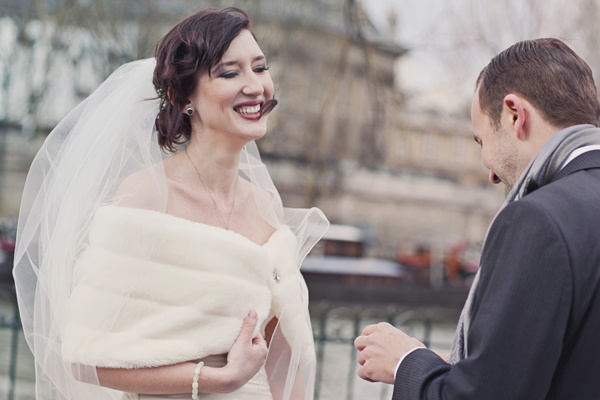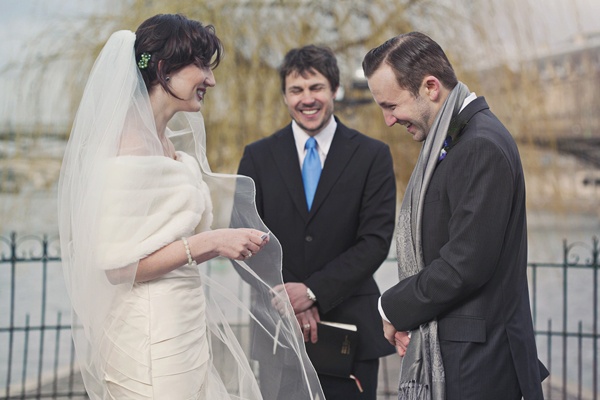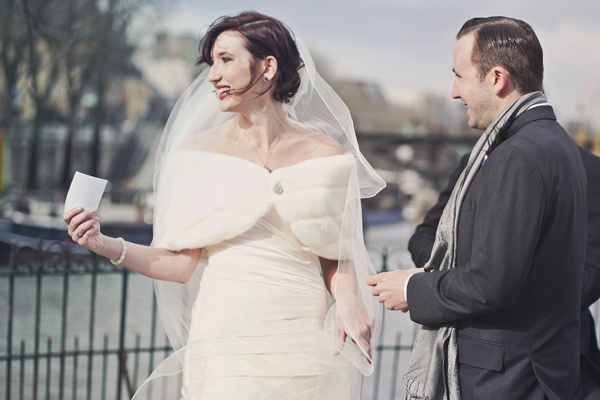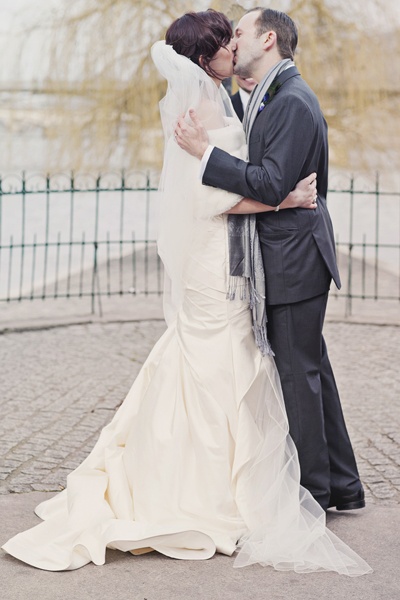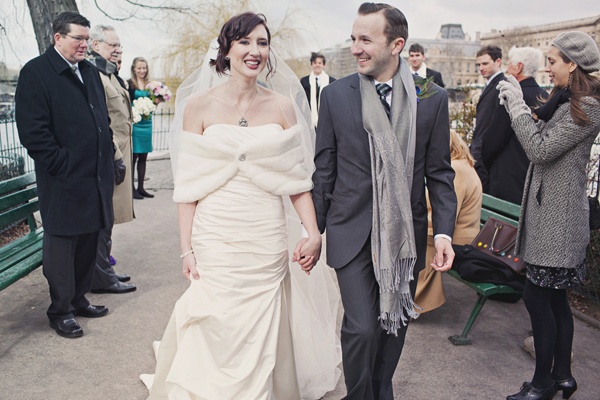 What were the highlights of the reception?
Judson: Though it wasn't technically part of the "reception," I loved driving all over Paris and getting amazing pictures with the wedding party. Dancing up on Trocadero with all the tourists making their own candid photographs of us was the highlight of that excursion.
Blair: Sitting and relaxing with everyone, knowing that we had FINALLY gotten married was amazing. Being surrounded by all of our best friends in such a beautiful restaurant was unbelievable, and I just remember looking down at Judson's hand with his brand-new ring over and over in total disbelief.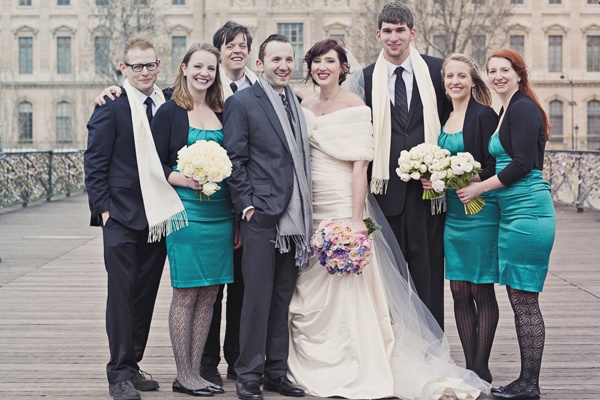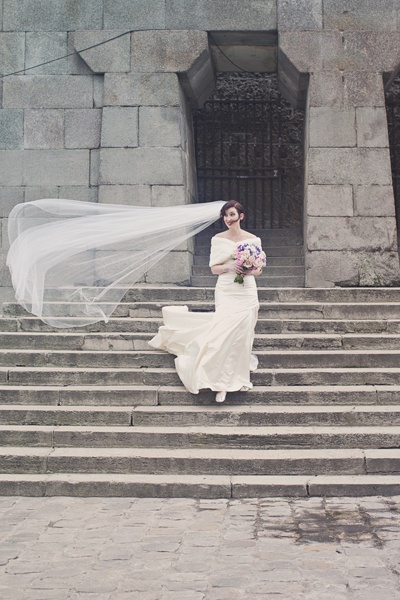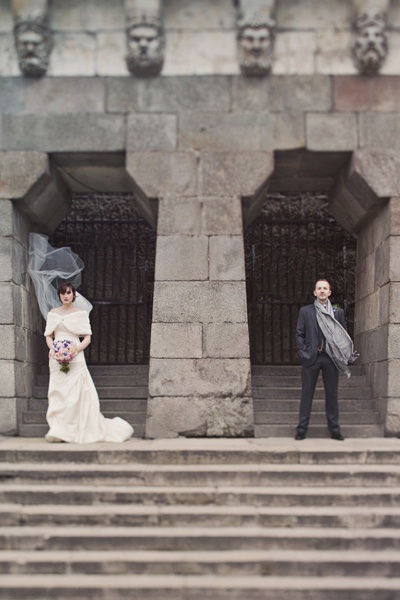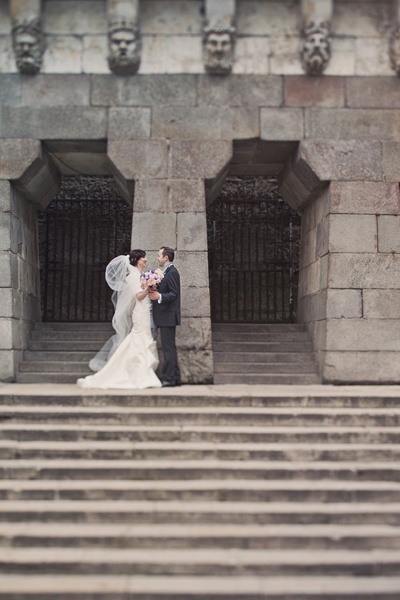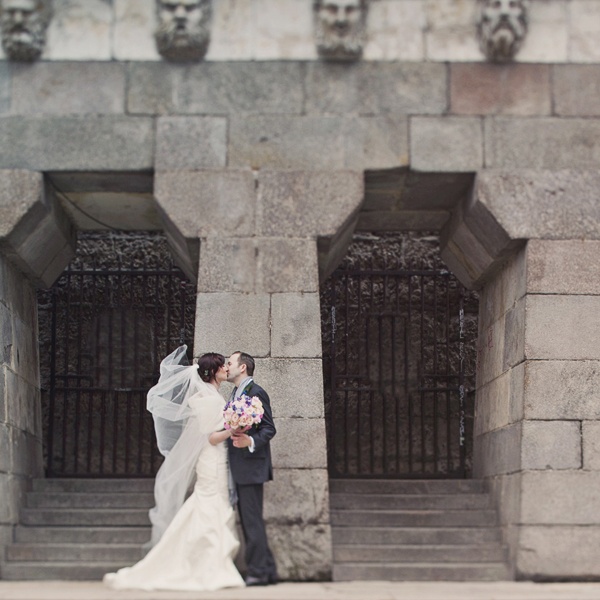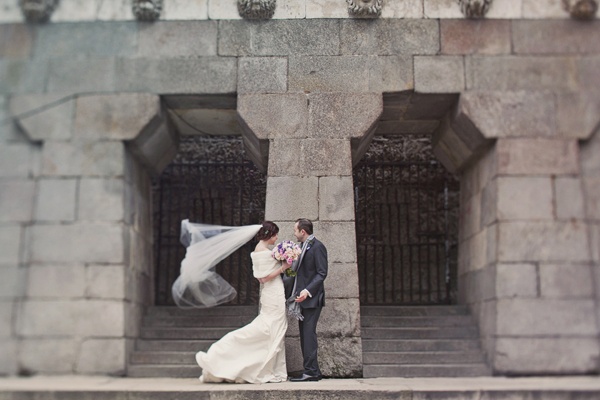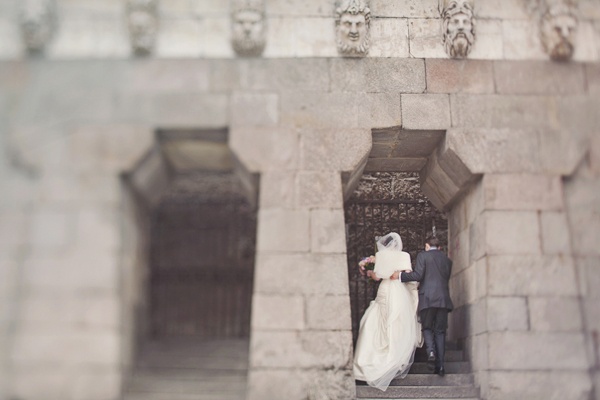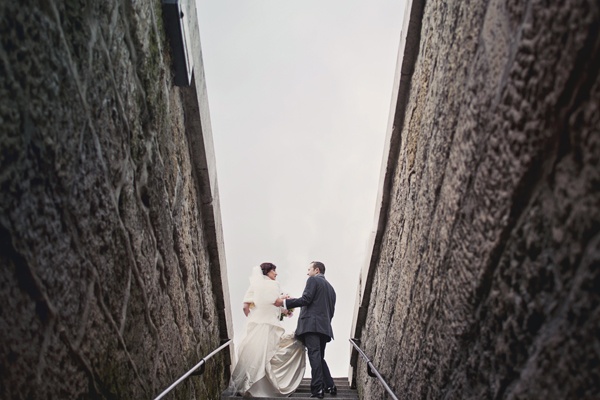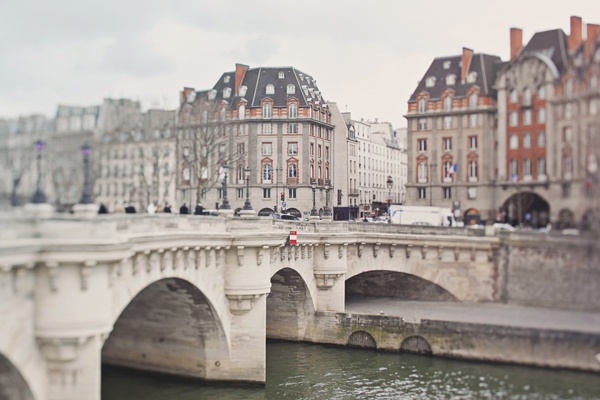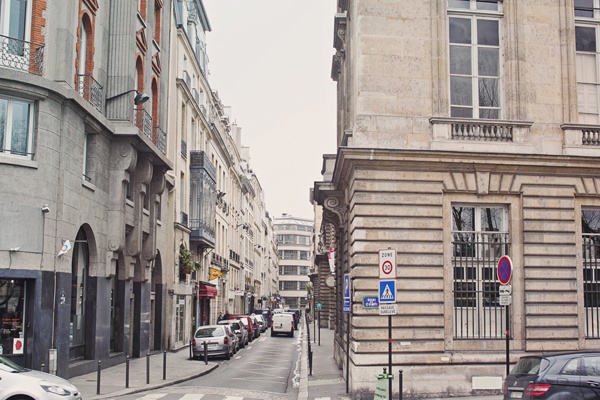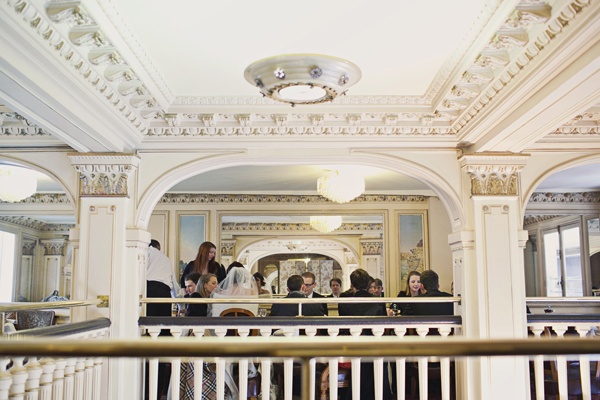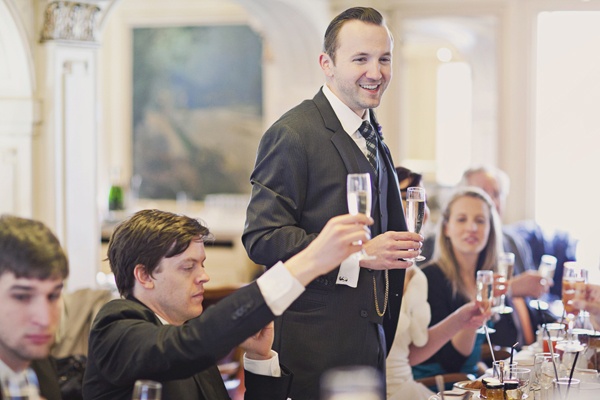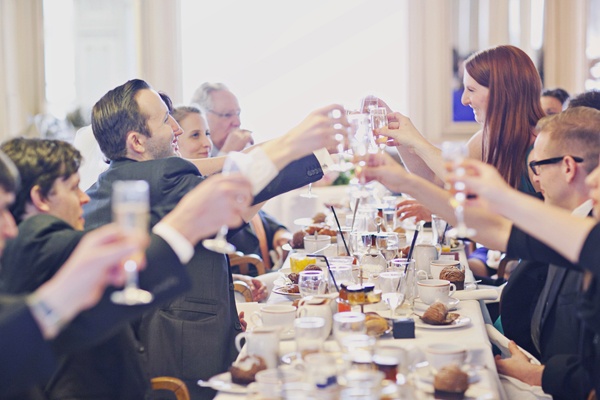 What was the best thing about having an intimate wedding?
Judson: Once the initial planning was done and we were on the taxi to the airport, I feel like all the stress disappeared. We had some minor things to deal with once we arrived (flowers, dress pressings), but there really wasn't much to worry about or much that could go wrong (aside from hoping for clear skies). Less cogs in the machine means less chance of a jam, I suppose.
Blair: Hands down, the best part was the time we got to spend with friends. We loved travelling with our best friends, and it was amazing to have all the people we care most about together for a long weekend in my favorite place in the world. Because we were with all the people who love us most, there was no pressure to impress, and no one who cared when things went wrong.
I also love how easy it was for us to make it "our own". We had all kinds of special touches that wouldn't be available in a large wedding. I made Judson's boutonniere out of a jade cicada (his band name) and a peacock feather (my favorite), which was something I wouldn't have had time for if we were planning a large wedding. I also sewed a tiny gold cicada and a medallion of the patron saint of Paris into the hemline of my dress as symbols of the two of us.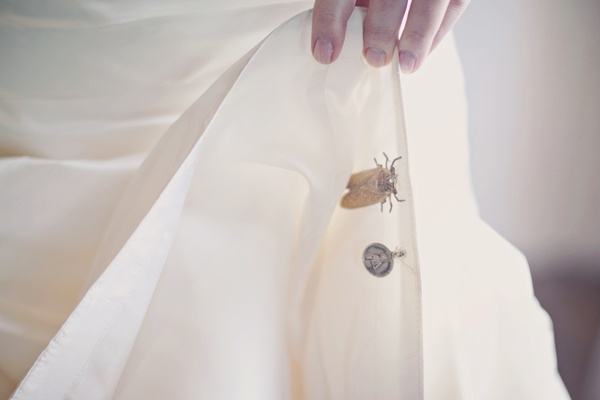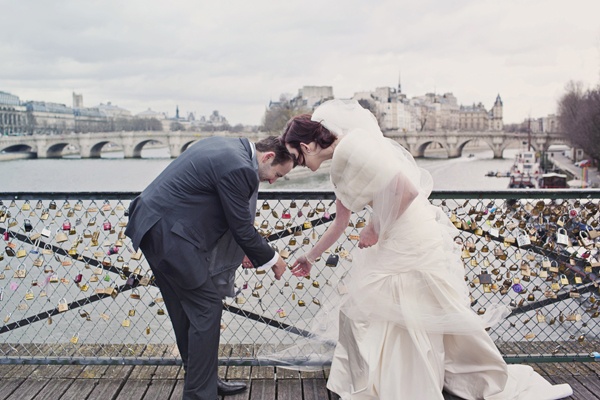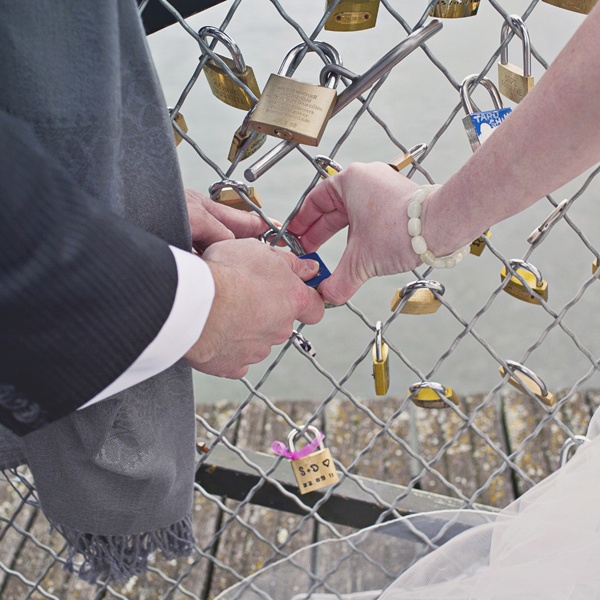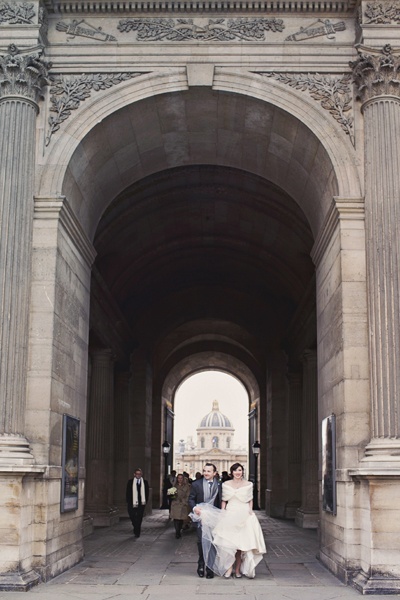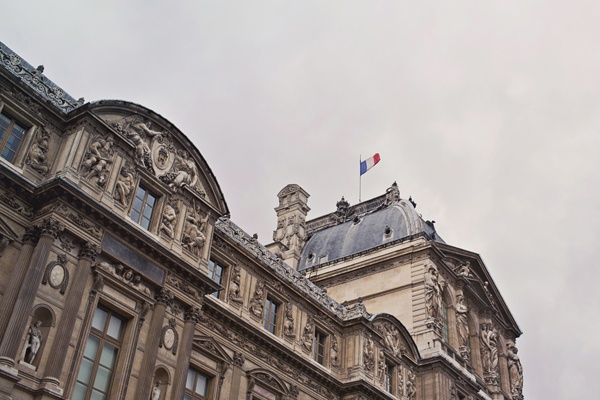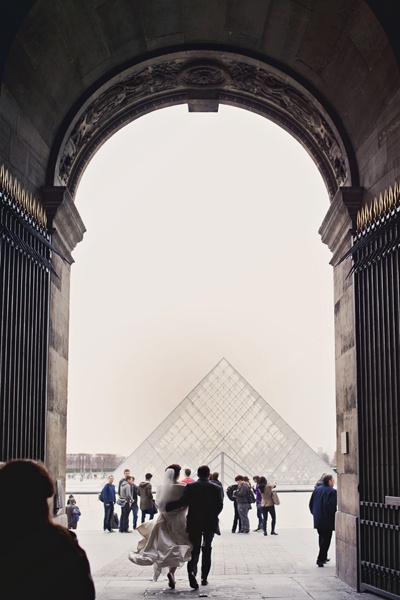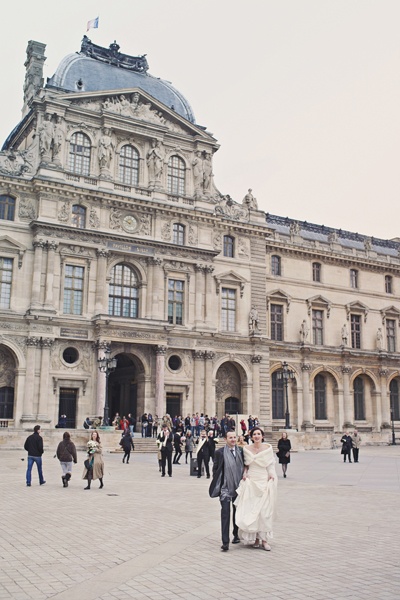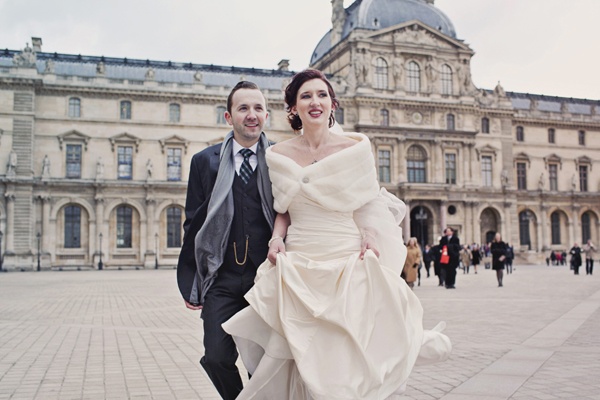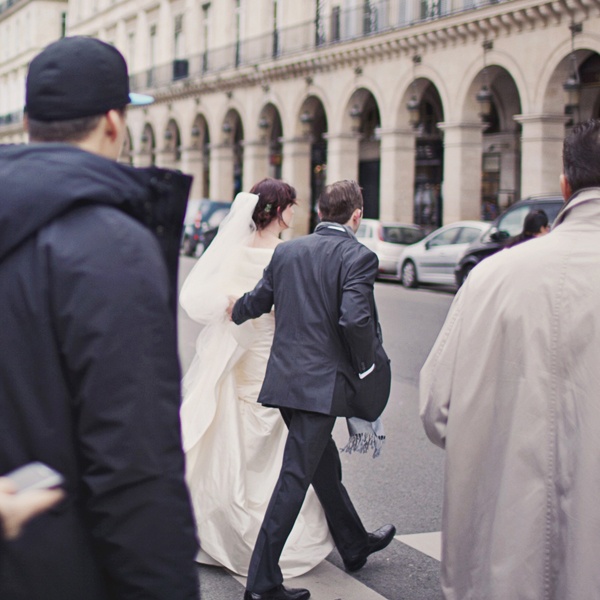 What advice do you have for couples who are considering an intimate wedding?
Blair: Don't be scared to do it! It's not a decision I have any regrets about, and I hold the memories so closely already. People always warned me about how my "wedding day would fly by," and how I "wouldn't remember anything about it," but having a small wedding allowed us to celebrate for four days with our best friends and remember every moment of it.
Judson: You'll probably feel like the wedding is small and manageable and that you don't want to pay a planner to take some of the load off of you, but be aware that there will still be plenty of stress. I assumed going in that it would be a much easier process than working on something huge with 100+ guests – and maybe it was – but you'll still have your share of tough moments, arguments over particulars, overwhelming freak-outs, etc. And save as much money as you can. The second you get engaged, just start saving. Get a joint savings, figure out how much of your monthly salary you can each divert, where you can cut costs, etc. If you don't use it all on the wedding, you'll love having the extra funds afterward. There's a lot of expense involved in being newly married!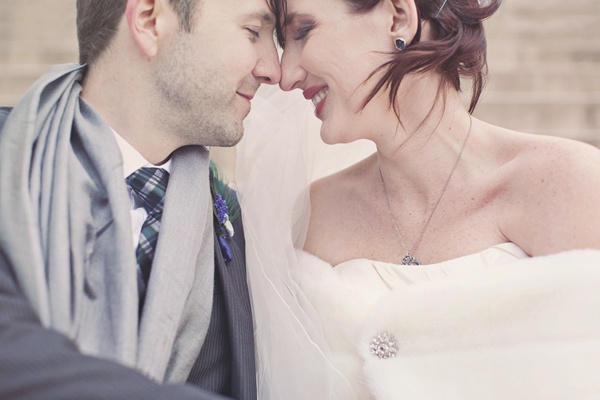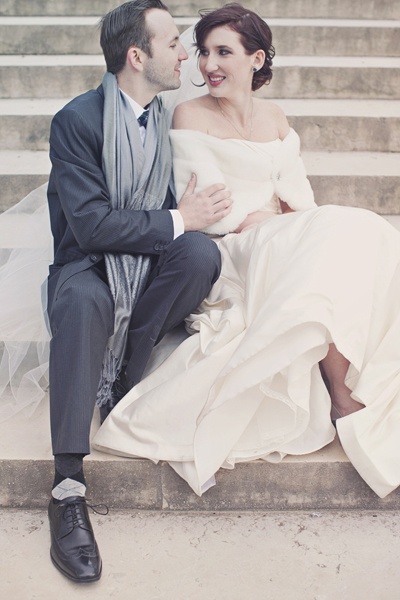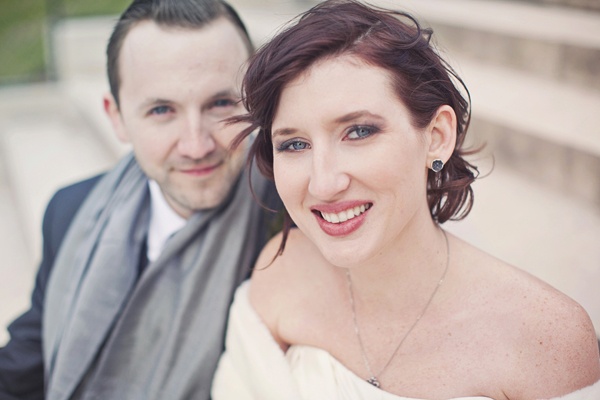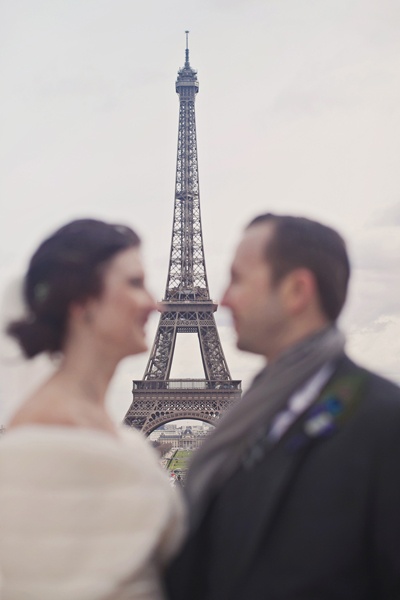 Vendors:
Planner: Kim Petyt, Parisian Events
Photography: Heidi Geldhauser, Our Labor Of Love
Wedding Ceremony Location: Square du Vert Galant, Ile-de-France, Paris
Wedding Reception Location: Angelina, Rue de Rivoli
Florist: Mina, Lieu-Dit
Dress: Casablanca Couture
Suit: Express Men