Daniel, 37 & Kellie, 32
Ward, Colorado
Wedding Date: September 21, 2010
Number of Guests: 0 (Just the bride, groom, officiant and photographer.)
Wedding Cost: $3,000 (excluding rings and travel costs)
Wedding Ceremony Location: Long Lake, Indian Peaks Wilderness Area, Ward, Colorado
Wedding Reception Location: Picnic at Long Lake Trail with two in attendance; bride and groom.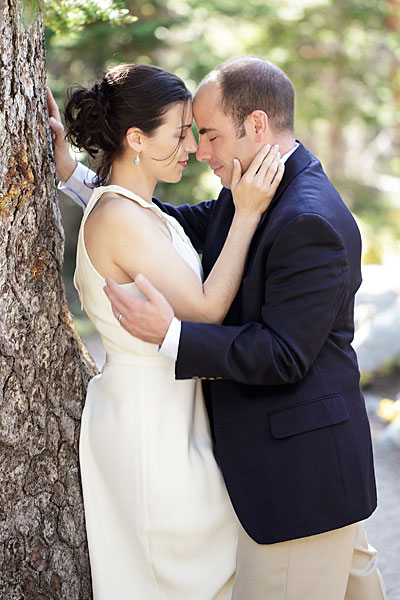 Why did you have an intimate wedding?
Dan and I had been engaged for about 4 months before we began to seriously think about our wedding ceremony. We both have very busy schedules, so it was difficult to choose a time that was good for both of us. Additionally, our families live on opposite sides of the country, which complicated the planning; so it was much easier for us to plan a small event. More importantly, we felt that a small wedding in a place which held sentimental meaning for the both of us reflected our personalities more than a large wedding would. Once we decided to go small, we went really, really small. In the end we decided to elope in the Colorado wilderness.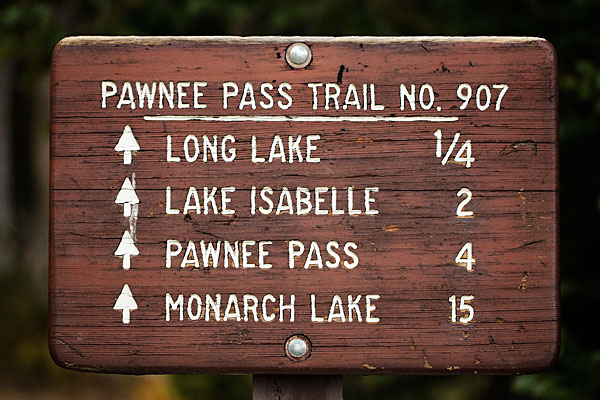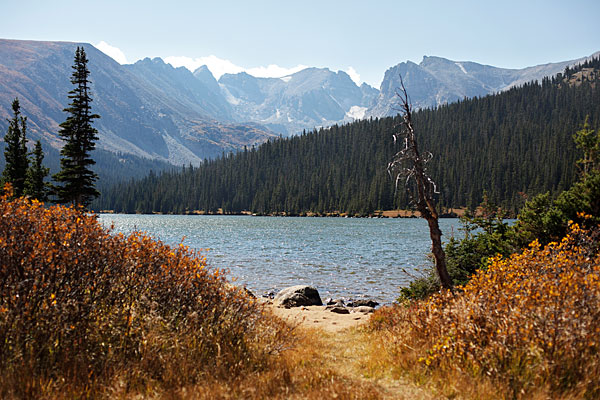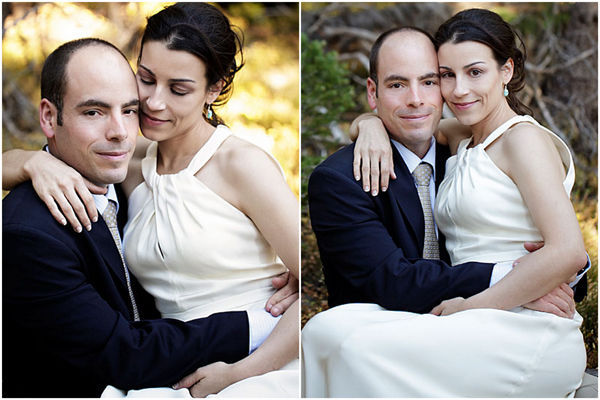 What are some the challenges that you faced planning an intimate wedding?
At the time we decided to get married I was living and working at a field station in the rainforest of Costa Rica and Dan was in Monterey, CA. I had a very brief trip to the States planned for September. Rather than wait until the following year to get married, Dan suggested that I extend my layover in Denver by a couple of days and we just get married then. So with two weeks until my trip, we had a wedding to plan. I looked up potential vendors on the internet and Dan would call them to work out the details. I had only one day in Denver before the ceremony, so there was no time for complex alterations or test-runs. To ensure that I had everything, I sent what I thought I might need to Dan. In the case of my dress, I ordered many dresses of various sizes and hoped for the best.
Dan grew up in Boulder, CO. He had always loved the Indian Peaks Wilderness area, so he suggested we use the lake at the base of Indian Peaks as the backdrop for our wedding. I loved the idea. Because there are no roads to the lake, we needed to find a photographer and an officiant that were willing to go off the beaten path. Luckily, the photographer that we really wanted was up for the hike, but it took a little more effort to find an officiant. (Our first officiant backed out a week before the ceremony.) In the end, it all worked out beautifully.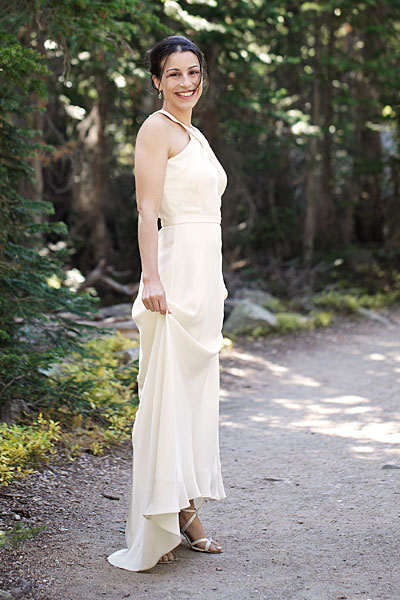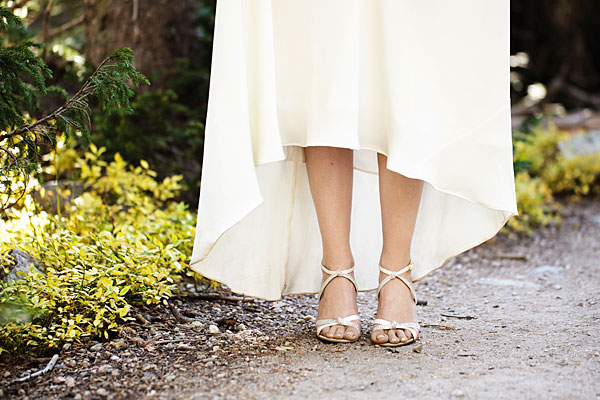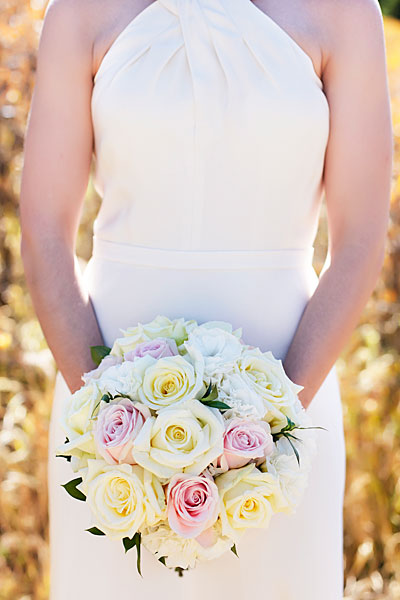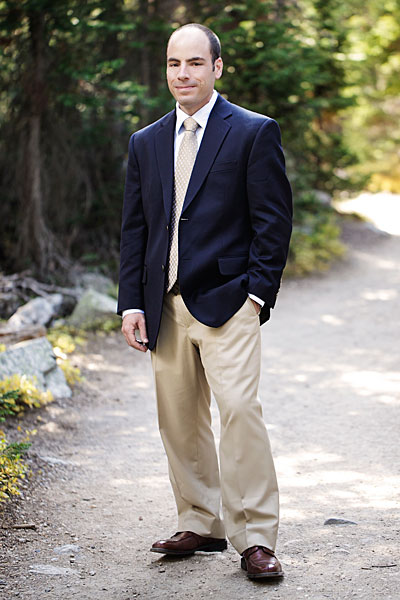 Was it difficult to pare down the guest list?
No.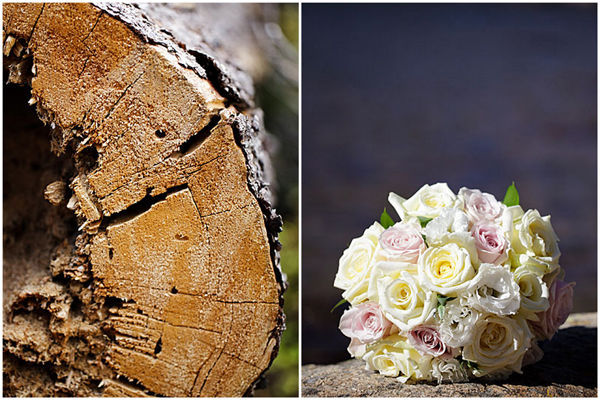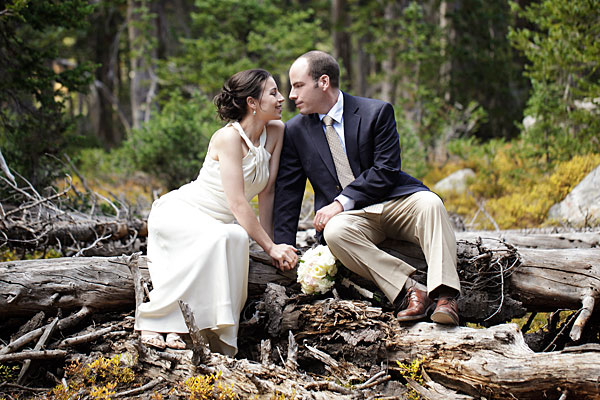 Did you have any 'issues' with the small guest list from friends and family?
Our families found out after the fact, and I think any 'issues' which they had were assuaged by the fact that our exclusion of guests was all inclusive; in other words, they had no reason to be jealous since everyone was in the dark!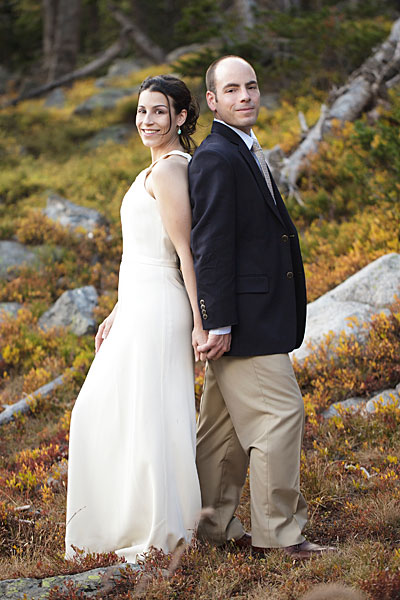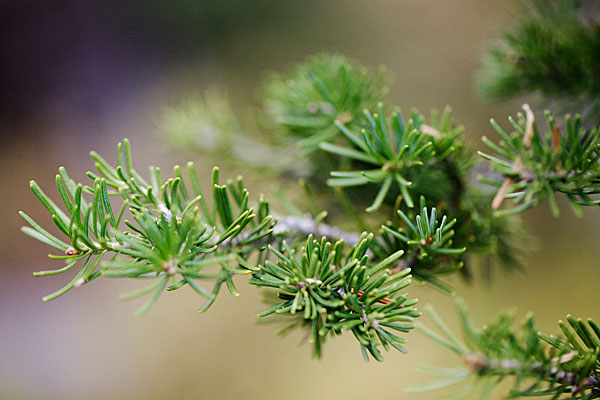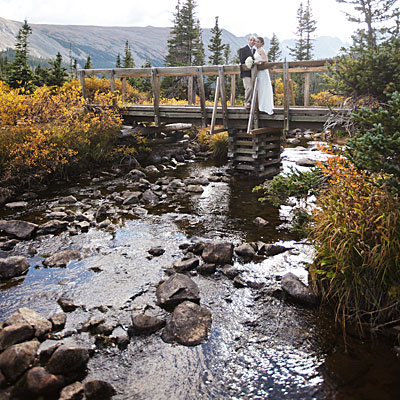 What were the highlights of the ceremony?
We had lovely weather and fantastic scenery!  It was just us and the Colorado Rockies.  (The mountain range, not the baseball team.)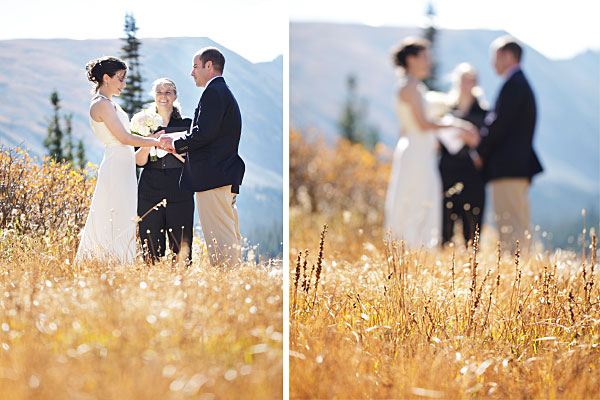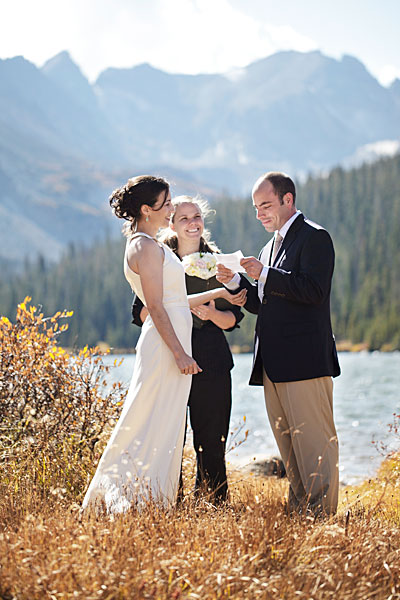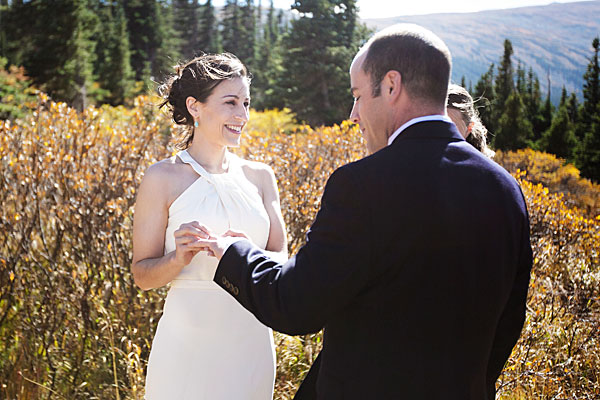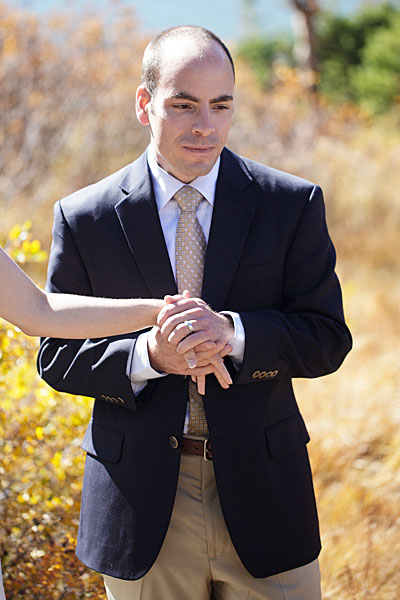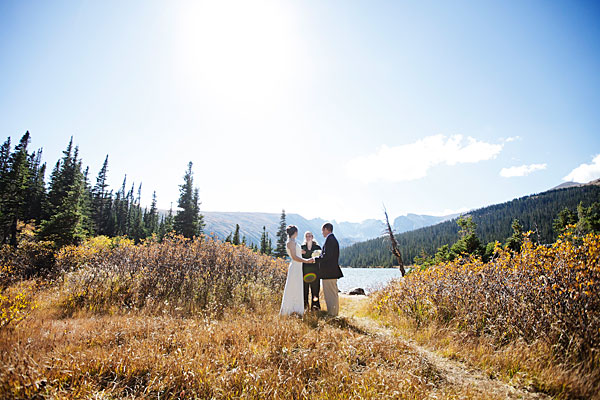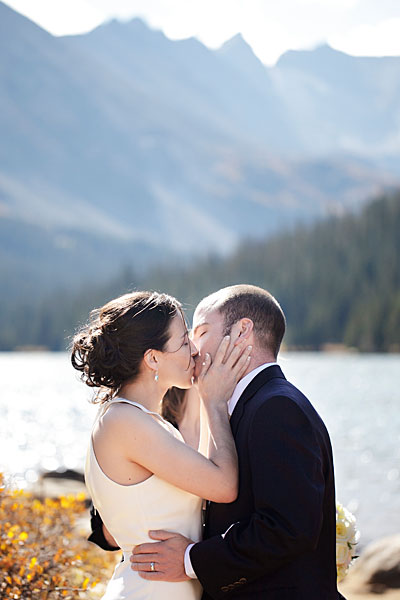 What were the highlights of the reception?
We did not have a reception. After the ceremony we enjoyed a small picnic with champagne and just enjoyed being together. It was very sweet.
As for the wedding cake, I am very grateful to the staff (particularly Mary) of the Romantic Riversong Bed and Breakfast in Estes Park for helping me arrange for a cake. I e-mailed Mary and asked if it was possible for them to recreate the cake that Dan and I shared on our first date – chocolate cake with peanut butter crème filling and fudge icing. Mary took over from there. She had a local pastry chef make our delicious cake and had a lovely table set in our suite at the Inn.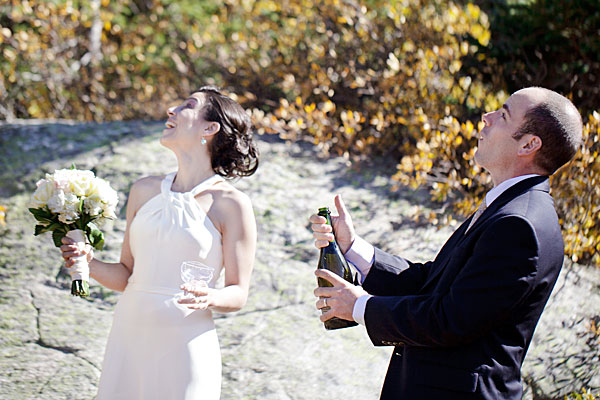 What was the best thing about having an intimate wedding?
Our wedding day was exactly the way we wanted it. It was a very relaxed day – there was absolutely no pressure to go anywhere or do anything. We were able to focus on us and our love for each other.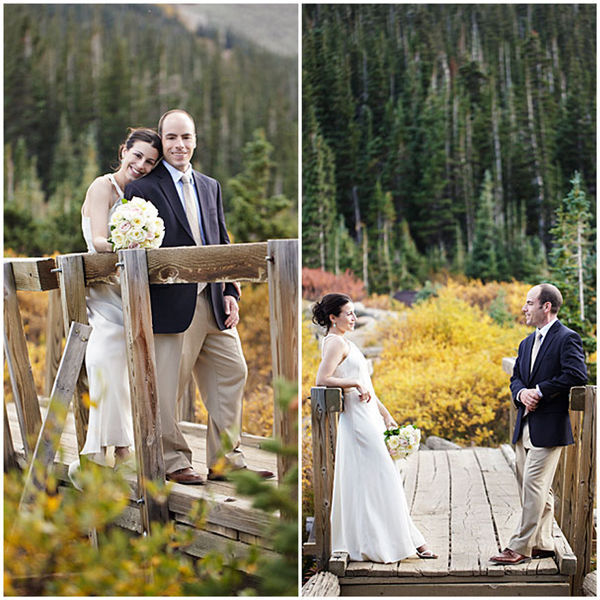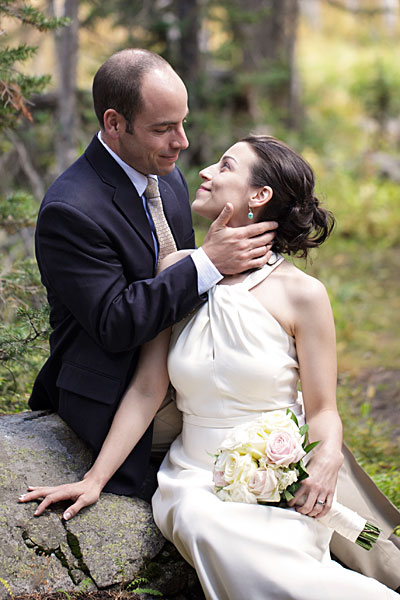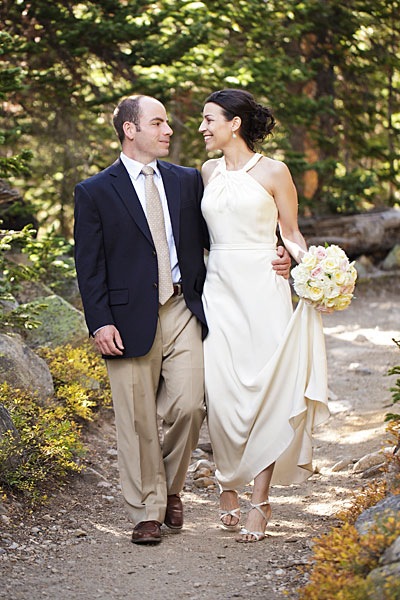 What advice do you have for couples who are considering an intimate wedding?
Choose a location that has meaning to the both of you and keep it simple.
We also felt that it was important to have a good photographer. We were very fortunate to find April O'Hare. April was both wonderful to work with and very talented. She provided us with a breathtaking portfolio of photographs that reflect the great memories of that day.  On top of the great photographs, April was fun to work with; and if someday we decide to have a large ceremony with family and friends, we've already decided that April will be the Photographer!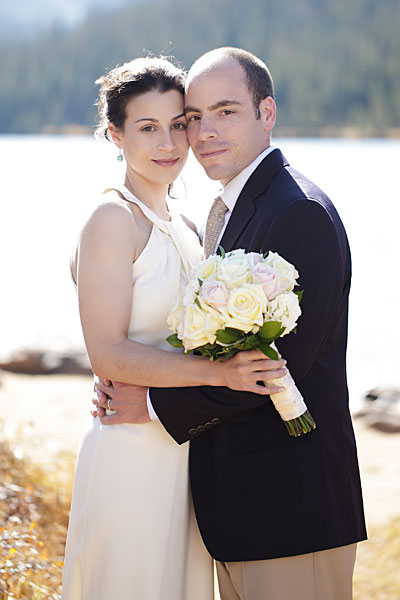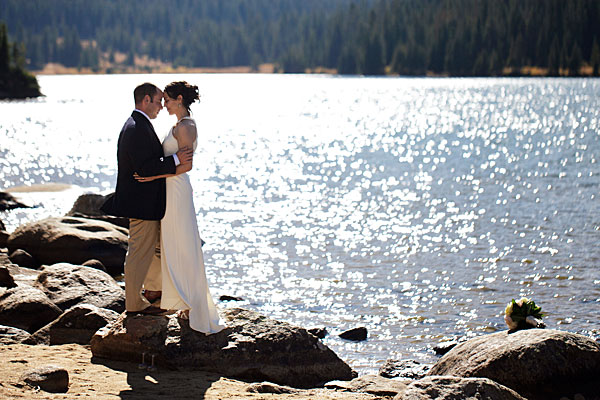 Vendors:
Photographer: April O'Hare
Officiant: Regan Price, Lyssabeth's Colorado Wedding Officiates
Cake: Romantic Riversong Bed and Breakfast
Flowers: Sarah Cioni, Painted Primrose; Boulder, Colorado
Hair: Finishing Touch Salon; Boulder, Colorado
Picnic food: Whole Foods Market
Bride attire: J.Crew Bridal
Groom attire: Calvin Klein
Jewelry: Tiffany & Co.
Venue: U.S. Forest Service