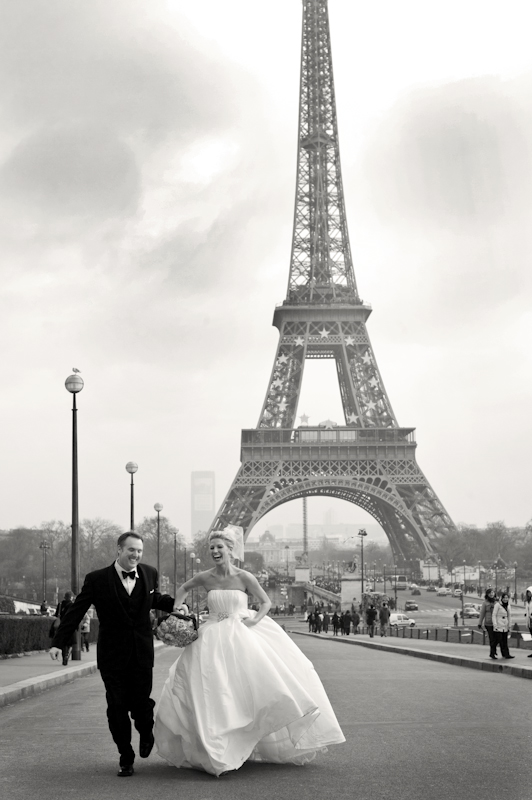 Genesis, 28 & Kevin, 40
Paris, France
Wedding Date: December 31, 2008
Number of Guests: 2
Wedding Ceremony Location: Courtyard of The Plaza Athenée
Wedding Reception Location: The Plaza Athenée – Marie Antoinette Room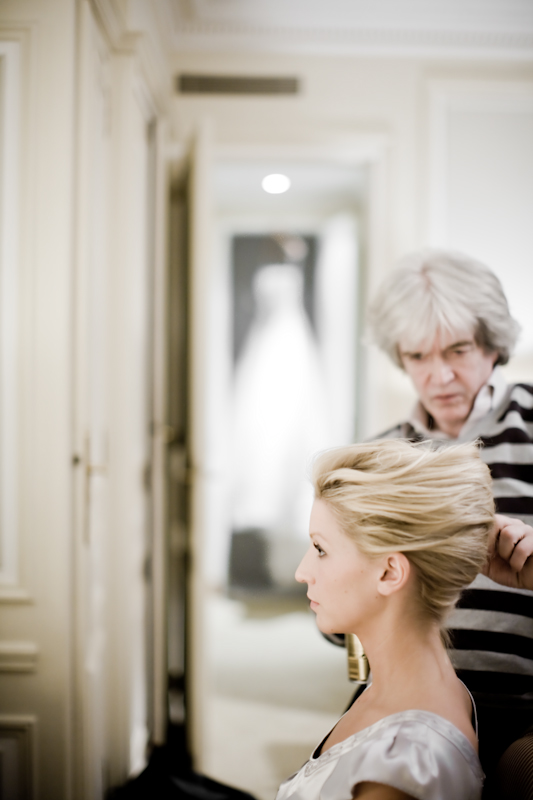 Why did you have an intimate wedding?
At the beginning of the wedding-planning process, we agreed that above all, we wanted our wedding day to honor our love.  We wanted to make sure we kept the day about our commitment to each other and about the love that we have for one another.  We wanted the day to be joyous and stress-free!  We wanted to combine both of us into the day and to have each moment of our day build upon the moment before; a blank canvas becoming our own little masterpiece.
We began by planning a traditional wedding, but it didn't take long for us to realize that we had lost sight of our above-mentioned goals. It was then that we refocused and decided that it would be best for us to have a private ceremony.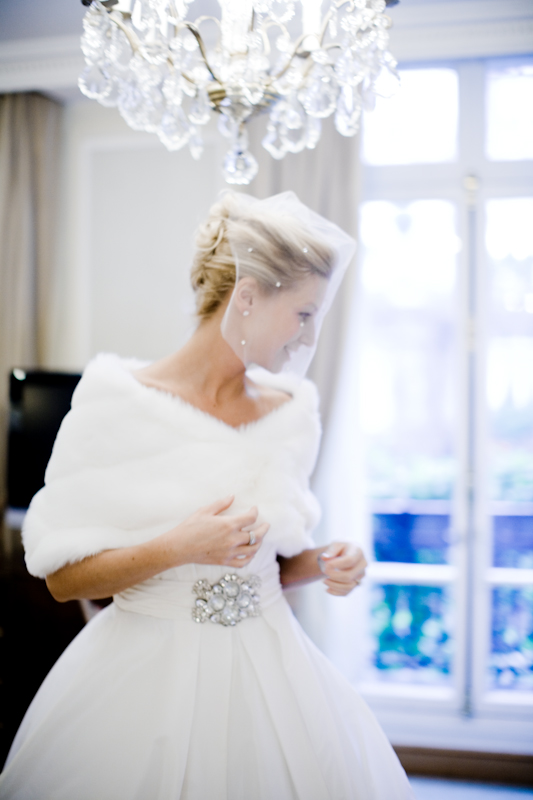 What are some the challenges that you faced planning an intimate wedding?
Keeping it a secret! With many family members and friends anticipating an extravagant wedding celebration in the spring of 2009, time was working against us as "save the date" announcements were being asked about regularly.
Choosing to elope in a foreign country, with much different marriage requirements and customs, language barriers and a 9-hour differential posed many challenges while planning our day. Many late night calls and early, early morning emails added to the planning hurdles as well.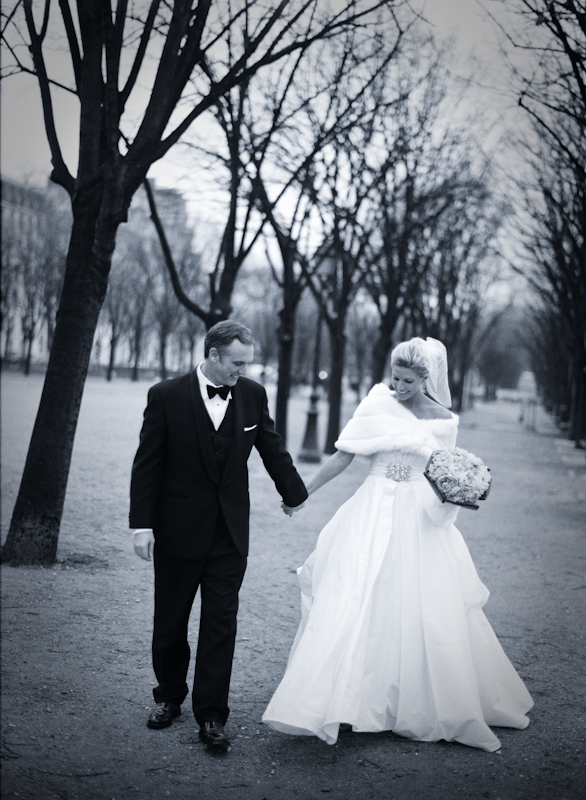 Was it difficult to pare down the guest list?
Thoughts of the guest list definitely brought feelings of consternation. We are both extremely close to our families.  But the amount of our extended families is quite bountiful.  If we had chosen to invite "family only", it would have been impossible to have had an "intimate wedding."  In the end, our witness was a couple with whom we've shared a dear friendship.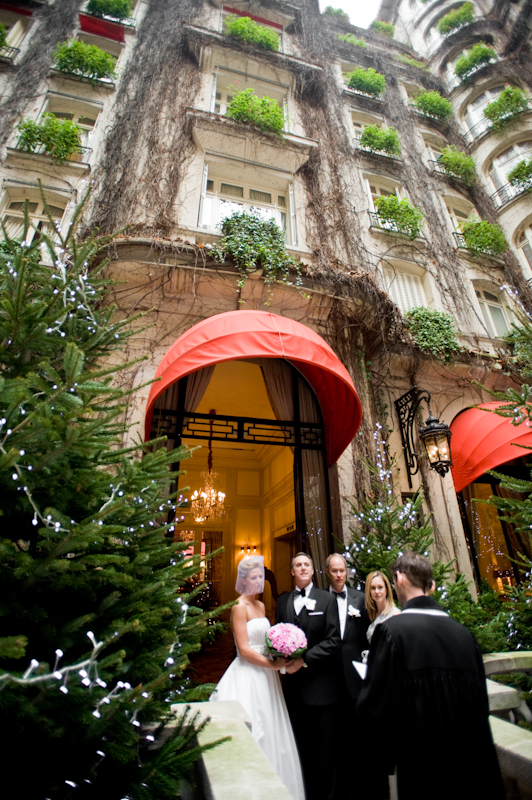 Did you have any 'issues' with the small guest list from friends and family?
The overwhelming response to our elopement was excitement and happiness. I was surprised by how many people expressed that they wished they would have had the strength/ courage to make the same decision as we did!
However, it must be known that many of our family and friends were also disappointed that they were not able to share in that moment with us.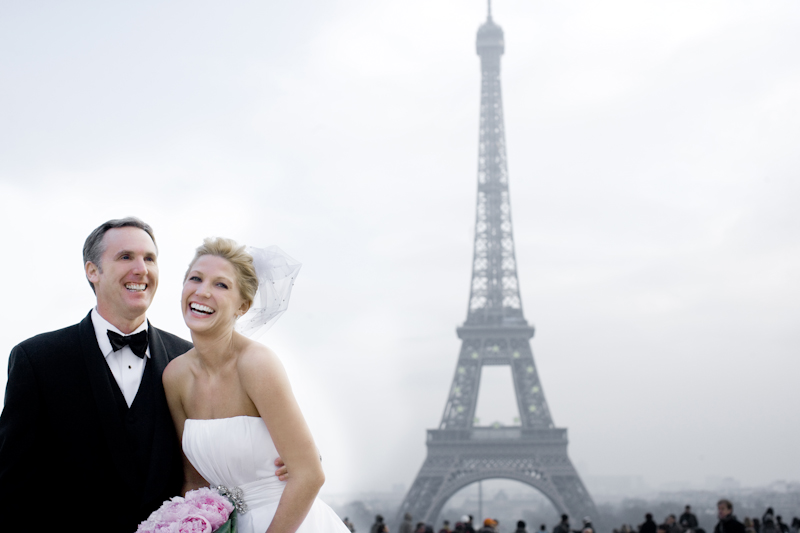 If so, how did you address them?
Once we had a moment to share the background to our decision, I think most people were able to understand.
We've had incredible feedback all around (especially after sharing photos and our video)!  I think it's just hard for some people to think outside of the traditional wedding thoughts. At first, it was for us as well.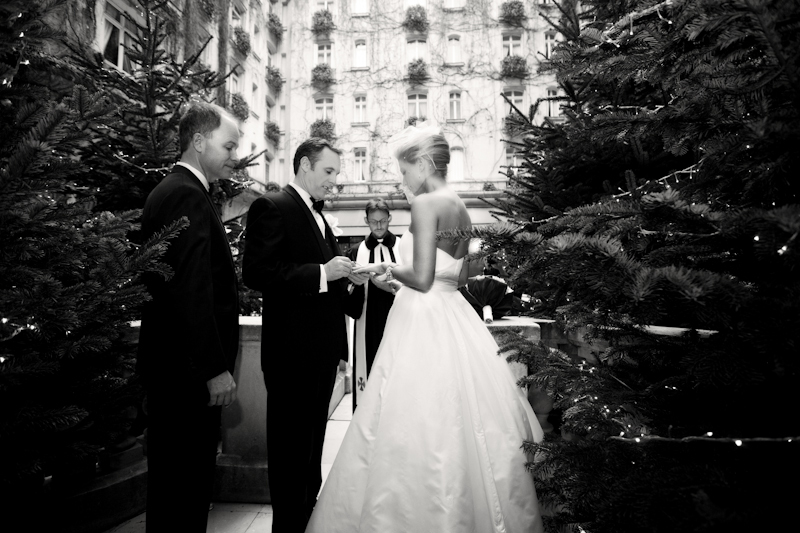 What were the highlights of the ceremony?
Saying "I Do," of course!!!
I have always loved the harp and wanted to have a harpist at my wedding.  Kevin had secretly coordinated to have a harpist play for the ceremony and reception.  It was so touching to open the doors to our ceremony site and to have the stunning sound of a harp's melodies creating a soft layer for our vows.
The backdrop of our wedding was a very intimate and picturesque scene of the holiday season – draped lighting and grand, bountiful Christmas trees abundantly enveloping a petite ice skating rink (think 20 people at most able to skate on this rink)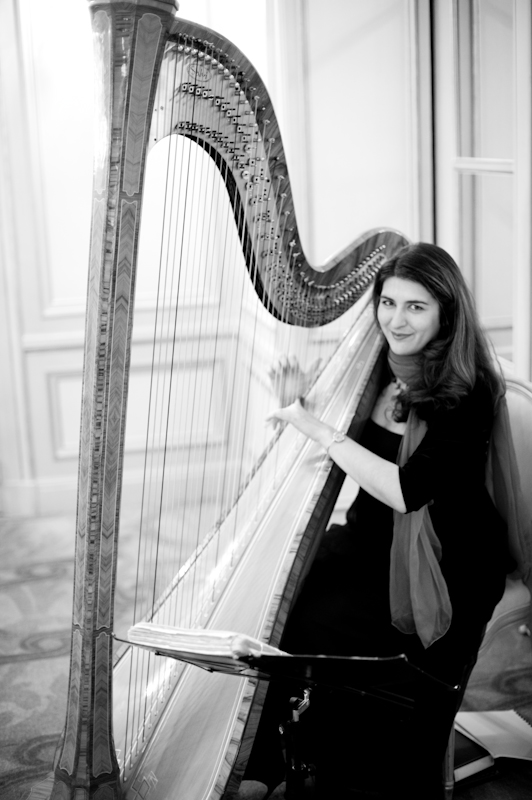 What were the highlights of the reception?
The first dance was remarkable and serene.  It was then, swaying in Kevin's arms as Today by Joshua Radin played, that I felt like Mrs. Dee.  I was thrilled that our life together as a family had truly begun.  We were in bliss.
After the first dance, the most delicious cake was presented to us having been passionately prepared by Chef Christophe Michalak.  My only requirement was that it had to include chocolate….lots of chocolate…, and the 2005-07 World Pastry Champion did not disappoint.
Ice skating in my wedding dress, gliding around Kevin as he stood in the middle of the ice rink was another highlight. And our Parisian, wedding-photo tour! Our photographers had flown over three days ahead of our wedding and specifically scouted out fabulous locations for our photos.  We had an SUV limousine/tour guide chauffeur us all around the city to take our photos at some of the most stunning sites the City of Lights has  to offer. All along we had people cheering on our love, offering congratulations (in almost every language) and asking to take pictures along with us! We kissed in front of the Eiffel Tower.  We became dizzy in love as we rode an antique carousel.  We strolled in Les Jardins.  We explored the grounds of Napoleon's Military Academy and reveled in the glory of  the Notre Dame de Paris Cathedral.   To top it all off, we ended the evening with a carriage ride down the Champs-Elysees on New Year's Eve surrounded by thousands of citizens from all over the world singing and dancing amongst the festive lights decorating literally hundreds of trees aligning the Champs.…Incroyable!!!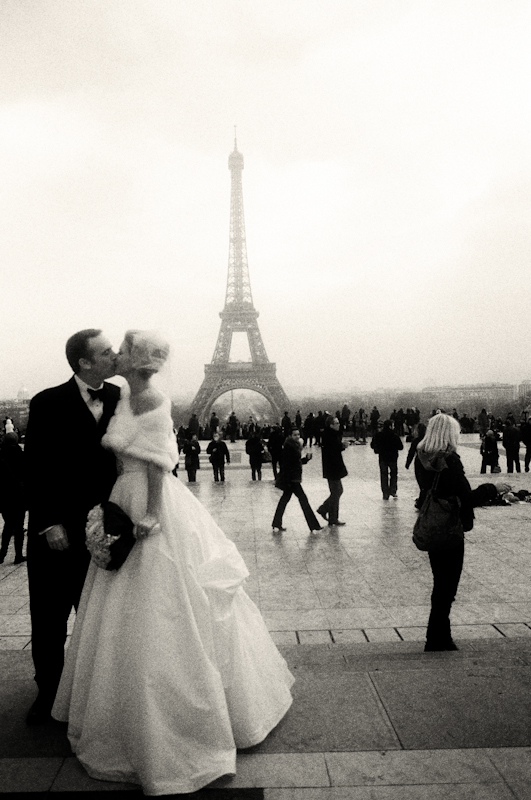 What was the best thing about having an intimate wedding?
The wedding was our dream come true.  All of our energy and focus was on one another. There were no distractions and no last minute seat juggling or family politics.  We were able to determine our schedule as we went along and we never felt rushed through the day.  We began our life together having created tremendous memories filled with laughter, a few tears of joy and anticipation-all wrapped in pure love.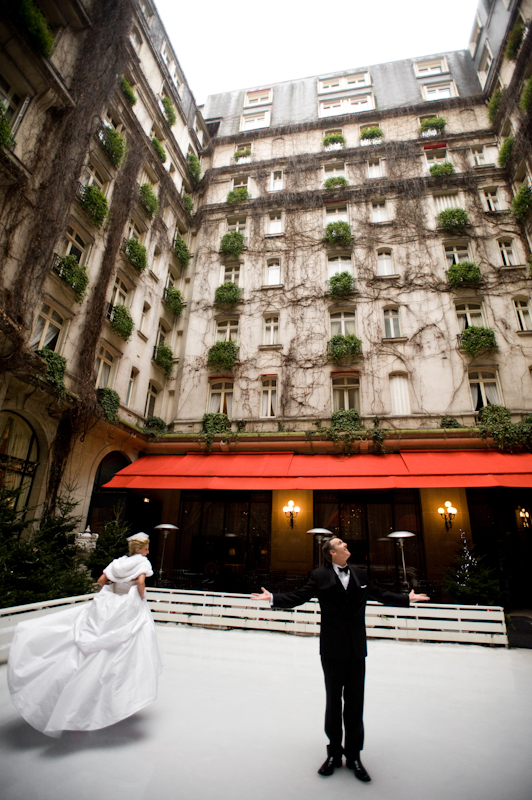 What advice do you have for couples who are considering an intimate wedding?
Follow your heart and listen to your intuition. And have a good answer prepared for the mothers!
You'll know if you are meant to have an intimate wedding.  If it is you, make the day yours.  Stretch your imagination to make the day exactly how you envision it to be.  The memories you make that day will be with you forever.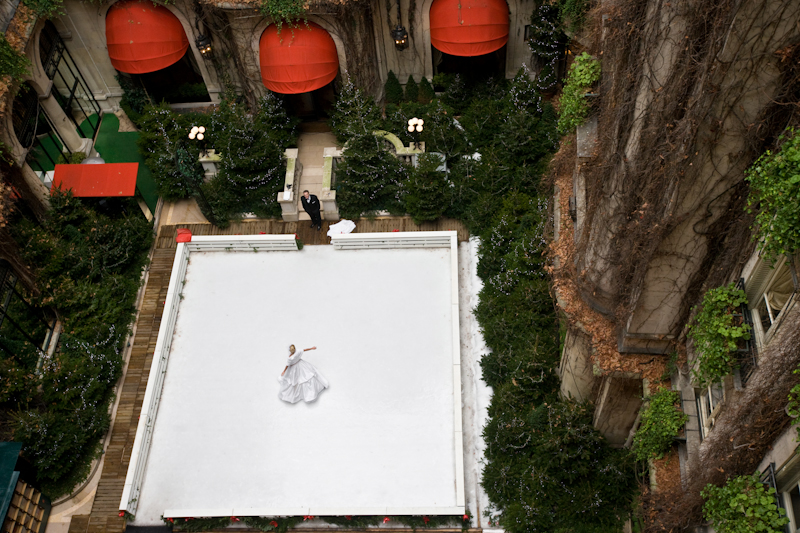 A few fun stories:
Pink peonies are my favorite flower – I just love their romantic quality.  Naturally, I dreamed of having my wedding day donned in pink peonies.  When we chose to elope in the middle of winter in Paris, I thought I would have to sacrifice my desire for a peony bouquet. With no time to order specific flowers, I took a chance and left my bouquet to be chosen after we landed in France.  As we perused various florists, it became quickly known that the abundant flower to choose from was the orchid.  But it just wasn't fitting for the day that was to be our wedding day.  One day when we were out taking in the sights, we stumbled upon a florist.  The moment I stepped inside, my eyes went straight to a tepid bunch of pink peonies.  Although they were in need of much attention, I told Kevin that "I had to have them!"  He was doubtful as I spoke to the owner, using what French I could remember from past studies.  We left hoping that my vision was both accurately conveyed to the owner and that it would be possible to execute.  We placed all our faith into Miss Veronique, and she did not disappoint!
My mom sent a package to me "just in case" we chose to elope.  In it, she surprised me with a veil that she had made for me to wear.  (She also included "just married" flip-flops thinking that if we did choose to elope, we'd be headed to somewhere warm…I was glad we still had some surprising elements!)  When preparing for our trip, the veil was initially packed, however, somewhere in the whirlwind of it all, the veil was inadvertently removed from the luggage. It was the evening before the wedding when I was laying out all my bridal items that I discovered that the veil that my mom had made was missing —-12 hours before my wedding!!!  Somehow that night, Kevin "went for a quick walk" and snuck away, found a wedding boutique in Paris and convinced the designer to stay late and create a new veil for me!  It was the most touching surprise that he coordinated it all.  And the veil he had made turned out absolutely perfect for the day!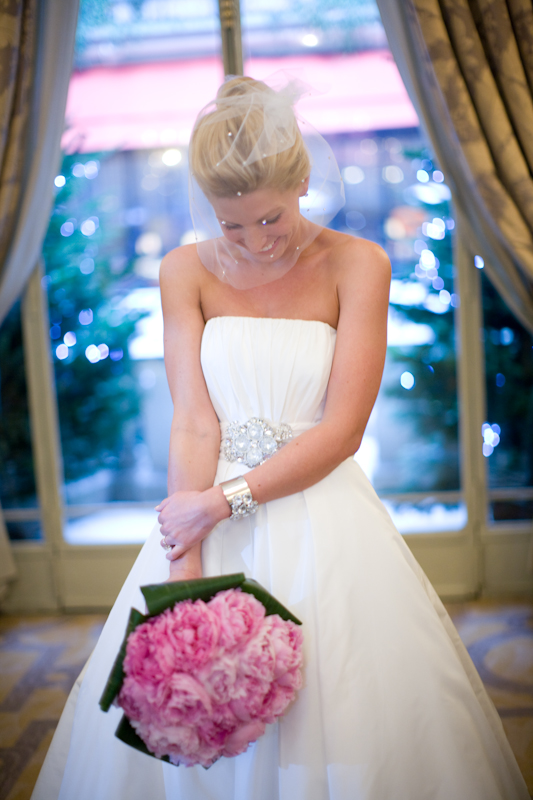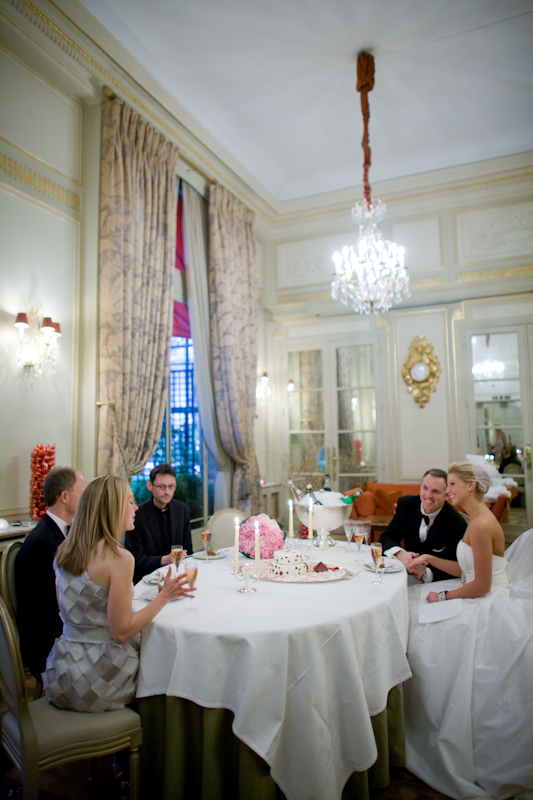 Vendors:
Photographer: Amy and Stuart Photography
Ceremony site: The Plaza Athenée : Courtyard adjacent to Ice Skating Rink
Reception venue: The Plaza Athenée , Marie Antoinette Room
Flowers: Miss Veronique
Cake: Chocolate Blessing Cake prepared by Christophe Michalak (2005-07 World Pastry Champion)
Videographer: Fifty Foot Films
Wedding dress: Amsale
Bridal accessories:  Fuchsia Valentino shoes, Diamond earrings which Kevin gifted to me on the wedding day
Groom and groomsmen's apparel and accessories: Valentino, father's four leaf clover cufflinks, Allen Edmonds shoes
Transportation: Horse & Carriage
Officiant: Reverend Allan F. Miller
Favors: A letter written to each of us by each of us delivered the morning of the big day.
Hair and make-up: Jean Michel Henry (stylist for the late Richard Avedon)
Dance instruction: N/A
Rings: Custom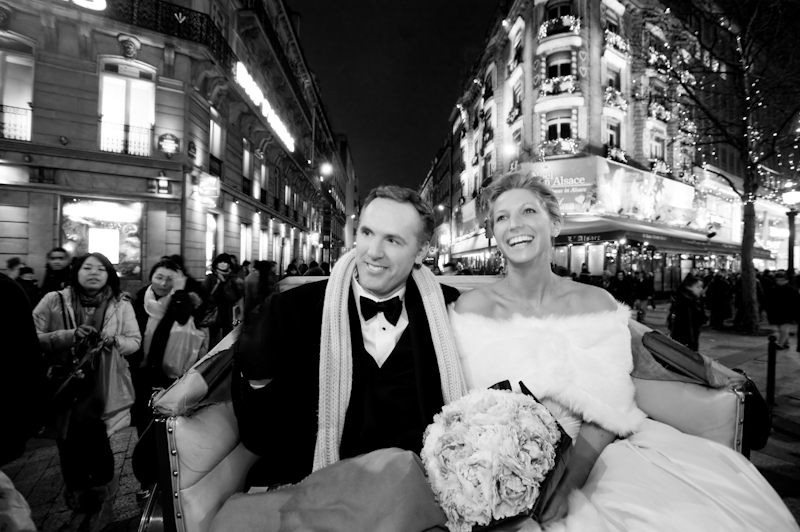 Photos: Amy and Stuart Photography