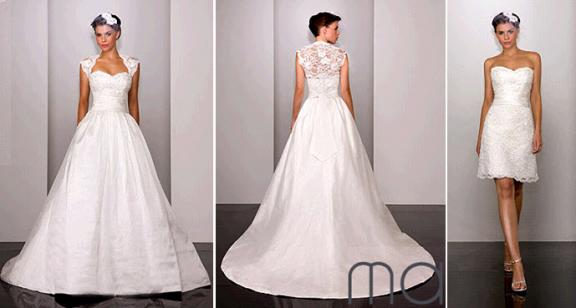 By Jennifer Cox
When you get engaged, one of the most exciting things to plan for many brides is wedding dress shopping. I went on two shopping trips, once with my mom and another time with my closest friends. I lucked out and the third dress I tried on was a hit with me, my mother (who burst into tears), and my girls. It was a done deal. But for many brides, the choice can be a difficult one, and sometimes, there are two dresses they love and they just can't decide which one they prefer.
Enter the new trend of having two gowns for one wedding.
Perhaps a tad indulgent (but nevertheless fun, if you can afford it), having separate dresses for the ceremony and reception is a popular option. Most often, a traditional ball-gown is chosen for the exchanging of vows before the bride changes into a shorter, more modern version for the party afterward. There are some wedding gown collections that now include "reception dresses," which are usually mid-length and resemble cocktail dresses. There are even gowns that can be "dismantled" and become two dresses in one by either removing the straps or the full skirt/train.
Brides who are throwing a multi-ethnic wedding may also opt to have two ensembles – one that is specific to their ethnicity (such as an Indian or Chinese bride) for the ceremony as well as a traditional North American white wedding gown for the reception. This is a great way to appease your family and their expectations while still giving you the opportunity to don the classic white dress.
Having two dresses isn't for everyone, but if you like the idea of a "wardrobe change," it's your day so why not?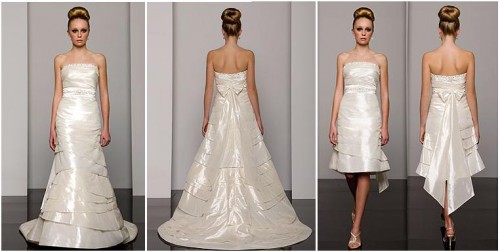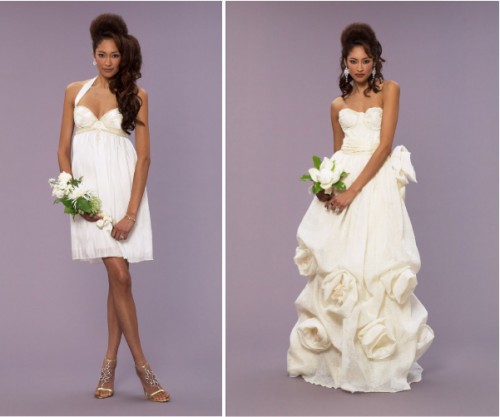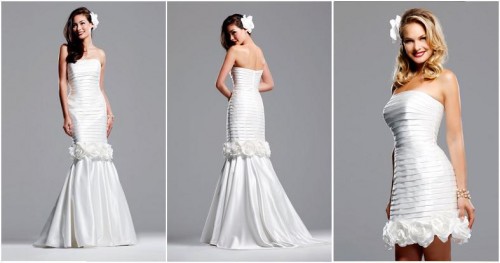 First Photo: One Wed; Second Photo: Affairs With Elegance; Third Photo: Top Wedding Dresses; Fourth Photo: Affairs With Elegance
Jennifer Cox is a Montreal based freelance journalist who loves everything from weddings to foodie news, photography & candy!