Looking to add an element of fun to your barn wedding?  Here are some barn wedding game ideas that would be perfect for cocktail hour or during the reception.
Let's start off with the perfect barn wedding game: corn hole!  Truth be told, I had no idea what corn hole was (I'm Canadian!) until I started this blog. If you are confused as I was about this game-with-the-funny-name, it's simply a bean bag toss game (instead of beans, there is corn inside the bags)  using two raised platforms that have holes in them. And it's a hoot! How do I know? Recently, SC Corn Hole sent me a free corn hole game to try – and now I'm hooked! (Here is the game we got. Nice quality! Just don't leave the bags outside overnight or the wild animals just might steal your bags. We suspect that a raccoon stole one of ours! He left tooth marks in some of the other bags as evidence.)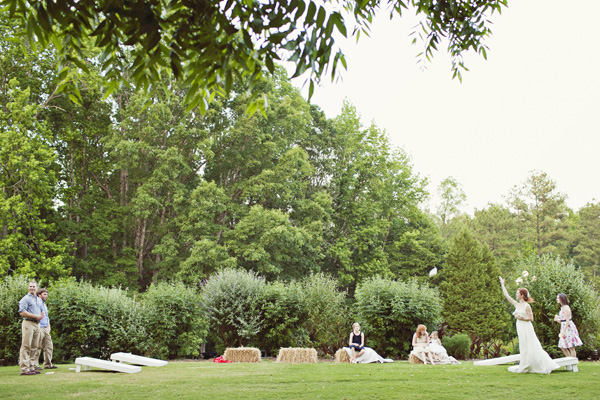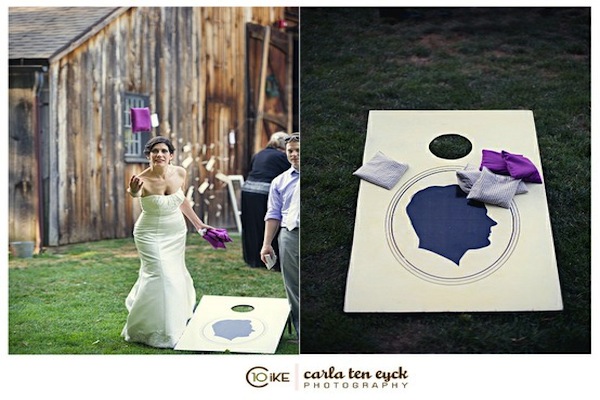 One of the most apt barn wedding activities is horseshoes! Horseshoes are a perfect activity at a barn venue because they take minimal set-up and nothing permanent is needed.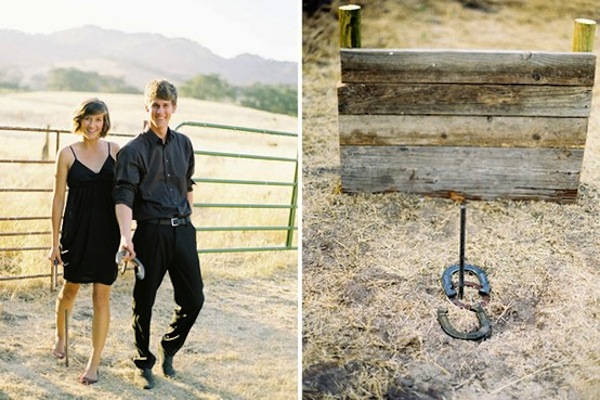 Wouldn't it be fun for part of the dance time during your reception to have a four-square caller like this couple did? It helps to loosen guests up and to get them out on the dance floor, not to mention teaching your guests a few new dance moves!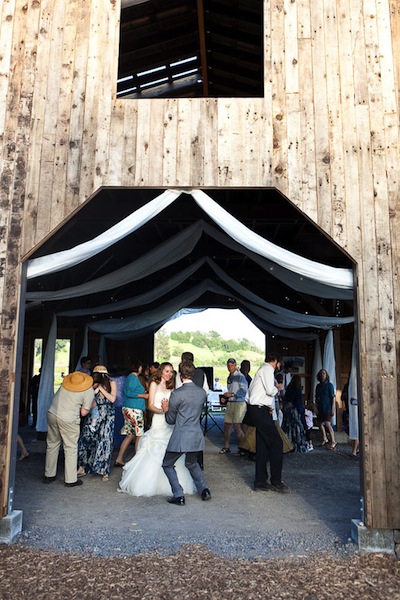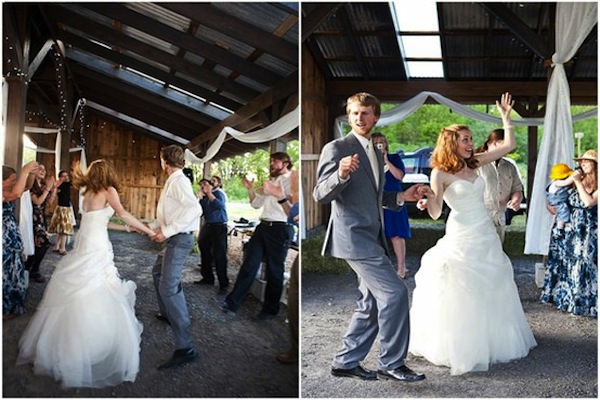 Bobbing for apples anyone? At least for your child (or those who've enjoyed the cocktail hour) guests will love this fun activity of trying to catch apples in an old farm basin. Just make sure you have towels close by so that guests don't get their nice clothes all wet!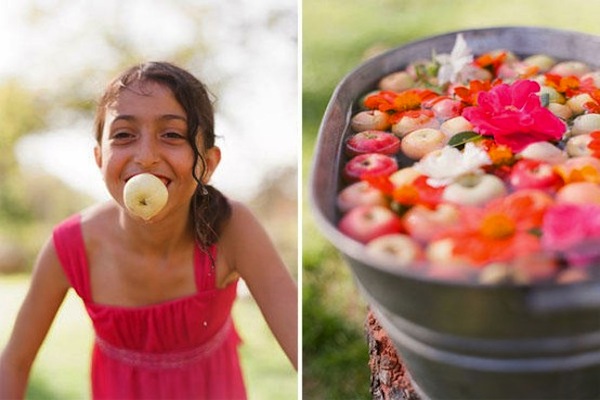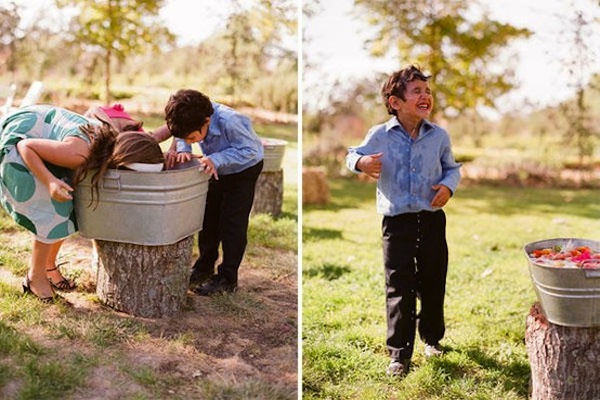 A hay ride for guests of a tour of the farm is another fun barn wedding activity.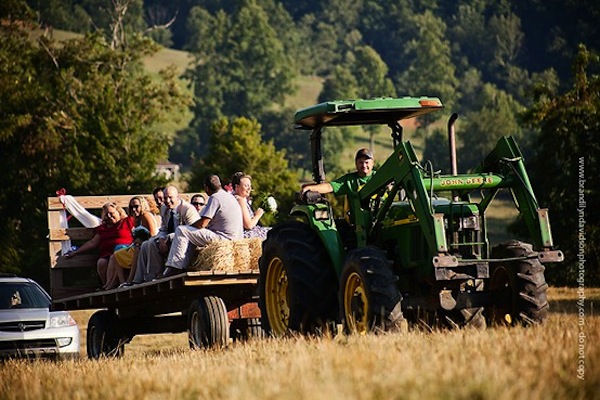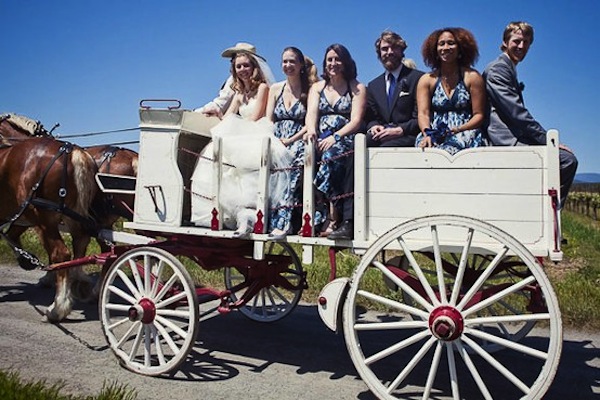 Tug of war anyone? Such a fun game for guests and so minimalist too…all you need is a long thick rope!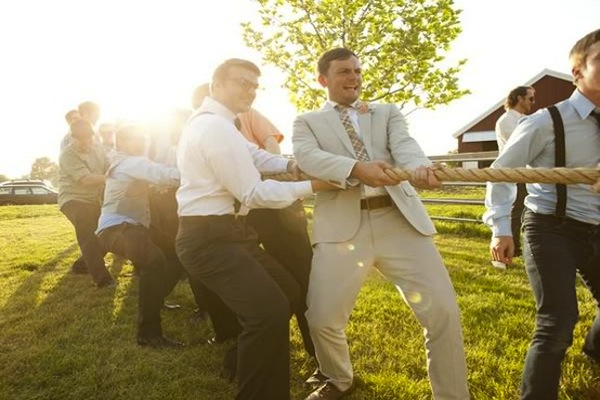 I LOVE the idea of having parachute games at a barn wedding, too perfect! Bouncing balls on top of it is great for kids too.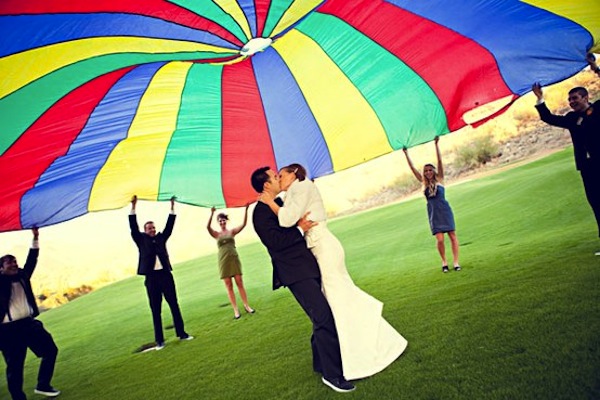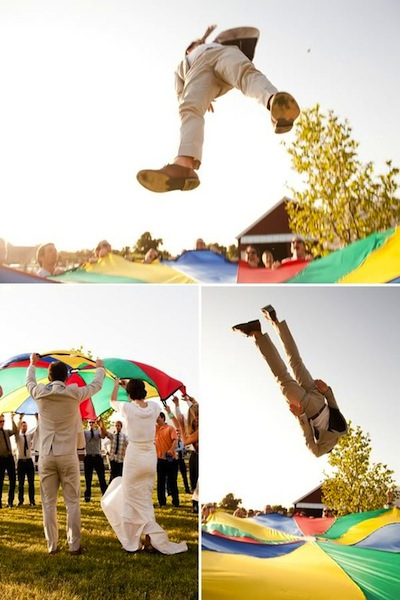 Weddings on a farm, or in a barn, are fun and your activities should reflect that! Be creative and do research in the area of your venue to see if your local area is known for any specialties you can highlight at your reception. Don't hesitate to bring someone in to do a demonstration or to bring in a special local treat!
Note: As mentioned, SC Corn Hole provided me with a free corn hole game.
Photo One: Southern Weddings; Photo Two: Carla Ten Eyck: Photo Three: josevillablog.com; Photo Four and Five: theloveliestday.com; Photo Six: www.oncewed.com; Photo Seven: oncewed.com; Photo Eight: brandilyndavidsonphotography.com; Photo Nine: theloveliestday.com; Photo Ten: snippetandink.com ;Photos Eleven and Twelve: snippetandink.com