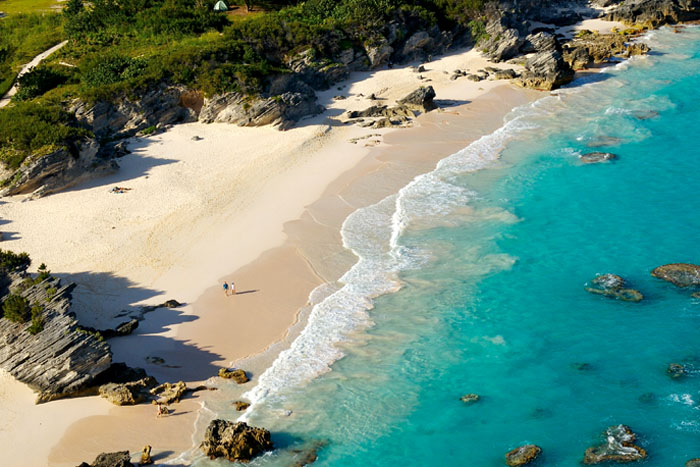 A dreamy archipelago in the mid-Atlantic, this pink-sanded paradise is one of the most sought-after locales for destination weddings. From saying "I do" on the beaches with salty sea spray acting as confetti to tying the knot in enchanting gardens filled with a prismatic palette of blooms, there's no shortage of idyllic backdrops to set the scene.
Bermuda is only two hours from the East Coast. The unique fusion of Caribbean and British culture in the land where the Union Jack flag still flies has resulted in the charming quirks that the islands are known for (think Bermuda shorts, which are a carry-over from British military uniforms for hot climates). They've also created their own traditions, particularly when it comes to weddings. According to local legend, couples should kiss under a moongate—horseshoe-shaped arches tucked away in gardens all over the island—to assure a long and happy life together, as well as have two wedding cakes, one for the bride and one for the groom, topped with cedar saplings that the couple may plant somewhere special on the island to embody their growing love.
Of course, as with any destination wedding, you want to offer your guests an activity-filled itinerary. For golf aficionados, try one of the seven championship golf courses or take advantage of the myriad of water sports offered such as kayaking, sailing, paddle boarding and more. Dip into the ocean and scuba dive where the most northern massive coral reef in the Atlantic is located or snorkel and discover the well-preserved wrecks that lie just under the surface (the Constellation can be found in a mere 30 feet of water). Or, you can do as they do in Bermuda—relax with a Rum Swizzle.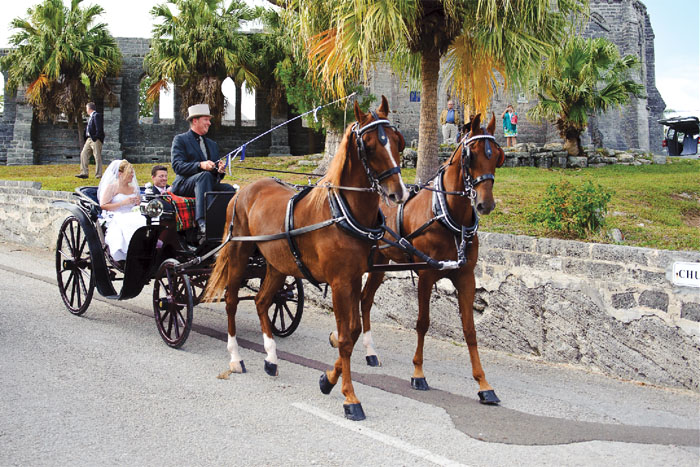 Know Before You Go:
Bermuda's subtropical climate is the result of the warm eddy of the Gulf Stream, and provides an average winter temperature of a comfortable 68 degrees. Summer months' temp averages between 75-85 degrees.
Tourists are not allowed to rent cars. We recommend doing as the locals do and hiring a horse-drawn carriage to transport you to and from your ceremony and reception.
The Bermudian dollar is on par with the U.S. dollar, and the two currencies are used interchangeably.
Sponsored Post.