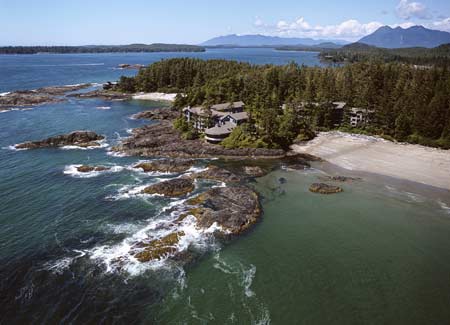 Have you thought about having a mountain wedding? BC is the perfect place to say 'I do'! BC wedding venues include everything from quaint restaurants to boutique hotels. And don't forget the fabulous wineries. Vineyards and orchards in full bloom are perfect wedding locations and there are plenty of them in the Okanagan Valley. If you're adventurous, there's the BC interior or the Queen Charlotte Islands.
 Here are some dazzling BC Wedding Venues:
Victoria, Vancouver Island, British Columbia
Victoria, located on the southeastern tip of Vancouver Island, is the province's capital and one of the most popular destinations in Canada. Referred to as the "California of Canada", it's famous for the Empress Hotel (namely its 'high tea'), its beautiful downtown harbour, parliament buildings and magnificent gardens. It also has a bustling downtown, with plenty of shopping. A truly romantic destination!
Abigail's Hotel – This unique and romantic boutique bed and breakfast hotel is conveniently nestled at the end of a tranquic cul-de-sac surrounded by quaint English gardens and friendly residential homes. Intimately housed in a 1930's heritage Tudor mansion, Abigail's blends the romance and charm of the past with all the comforts and conveniences of the present. The enchanting setting at Abigail's makes it an ideal locale for relaxing getaways, intimate weddings and receptions and the hotel's reputation for excellence in amenities and service clearly precedes it, on an international scale.
Fairmont Empress Hotel – This hotel, which is a turn of the century landmark located on the banks of Victoria's inner harbour, is perfect for couples who want a wedding in a luxurious setting. If it's just the two of you, why not tie the knot in the hotel's lounge and celebrate with a gourmet meal? For a larger wedding, book the hotel's historic Crystal Ballroom.
 Swans Suite Hotel – Located in historic Old Towne Victoria, the Swans Suite Hotel, a 1913 heritage building and landmark, has a penthouse suite that is perfect for weddings. The luxurious setting is filled with antiques and original artwork. It features a rooftop arbour and 10-person hot tub with a panoramic view of the city and inner harbour. Can accommodate up to 30 people for buffet lunch or dinner or 80 people for cocktail reception.
Tir Na Nog by the Sea Irish Musical Bed and Breakfast – Nestled among the ancient rainforest of East Sooke, this venue is ideal for couples that want to be away from the city. The venue is owned by Celtic musicians that offer music for your garden wedding. A wide variety of wedding packages to choose from.
Wedding Planners
 Royal Victorian Weddings – These wedding consultants offer several wedding packages to suit your own style. You can exchange your vows in a historic church, garden, a Victorian inn or numerous other locations in the region.
Tofino, Vancouver Island, British Columbia Weddings: Mountains, Beaches and Nature's Raw Beauty
Tofino, located on the Pacific rim of Vancouver Island, offers more than just a wild and mysterious landscape. Along with its ancient rainforests, its vast stretches of sandy beach, its rolling surf and its misty salt air, this enchanting destination – which attracts more than 300,000 visitors each summer, has a variety of luxurious spas, resorts, bed and breakfasts, restaurants and stores.
Whether you prefer a guest-free wedding on the sand, or a larger gathering inside an elegant dining room, Tofino is the perfect spot for romantic British Columbia weddings.
Did you know that people from across the world head to Tofino during the winter months to watch storms over the Pacific Ocean? 
Note: If you don't like rain, don't consider this destination. It's the wettest place in Canada!
 The Wickaninnish Inn's Pointe Restaurant has a private room, The Salai Room for large parties. The Wickaninnish Restaurant at Long Beach can also accommodate large private parties. The restaurant, with its world-renowned cuisine, has a 240-degree view of the Pacific Ocean and glorious view of Chesterman Beach.
Long Beach Lodge, which opened in 2003, was built among towering trees along the coastline of Cox Bay, just minutes from Tofino. The full service venue, which offers gourmet dining, is ideal for small gatherings.
Banff, Alberta Weddings: Mountains and more Mountains
Heading from BC into Alberta, weddings in the Canadian Rockies are perfect for couples who want a stunning backdrop for their vows. The Canadian Rockies are undoubtedly one of Canada's starring attractions – and there's no better place to witness their majestic presence than Banff.
Banff, located in Western Alberta, is a nature lover's paradise. Not only is the scenery spectacular, it's home to numerous boutiques, cafes and activities for outdoor enthusiasts.
Wedding Venues in Banff
The Fairmont Banff Springs Hotel – Canada's 'Castle in the Rockies' has the stunning backdrop of the magnificent Rocky Mountains. The resort, which was designed after a Scottish Baronial Castle, has numerous meeting rooms, halls, ballrooms and even a terrace that host weddings from large to small, from simple to elaborate.
 Storm Mountain Lodge and Cabins – If you want a small wedding in a beautiful and secluded setting, check out this venue, which is located in the Banff National Park 25 minutes outside of the town of Banff. The venue offers exclusive use of the lodge and all cabins for weddings, and will handle all your wedding details. Maximum 40 persons.
Wedding Planners
Simplicity Wedding Planners– This company's goal is to match its clients with the best venues and services to suit their budget.  Plans destination weddings for two all the way up to groups of 400. From the outlandish to the traditional.
Okanagan Valley, British Columbia Weddings: Vineyards, orchards and pristine lakes
Despite the fires that blazed through B.C.'s Okanagan Valley in 2003, the picturesque wine region is still a popular destination for British Columbia weddings.
Kelowna is the hub of the regions wine making industry. Other areas in the valley, such as Vernon, Penticton and Naramata are also worth checking out. The mountains, vineyards, orchards and crystal blue lakes make them idyllic settings for tying the knot.
BC Wedding Venues in the Okanagan Valley
Summerhill Pyramid Winery – This Kelowna winery, which is Canada's most visited winery and largest organic vineyard, is just one of many in the region that offers vineyard weddings. Wedding receptions take place at Forster's at the Summerhill Sunset Bistro, which offers high quality local and organic sourced meals. The bistro has 100 seats inside overlooking Lake Okanagan, 100 seats on the outdoor veranda, and picnic tables in the vineyard.
Lavender Fields Forever
Want a great place to take your wedding photographs in Okanagan Valley? Try the Okanagan Lavender Herb Farm which has eight acres and 41 varieties of lavender. The farm has a perfect view of the Okanagan Lake, as well as nearby vineyards and orchards, which makes it a popular spot for wedding photographers.
Photo: Wickinninnish Inn, Tofino, B.C.