Creating a wedding registry is one of the most exciting parts of wedding planning. After all, it allows couples to dream about their new lives together. Finding items to create the perfect registry is like going on a treasure hunt; the only challenge is whittling it down to a manageable size. Today, we're going help you do just that with our dream bedroom registry from Crate and Barrel.
When you register with Crate and Barrel, you will be treated to a collection of housewares and furniture unlike any other. Crate and Barrel collaborates with talented artists, designers and local artisan communities who are keeping alive the traditions and crafts of their region. The result is a beautiful array of trendsetting items that are unique and stylish.
Another advantage of registering with Crate and Barrel is that you will be invited to attend a Private Registry Event, where you will receive one-on-one attention and advice from dedicated registry experts.
And you'll be happy to know that once you have registered, your friends and family will receive free shipping on eligible gift registry purchases of $99 or more. Your wedding guests will love you for that!
Now, without further ado, let's discuss our dream bedroom registry!
We all love the idea of having a sanctuary to run to when our lives get a bit crazy. For us, there's no better place to create a safe haven than a bedroom. Our dream bedroom combines earthy metallic accents with modern wooden furniture and fabrics in soft neutral tones to create a space that is bright, calm and inviting. Here are some items from Crate and Barrel's wedding registry to help you transform your bedroom into a retreat that will give you sweet dreams: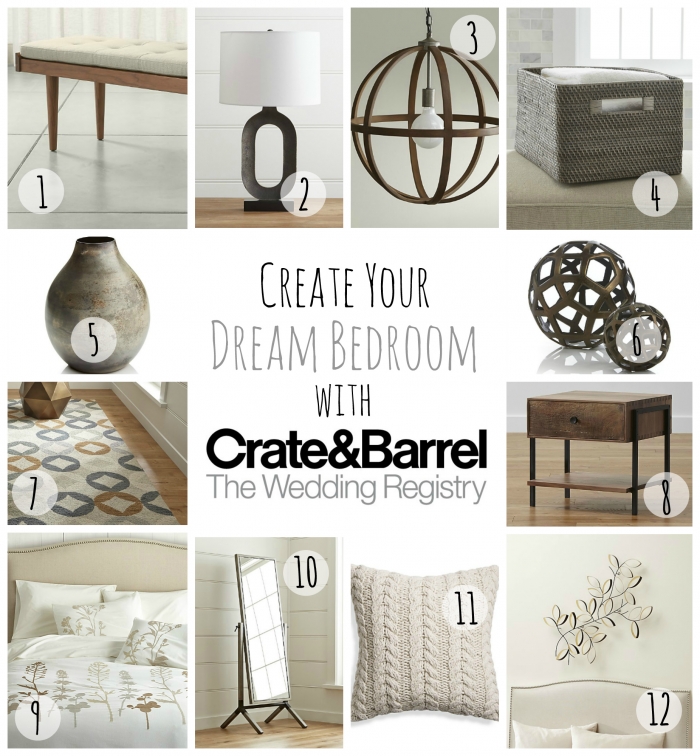 Want to create your own dream bedroom? Register at Crate and Barrel.
1.Tate Walnut Slatted Bench 2.Crest Gold Table Lamp with White Shade 3. Braden Pendant Light 4. Sedona Large Gray Tote 5. Bringham Medium Metal Vase 6. Geo Metal Decorative Balls 7. Destry Wool Rug 8. Atwood Night Stand 9. Woodland Natural Duvet Covers 10. Malvern Cheval Floor Mirror 11. Reagan 18″ Pillow 12. Golden Leaves Wall Art

Sponsored Post.
Save
Save
Save
Save
Save
Save
Save
Save
Save
Save
Save
Save
Save
Save
Save
Save
Save
Save
Save
Save
Save
Save
Save
Save
Save
Save
Save
Save
Save
Save
Save
Save