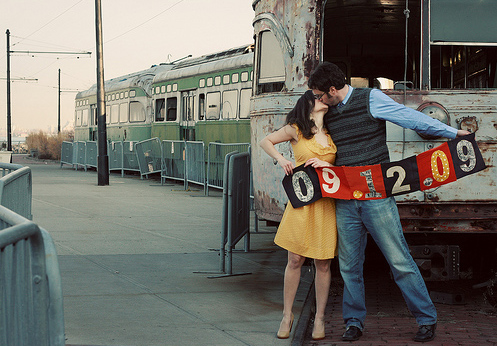 This creative couple created DIY save-the-dates by taking photos of themselves in Brooklyn, New York. They didn't even hire a photographer!
"We took these ourselves with a remote and a tripod one early weekday morning down by the abandoned trolley in Red Hook, Brooklyn" says Jessica, the bride-to-be.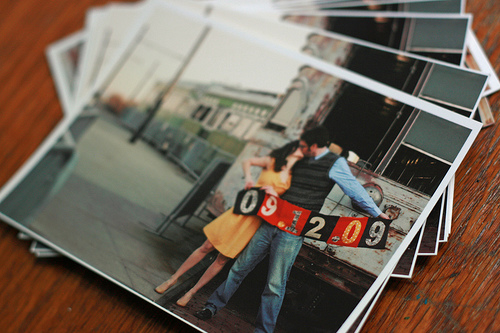 The couple is getting married in Red Hook, and the old trolley wreck is parked on the shore of the New York Harbor in the neighborhood. Jessica explains that Red Hook is an industrial /arts neighborhood that is fairly isolated from other parts of Brooklyn because there is no subway there.
"The trolley really reminds us of the neighborhood," says Jessica.
As for the banner, Jessica made it herself with fabrics that she had on hand.
"I was trying to think of a way to visually incorporate our date into the image itself, so dusted off the sewing machine and threw the banner together from scraps in my fabric stash," she says.
The concensus?
"So far people seem to really like them!" she says.
What a fabulous project! I'm sure Jessica will inspire other brides to dust off the sewing machine (and the tripod) and get creative!