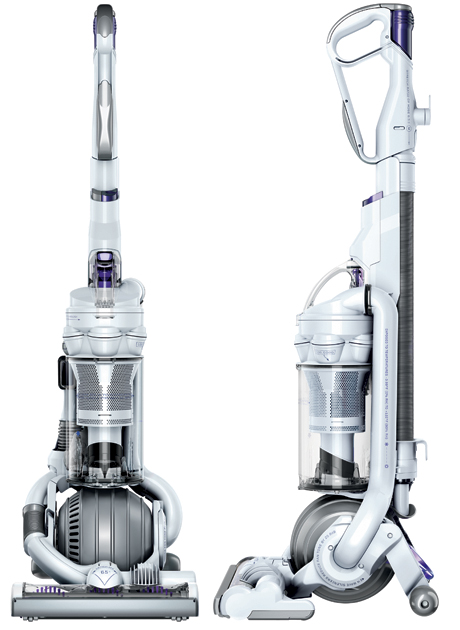 What timing. My 10-year-old Kenmore upright vacuum cleaner is just about on its way to vaccuum heaven (or hell, given how much of a pain in the arce it has been.)  What luck when I was asked to review this fancy bride-white Dyson DC25 Limited Edition Blueprint Vacuum on my blog.
Some of  you might be thinking of adding a vaccuum to your bridal registry. Well, here's the lowdown on the Dyson DC25 Limited Edition Blueprint Vacuum
What I like:
It picks up a ton more stuff than the tired old clunker it's replacing.
It maneuvers like a charm when doing carpet and running it over floors.  That articulating ball thingy works great.
No bags! Whohoo! I can see when it's getting full, and boy can I see a lot! With our family of 4 plus 2 cats and 2 dogs, it fills up fast with all kinds
of dust bunnies, animal hair, and kid's trinkets that have fallen behind dressers and under beds and into every nook and cranny imaginable.
It's lighter (about 16 lbs) than the old clunker (about 19 lbs) and I notice it hauling it up and down stairs.
Once you get used to the techie whiz-bang attachment thingy, it's pretty easy to go from vacuuming floors to vacuuming couches and using the dust tool.
The simple attachment for vacuuming the couches and getting at the stairs is quite good, and the suction is great. Does a much better job on my couches than my old vacuum.
The "Flat Out" floor attachment works great, maneuvers incredibly and gets under all but the skinniest little openings.
What I don't like:
I was hoping the length of hose would allow for a bit less effort to reach the nooks and crannies, but its still a bit difficult with the hose having a lot of tension in it and requiring quite a bit of oomph to get to where you want to go. And it's always wanting to spring back and drag the vacuum with it.  Not nearly as bad as the old clunker was, I must say, as that one had a tendency to cause the vacuum to tip and whack you in the head.  The poor old clunker's been drop kicked more than once by hubby after it bonked poor hubby in the head. The Dyson DC25 seems to at least have some stability in the vacuum when you're having to battle the hose. And lucky for the Dyson, so far it hasn't attacked my husband.
Since hubby is an engineer and this vaccuum is supposed to celebrate engineers, I thought I'd let him weigh in on the pros and cons. Here's his take:
What hubby likes:
No bags!
Maneuverablity is 300% better than the old clunker. At first glance I thought the articulating gizmatron ball was a hokey gimmick that you'd see Vince the Slap Chop guy trying to peddle. But, to put it frank, this thing is friggin cool!
Floor attachment "Flat Out" head works great and gets under just about everything.
Quiet. Gotta be 3 dB lower than the clunker.
Definitely notice the weight difference vs. the clunker. And the handles on the Dyson are convenient carry points.
What hubby dislikes:
I am a canister man at heart. After perusing the Dyson.com site I'm thinking the DC22 Motorhead would have been a better fit for me, but hey, I didn't have a say in the bridal white DC25 Limited Edition selection.
I still have a hard time with the recoil in the hose.   I've always preferred the canister type vacuum that doesn't seem to have the same issue.  Why don't they sell an extra length of hose for them?
Our overall impression:
A great vacuum. A pricey vacuum, but we were just in Sears, and all vacuums seem expensive these days!  As luck would have it, we are no longer in the market for a new vacuum. Had the DC25 not shown up by divine intervention and we did end up at Sears doing some comparo shopping, this vaccum would definitely be on our list to consider.  But hubby noticed the canister version of the Dyson at Sears too, so I might have given in to his pleading to get a DC22 what with all the trauma he has endured with the whacks to the noggin by the old clunker.  Amazon carries the Dyson DC25 Blueprint Upright Vacuum – Limited Edition
here at my affiliates link if you're so inclined to grab one up right this very minute.