Eleanor and Peter decided early on that they didn't want a large wedding. Instead, they preferred a smaller, more reflective wedding.
"We wanted to create a celebration of our love and commitment in which we could be truly present in the moment," Eleanor said. "Having a big wedding was something we felt would detract from that."
Thanks to the wonderful Andrea Fernandez for capturing this intimate wedding in Sooke, British Columbia so beautifully!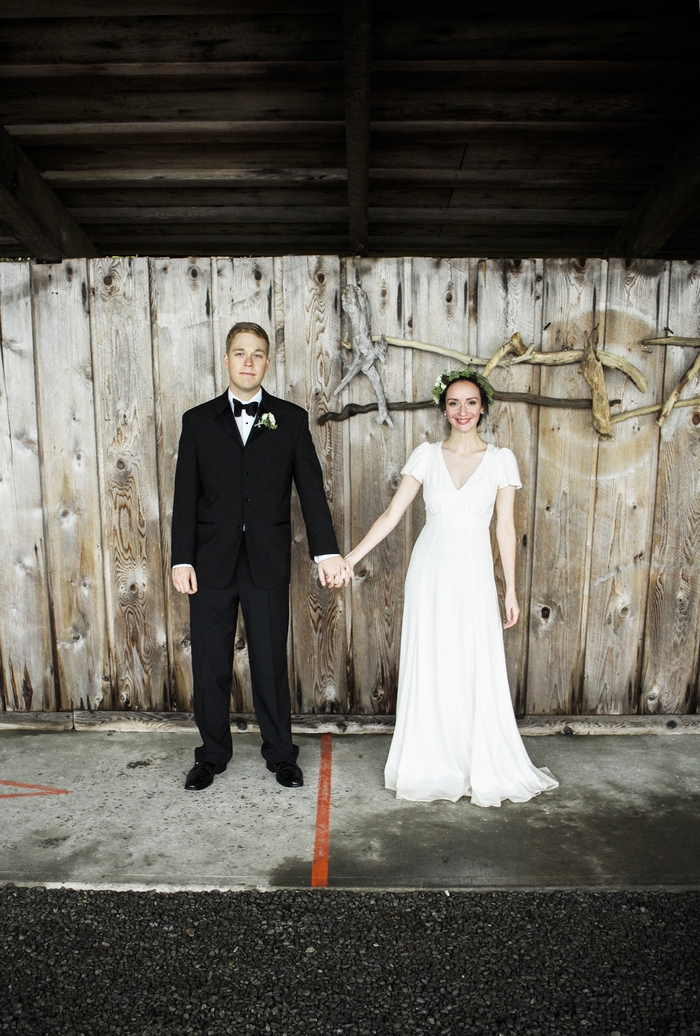 Eleanor, 32 & Peter, 30
Location: Vancouver Island, British Columbia
Wedding Date: October 16, 2016
Number of Guests: 6 at ceremony, 50 at reception.
Wedding Ceremony Location: Bridge House, Point No Point Resort, Sooke, BC.
Wedding Reception Location: Prospect Lake Community Hall, Saanich, BC. We had a separate party but chose not to have a photographer there. I will speak mostly to our ceremony.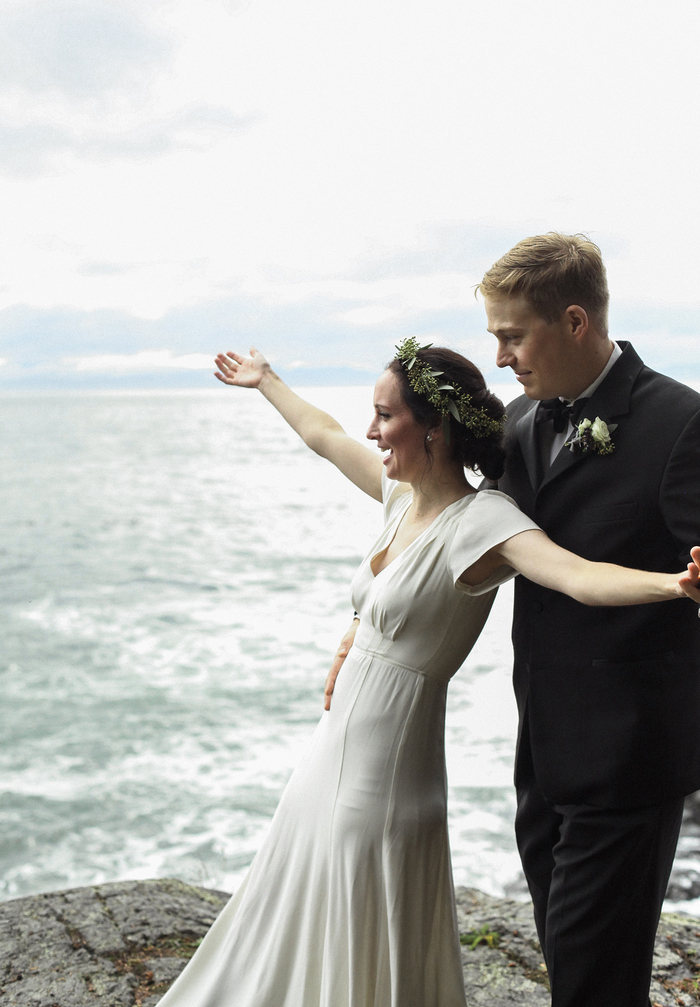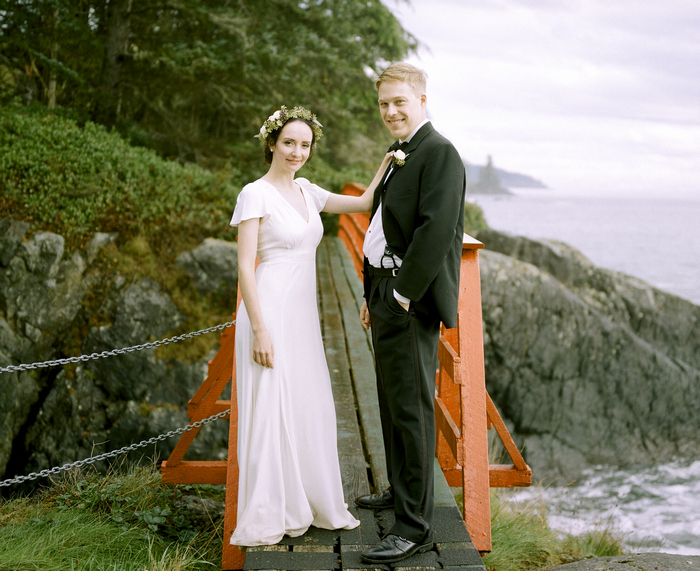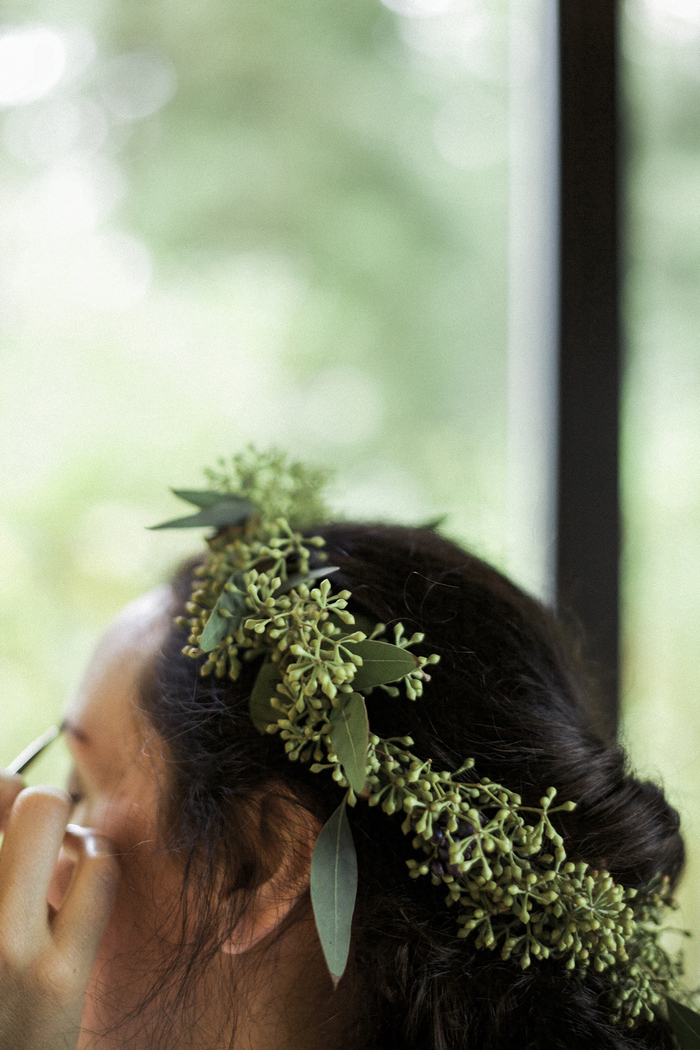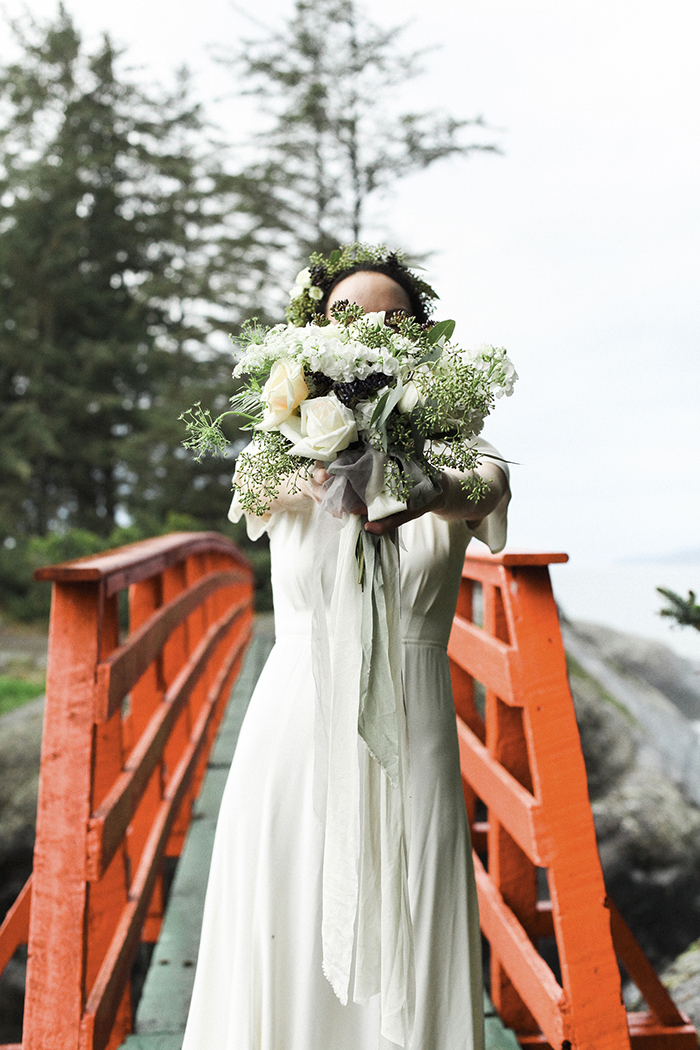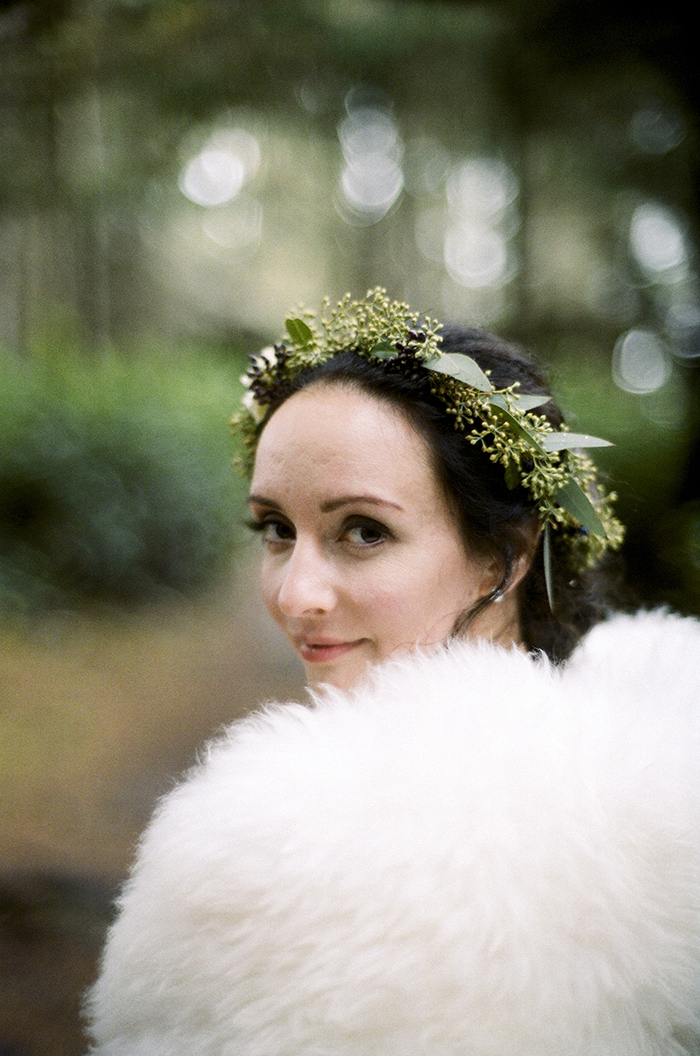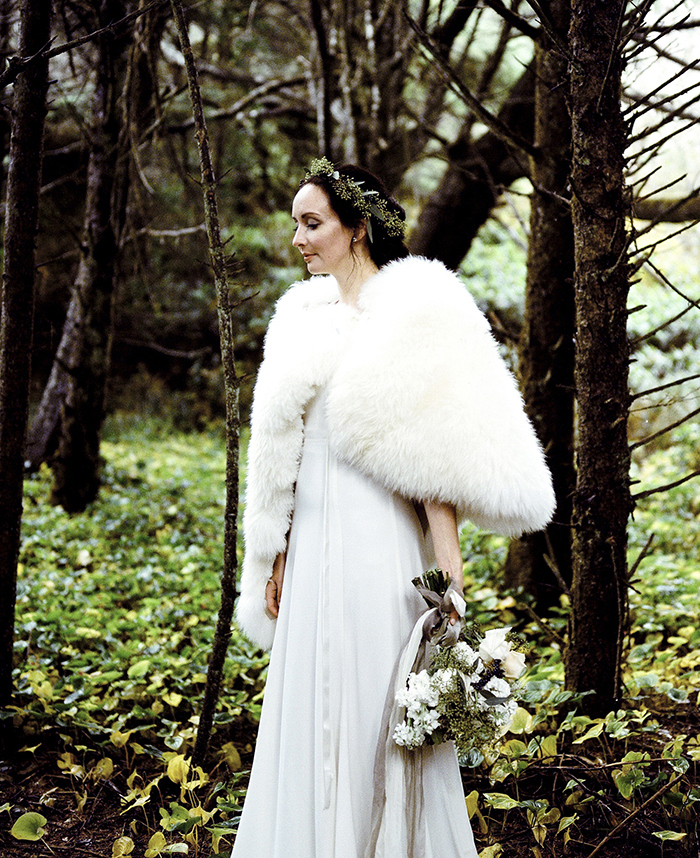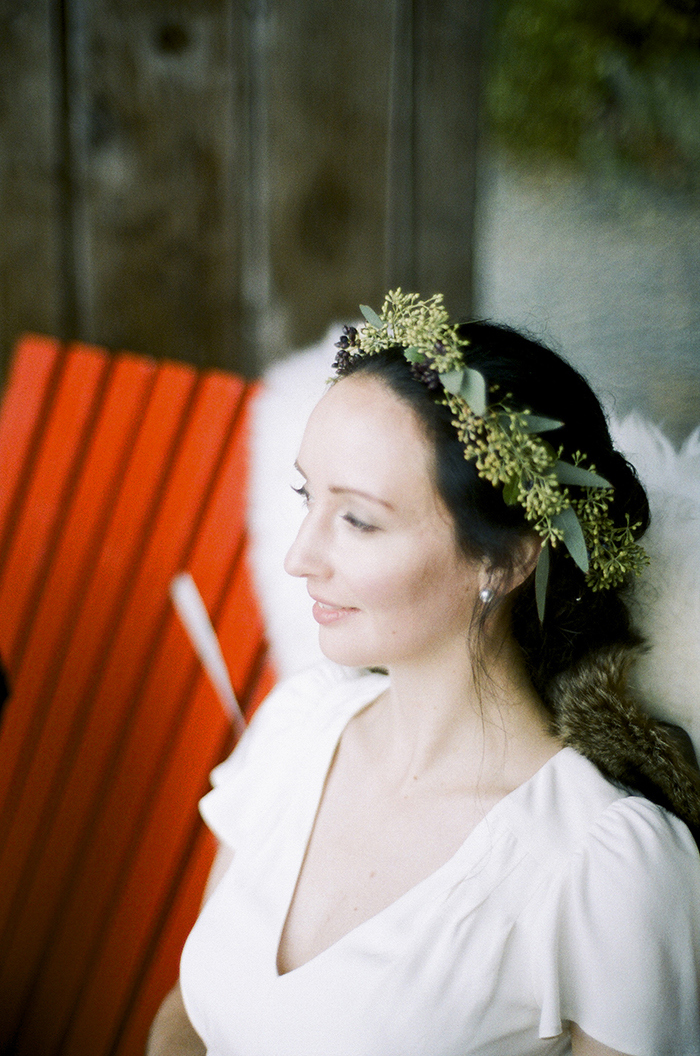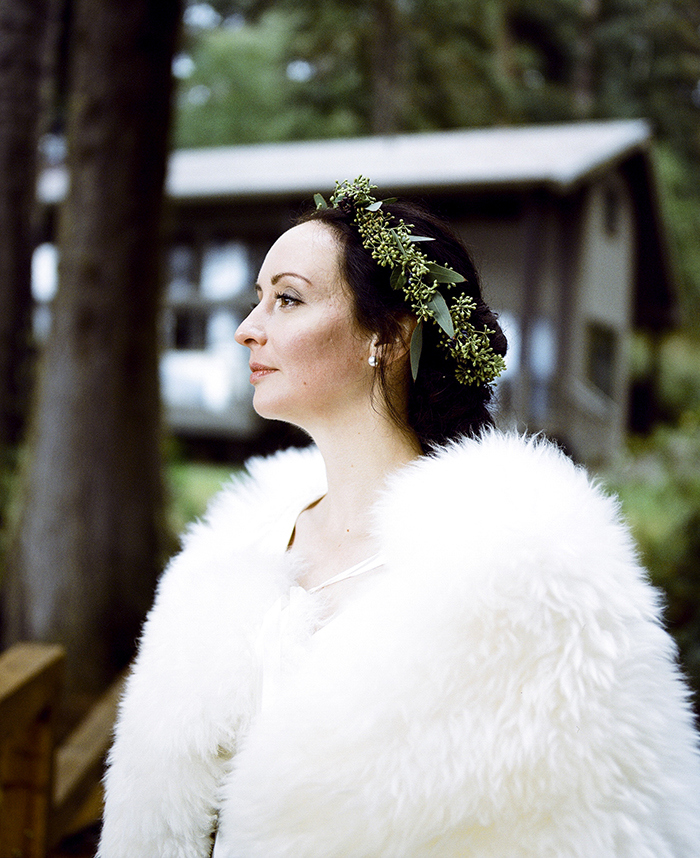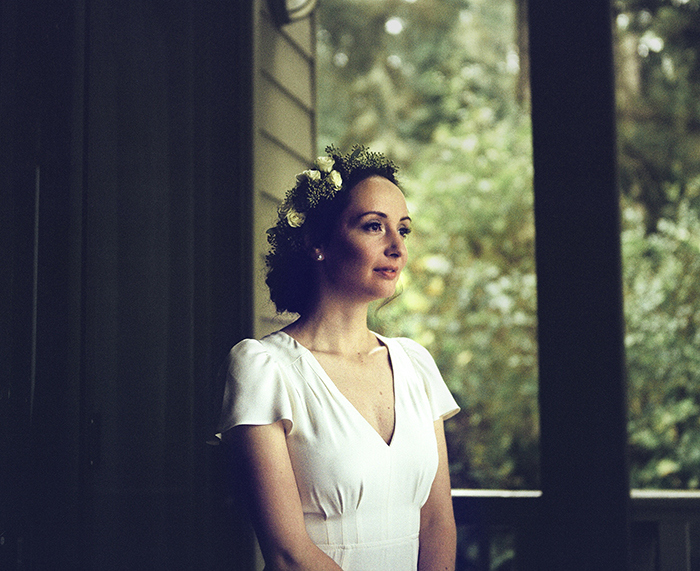 What are some the challenges that you faced planning an intimate wedding?
We had a lot of discussion about the purpose of a wedding ceremony —was it a public declaration to family and community, or a personal statement of commitment and to some extent, a demonstration of independence as a couple? How much a mixture of both? We knew what felt right for us but it took a while to unpack what our hearts were telling us. Once we had a "vision," a goal of what we wanted to create (yes, we wrote a mission statement!), the rest fell into place very quickly. In fact, we began to realize that a lot of details were superfluous, and that creating the atmosphere we wanted didn't come down to material things. Having a clear goal helped a lot in our decision making. We had a destination ceremony at a resort, and a DIY reception one week later at a community hall. It was like a whole week of celebrations.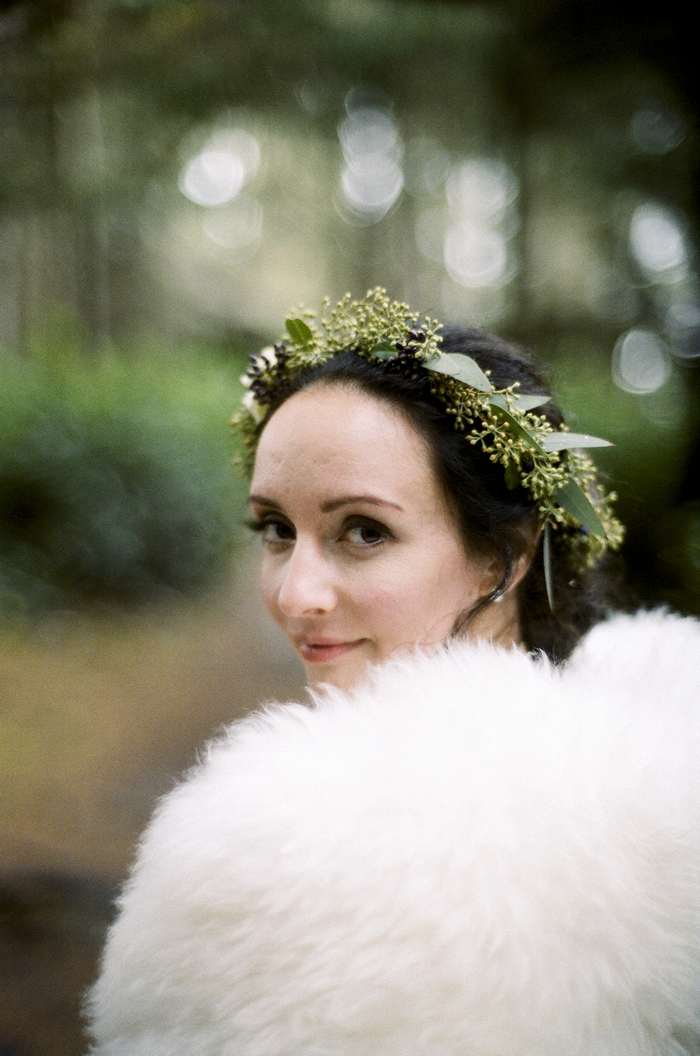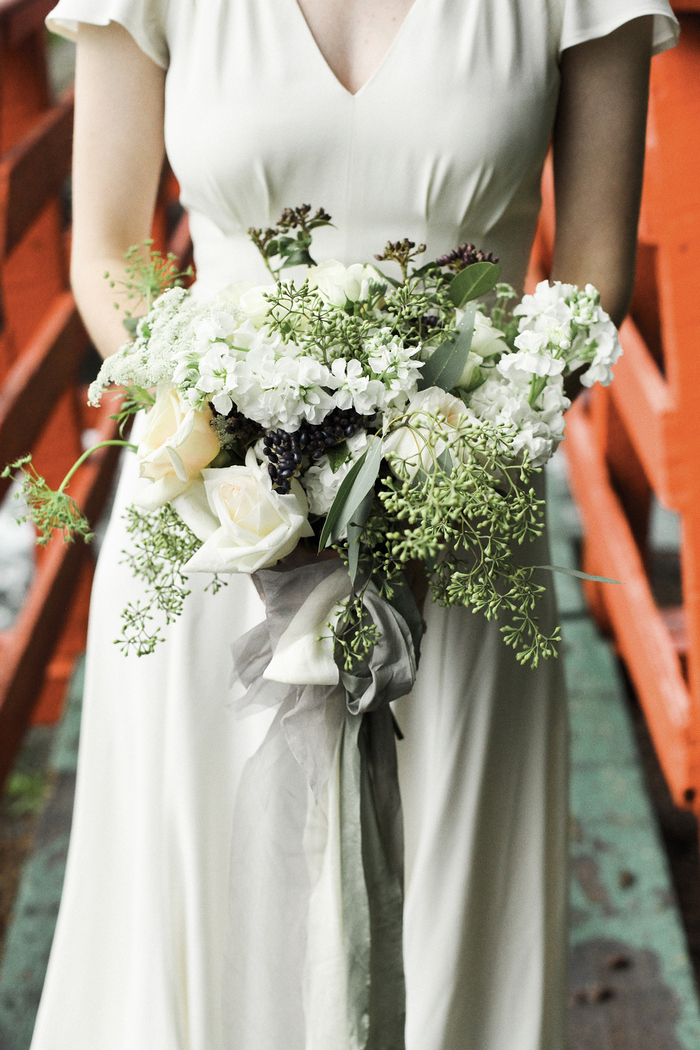 Was it difficult to pare down the guest list?
We both come from relatively small families, so we kept our ceremony guests to immediate family. The ceremony was basically a destination wedding for us plus nuclear family. We also had a reception a week later for friends and family. It was hard to keep small, but we made some rules and stuck to them.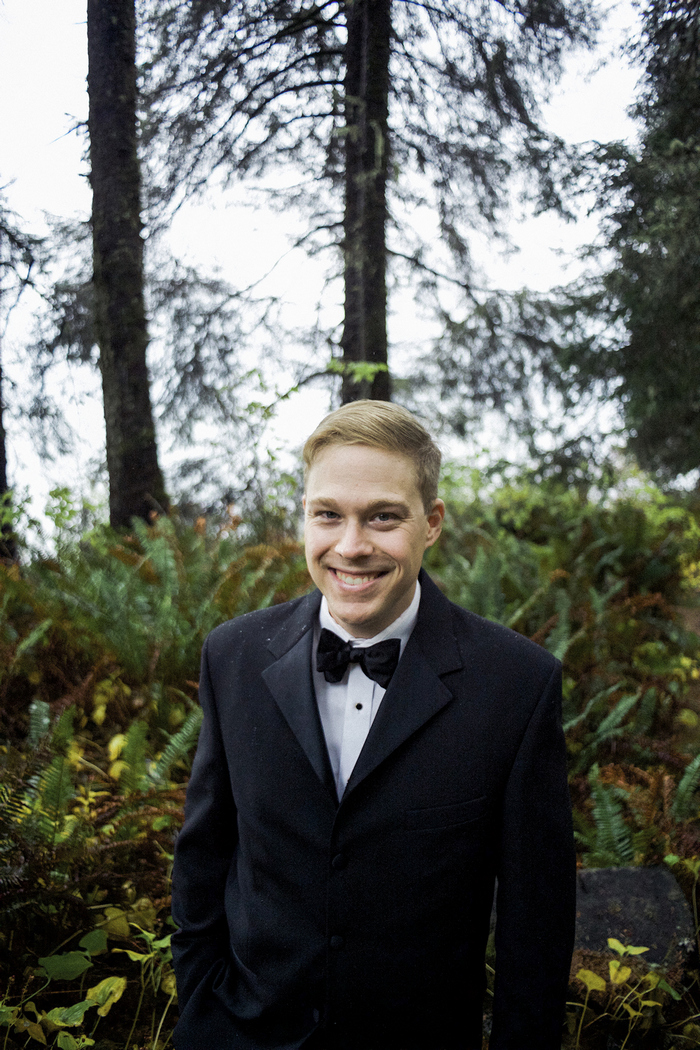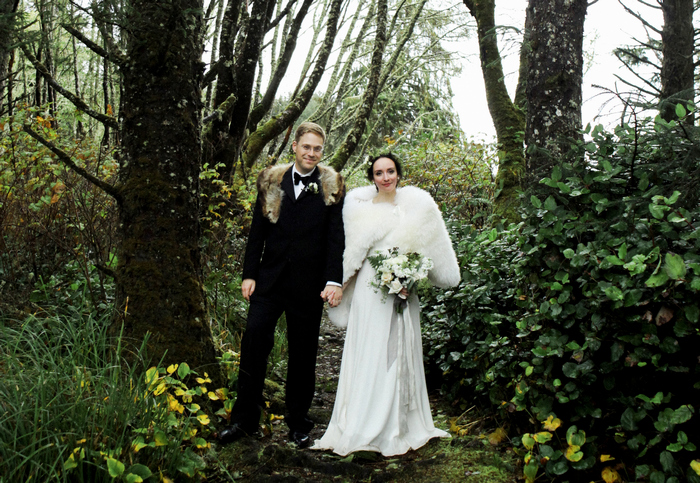 Did you have any issues with the small guest list from friends and family? If so, how did you address them?
There were certainly family members who did not understand our limitations on numbers or what we were trying to achieve. There were others who were entirely supportive. Thankfully the resort had their own limitations regarding our venue—the ceremony venue was the first, clear thing we determined—so we could somewhat put the blame on them!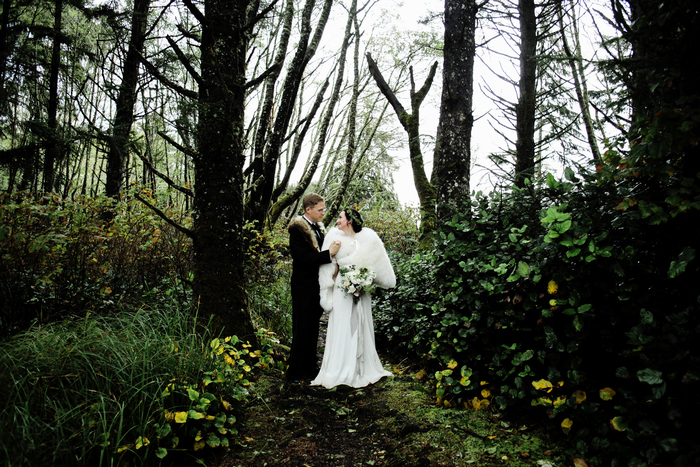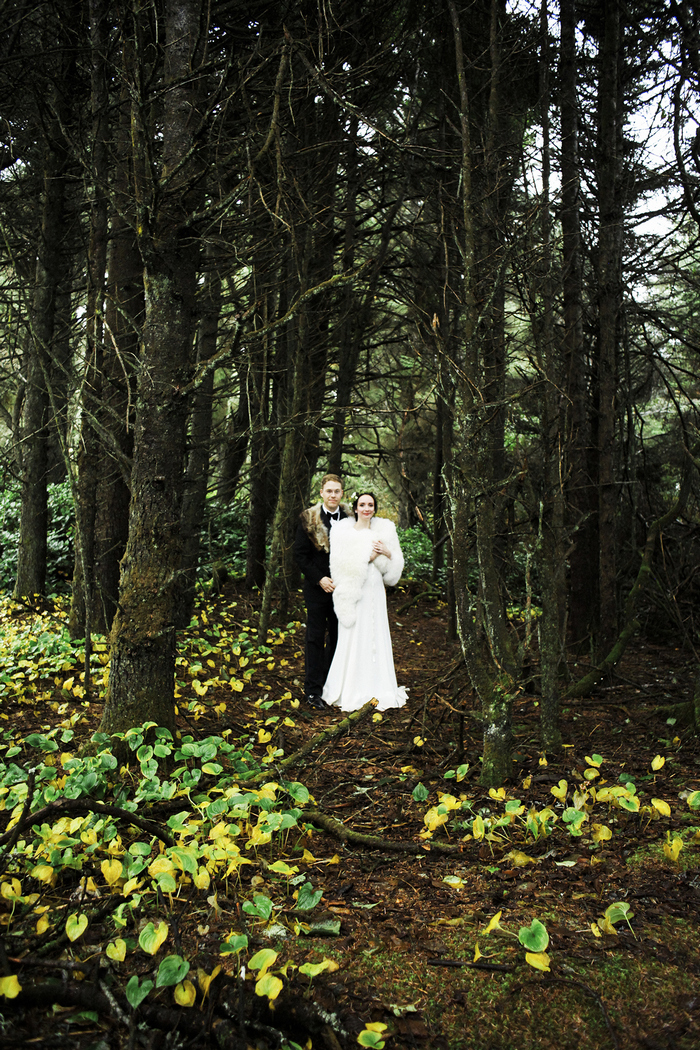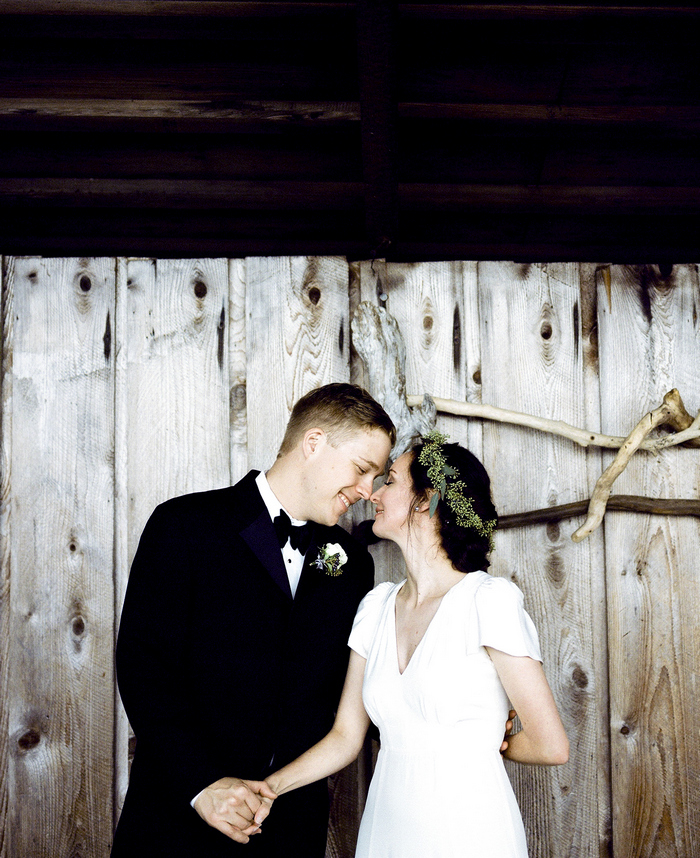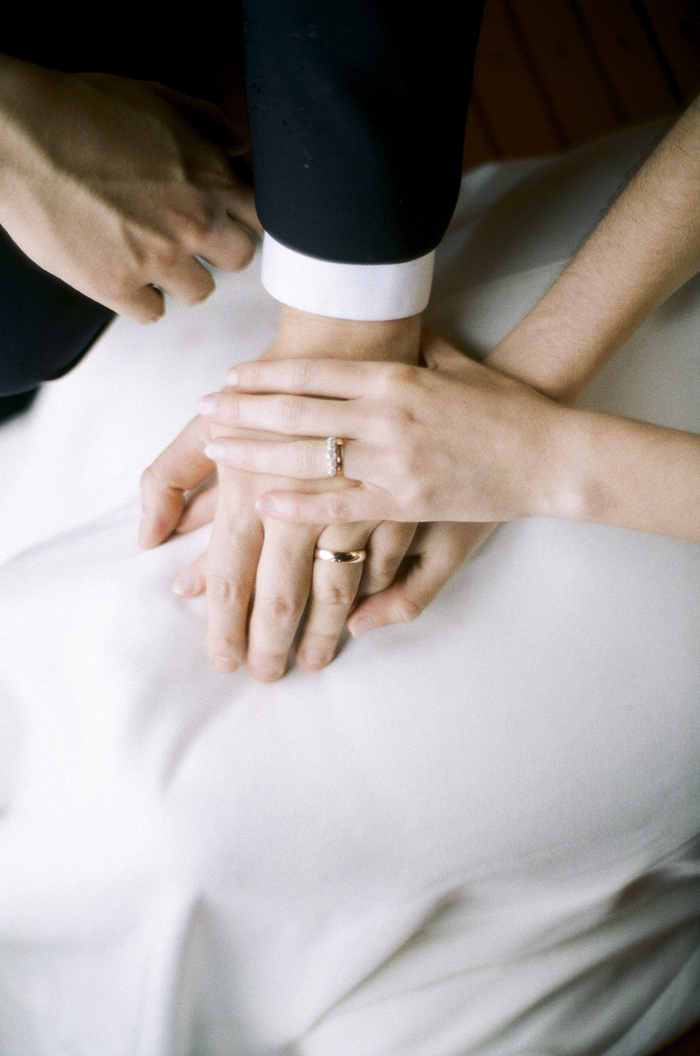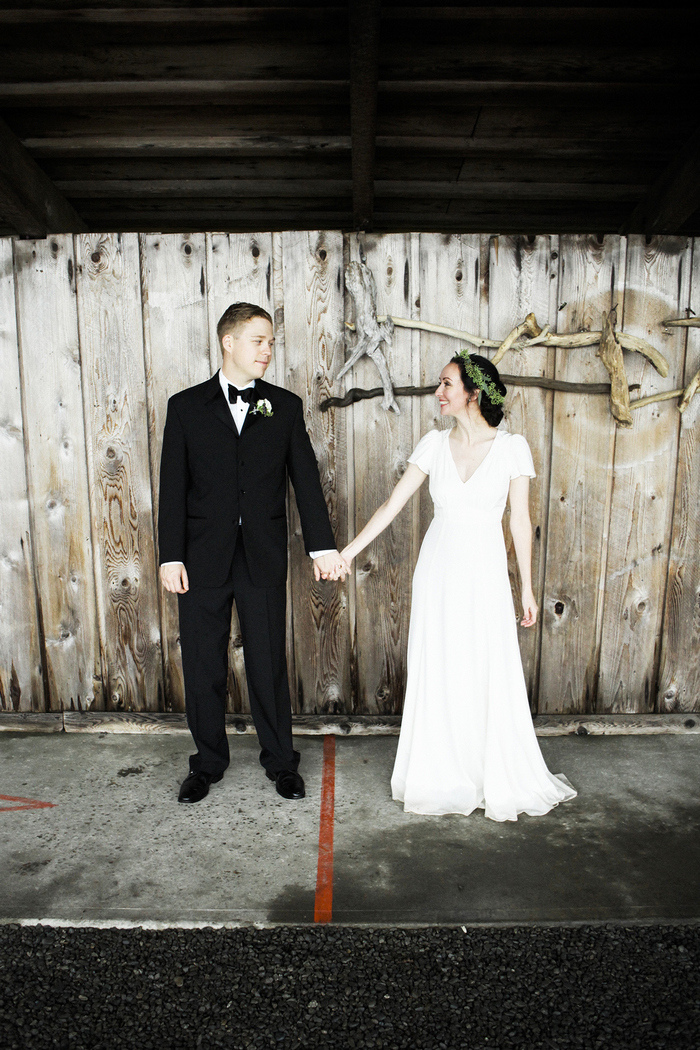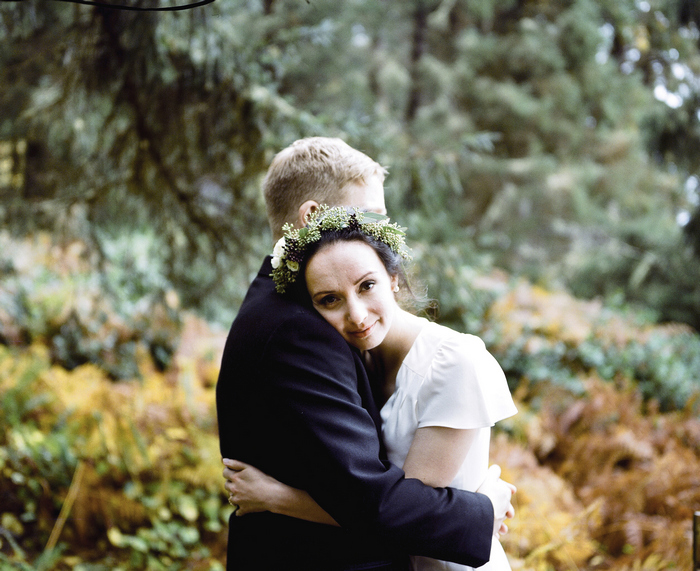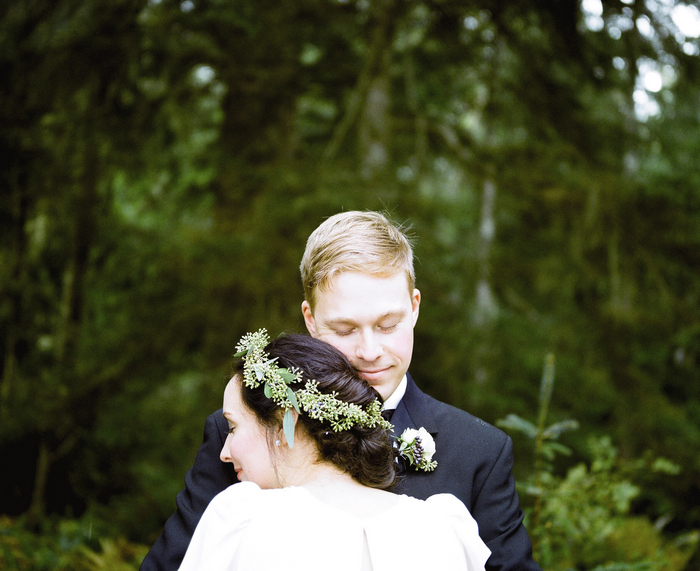 What were the highlights of the ceremony?
Eleanor: My highlight was our 'moment of silence'. Instead of vows, we chose to have a minute of quiet. Both Peter and I love yoga and it was a way to focus on being present in the moment. We stood holding hands. I couldn't tell you who else was there because I was so happy holding hands and looking into the eyes of my new husband. It was lightly raining, and the smell of the forest and the ocean was fresh in the cool air. You could hear the waves crashing on the beach below. A lot of people were skeptical when we told them we were having a silence. It wasn't solemn, it was just a perfect pause to consciously make a memory. Lots of people say your wedding vows can be a blur, so this was a great way to be together. I also loved the family meal we had in the evening. Our venue was a big house with a kitchen. We had bought enough food for a small army! My sister and her husband cooked an amazing eight course meal for everyone, part of which was prepared by candlelight after the power went out in a storm! Knowing that these two people wanted to share their talent and passion for cooking and put in this work on our wedding day was so special!
Peter: My highlight was the part where we got married.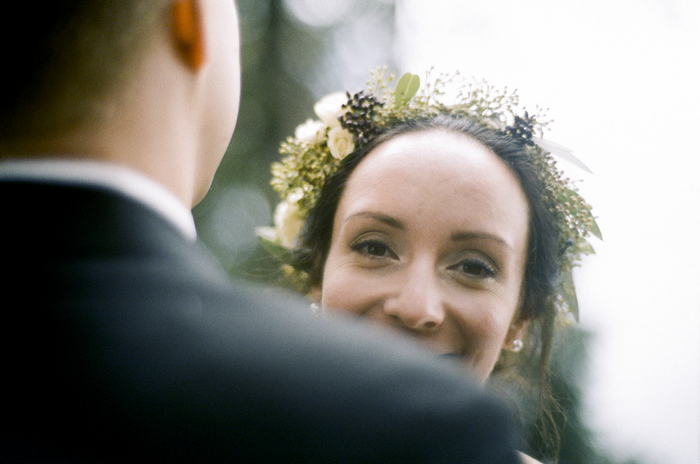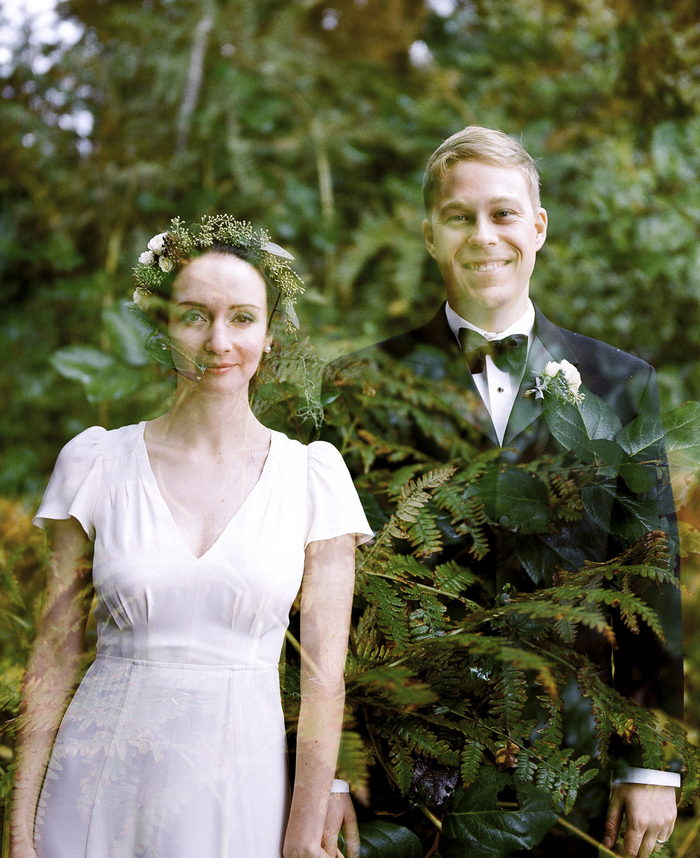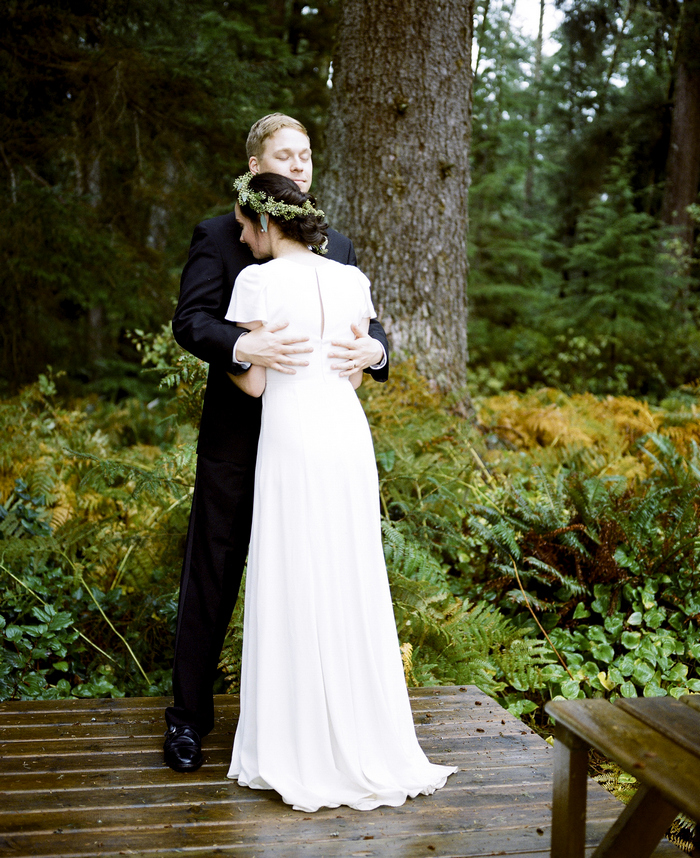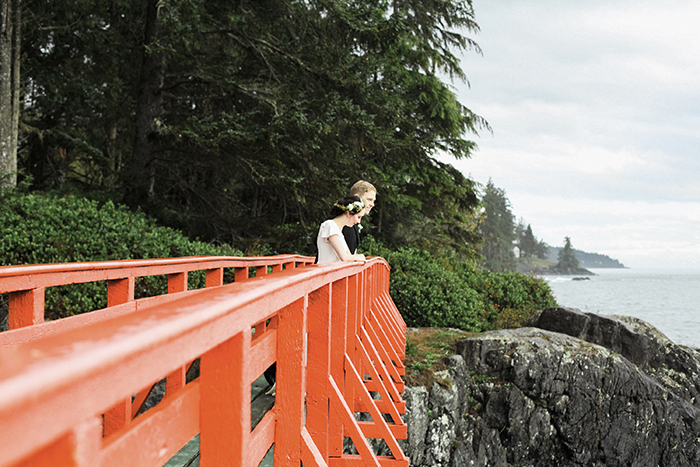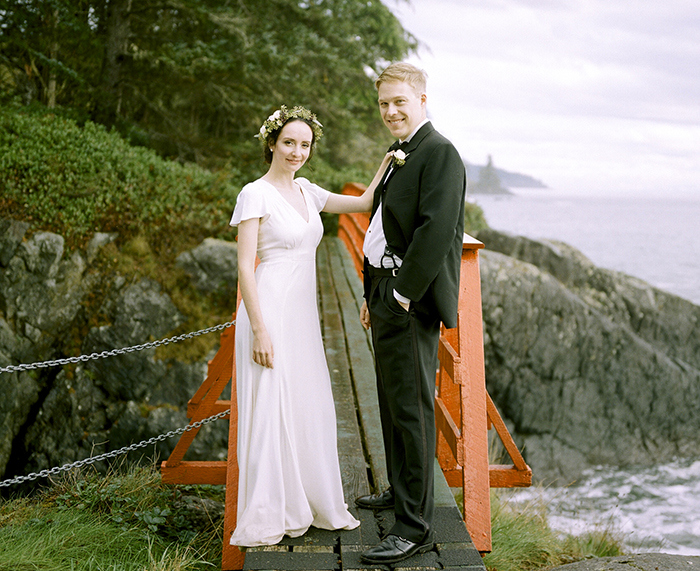 What were the highlights of the reception?
We never thought of the reception as a reception but more of a dance party. We had a Scottish ceilidh, dancing and a live band. We had friends performing poetry, songs and dances. Seeing all these people from different parts of our lives dancing together, laughing and smiling was very special. It was a great way to get people to join together.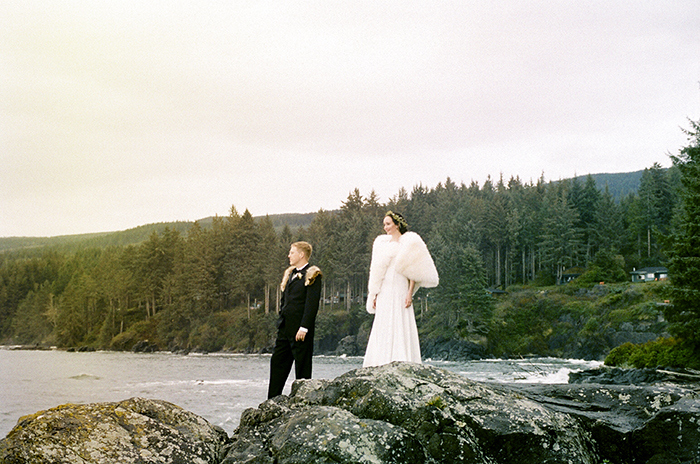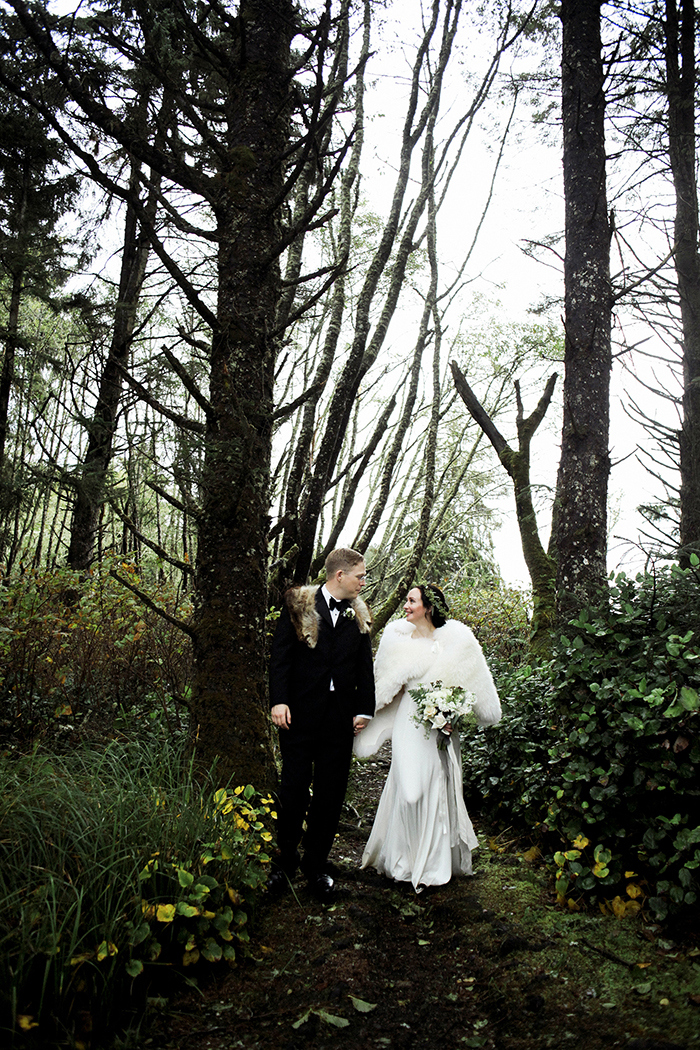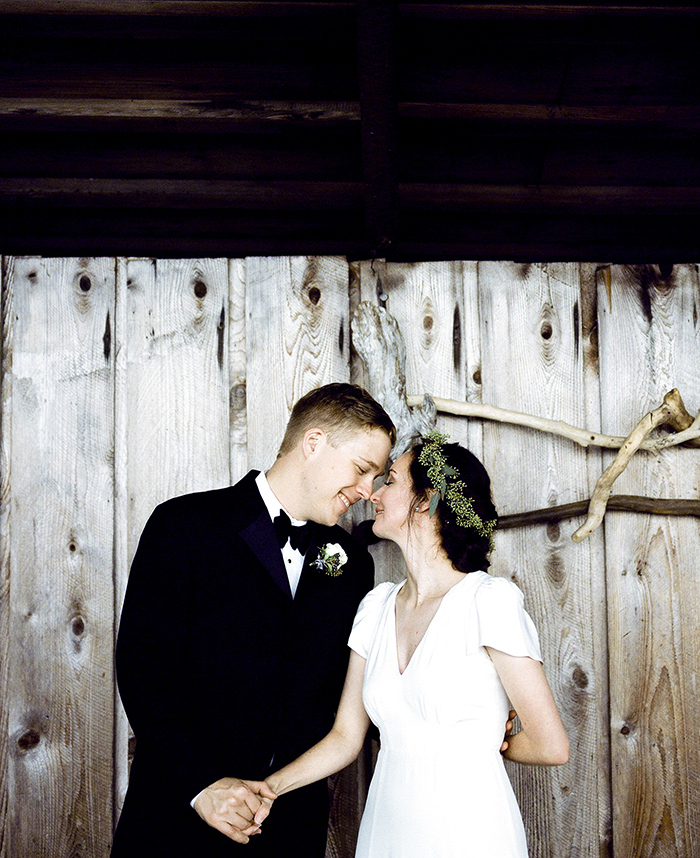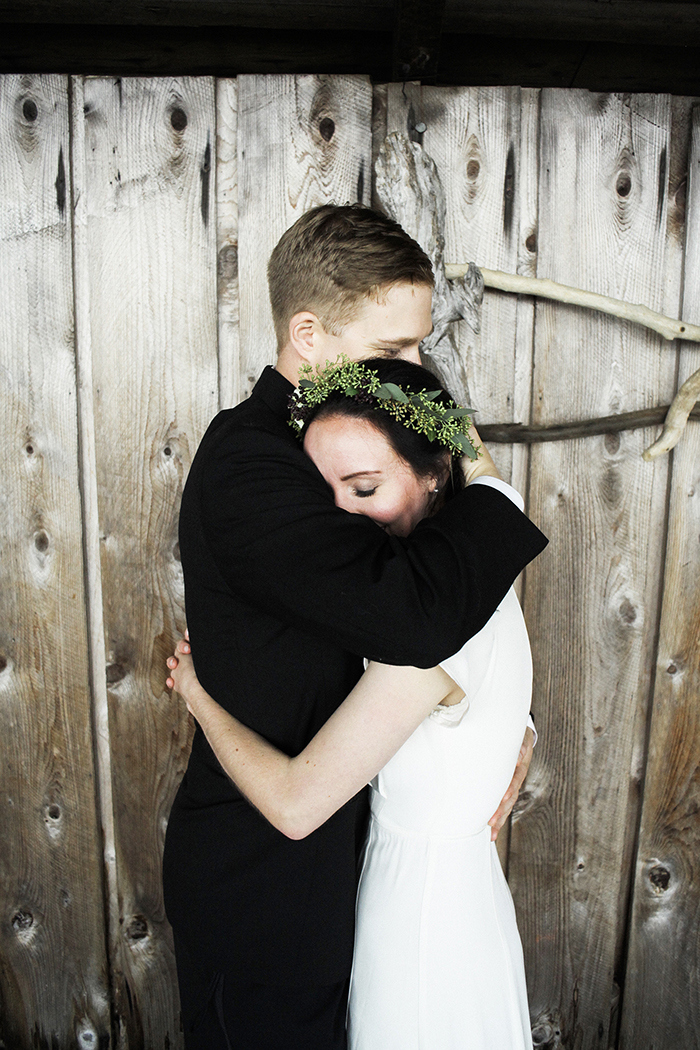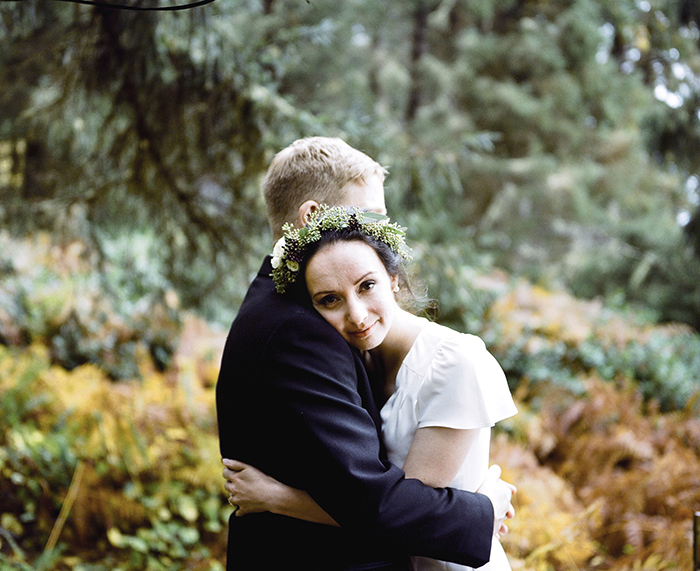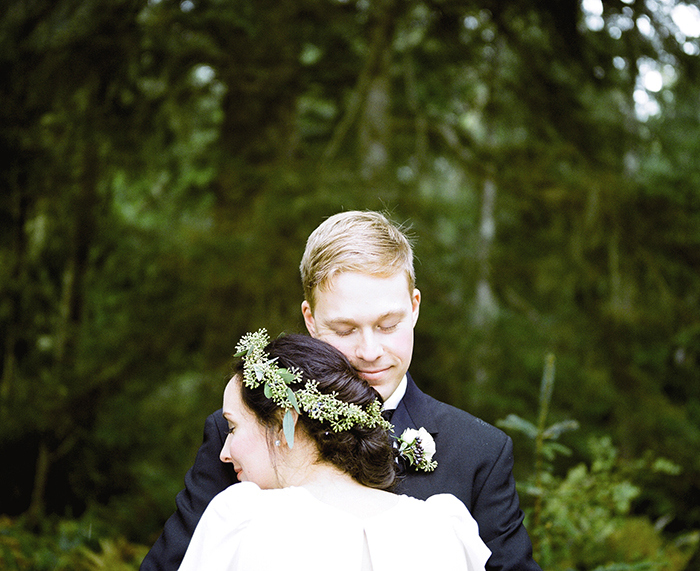 What was the best thing about having an intimate wedding?
Being able to remember it! The reception was a blur and we only had 50 people. I can't imagine a bigger event!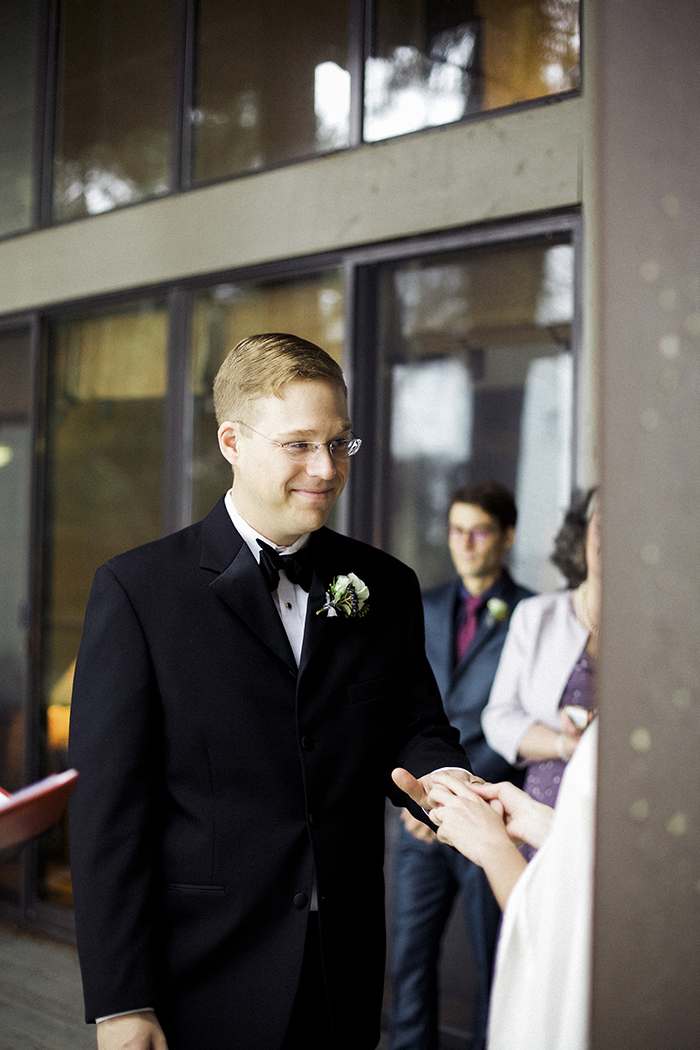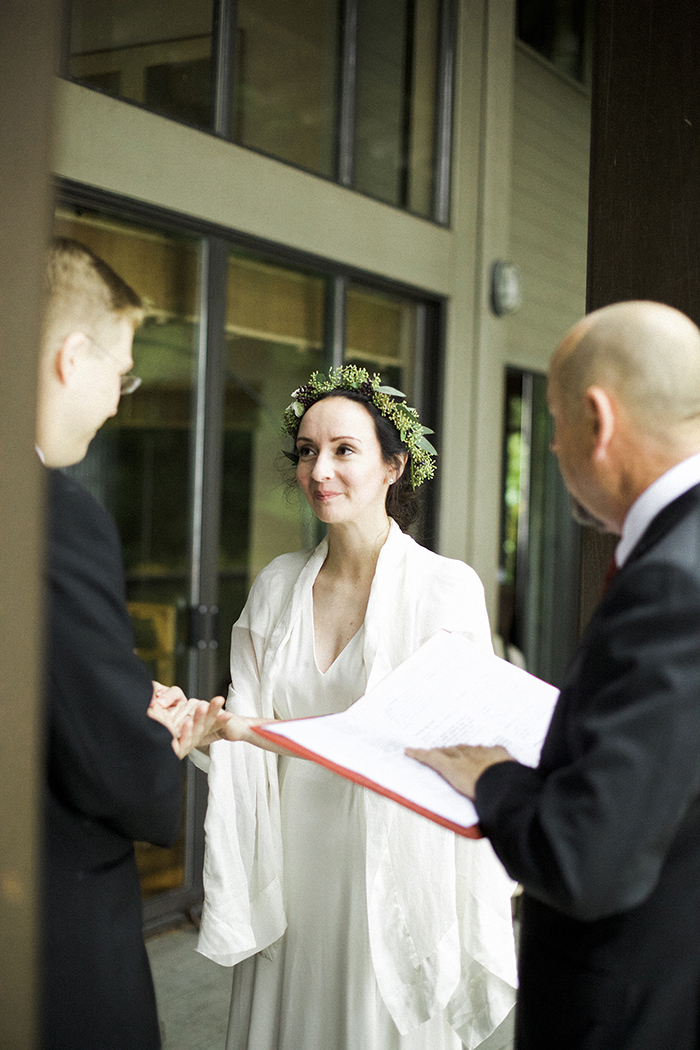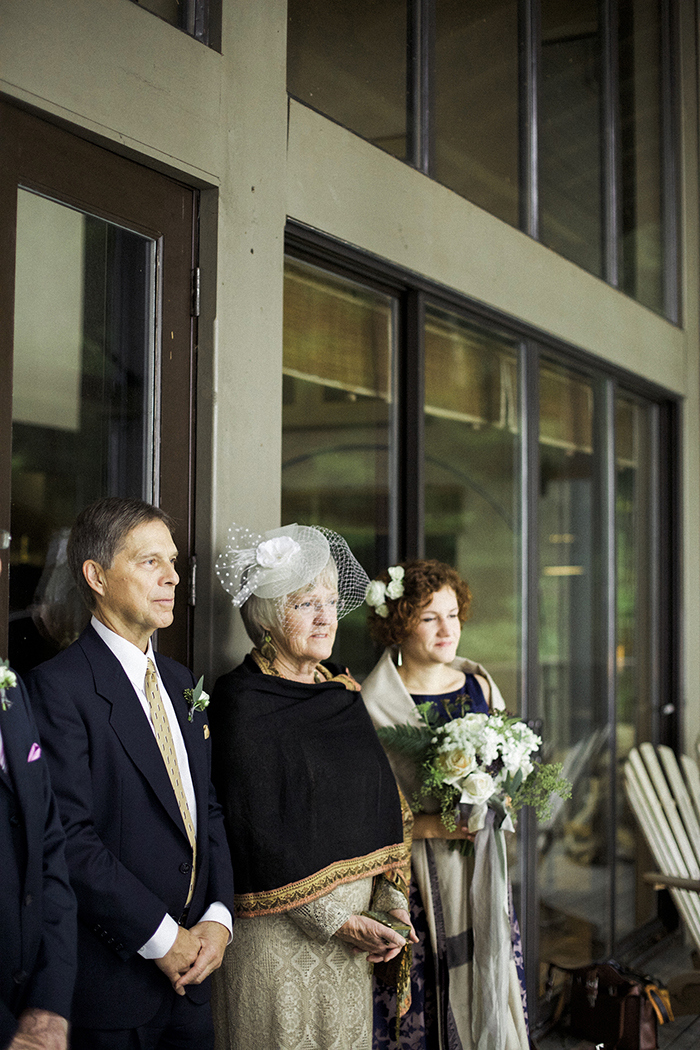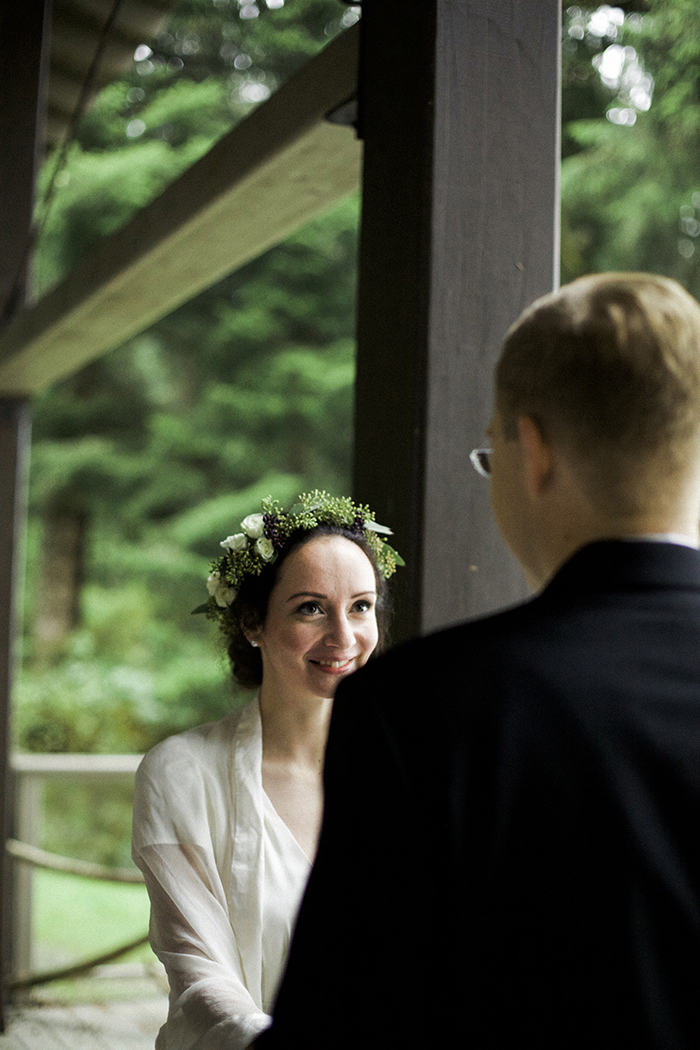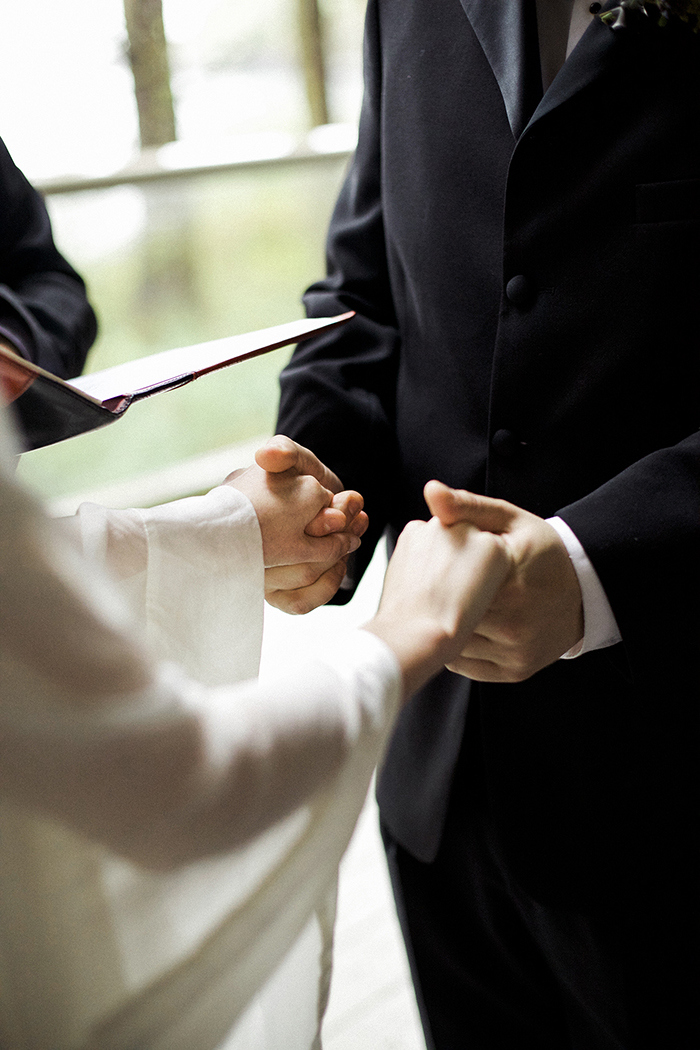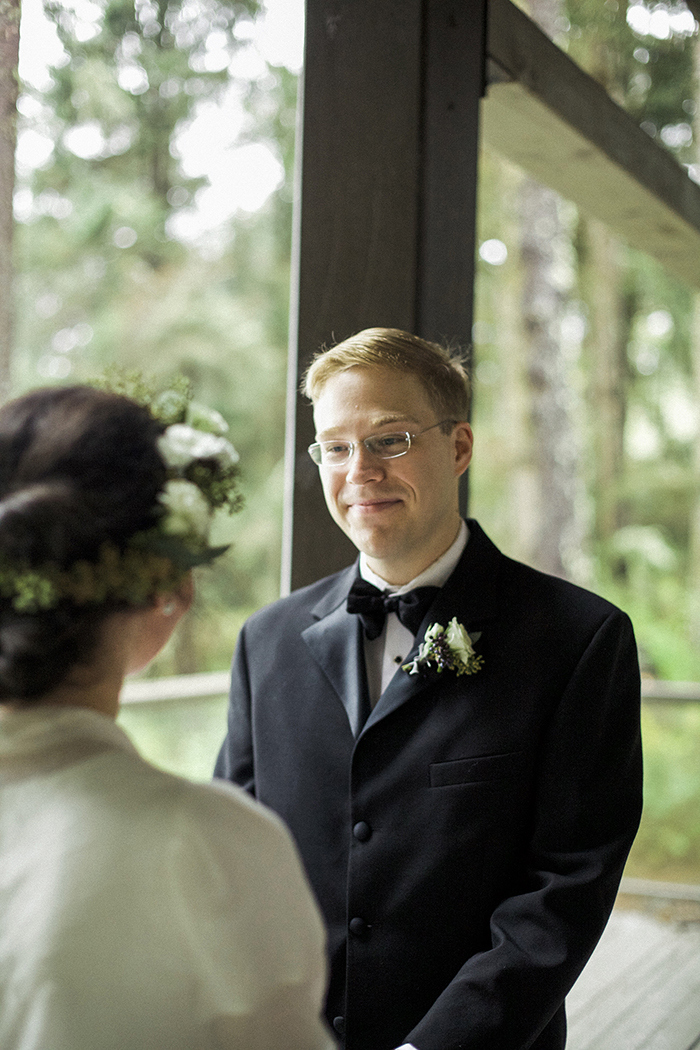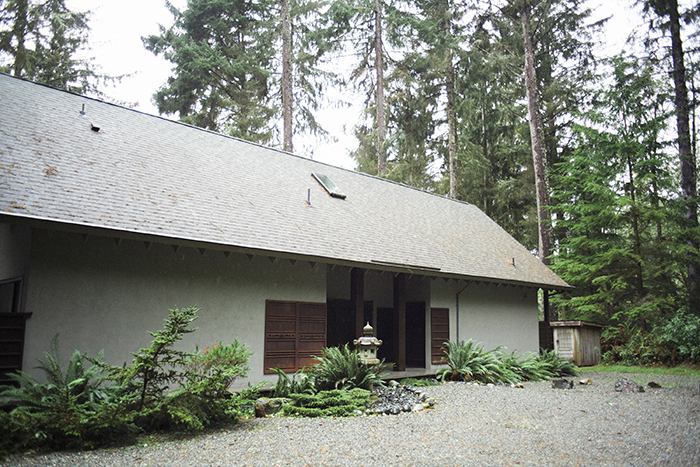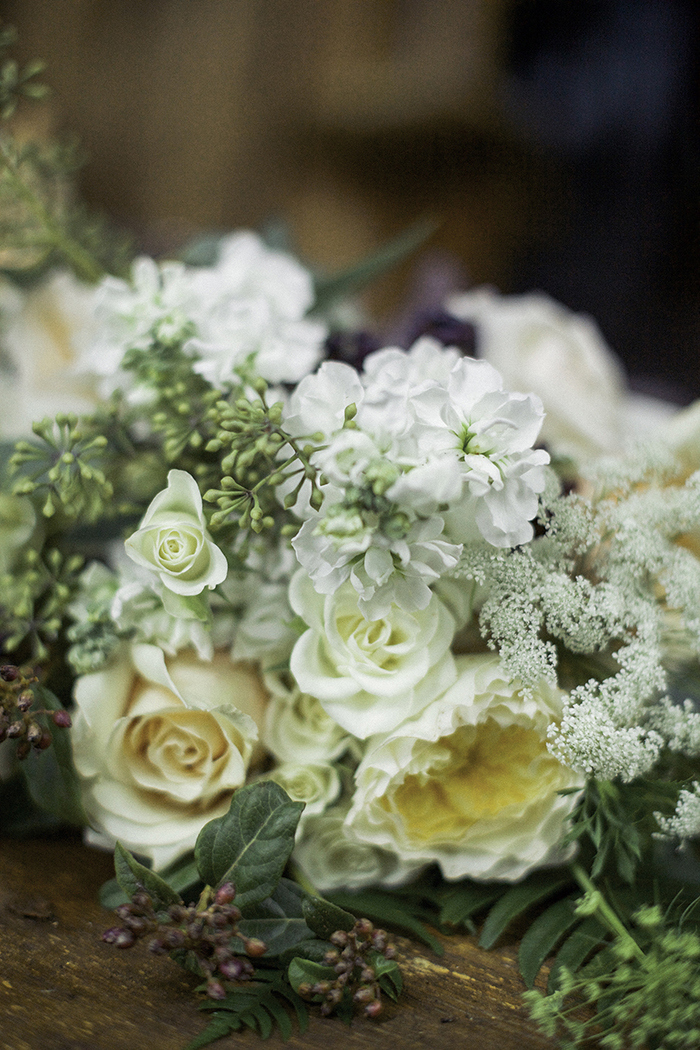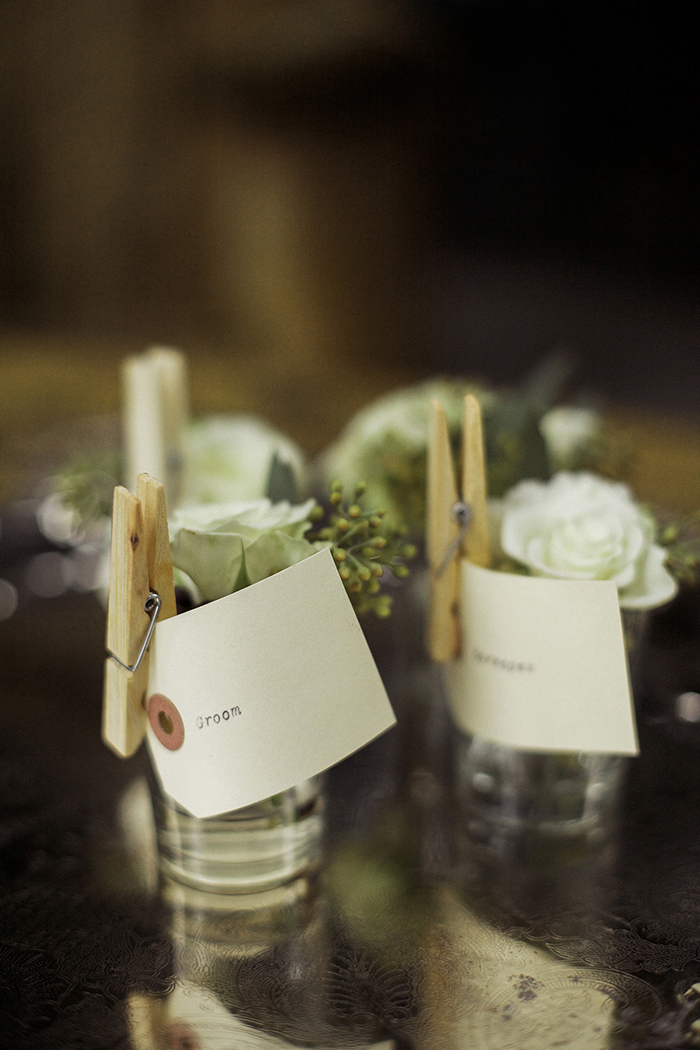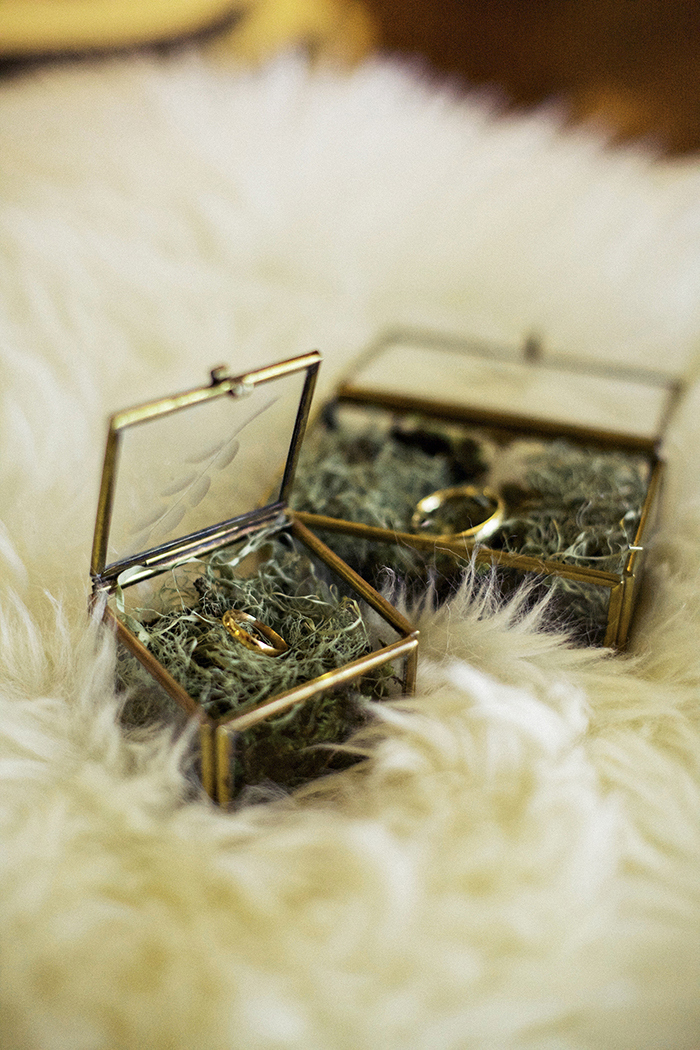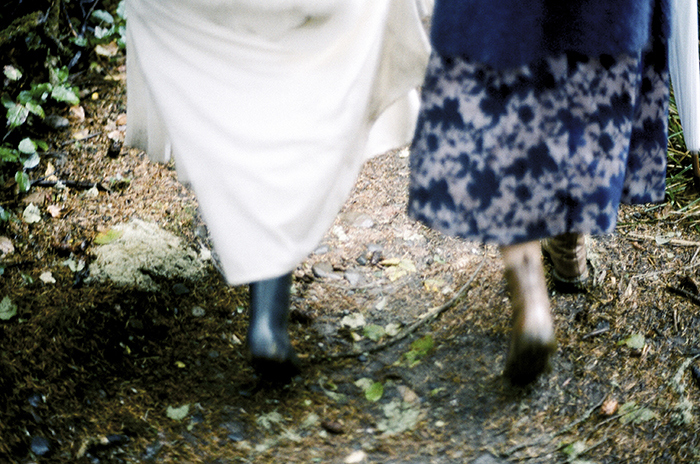 What advice do you have for couples who are considering an intimate wedding?
We found it very helpful to write a vision for what you want. It could be fun, bright party or romantic and classic. We both imagined a story of what our wedding would be like and picked some key words. Once we had this, it was like a touchstone for all the decisions we made. I found it so easy to go overboard and get excited about grand things, so it was helpful to ask myself does it contribute to our vision? Sometimes the answer was no, and we saved some money! Sometimes the answer was yes, and it justified an expense.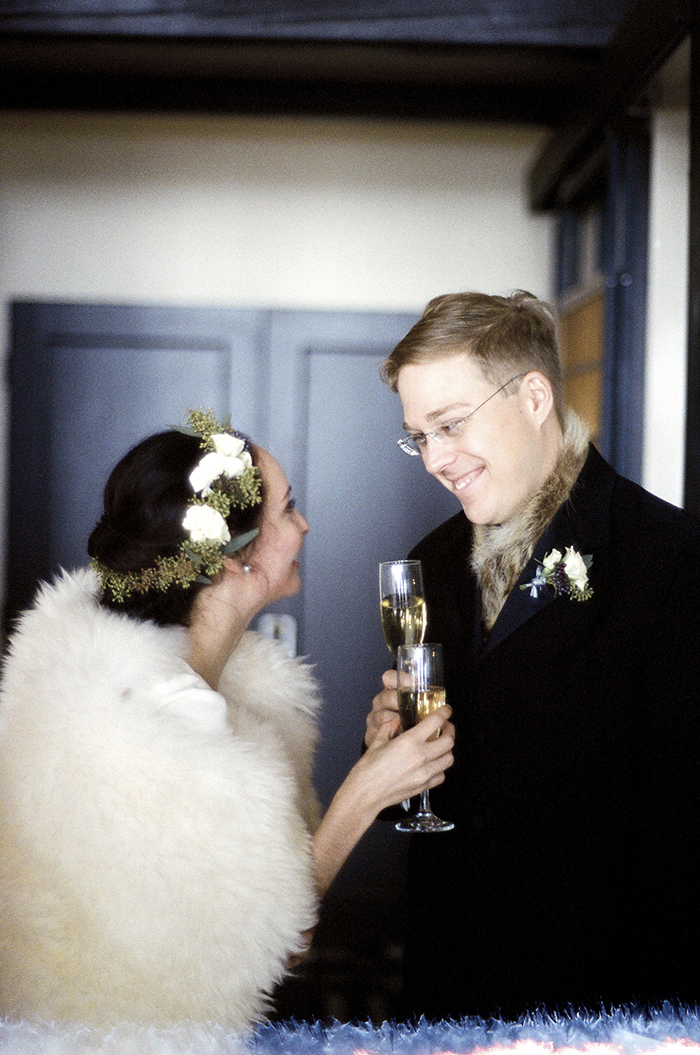 Vendors:
Location: Point No Point Resort
Hair and Make Up: Carly Flint, The Green Kiss
Photography: Andrea Fernandez
Flowers: Rook and Rose
Ribbon: Nine Bark Farm
Cake: Ruth and Dean
Wedding dress: Reformation
Cake Topper: Blush Type
Save
Save
Save
Save
Save