DIY weddings are all the rage. Brides are getting creative with everything from handmade favors, to stationery, to guest books. Although handmade weddings are growing in popularity, there are plenty of brides who love the handmade touch, but simply don't have the time for the DIY approach.
If you love handmade items and are also thrilled with the idea of supporting independent artisans and cottage industries, you will love Etsy.com for your intimate wedding.
Etsy is an online venue with 600,000 worldwide members and 100,000 sellers of handmade and vintage items.
"I think there is a movement towards buying handmade and I think the success of Etsy is testament to this — I have watched how the site has grown. It's pretty crazy," says Matthew Stinchcomb, New York based vice-president of marketing and communications, pointing out that 12,000 to 15,000 handmade items are sold through the site every day.
Although the site sells everything from paintings to purses, there are many unique items for handmade weddings, including a nice variety of wedding invitations and favors. And the prices are reasonable, considering the items are handcrafted- not cranked out in a factory.
Here are 5 of my favorite wedding items currently on Etsy.com.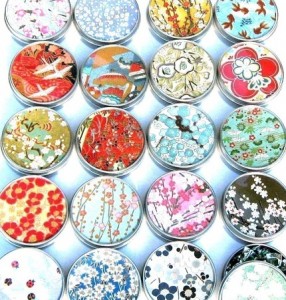 Etsy shop Gamiworks. This is a collection of Japanese chiyogami (old-paper) gift tins that are ideal for wedding favors (fill with candies, nuts, or mints). This collection of 10 features an array of paper designs or simply choose your favorite designs from other items to compliment a theme. Each glass topped 2.5oz tin measures 2.8″ w x .9″ high. The price is $22.50 for 10.  Discounts on large orders.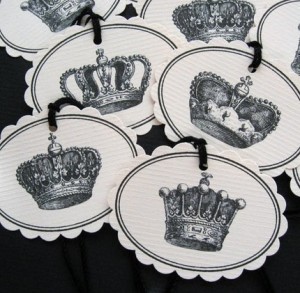 Etsy shop Digitalpaperie. Pink, handmade crown tags for wedding favors. This set contains 4 designs for a total of 12 tags. Measure 2 1/2″ across.
Cost per order is $4/set of 12.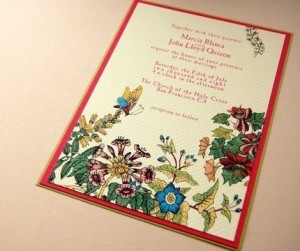 Etsy shop Inkylivie. Garden themed wedding invitations in deep pink and chartreuse. Printed on thick textured cardstock, and layered on two pieces of colored cardstock. Can order sample set for $5.
Bridal Shower Favor or Wedding Favor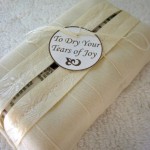 Etsy shop Nest. This wedding tissue holder is created in ivory shantung with a satin floral ribbon accent, lined in white cotton. It comes with a brand new package of soft tissues. Approximately 3.25″ x 5.6″. Cost $8 each.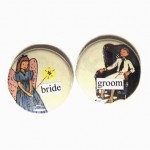 Etsy shop Buttonempire. Cute bride and groom buttons for the couple to wear to pre-wedding events. $6 for pair.
Looking for more handmade wedding ideas? Check out the Etsy Wedding Blog