Hannah dreamed of eloping before she even met Kirby. After working in her family's bridal boutique for three years, she witness firsthand how big weddings often distracted couples from what really matters: celebrating the love between each other.

Hannah and Kirby's elopement is as beautiful and heartfelt as it gets. The couple tied the knot at a local ministry by one of their favorite pastors the same afternoon that Kirby graduated from ranger school. After the ceremony, the couple spent the evening at Hannah's parents' house, eating cake on the back porch and dancing the night away.
Ten days after the wedding, the couple met Brittany Martorella Photography in Downtown Columbus for this stunning shoot. The photos are too beautiful for words!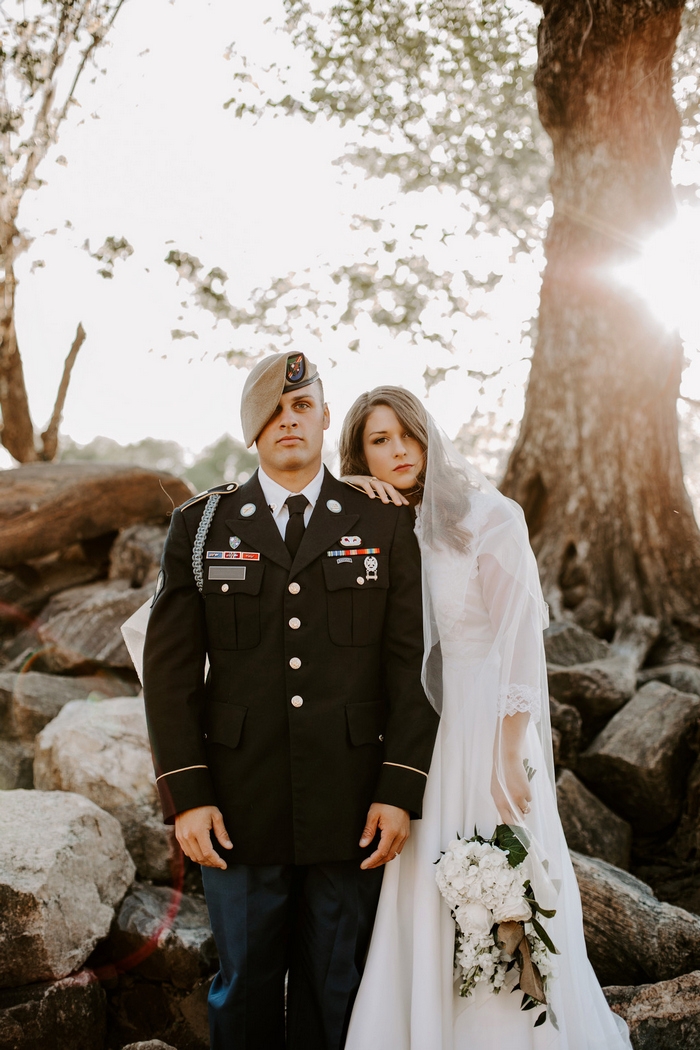 Hannah, 20, & Kirby, 22
Location: Columbus, GA
Wedding Date: April 6, 1018
Number of Guests: Two, if you count the two witnesses that were at the church when we exchanged our vows!
Wedding Cost: Surprisingly, our elopement was free, which is a huge blessing in itself. Everything that went into our day was gifted to us by the people involved. For example, Kirby wore his uniform, I wore my mama's wedding gown (even the minor alterations on it were gifted to me), my flowers were gifted to me from some arrangements that were used at a bridal expo the day before. It reminded us how sweet and giving our community is, and how loved we are. It was overwhelming in the best possible way.
Wedding Ceremony Location: We had our official ceremony at the Second Story ministry in downtown Columbus. The pastor there is one of our most favorite people, and it was only fitting that he perform our ceremony. We are so thankful that he offered us part of his afternoon that day to make it happen for us. It's a truly special place, and it was perfect for our little elopement. We wouldn't have wanted it anywhere else.
Wedding Reception Location: We didn't have a formal reception, but after we finished our ceremony and turned all of our paperwork in at the courthouse, we went back to my parents' house to meet both sides of our immediate families to have dinner and cake together.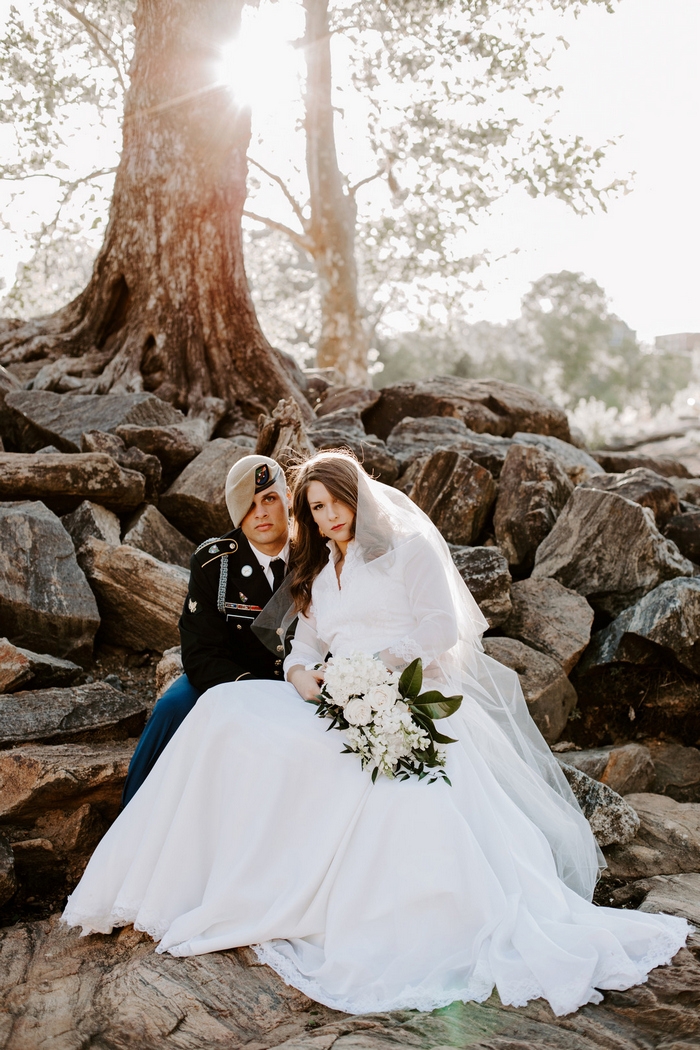 Why did you have an intimate wedding? 
There are a few reasons that affected our decisions; the main ones being a) we both have HUGE families, and to get them to the wedding as early as we wanted it would've taken lots of work, and b) with Kirby being in the military, his schedule isn't the easiest to work around, however, we knew from the get-go we wanted to elope first and party later, so it wasn't a last minute decision! My family owns a bridal boutique here in town, so I've seen the good, the bad and the ugly of weddings for the past three years. I didn't want the sensitivity and intimacy of what a marriage really is to be discounted or overlooked by throwing a huge party. That being said, we do plan on having our 'big wedding' later this year, once we have ourselves and our 'real life' together (ie, finances). Now that we are married and figuring out the complexity of marriage and all that comes with it, we feel comfortable to sit down and plan a celebration with everyone we love 🙂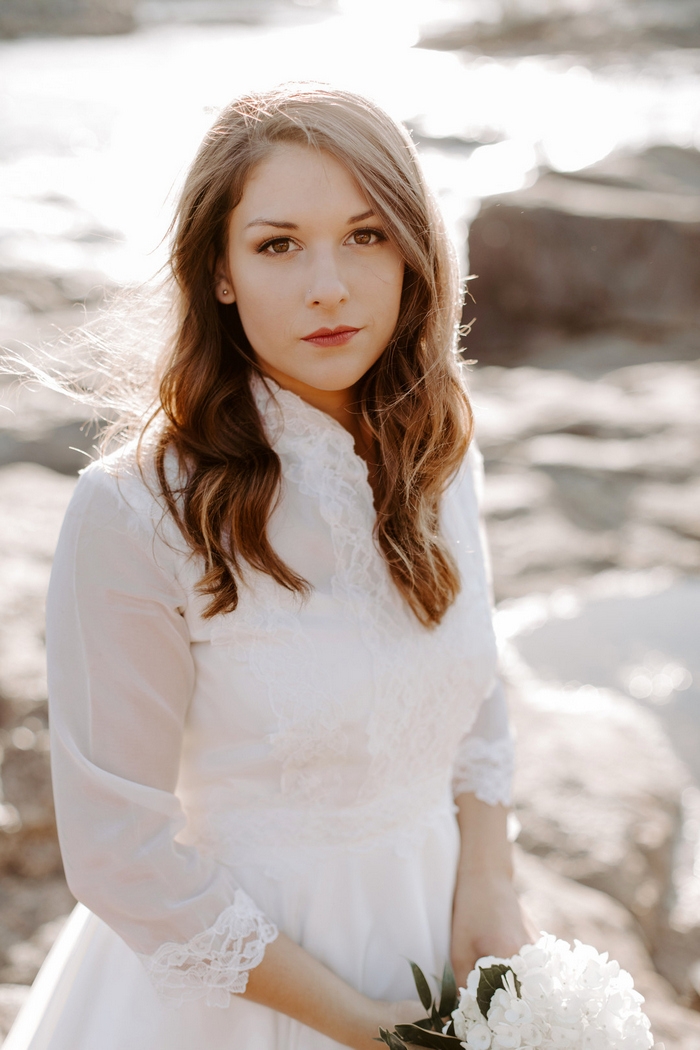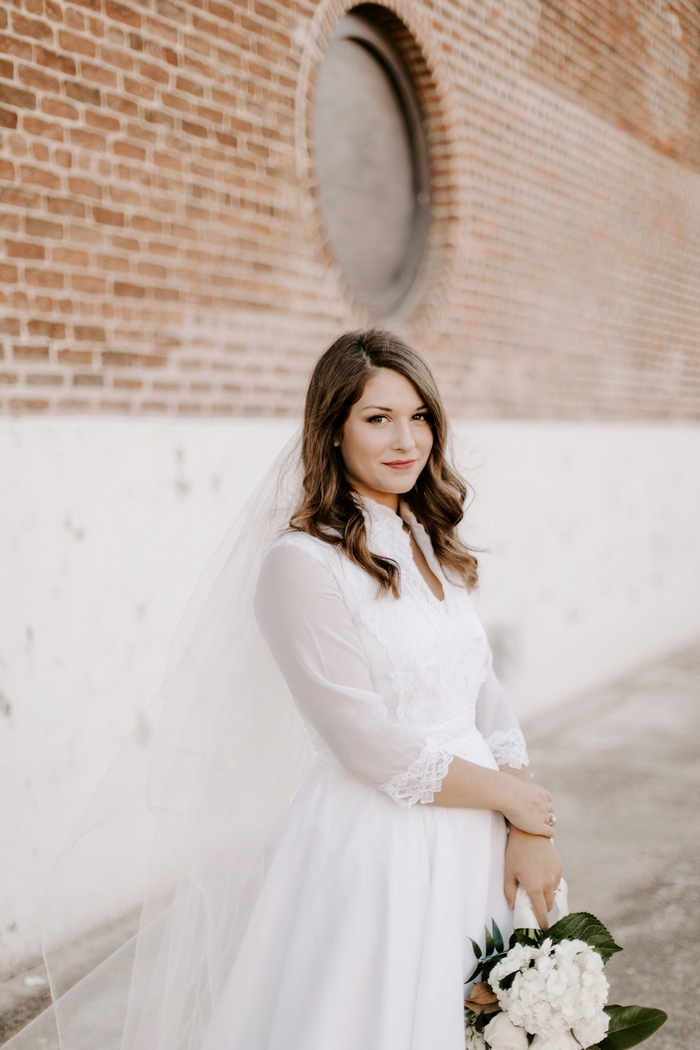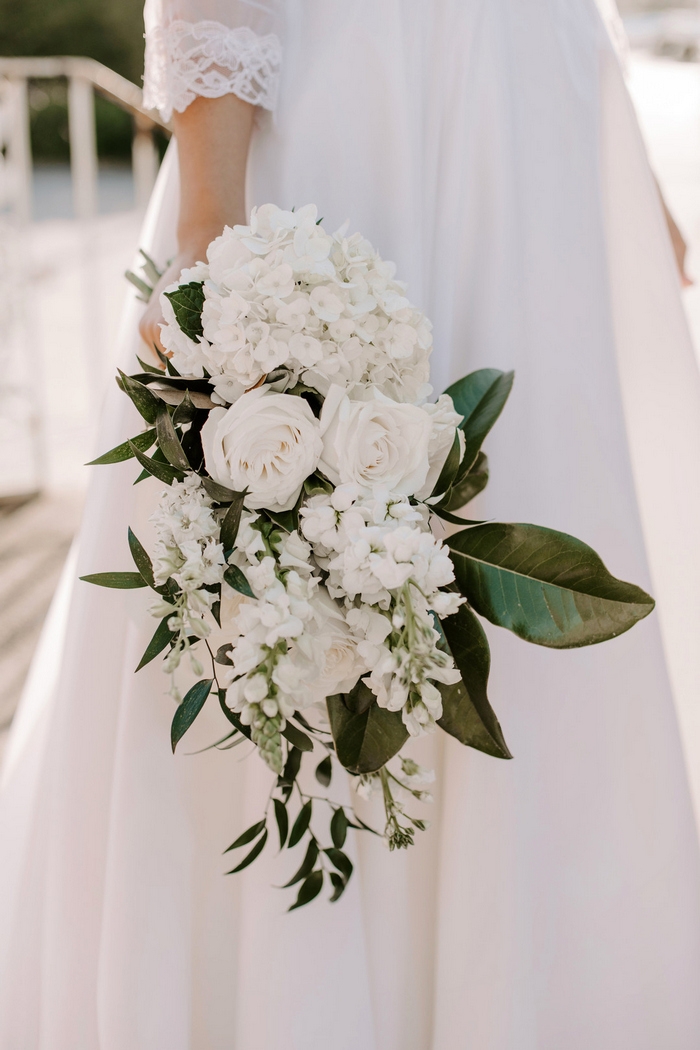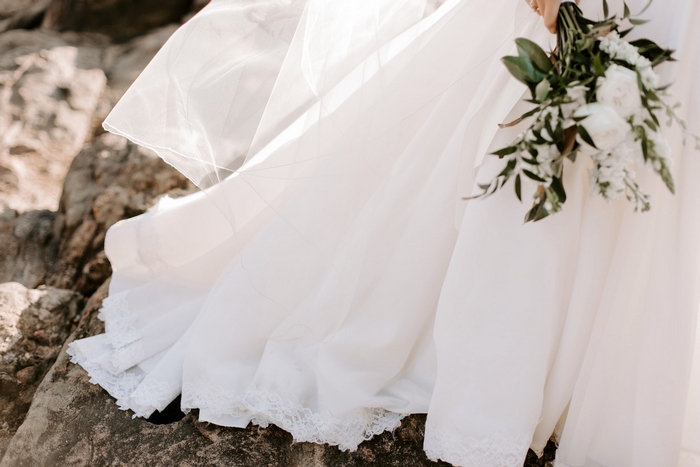 What are some the challenges that you faced planning an intimate wedding? 
I think the big one was having to explain to close friends and family why we eloped. But ultimately, they all have been so supportive and understanding!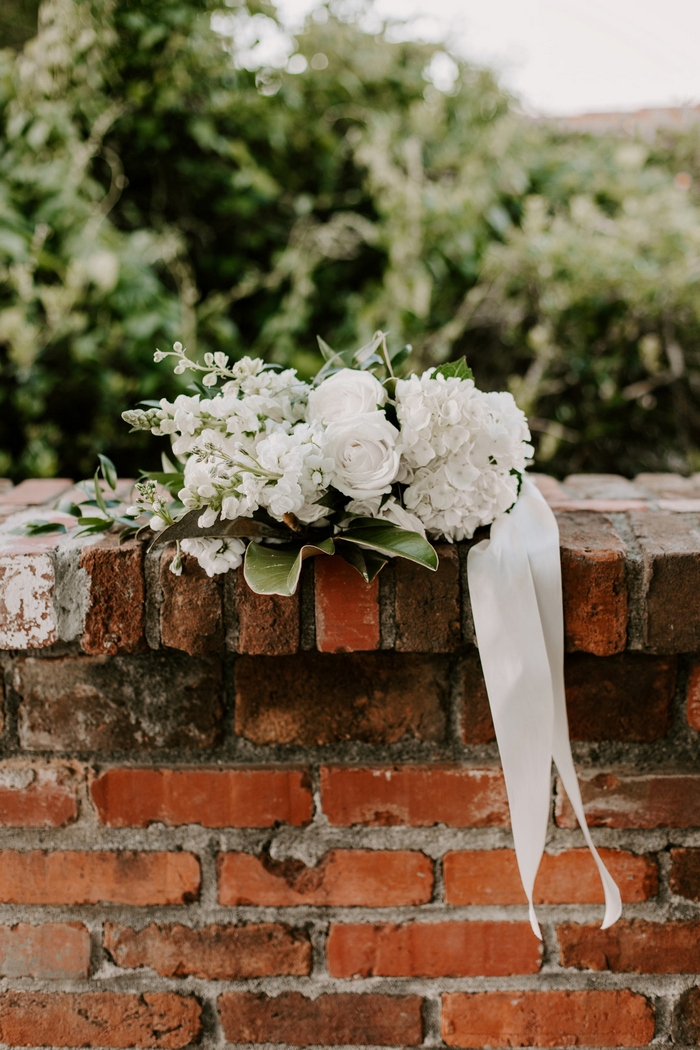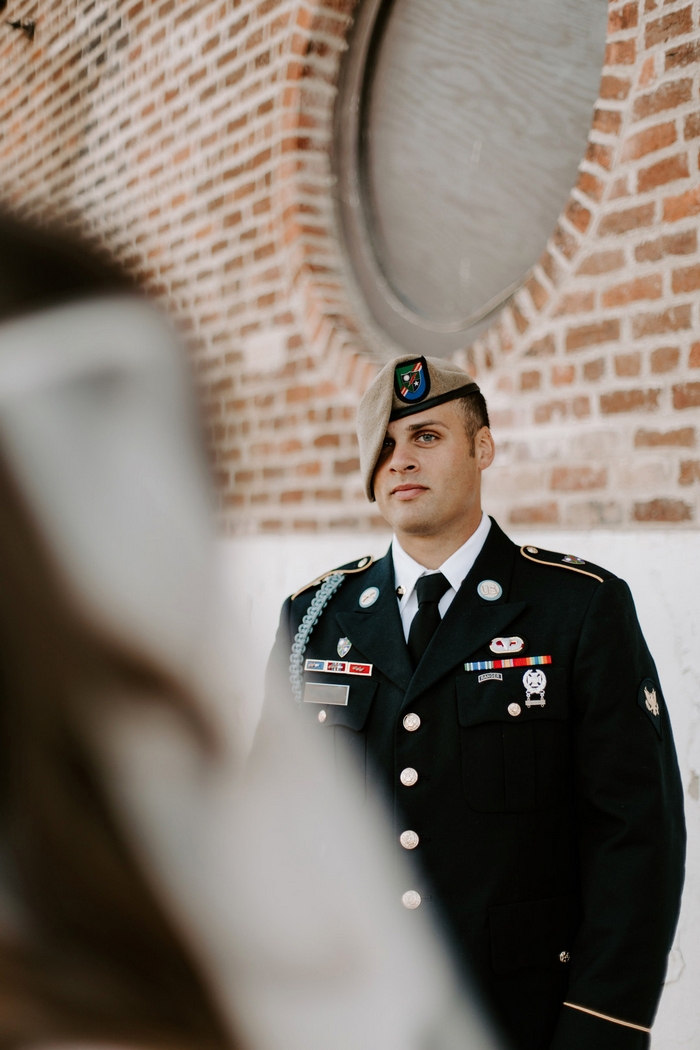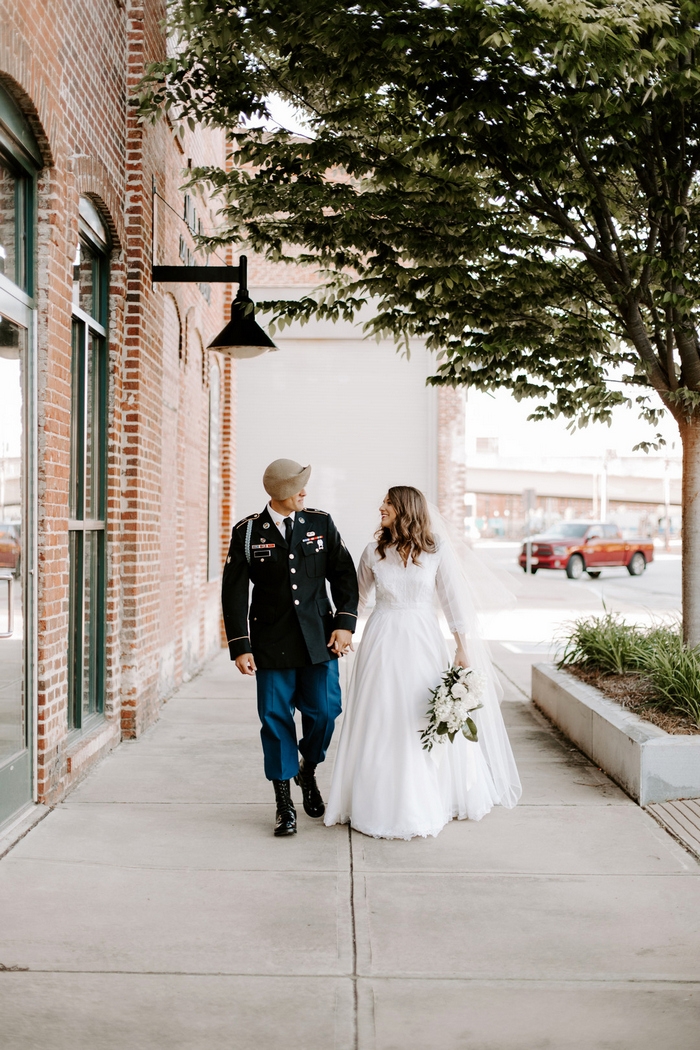 Was it difficult to pare down the guest list? 
We went back and forth on whether or not we should invite our parents, but because we are both so close to everyone in our immediate families, it didn't feel right to pick and choose who came. Plus, it made it feel that much special for the two of us to just be the two of us to start our marriage. And now, when we have our big wedding, it's going to be that much more fun to share with them! The pressure will be off, and it will really be the celebration that we want it to be.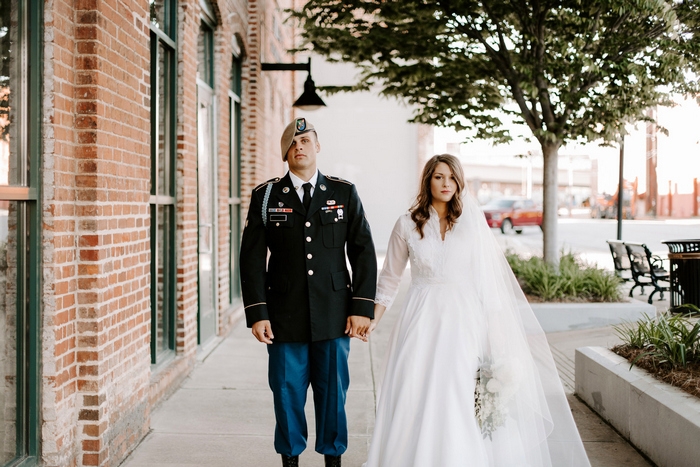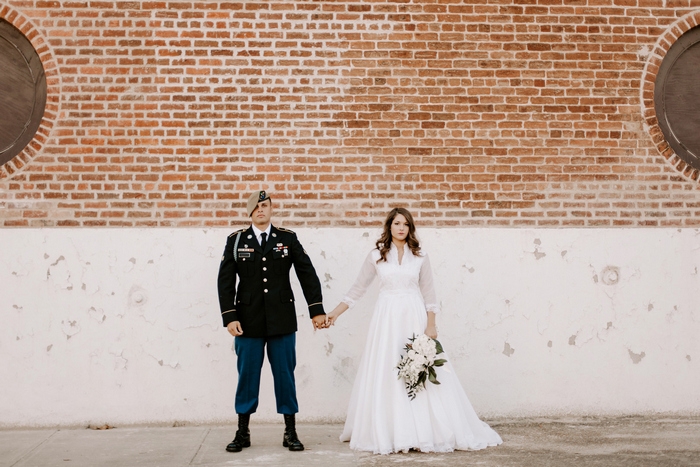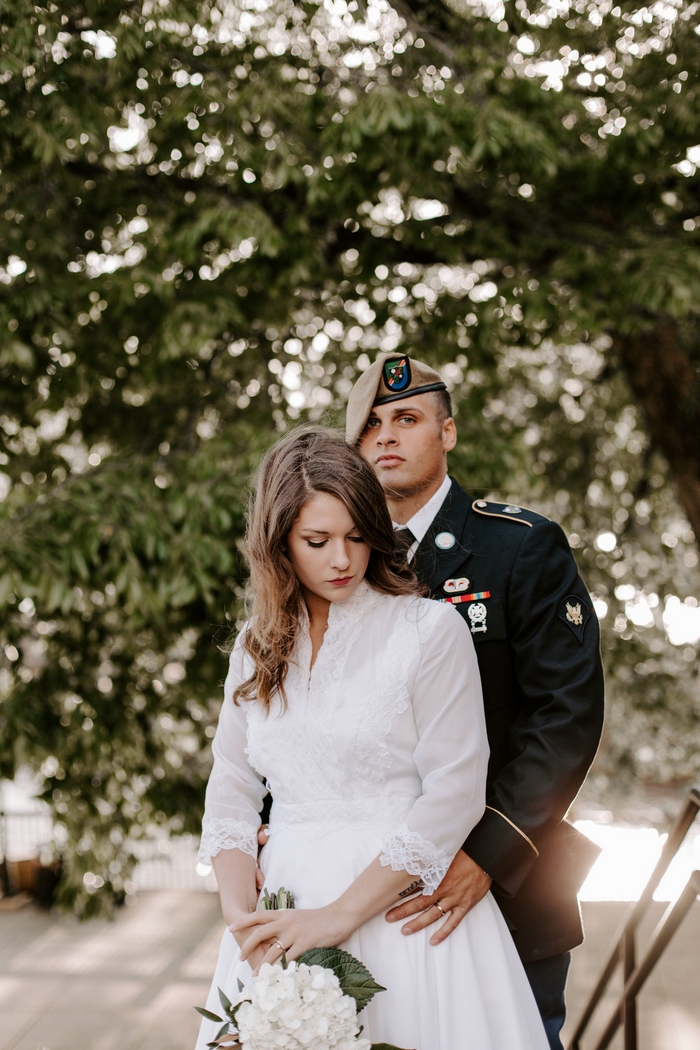 Did you have any 'issues' with the small guest list from friends and family? If so, how did you address them? 
We haven't yet, but I know that come the fall when we have an actual wedding, there will be people who aren't happy with our guest list.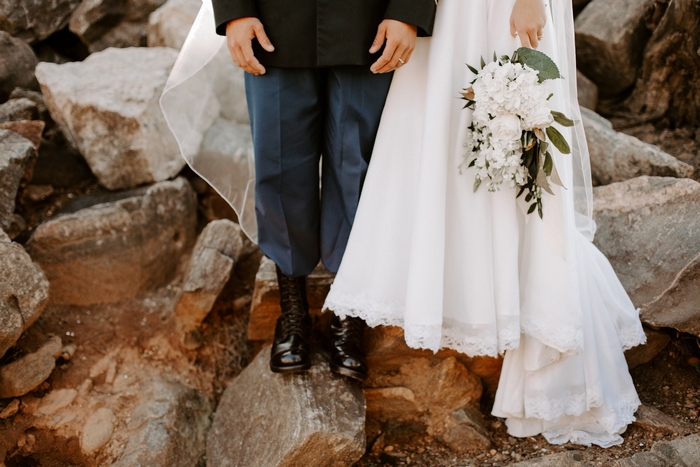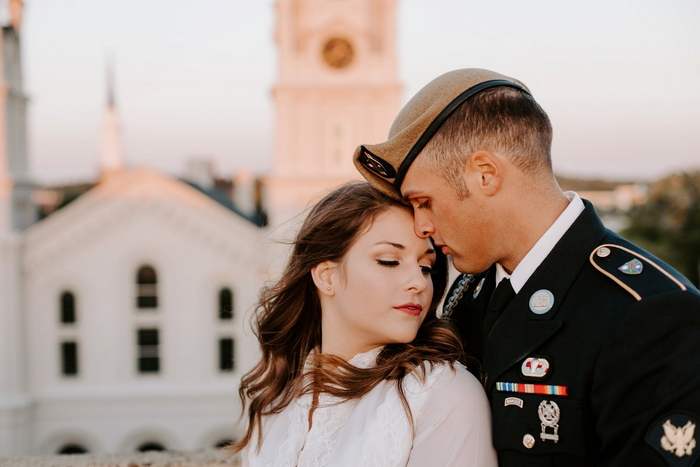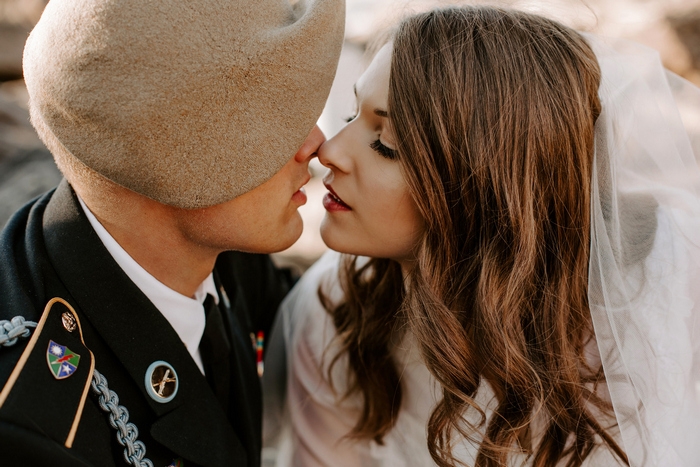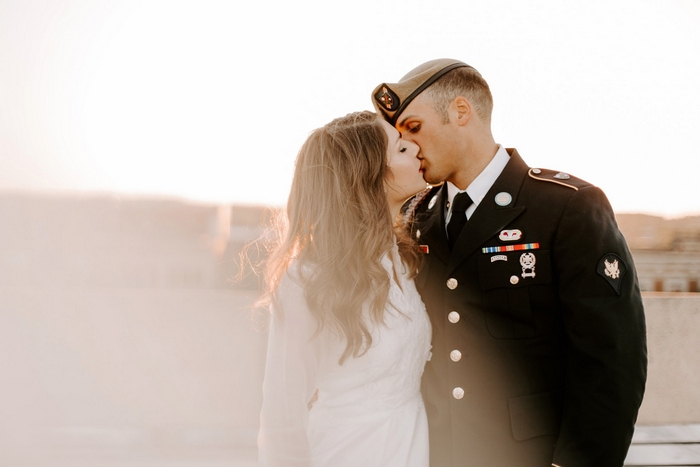 What were the highlights of the ceremony? 
We were back and forth on going the courthouse route, but in the week leading up to the wedding my mama strongly encouraged me to go with someone that we know. I texted our pastor very last minute (three days before) asking if he would even be comfortable performing our ceremony on such a short notice, and he was more than happy to do it. The wedding went so smoothly, and Kirby and I teared up throughout the whole thing – it was so special that it was just us.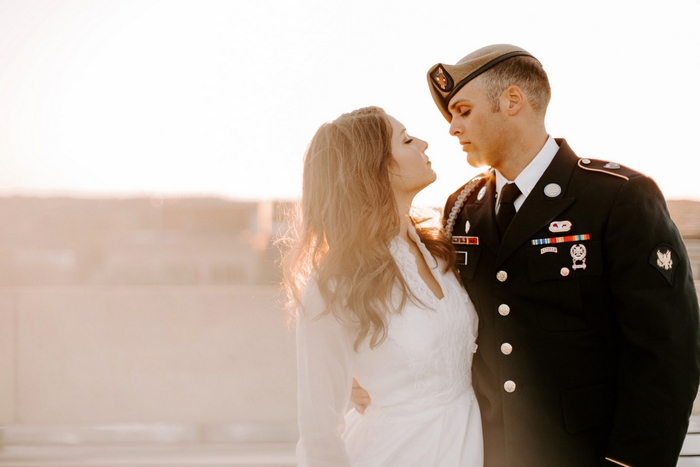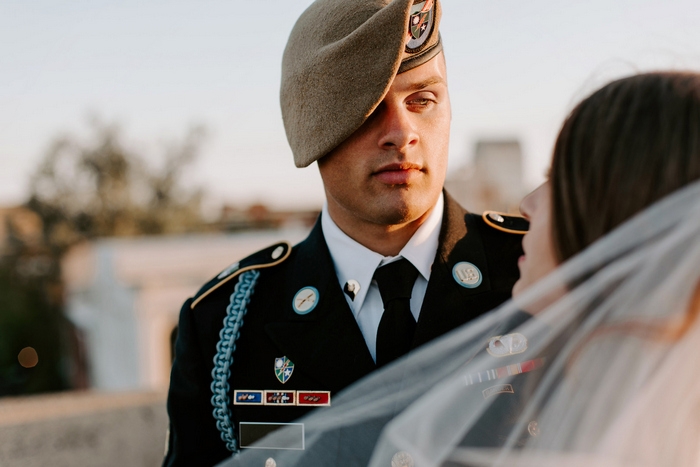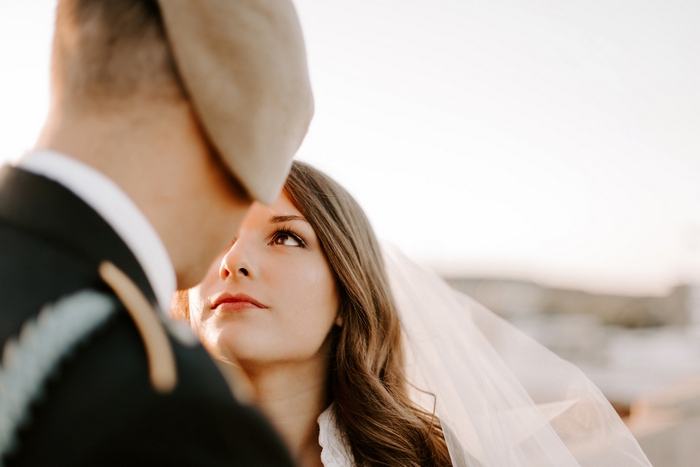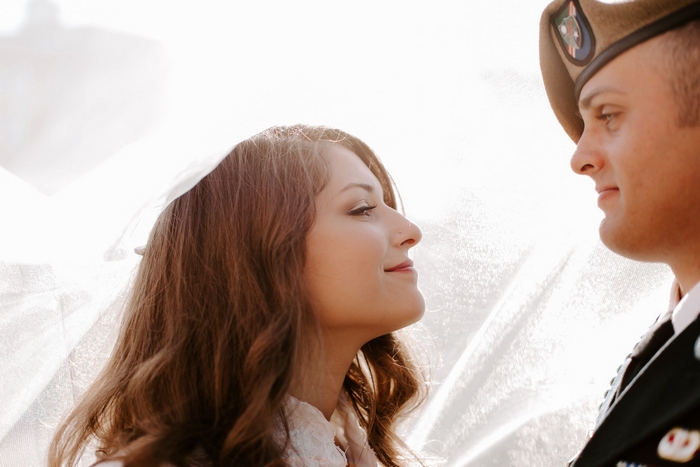 What were the highlights of the reception? 
We didn't have a reception, unless you count the cake and toast we had with our family on my parent's back porch after dinner together that night. That still makes me teary eyed. We celebrated birthdays in the family, as well as our marriage, then we all danced like crazy people with my young nieces and nephew to a Spotify playlist well past their bedtimes.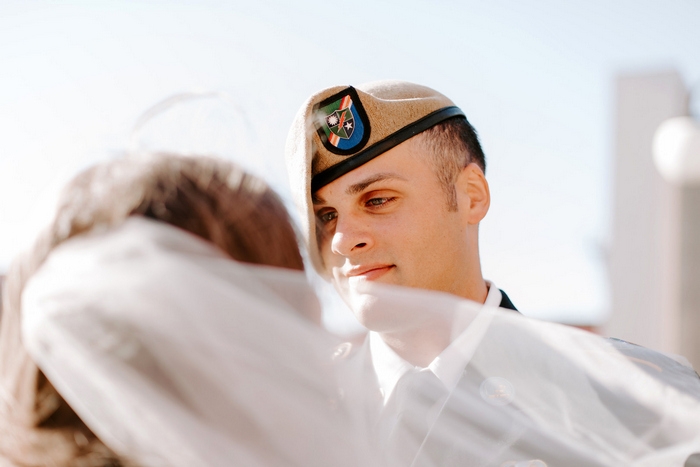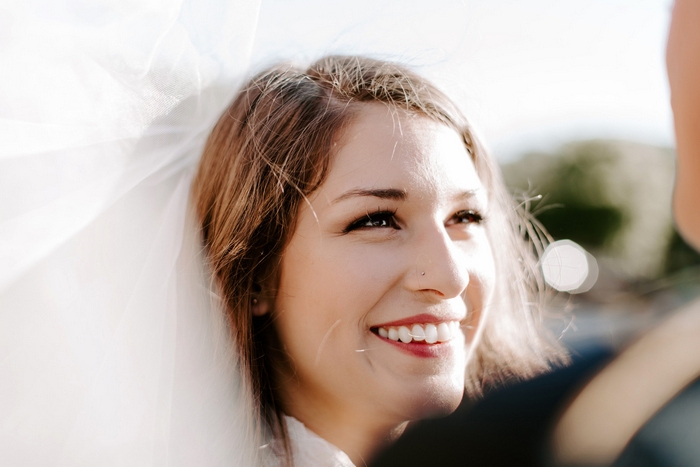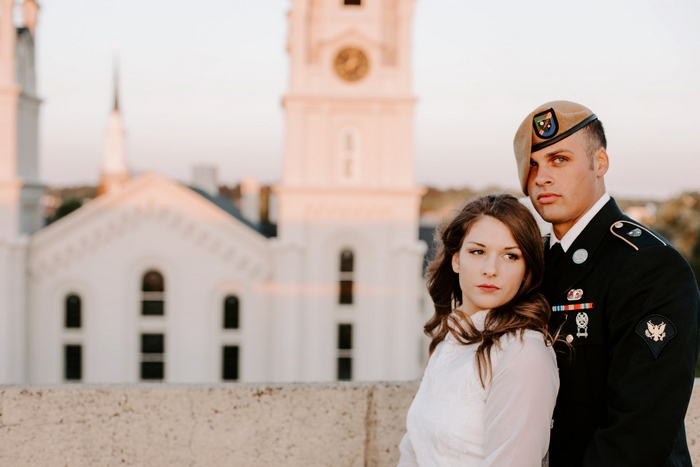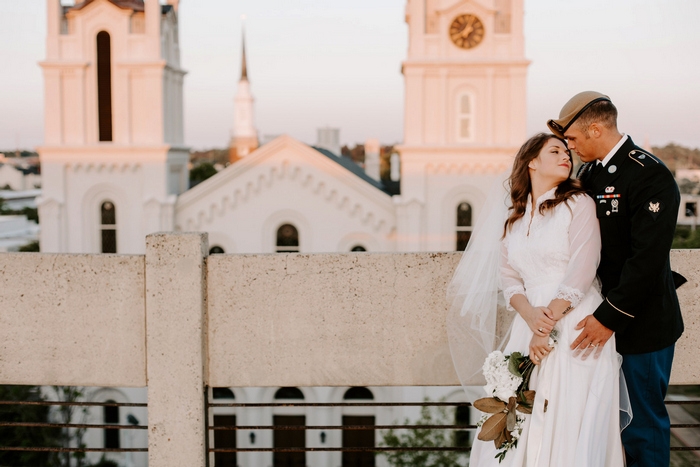 What was the best thing about having an intimate wedding? 
Almost no stress! Overall, just being together and not having to worry about extended family was so magical. Now, we can't wait to celebrate with everyone in the fall!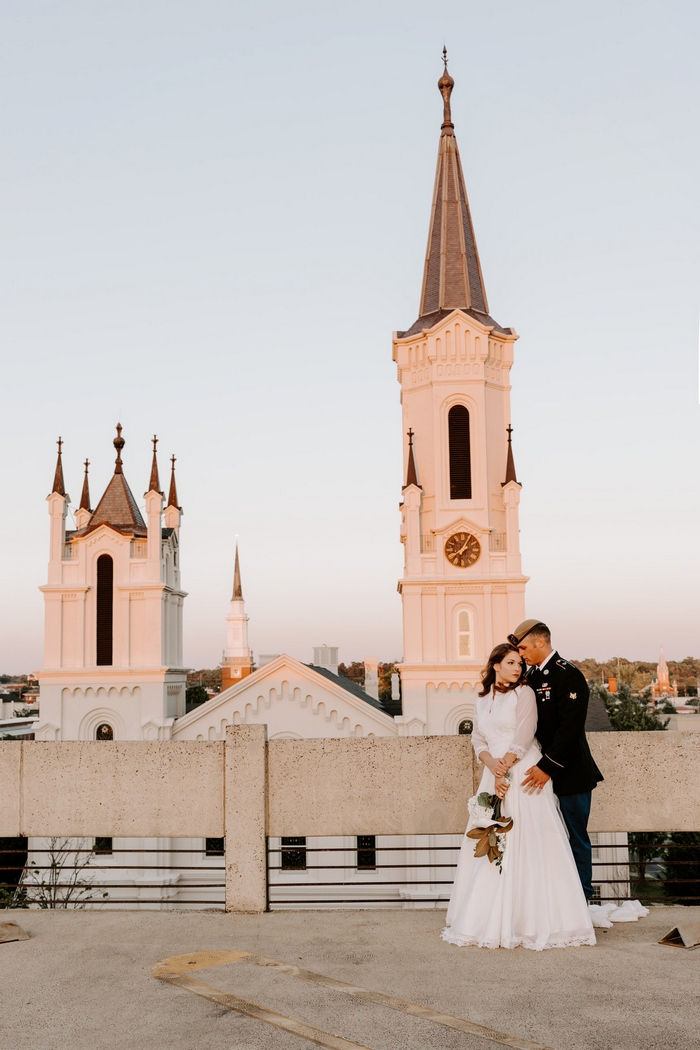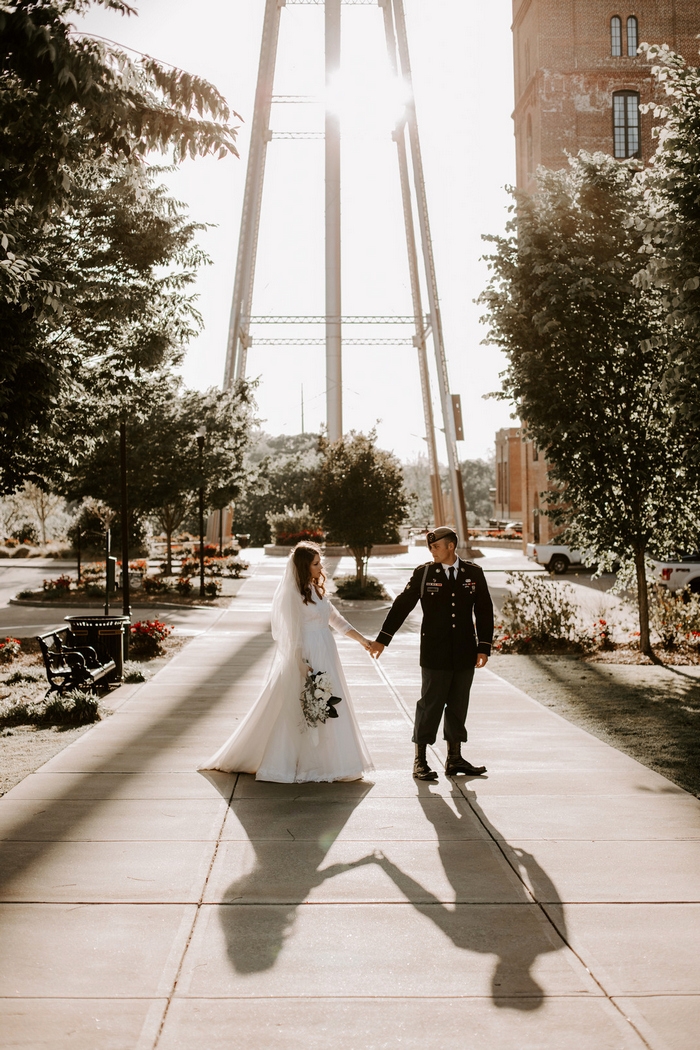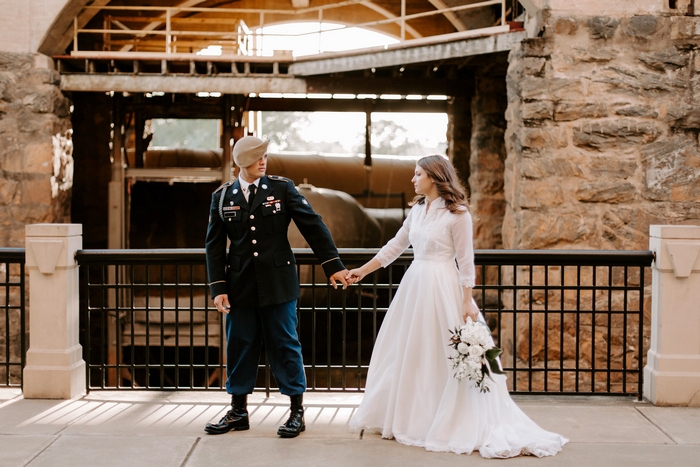 What advice do you have for couples who are considering an intimate wedding?
Just go for it. Arrange details that matter most, and everything else will fall into place. Don't ask other people's opinions, just go with your heart. At the end of the day, what matters is what you and your spouse want.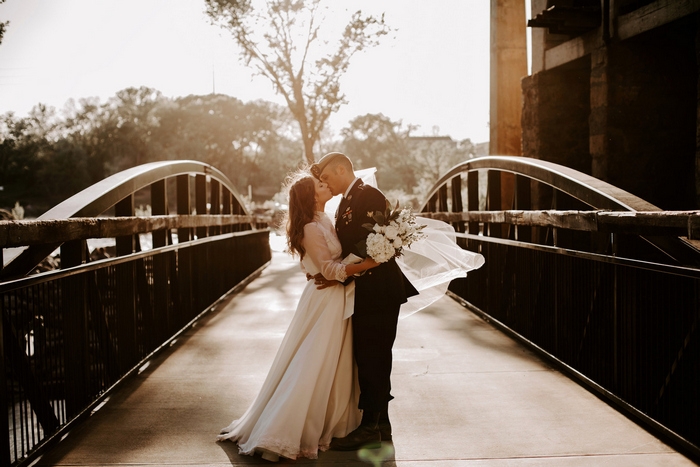 Vendors:
Photographer: Brittany Martorella Photography
Dress Store: Uptown Gowns
Florals: The Joy Company