Quentin and Huan's Chicago wedding will inspire you to think small with your own wedding. The couple, along with six close friends, spent the day exploring downtown Chicago before tying the knot at the City Hall.
The couple's wedding attire was fabulous! The bride wore a blush fabricator and a beautiful dress from Adrianna Papell. The groom wore a dapper wine colored suit, paired with a floral bow tie, pocket square and bout.
Thanks to Nicole Jansma Photography for capturing this unique and colorful wedding.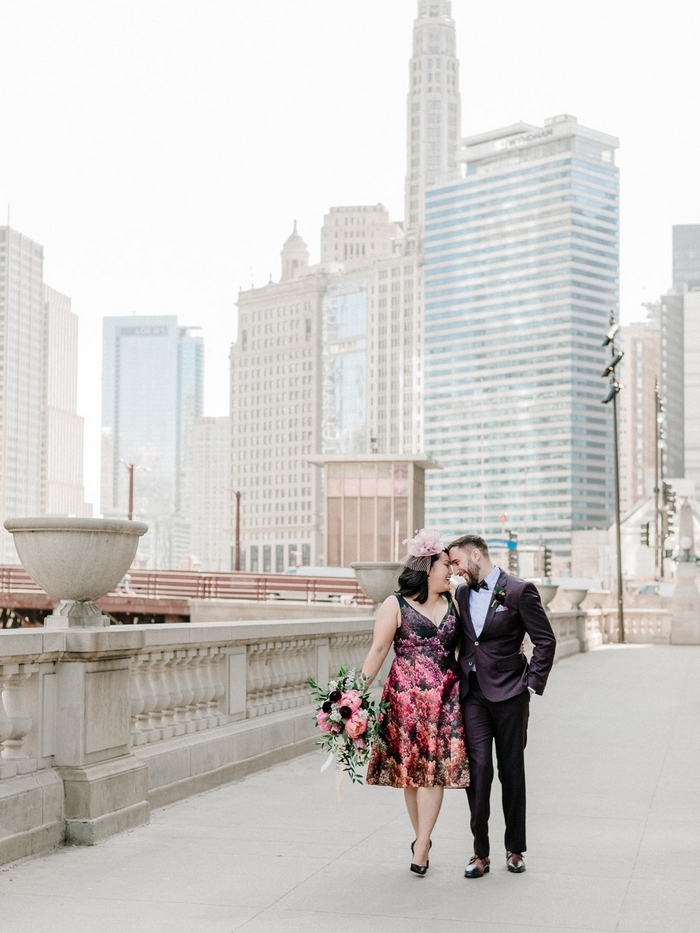 Huan & Quentin 

Location: Chicago, IL

Wedding Date: April 30, 2018

Number of Guests: 6

Wedding Ceremony Location: Chicago City Hall

Wedding Reception Location: Cochon Volant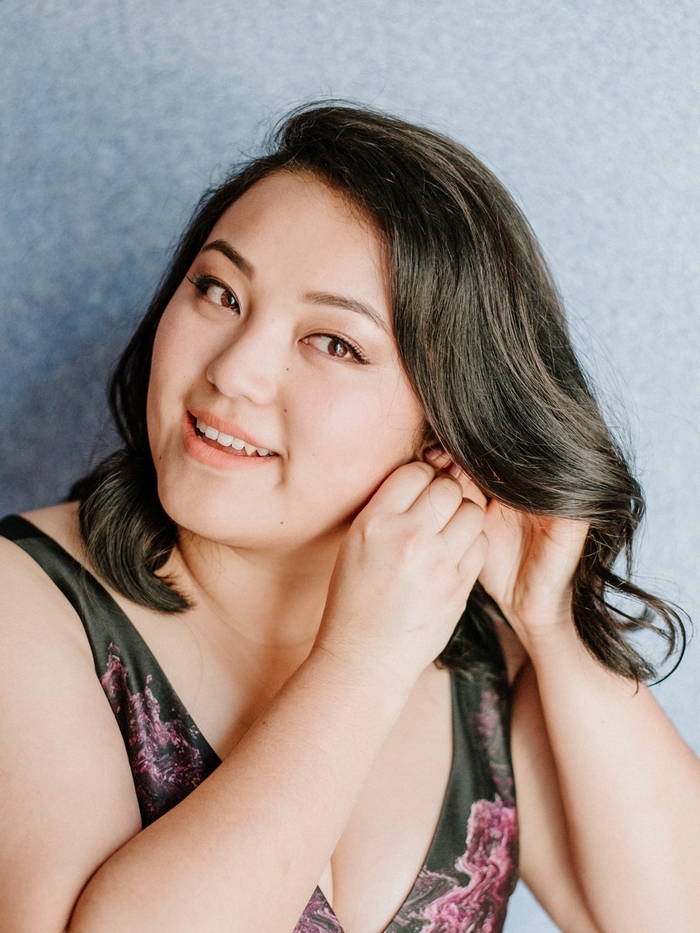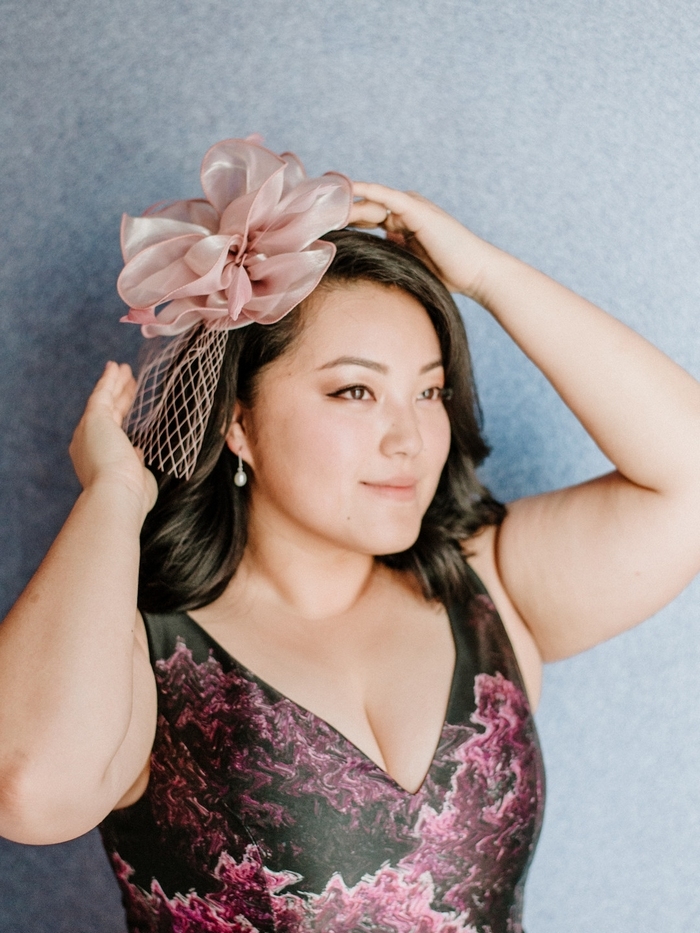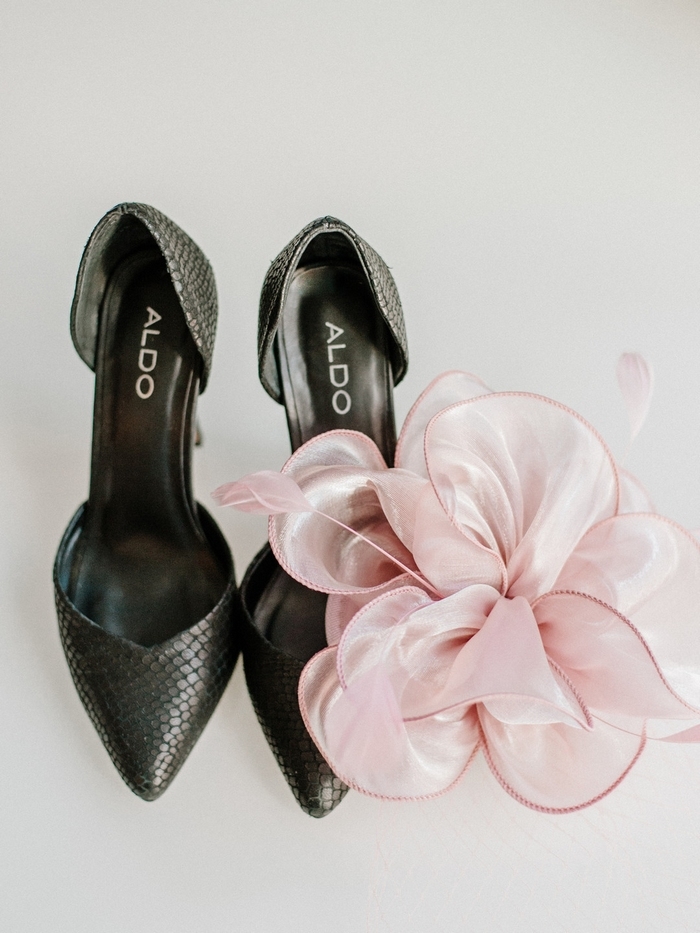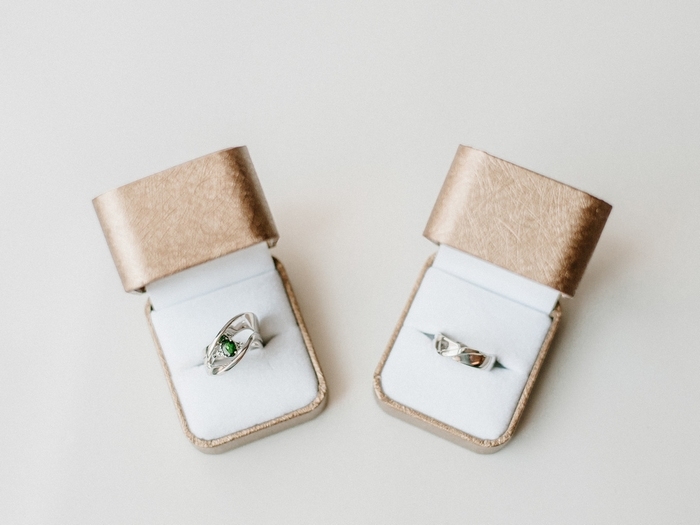 Why did you have an intimate wedding? 
For us it was both a desire and a practical consideration. We really liked the romanticism of eloping, and having this moment "just for us", although I don't think either of us had a really clear picture in our head. For me, it was like sharing a harmless secret: it's something that brings us closer together, that only we can share. On a more practical note, we have family and friends in the US and Europe and bringing them all somewhere would have taken a lot of time and planning, and we didn't want to wait a year or more before getting married!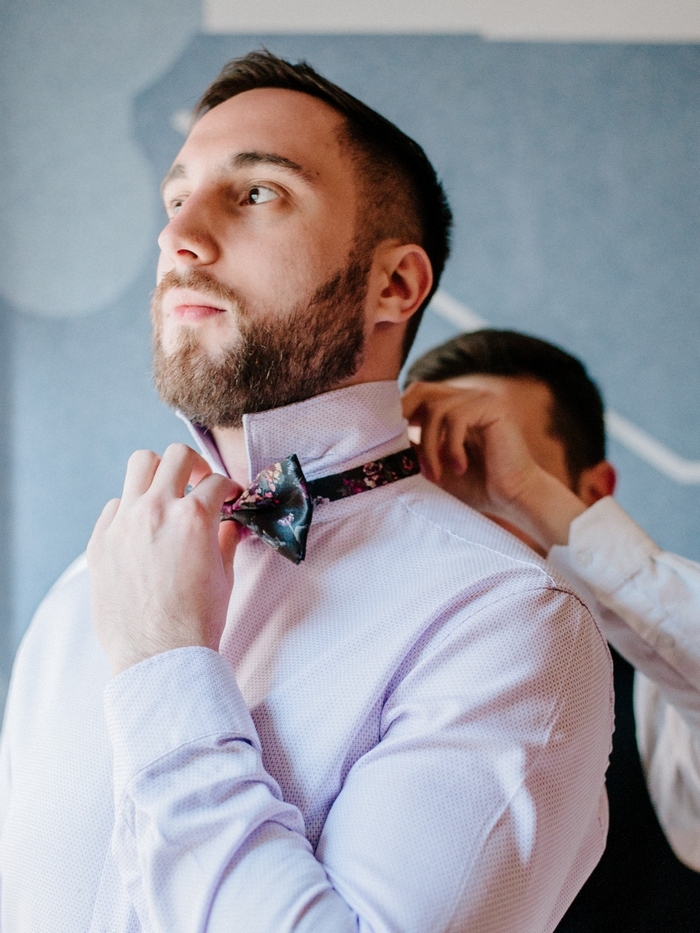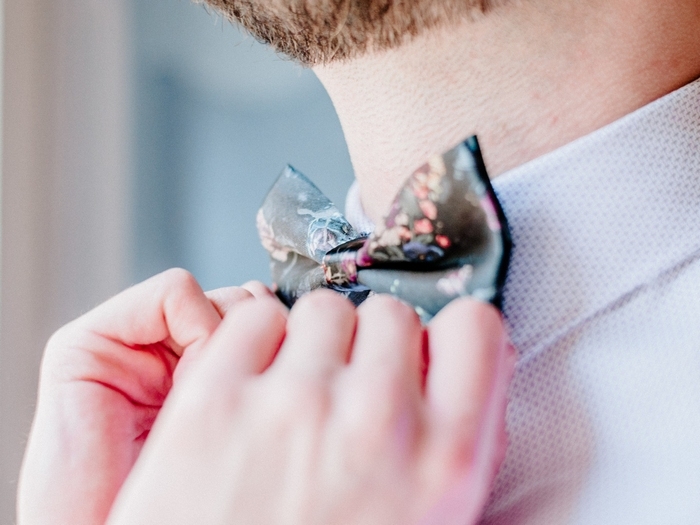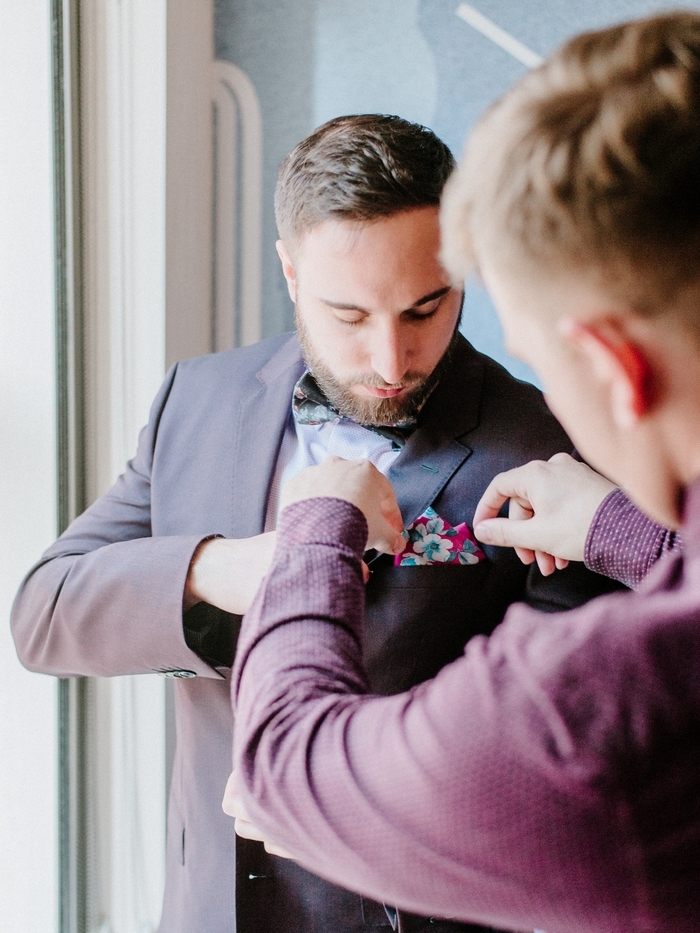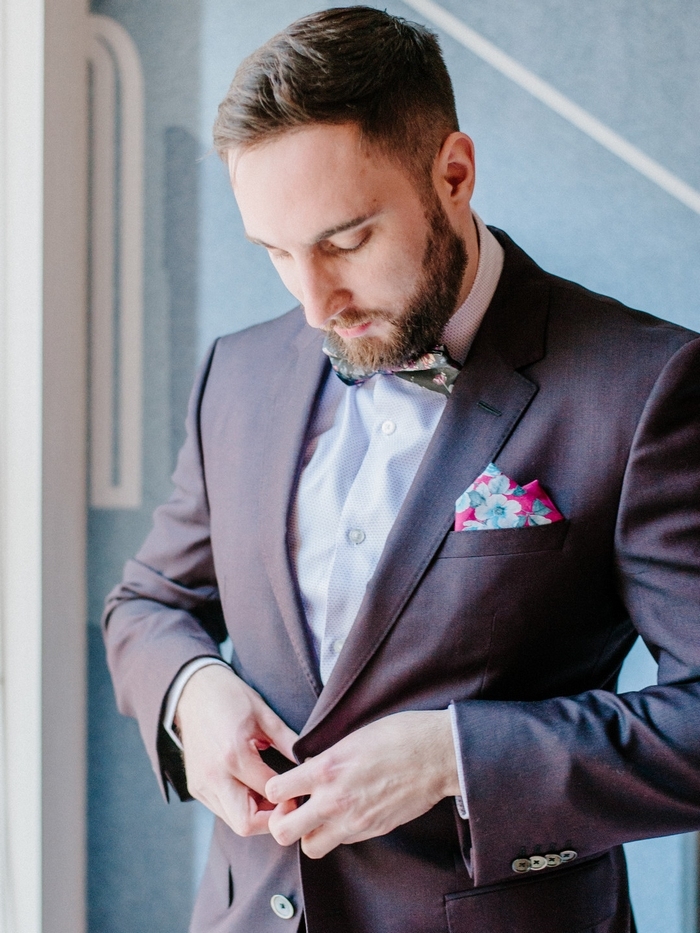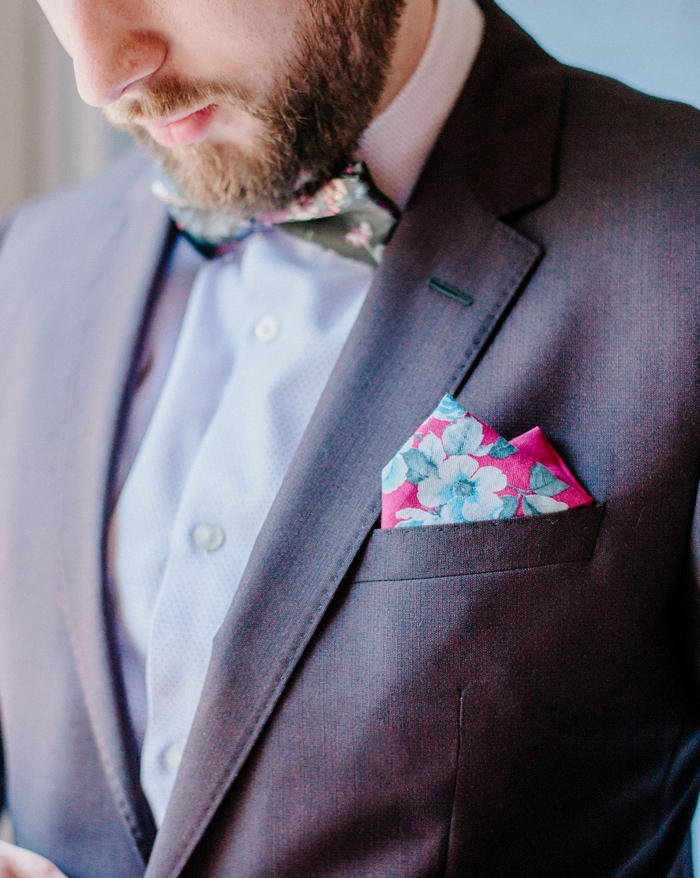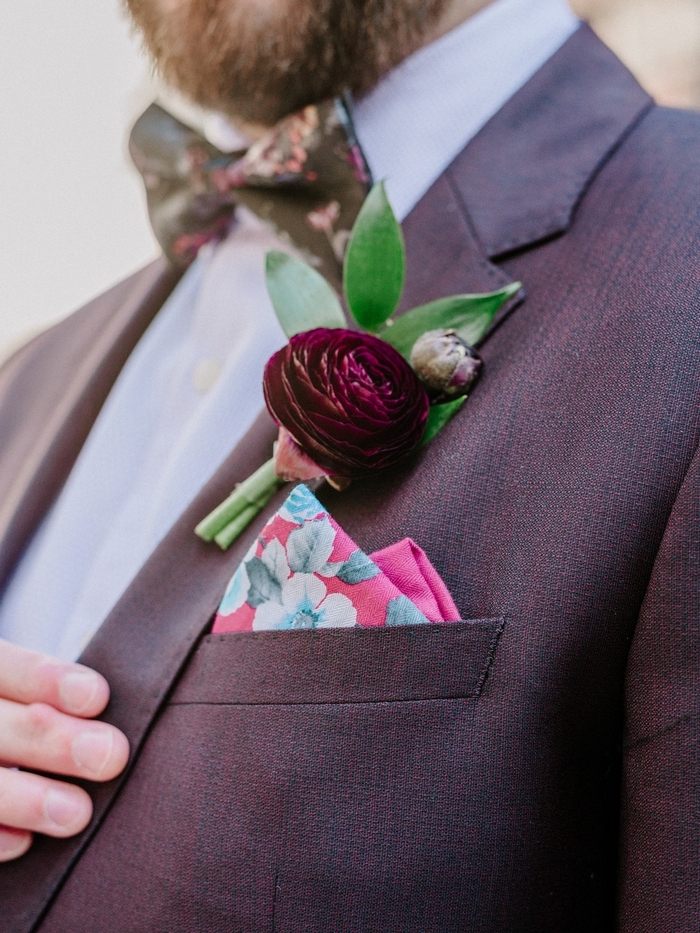 What are some the challenges that you faced planning an intimate wedding?
 Although there are many resources available for wedding planning, the fact is the vast majority of them are only concerned with very traditional styles of weddings: 200 people, the white dress, the flower girls… So for us it was quite complicated to find good advice for a more low-key event. I remember looking up a forum where someone was asking how to organize a small wedding, but when reading their message, their definition of "small" meant "about 120 people"! Including the bride and groom, our wedding was only 8 people. 
Figuring out the budget was also complicated: you can't easily take a budget meant for 100 people and simply divide it for the number of people you expect. Venues, food, hotels, these things add up differently. So instead of determining a strict budget, we took things one at a time and just made sure that we could afford it. If you are planning an intimate wedding where you are planning to split costs with friends, especially friends from abroad with different currencies, we highly recommend using an app called Splitwise, which tallied what everyone owed each other and completed the international transactions with Transferwise, which has low international fees.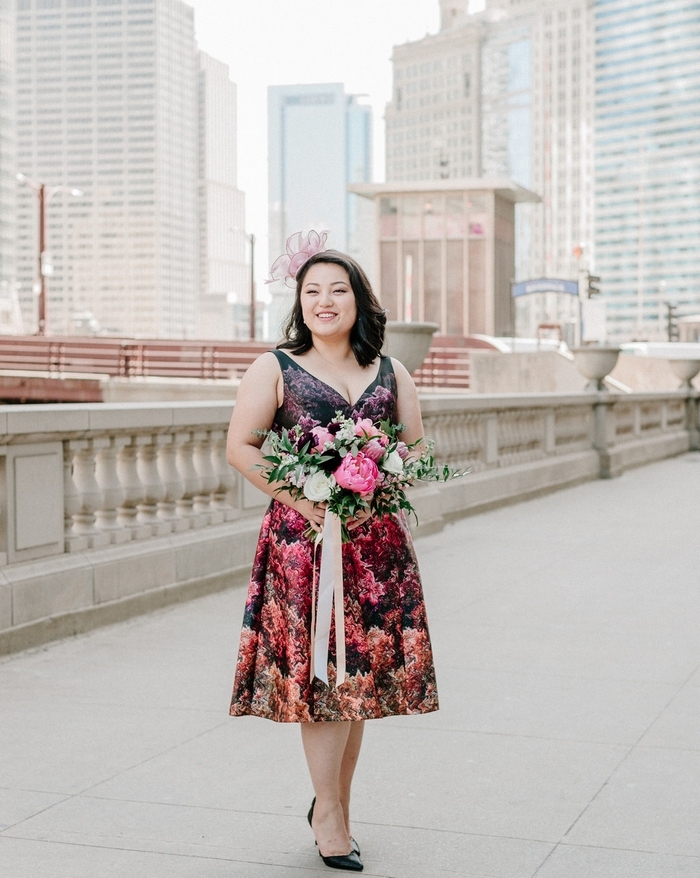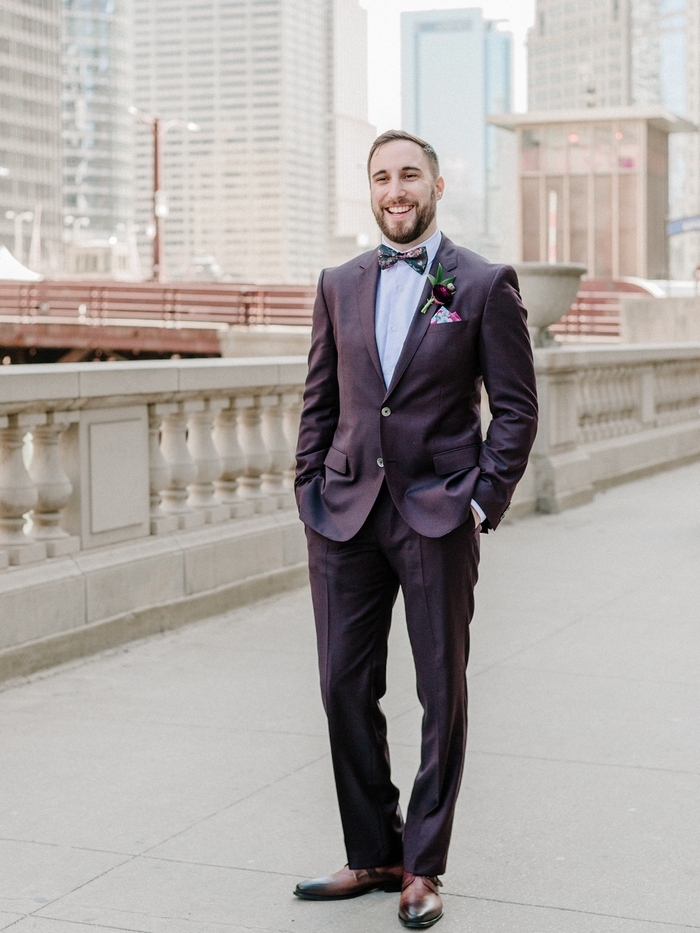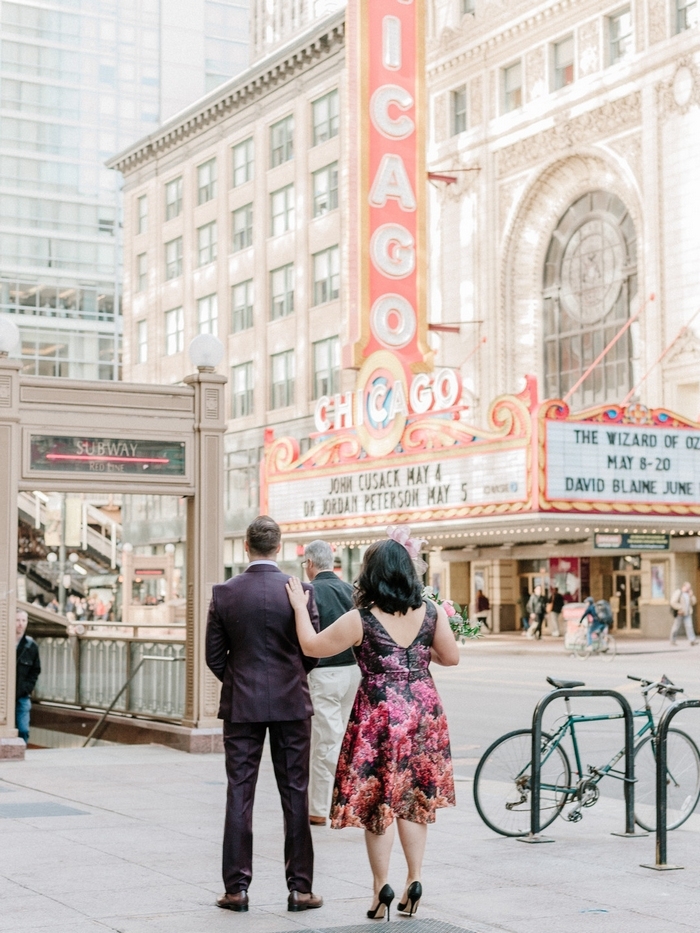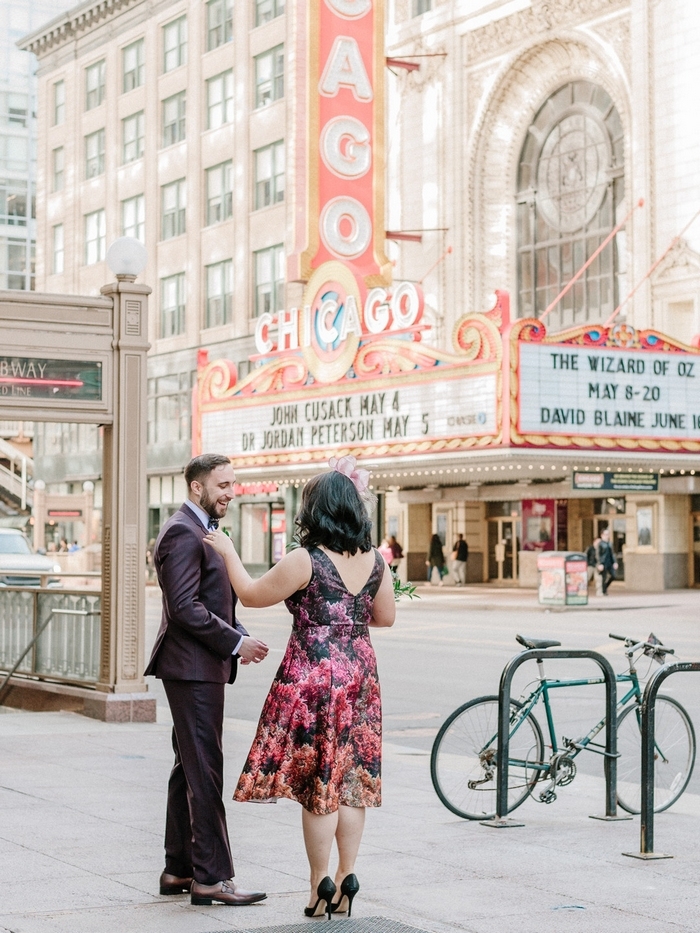 Was it difficult to pare down the guest list? 
Not really. Instead of starting with a list of everyone and "whittling down", we went the other way around: let's imagine it's just us, who would (or could) we *add*? It so happens that three close friends were visiting from the UK at a convenient time and we just thought "why not?". We ended up adding three more close friends (one from the US, two from France) to "represent" our respective home countries.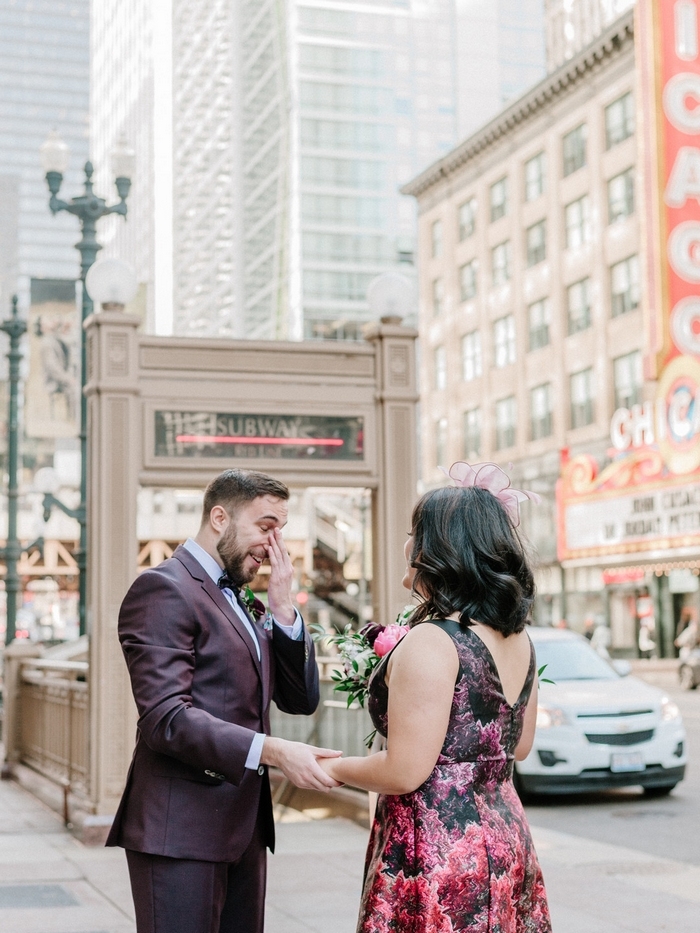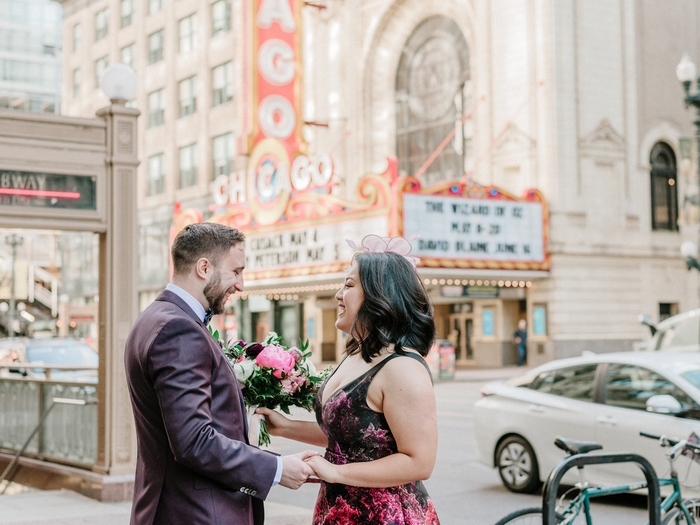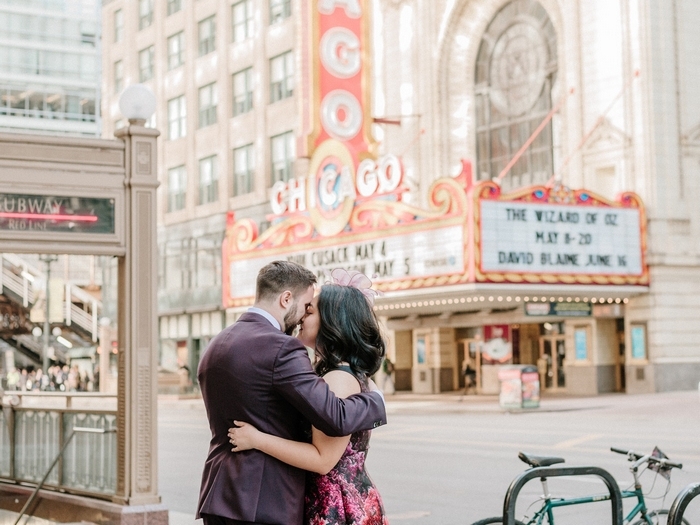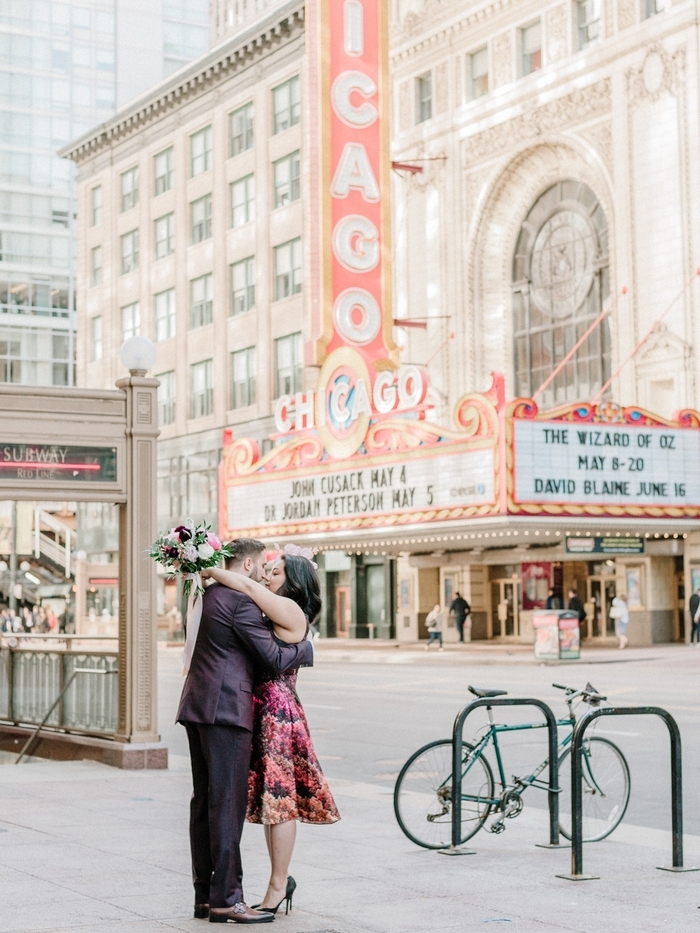 Did you have any 'issues' with the small guest list from friends and family? If so, how did you address them?
I had no major issues, as most of my friends and family have seen me traveling and moving countries for the past 6 years. The only friend who objected didn't object to the small wedding but was hurt that I hadn't told him earlier (I thought he was still being deployed, turns out he was back home). I've actually had friends who told me "don't worry about us when you organize your wedding, it's what you want that's important", which was very encouraging. Huan's family was actually the ones who encouraged us to go with a small wedding since her parents also had a very intimate wedding in China.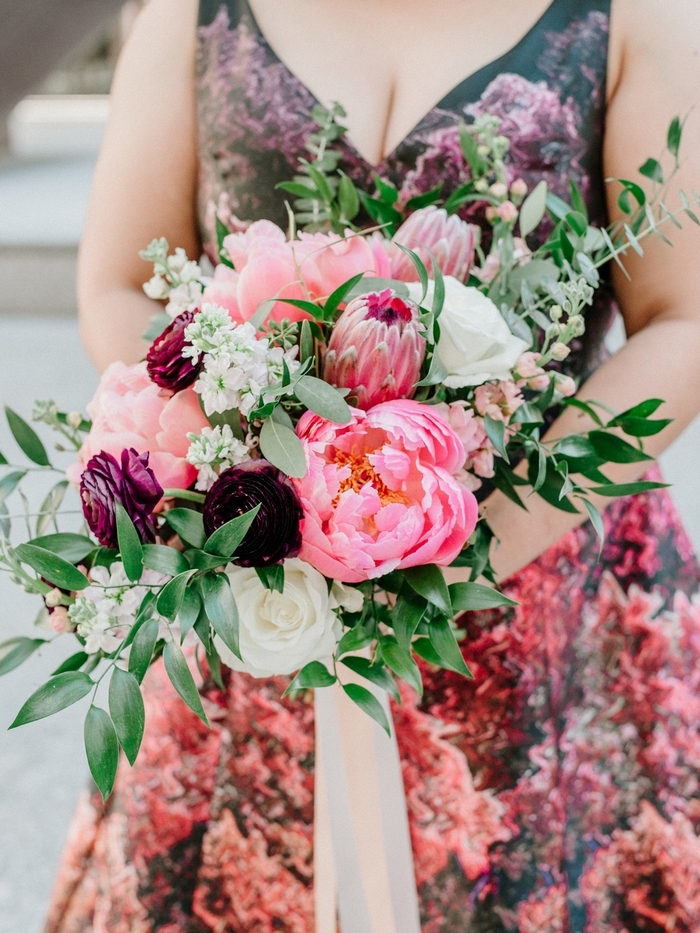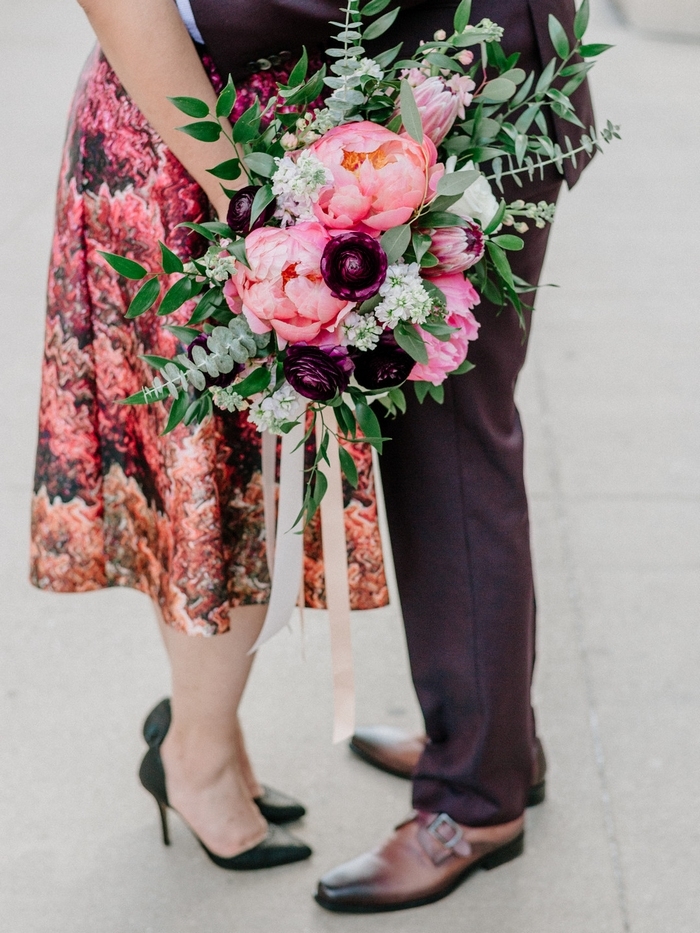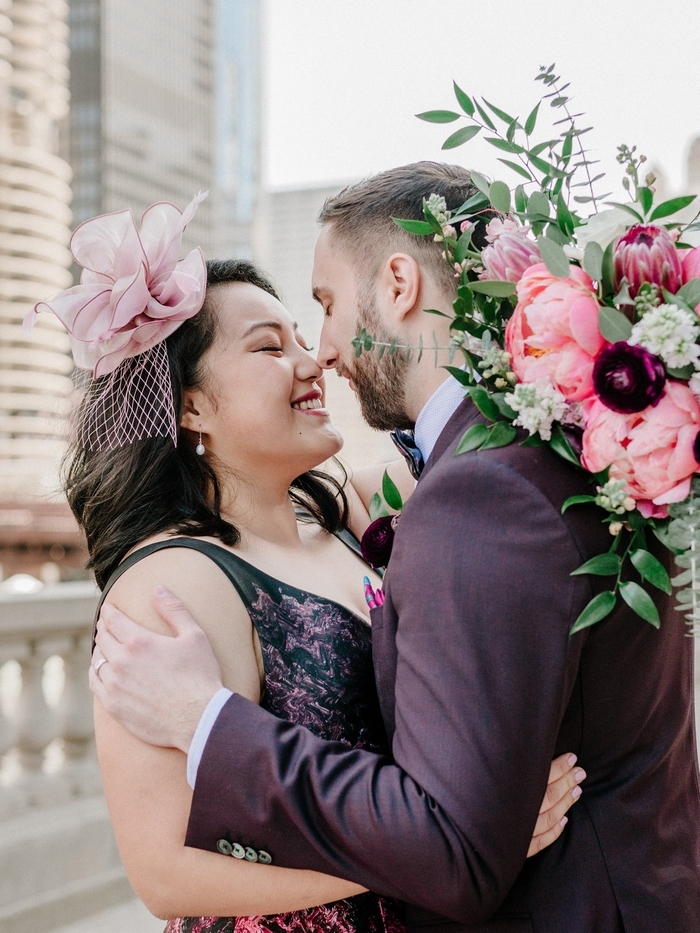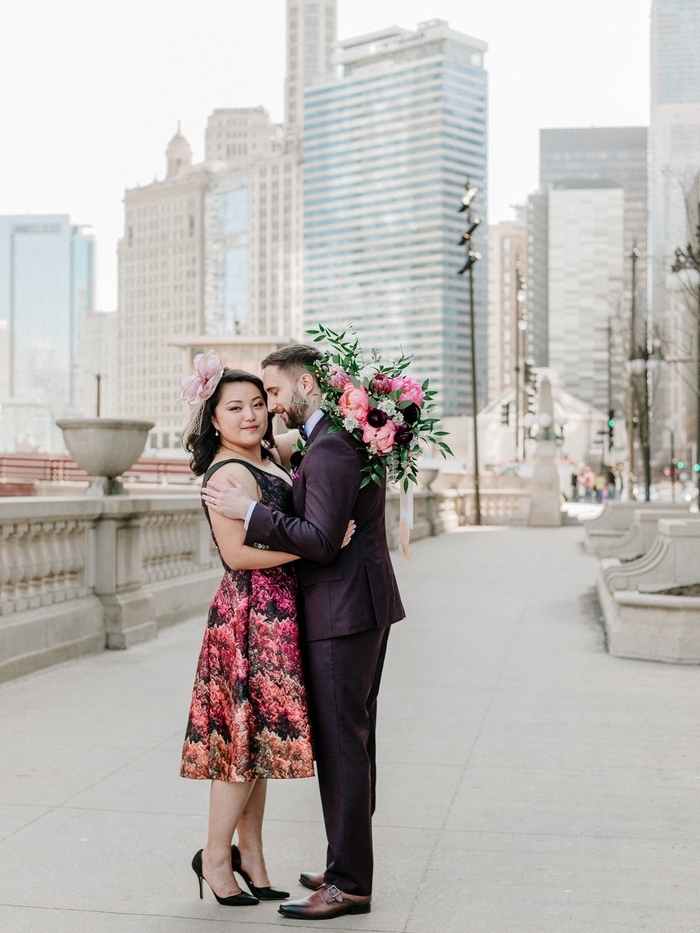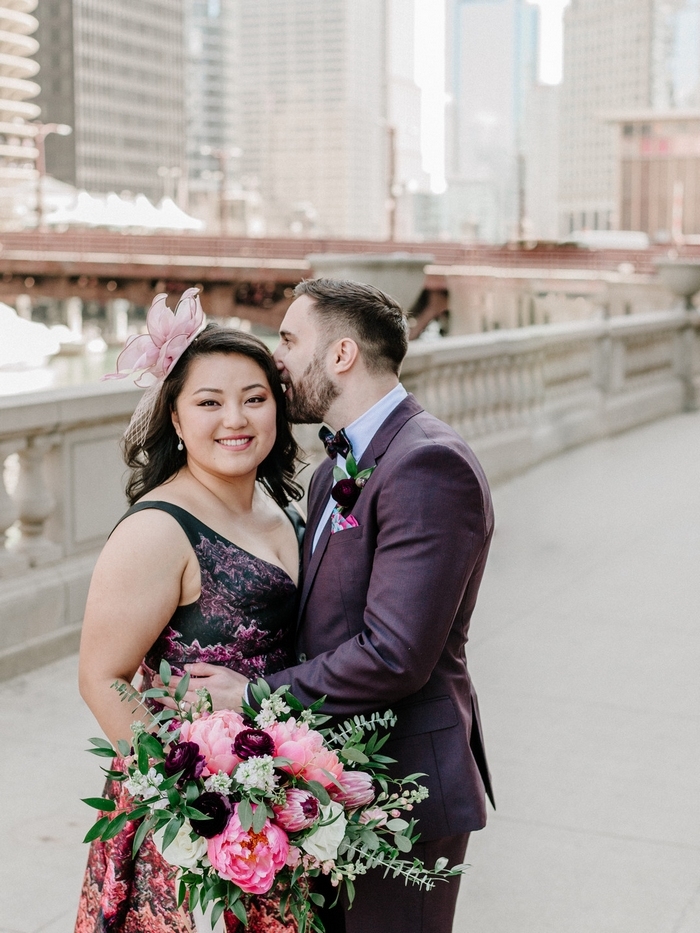 What were the highlights of the day (since ceremony and reception weren't traditional, they answered with what the highlights of the whole day were for them)?
For me it was definitely our first look – I didn't know about this tradition and I'm very glad Huan insisted upon it. And then later, when we were taking pictures by the river, a construction worker saw Huan and starting singing for her! It was such a sweet and enchanting moment. Beyond that, I still can't believe everything went without a hitch! We definitely have Nicole to thank for that, the schedule she prepared was perfect and played a big role in helping all these stars align.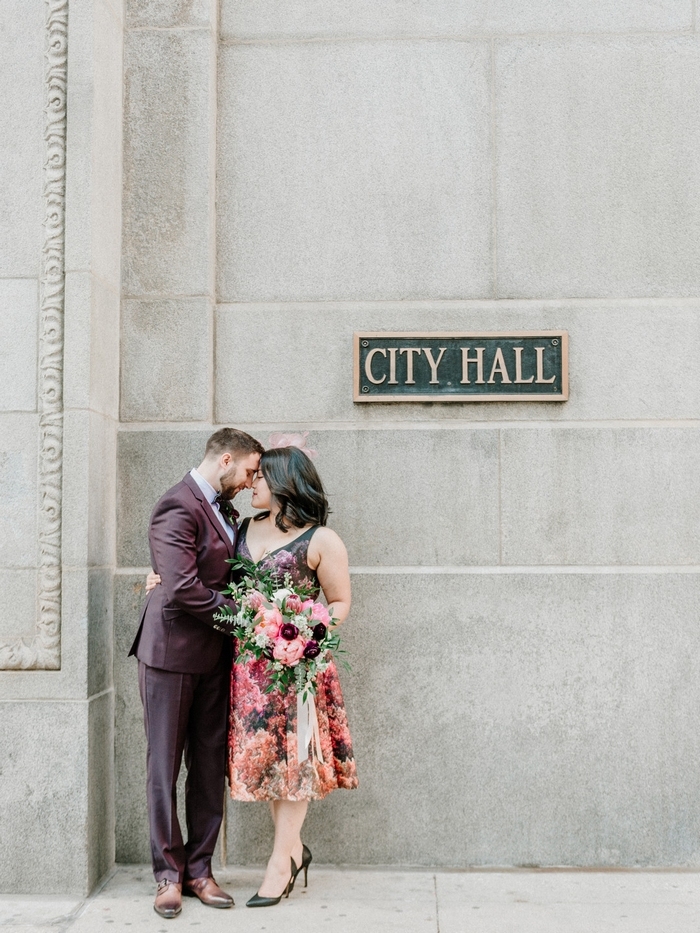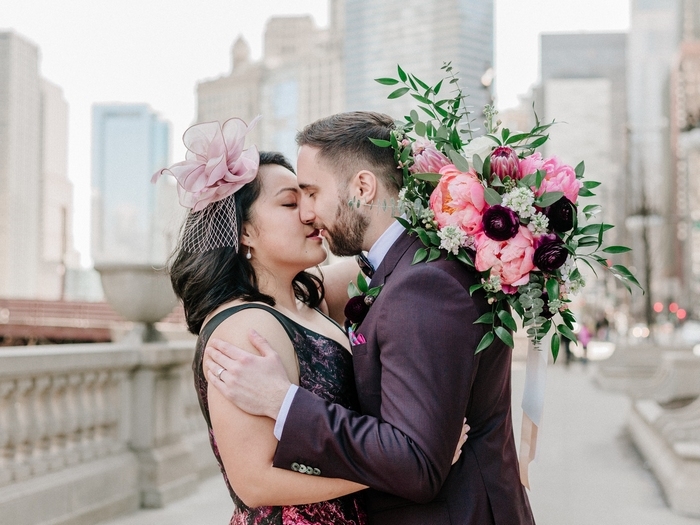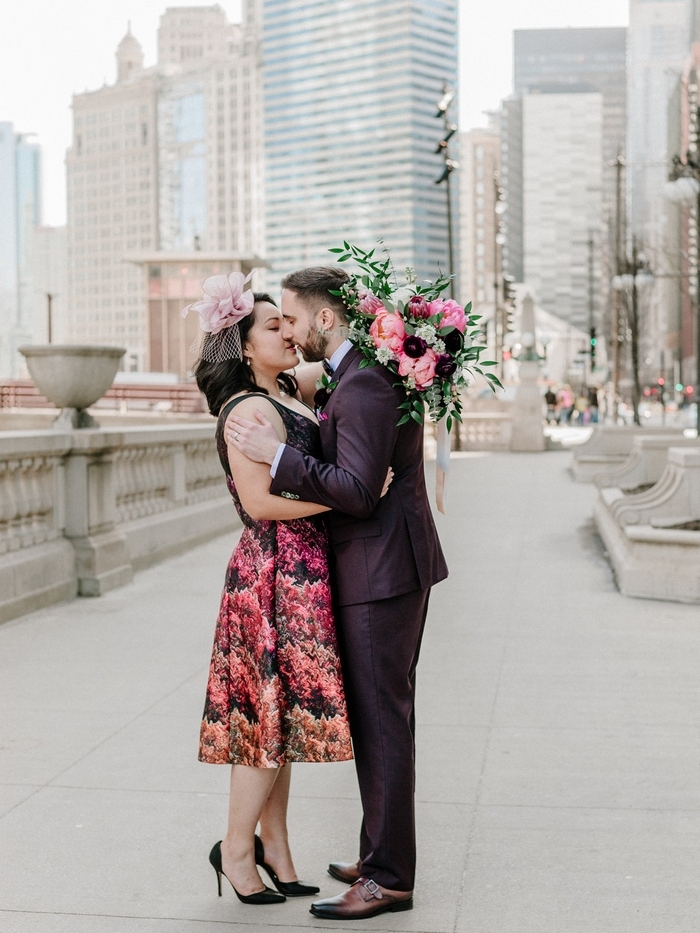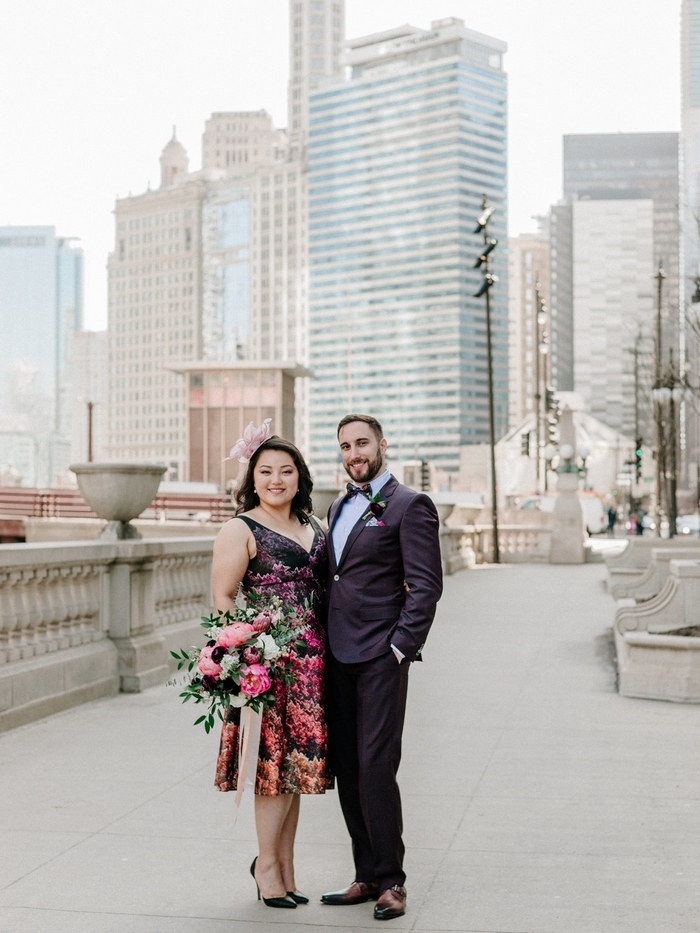 What was the best thing about having an intimate wedding?
I think for me, it's that due to the small scale, I wasn't as stressed or preoccupied as I would have been with a large wedding. Thanks to that, I was able to really be "in the moment", and enjoy it for the declaration of love that it is. I could admire my wife without having catering issues at the back of my mind! As I said above, I also really love having this ceremony as a sort of "secret" with my wife. Even if we organize a larger reception later and it's a total disaster, we'll still have these moments just the two of us (plus a couple friends!) and no one can take that away from us. Having a smaller wedding means that we can really take time and energy into making sure the small details are perfect. Every choice was very deliberate and represented parts of who we are individually and our story as a couple.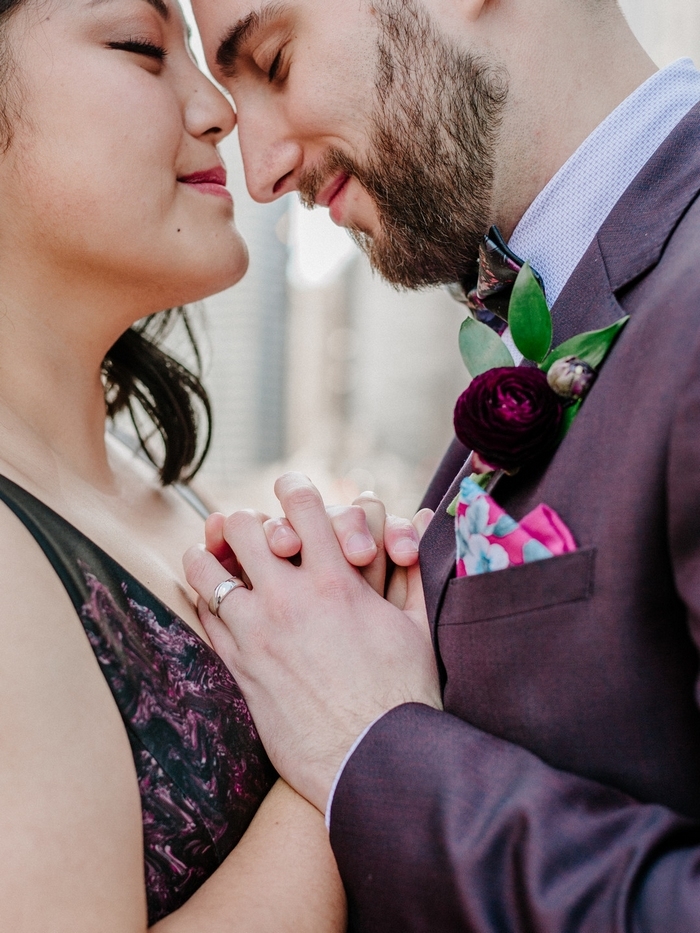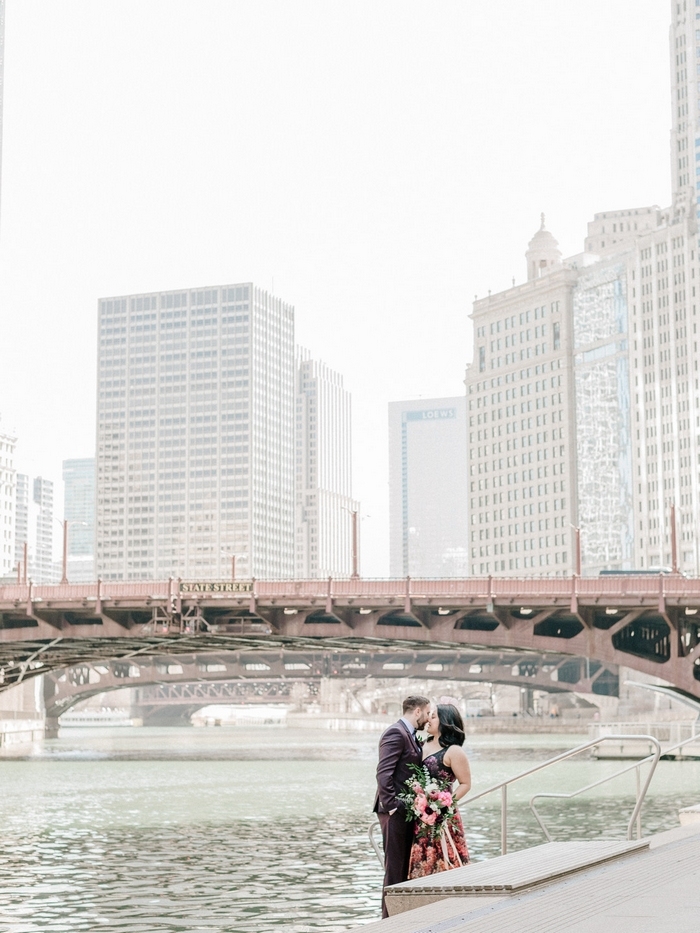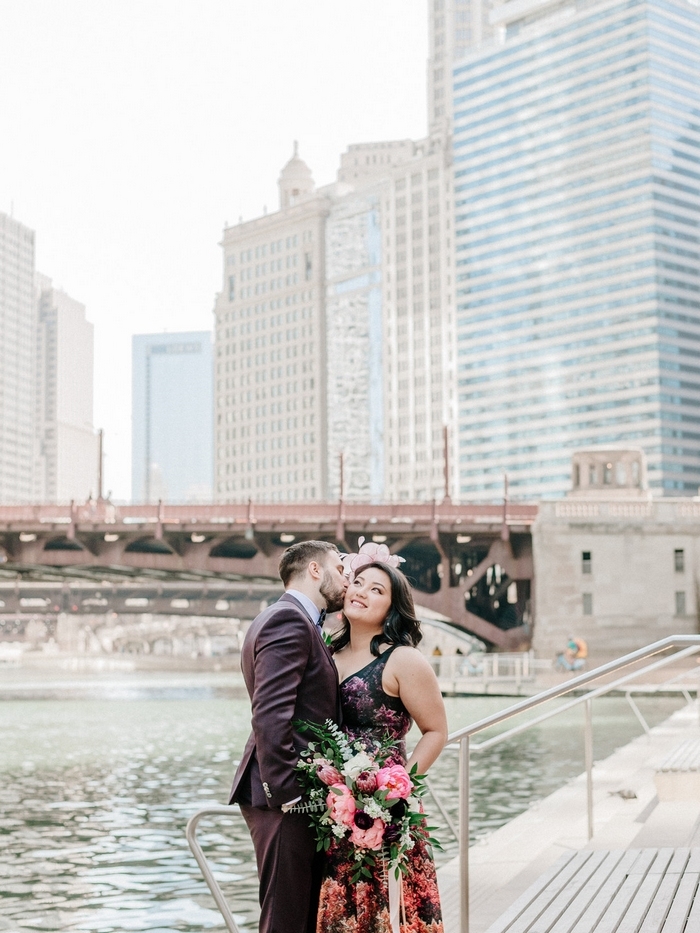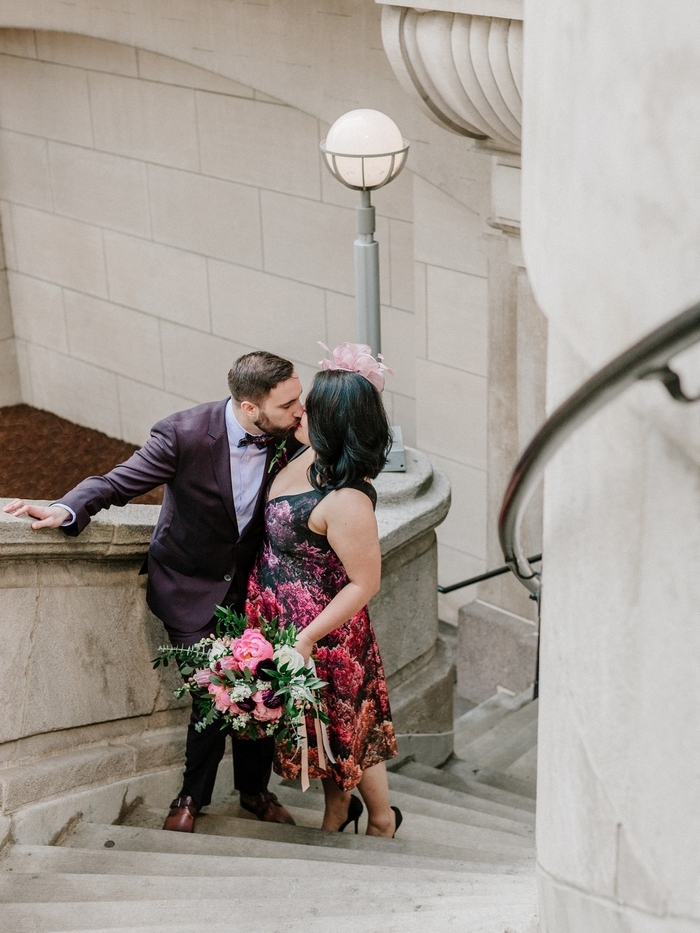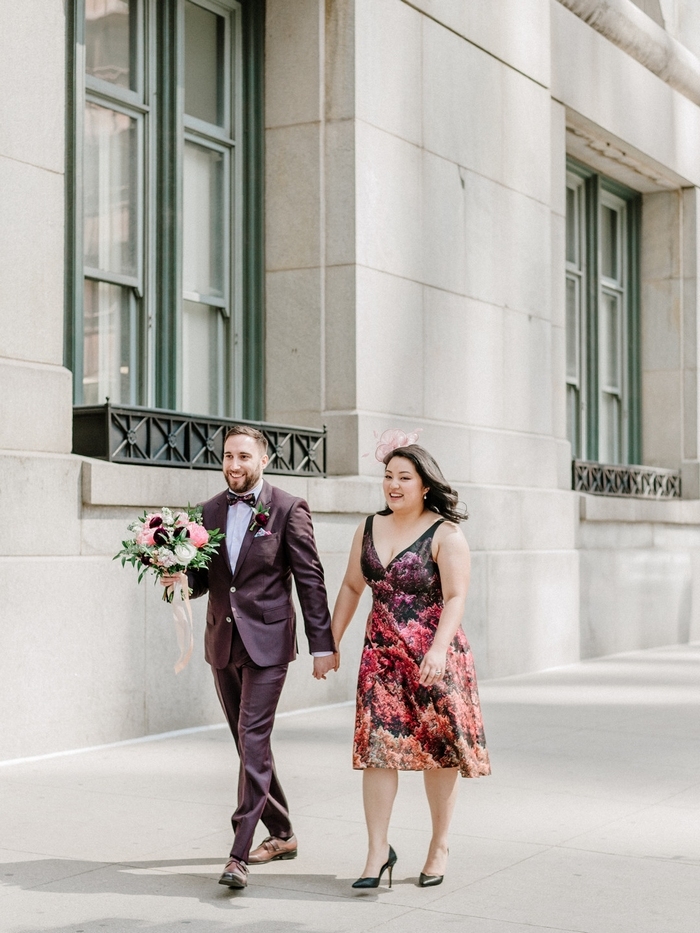 What advice do you have for couples who are considering an intimate wedding? 
Make sure that an intimate wedding is right for you. Intimate weddings tend to be cheaper and more practical but you shouldn't throw one if you've always dreamed of having your whole family here. If a small ceremony is indeed what you want, I would say what helped us is to have a few set, no-compromise decisions (we wanted colorful outfits, we wanted a French meal), and build the rest of the wedding from there. Of course, that assumes you're ready to compromise on some things, so I would also advise to make sure you and your partner already have a healthy way of communicating. There is zero chance that you and your partner's dream wedding is exactly the same, so listening, understanding and compromising goes a very long way. Another important consideration when you are having a small wedding is how much you may want to share on your social media channels and how much you are comfortable with your friends who are attending to share. Since we do want to preserve a sense of intimacy, we chose not to document and post every part of the wedding and just shared a few select images publicly.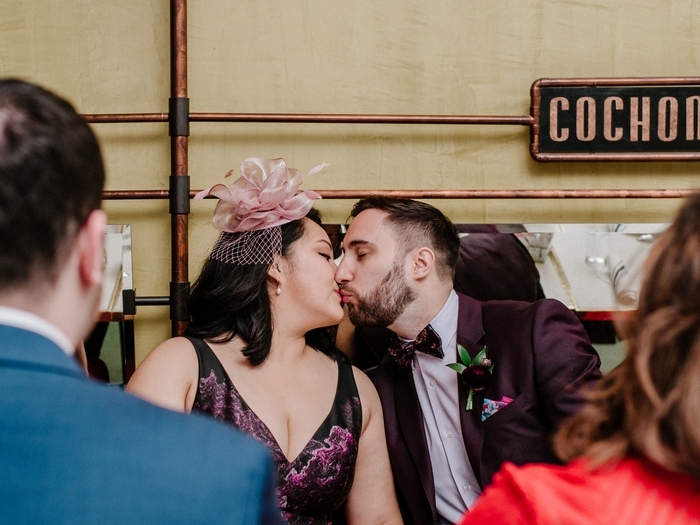 Vendors:
Photographer: Nicole Jansma Photography
Venue: Chicago City Hall
Floral Designer: Jackson Floral Design
Reception Venue: Downtown Chicago
Dress Designer: Adrianna Papell
Suit: Hugo Boss from Lord & Taylor
Groom Shoes: Michael Nolan from The Dapper Club
Bow Tie: ASOS
Belt, Socks, Pocket Square: Macy's
Bride Shoes: Aldo
Hotel: Cambria Hotel
Restaurant: Cochon Volant