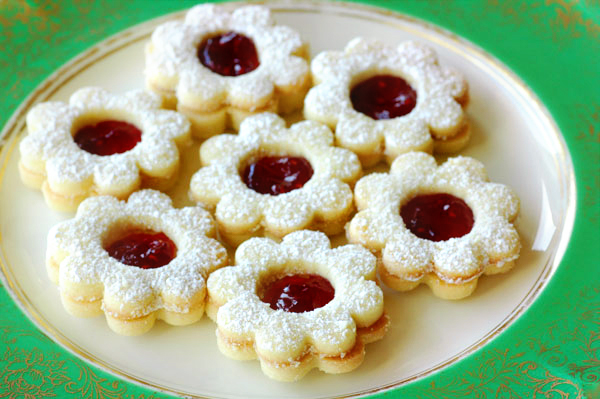 Raspberry Linzer cookies are some of the prettiest cookies around. Every year around the holidays I see them in magazines and online and I always tell myself I'm going to give them a try.
Well, this year I finally got around it. I found a well-reviewed recipe over at Allrecipes.com and I gave it whirl. The result? A new holiday tradition! I can see myself making at least one more batch pre-Christmas.
Raspberry Linzer cookies do require some time and effort – but they are so worth it! (I only wish I had some of my organic homemade raspberry jam left to fill them with.)
They would make superb wedding favors! They'd also be a lovely addition to your cookie table.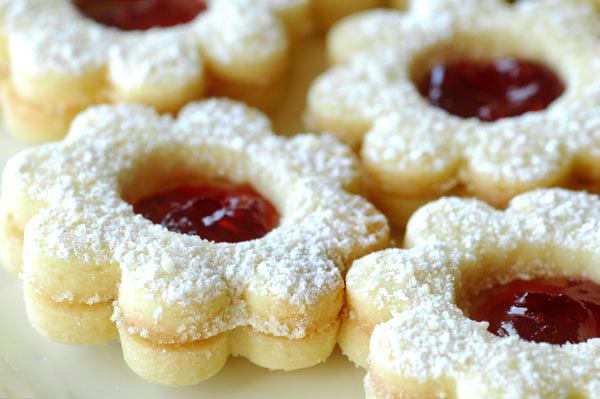 Here is the recipe and tutorial for Raspberry Linzer cookies:
Ingredients:
1 cup butter, softened
1  cup white sugar, divided
2 eggs, separated
2 1/2 cups all-purpose flour
1/4 teaspoon salt
confectioners' sugar
1/3 cup ground almonds
1/2  cup raspberry preserves
In a large mixing bowl, cream butter.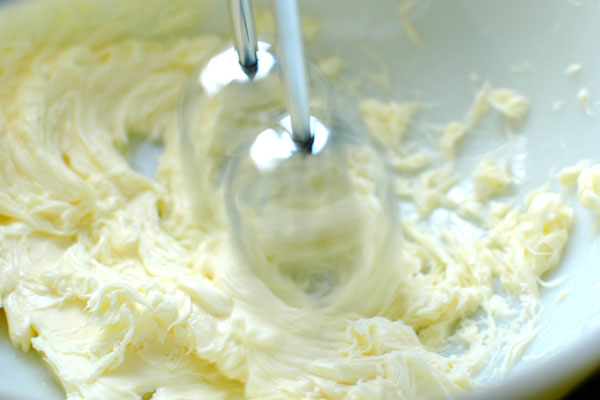 Gradually add 2/3 cup white sugar, beating until light and fluffy.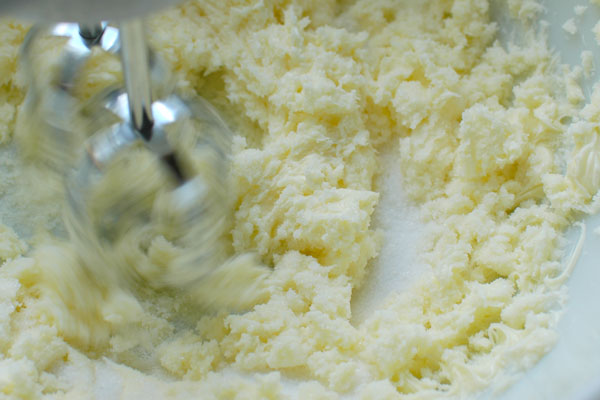 Add egg yolks, one at a time (keep the egg whites for later), beating well after each addition. Combine flour and salt; gradually add to creamed mixture and mix well. Shape dough into a ball; cover and refrigerate for 30-45 minutes or until firm.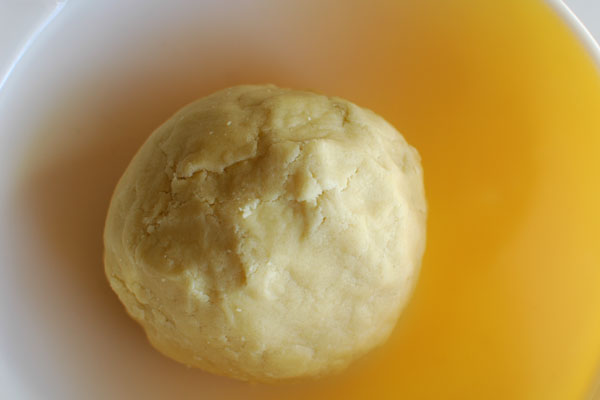 On a surface dusted with confectioners' sugar, roll half of the dough to 1/8-in. thickness (I made some of my 1/4 in for extra thick cookies). Note: When the dough first comes out of the fridge it might seem a bit hard and crumbly when you roll it. Don't freak out like I did!!! It will become less crumbly as you work with it.
Cut with a cookie cutter of your choice.
Repeat with remaining dough, then place hole in center of each piece. (I used a vintage butter pat maker.)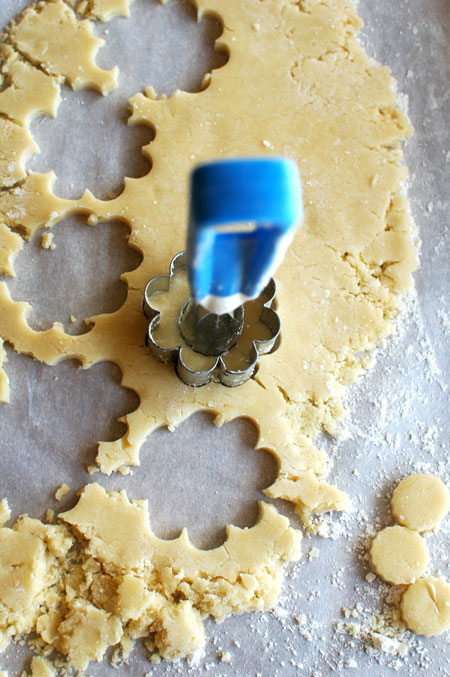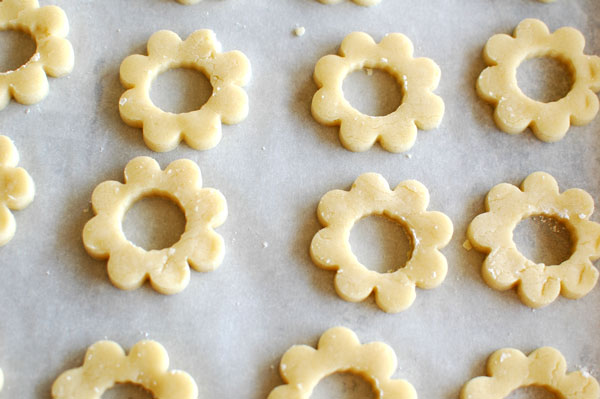 Beat egg whites until frothy.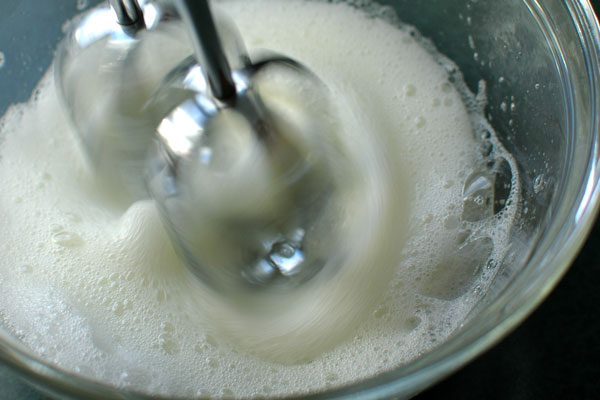 Brush each cookie (even the ones with the holes) with egg white.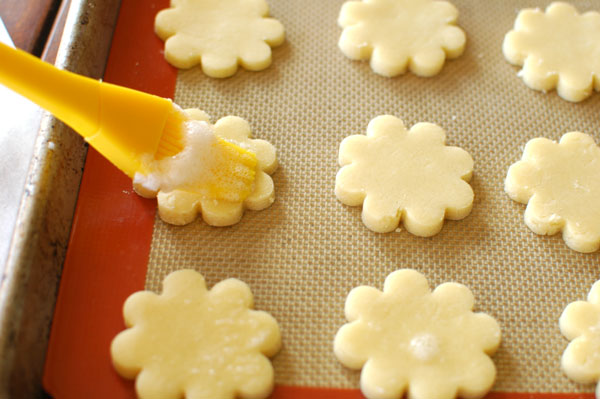 Combine almonds and remaining sugar. Sprinkle all cookies with the almond mixture.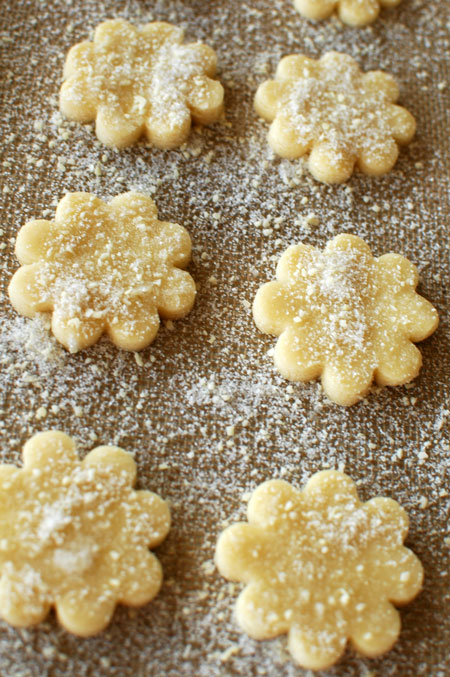 Place on greased baking sheets (I put mine on Silpat). Bake at 350 degrees F for 6-8 minutes or until lightly browned. Remove to wire racks to cool completely.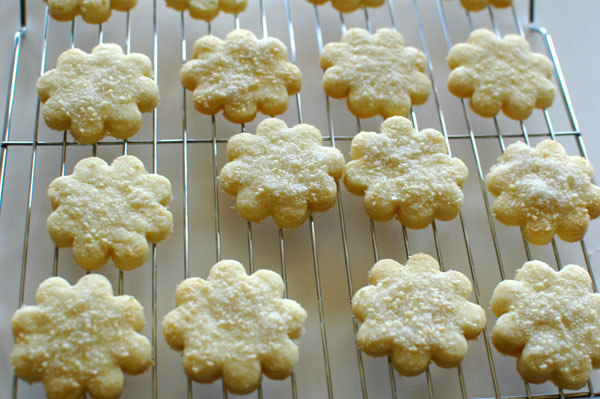 Spread raspberry preserves over the middle of the plain side of solid cookies. Don't go all the way to the edges or the jam will ooze out the sides. (This happened to me on the first few, but I gladly devoured the evidence.)
Sprinkle icing sugar on cookies with centers cut out. I used a sifter.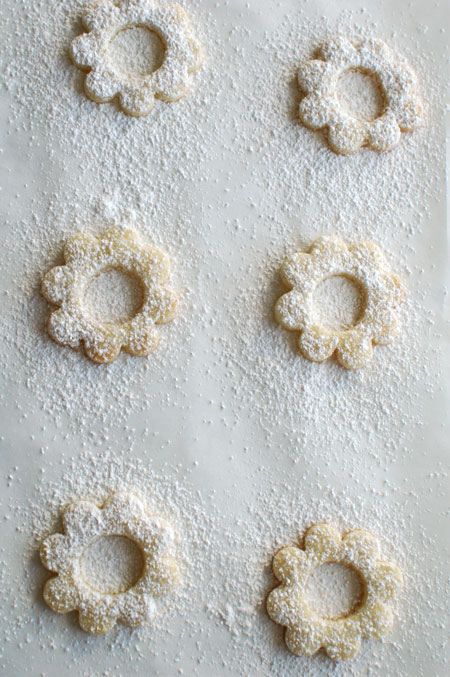 Place cookies with centers cut out, almond side up, on top of the preserves, making a sandwich.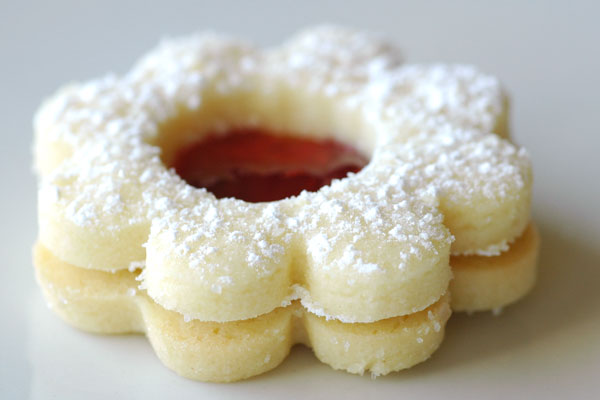 Enjoy your gorgeous Raspberry Linzer cookies! (Don't forget to save some for the holidays!)