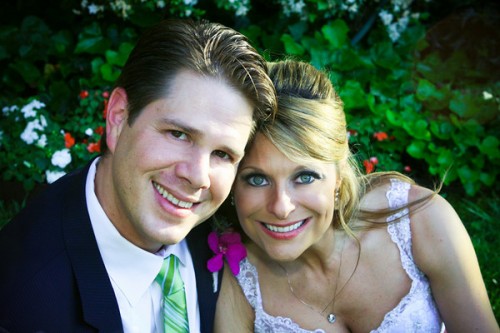 Marni, 35 & Adan, 36
Dallas, Texas
Wedding Date: April 19, 2008
Number of Guests: 50
Wedding Cost: $5,800
Wedding Ceremony Location: Backyard of the maid of honor's mother
Wedding Reception Location: Maid of honor's house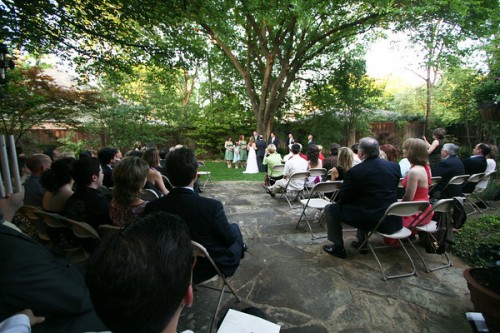 Why did you have an intimate wedding?
We wanted something sentimental, classy, charming and casual. Budget was also a large factor because we were funding the event.
What are some the challenges that you faced planning an intimate wedding?
Finding locations that fit within budget and availability. We were lucky to have my best friend's mom offer up her backyard and house for the ceremony.
Timing of events and who would be handling things like reception set-up, wedding location break down, music, etc. Everything worked out perfect for our backyard wedding in the end, but had to make sure to pay attention to the little details when planning.
Was it difficult to pare down the guest list?
Yes, it was difficult to not be able to invite everyone we knew.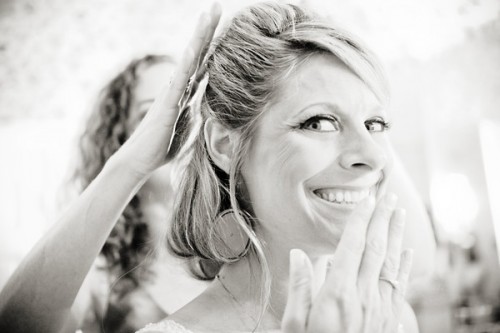 Did you have any 'issues' with the small guest list from friends and family? If so, how did you address them?
There were some difficult conversations around why some people were invited and not others. Ultimately, we kept the list to family and close friends – not just casual friends. We found that sharing our decision to have a small, intimate wedding with limited seating was well received by mostly everyone. Explaining the limitations of the location (since it was at a friend's house and not a paid location) helped keep people who were not invited from feeling left out.
What were the highlights of the ceremony?
We had perfect weather for an early evening outdoor garden ceremony – the only weekend in April that it didn't rain! My best friend's husband officated the ceremony. It was very special for me in particular because he has been like a big brother/father to me for over a decade. Getting most of the photography done BEFORE the ceremony was another highlight. This really helped reduce stress because we had time to relax and have fun prior to the wedding. Also, when the ceremony was over we only had to take family and friends' photos and we were able to move from one venue to the next within an hour.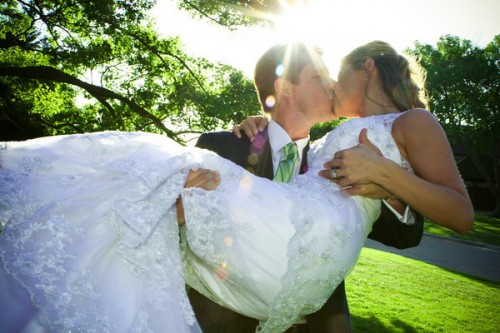 What were the highlights of the reception?
My maid of honor made 8-10 gallons of sangria as our wedding present. This helped keep costs down and gave us a wonderful specialty drink. We both were able to have fun and talk to everyone who attended. Everyone was able to relax and enjoy the party. No ties – and shoes were optional!
What was the best thing about having an intimate wedding?
We got to enjoy everyone and every moment. I remember every detail of our day. For a fraction of the price of a large ceremony, we had something that was special and personalized. We had a blast!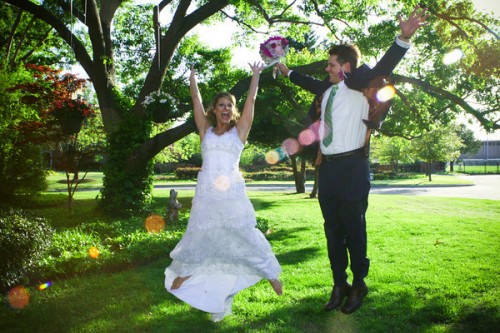 What advice do you have for couples who are considering an intimate wedding?
Prioritize! Find one item that you both are passionate about and splurge on that. For us, it was photography because we knew photos would last a lifetime. We found Lynn's style and approach to fit with our taste and style of how we wanted our day captured. The second thing was food, so we made sure the caterer had a delicious variety items and instead of a sit down dinner, we did heavy appetizers, buffet style. My best advice?  When friends offer help – take them up on it!
View more photos of Adan and Marni's Picture-Perfect Backyard Garden Wedding Here.
Vendors:
Photographer: Lynn Michelle Photography
Catering: TX Chef
Cake:  HVN Creations
Invitations: Wedding Paper Divas
Flowers:  Your Perfect Wedding
Hair: Jim Puttnam
Make up: Erinn Hedrick
Reception decorations: Costco & best girlfriend
Beer and Wine: Costco and Tom Thumb
Wedding DJ: Bride's sister.
Photos: Lynn Michelle Photography