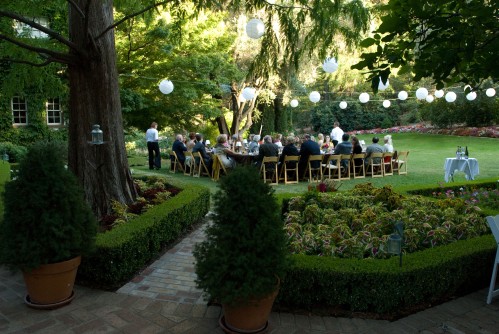 Bonnie, 35 & Kevin, 35
Sylvan Lake Estates in Angwin, CA (Napa, County)
Wedding Date: September 20, 2008
Number of Guests: 36
Wedding Ceremony Location: The ceremony and reception took place in the front gardens of a gorgeous Tudor estate in the hills above Napa Valley.  The home is owned by friends of the groom's parents.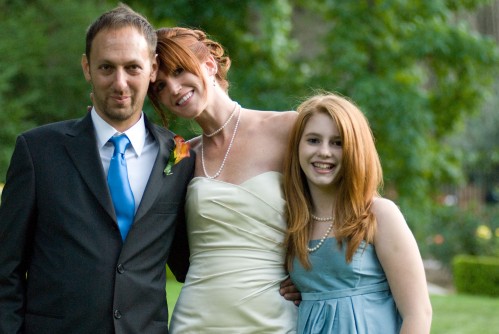 Wedding Reception Location: See above
Why did you have an intimate wedding?
Kevin and I had been dating for nearly eight years, and when we decided to get married we knew that for us, a large elaborate wedding simply wasn't going to do. It didn't fit our personalities.  We contemplated exchanging vows on a glacier in Iceland, or at a kasbah in Morocco, both places we had visited and loved, but then we realized that what would mean the most to us would be to exchange our vows in front of the people who had loved and supported us throughout our lives.
What are some the challenges that you faced planning an intimate wedding?
The biggest challenge is saying no!  The wedding industry is so geared to large, elaborate, circus type events where you are pressured to do EVERYTHING, and where every little thing has to mean SOMETHING.  You have to be very focused on choosing what is important to you, and sticking to those goals throughout the planning process.  It's so hard when there is so much information on how to do a wedding "right", and right involves about 3,000,000 things that really mean nothing to you, but you're worried about offending someone and about etiquette and you're thinking about your friend's wedding who had the doves, the photo booth. The list is endless.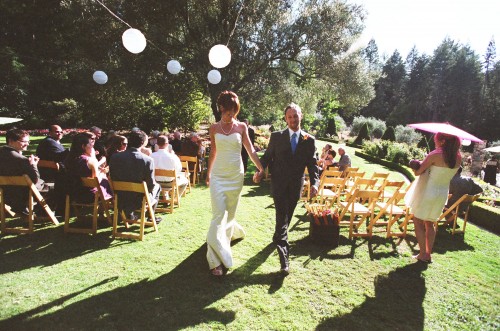 Was it difficult to pare down the guest list?
Not really because we kept going back to our original goal; sharing our wedding day with those people who had loved and supported us throughout our lives.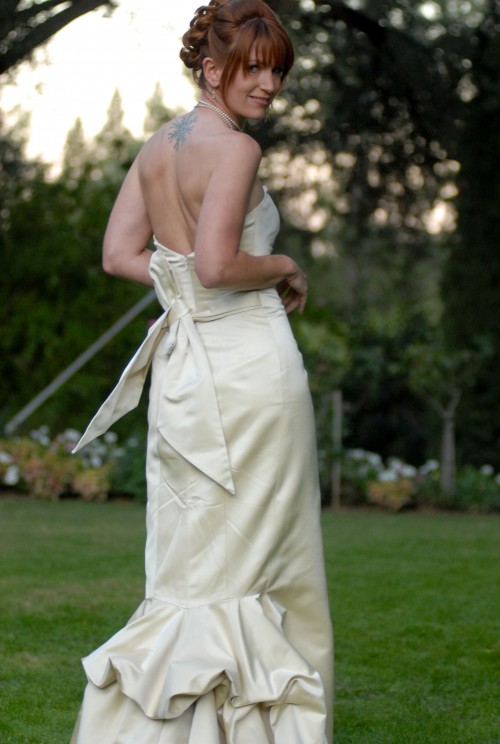 Did you have any 'issues' with the small guest list from friends and family? If so, how did you address them?
Originally our guest list was going to only involve parents from each family, however, my mother – in one of those brilliant 'mother moments', convinced me that it would be lovely to involve immediate family from each side. She was absolutely right.  Not all of them could come due to the distance, but it certainly was the right thing to do in our situation. I can't imagine not having had my aunts and uncles there.
What were the highlights of the ceremony?
So the funniest story involves our vows. Kevin and I come from very different religious backgrounds, and for us organized religion is very much not a part of our lives.  Keeping religion out of the vows was important to both of us, and we emphasized that at length with the Officiant.  However, somehow our customized vows did not make it to the ceremony, and every other sentence involved God, Christ, or the Holy Ghost.  At first, I just raised my eyebrows a little, but then, after the 20th God, Christ and Holy Ghost, we just got the giggles.  So we spent half the ceremony trying very hard not to make each other laugh.
The sweetest part of the ceremony was when my 14-year old daughter walked me down the aisle.  Fourteen is such an emotional age, and she was a bit overcome, and started crying while she was giving me away.  It was so touching and somehow very beautiful.
What were the highlights of the reception?
The most moving moment was our best man Joe's toast … He's as close to a brother as Kevin and I will ever have.  Joe gave such an emotional speech, sharing with everyone just how much he loved us and what an impact we had on his life … It brought everyone to tears.
What was the best thing about having an intimate wedding?
Being able to spend quality time with every guest without feeling rushed.  I was so relaxed and happy, and had the time to relish each and every moment.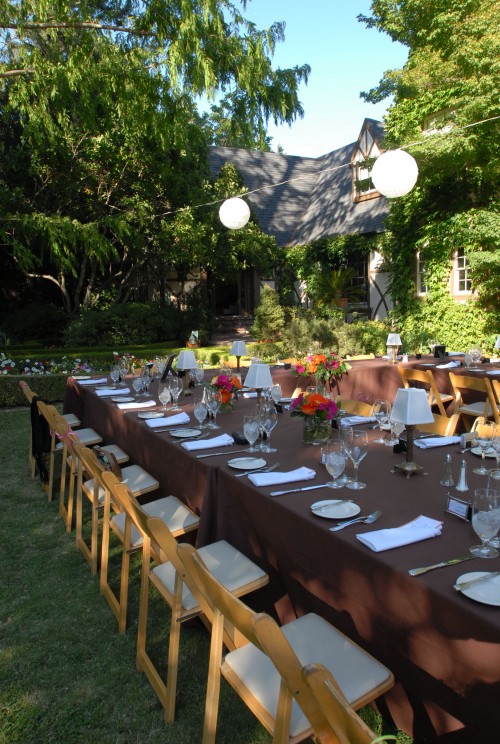 What advice do you have for couples who are considering an intimate wedding?
One bit of advice is that an intimate wedding isn't always an inexpensive wedding, so don't let budget be the only reason you're having an intimate wedding.
Beyond that, remember to be true to yourselves, have fun and remember to breathe!
Vendors:
Caterer: Piper Johnson Catering
Piper Johnson manages events at the estate, and handled all the food and rental items.
Flowers: Flowers by Anne Anne Nounou does a phenomenal job of creating beautiful flower arrangements at a very budget-friendly rate.
Wedding Cake: Sweetie Pies
I still have dreams of this cake – it was THAT good.
Photographer : Susan Adler
Susan is an artist when it comes to photojournalism.  She just has that way of capturing those special moments and making them come alive in the photographs.  There isn't a single photo she took that I'm not in love with.
Dress:  Custom Couture by Amy Kuschel
Amy does "custom couture" gowns for a very reasonable price.  The saddest part of my wedding day was putting away my gown.  I have never felt more gorgeous than I did wearing her design.
Photos: Susan Adler Photography