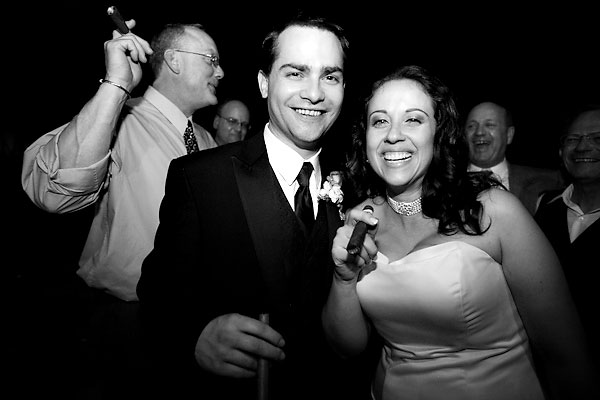 Carrie  33 & Matthew, 27
Raleigh, NC
Wedding Date:  May 2, 2009
Number of Guests:  37
Wedding Cost:  $14,000
Wedding Ceremony Location:  Chateau Bellevie, Fuquay-Varina, NC
Wedding Reception Location:  Chateau Bellevie, Fuquay-Varina, NC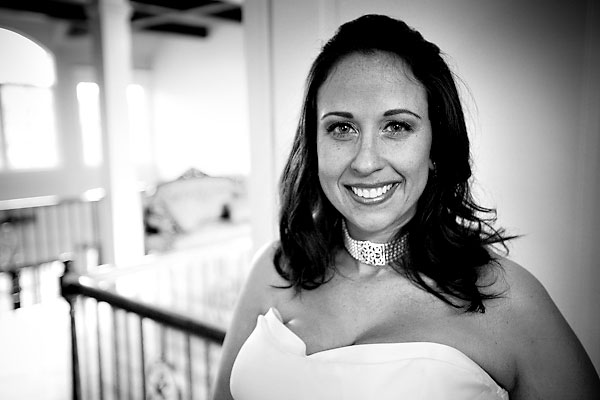 Why did you have an intimate wedding? 
The first decision we had to make about our wedding was where and how many people to invite.  We considered having our wedding in Chicago since that is my hometown and where the majority of my large family resides.  The guest list kept growing and planning a wedding from NC was proving to be difficult.  Although Matthew and I wanted to include everyone in my family, we secretly desired a small, intimate wedding.  While the search continued to find a suitable location in Chicago, Matthew and I were researching locations in North Carolina.  It didn't take long for Matthew and I to find the location we knew in our hearts to be "the one".
As much as we know it is a huge commitment in our lives, there is no reason why we should go into debt over it. That surely would not make a happy husband and wife!  Once we started looking into the cost of having a large wedding, it only added to our decision to downscale everything to make it more intimate and affordable.  Almost everything we did was DIY.  We pretty much purchased everything from Michael's to make the invitations, place cards, thank you cards, programs, centerpieces, and the out of town care packages for guests.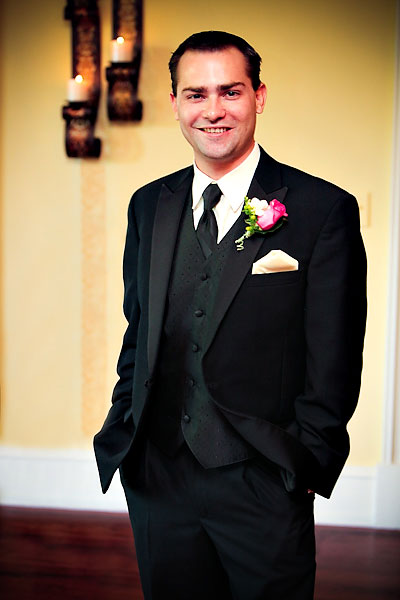 What are some the challenges that you faced planning an intimate wedding?
The first challenge we faced was the location.  After we found the Chateau, we had to make sure the guest list stayed small.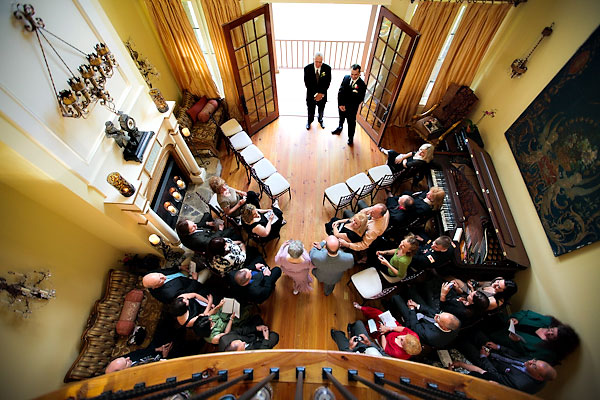 Was it difficult to pare down the guest list?
 Yes!  Even though it was a challenge paring down the guest list, we are happy with our choices.  We felt that we had to keep our guest list small in order for the guests to be comfortable as we didn't want too many people in the intimate space of the Chateau.  We decided to invite only aunts and uncles and those friends who we are still in close contact.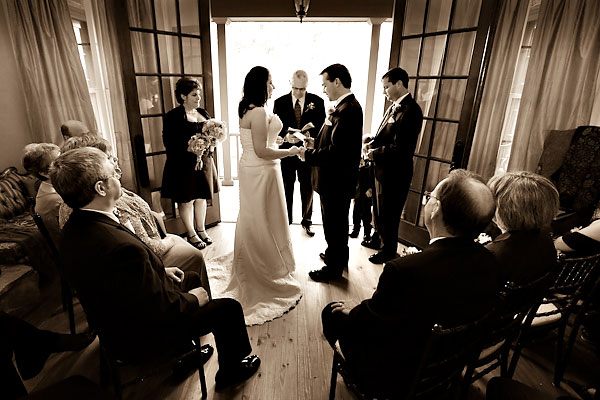 Did you have any 'issues' with the small guest list from friends and family?
It is easy to get wrapped up in the "I need to invite everyone or they will be hurt" feeling, but the reality is that everyone just wants to feel included.  If you communicate to them how much you value them in your lives and explain to them why you are making the choice to have a small, intimate wedding they will understand.  Everyone cannot be invited to the wedding, but if you remember that communication is the key to any relationship, you will save yourself a lot of heartache in the end.  Even with all that, we still had a few guests who were hurt by not being invited to the wedding.
If so, how did you address them?
Once we found out about this, we immediately contacted them and informed them how much they are loved and that them not being invited was in no way a reflection of how we feel about them.  Although feelings were hurt, we resolved it amicably!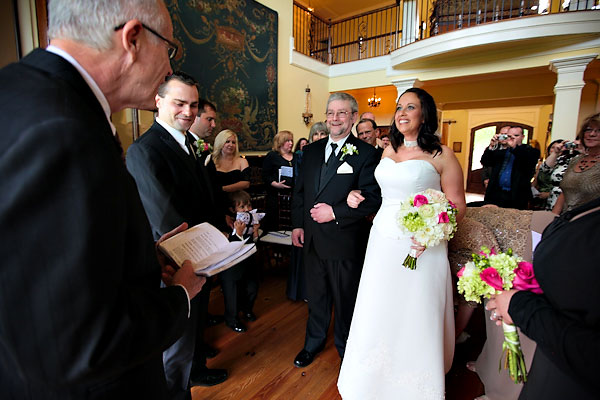 What were the highlights of the ceremony?
Before the big day, we had our rehearsal dinner in the "French Bistro" of the Chateau Bellevie.  The big highlight of that night was the groom's cake.  Lorie from Simply Cakes made the most realistic cake of a Royal Crown bottle.  I was so excited because Matthew absolutely loved it!
Matthew and I said our vows to each other in the "Bellevie Parlor" in front of the open French Doors.  It was during Pastor David Mclean's definition of marriage where I watched, in growing fear, an abnormally large bee flying around.  As I was planning my escape from this bee a thought occurred to me; if I ran, my family and friends would think I was a runaway bride.  Thankfully, the bee flew away and I stayed put!  The ceremony continued on beautifully and Matthew and I were pronounced husband and wife!
In just about every photo of me, you will notice I am holding my bouquet.  Matthew found that so amusing that I would not put it down and I will confess, I loved my bouquet!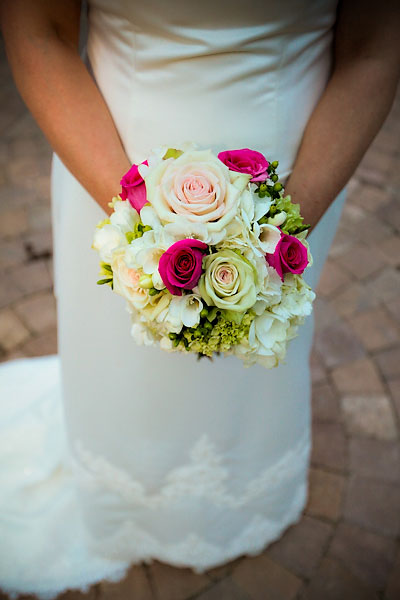 What were the highlights of the reception?
One of my favorite antique pieces at the Chateau is the "John Fox" antique Grand Player Piano.  Craig from Luster Studios took a photograph of our rings on the mother of pearl piano keys and it is one of my most favorite photos!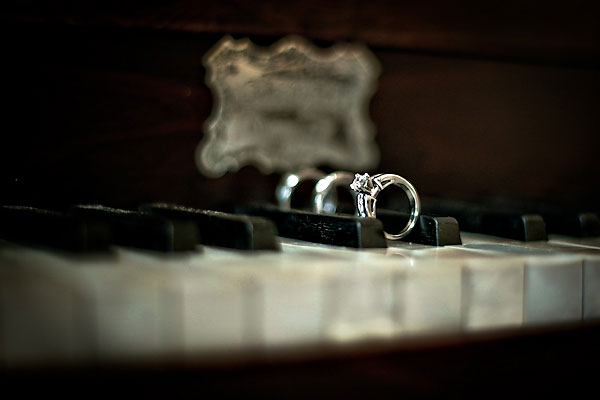 One of the highlights of our reception was the cake cutting ceremony.   Not only did the baker impress me with the groom's cake the night before, she followed it up with an amazing cake and cupcakes; I was high on sugar for the entire evening!  I had promised my new five year old nephew, Dylan that he and I would eat cupcakes together.  So, we both plopped down on the floor and enjoyed our cupcakes in sugary bliss!
 Matthew had purchased a bunch of cigars for the boys to enjoy during the reception.  I enjoyed getting teased by my uncles as I puffed away on my cigar.  This was a spontaneous event and actually turned out to be one of the highlights of the evening!  Craig was also able to take some great photos of all of the boys enjoying some unorthodox wedding fun smoking cigars with the bride!
After all is said and done, I think my most memorable part of the whole wedding experience was planning the wedding.  I loved looking up ideas on the internet, magazines & stores and creating my own version of something I wanted to incorporate into the wedding.   It is sad because I spent months planning the wedding and it was over in a day.  But I am already looking forward to renewing our vows so I can plan something else!
Aside from the planning, it meant a lot to both of us to have our family and friends with us to celebrate one of the biggest commitments in our lives.  We all get so busy in our day to day routines and being out of state from our families, we don't get to see and talk with them as often as we like.  To me, life is measured by moments with those that I hold dear to my heart.  Matthew and I are grateful to be able to take away many treasured memories from our wedding.  We feel so blessed by all of those who decided to make our wedding part of their life experience and thank everyone for those moments we will always remember.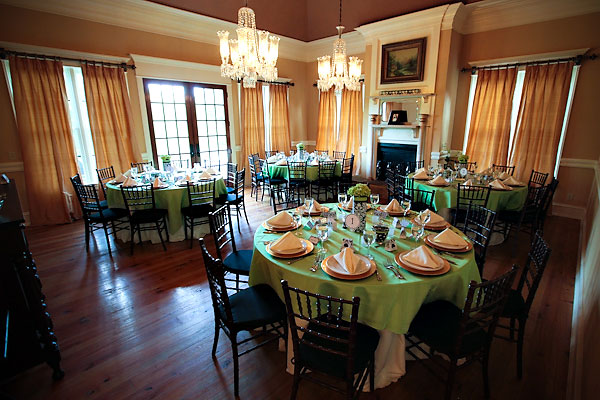 What was the best thing about having an intimate wedding?
The Chateau is absolutely breathtaking!  We do not feel that we would have ever found a venue such as this if we had a larger wedding.
Our wedding was as magical as I always dreamed it would be.  Having our intimate wedding allowed us to spend one on one time with our guests that meant so much more to us since most of them live out of state.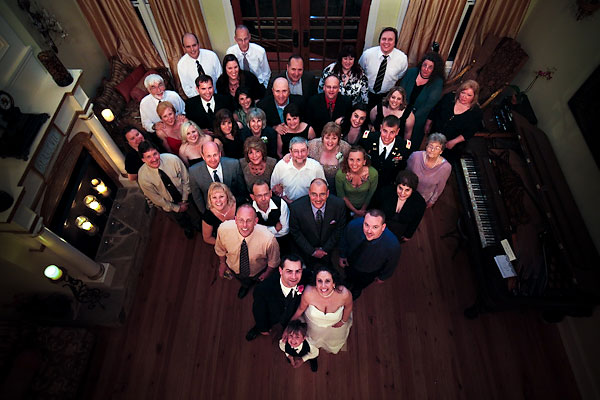 What advice do you have for couples who are considering an intimate wedding?
I have heard, on more then a few occasions, that "the wedding is not for you, it is for your guests" but I disagree.  A wedding is the ceremony in which you share your lifelong commitment to each other.  And although we encounter many people who shape and enrich our lives, choices have to be made as to who will be there to celebrate that day.  The wedding will be what you make of it and if you choose that path, it will be spectacular!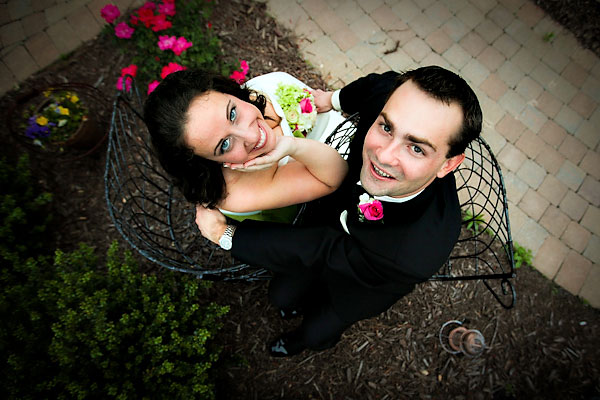 Vendors:
Venue: Chateau Bellevie
Photographer: Craig Carpenter, Luster Studios
Wedding Cake: Lori, Simply Cakes
Florist: The English Garden
 Harpist: Lori Byrne