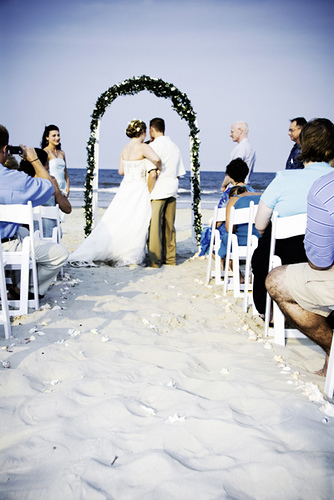 Corey, 28 & Christopher, 33
Whalehead Beach in Corolla, NC
Wedding Date:  August 17, 2007
Number of Guests:  43
Wedding Cost: $25,000 (This does not include the cost of rental houses that were rented for all of the guests for the week).
Wedding Ceremony Location:  On the beachfront in Whalehead Beach in Corolla, NC
Wedding Reception Location:  The Saltaire Event Home in Duck, NC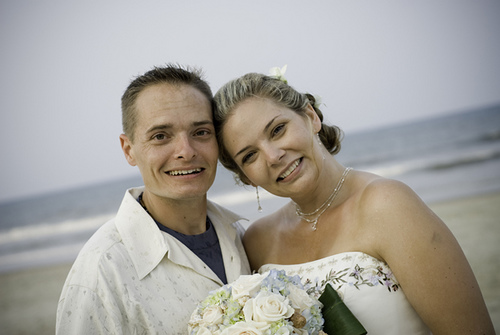 Why did you have an intimate wedding?
Both my husband and I didn't want the crowd of people that we'd be forced to invite if we stayed home and had a wedding.  We both wanted a small private affair with our closest friends and family.  My father had died a year before the wedding, my father-in-law also died the month before, so we were both glad that we planned it this way in the end.
What are some the challenges that you faced planning an intimate wedding?
The guilt that comes with not including everyone you know.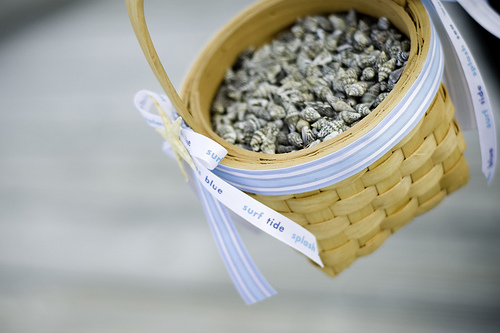 Was it difficult to pare down the guest list?
 To a point yes, but not too bad.  It's easy when you can ask yourself: "Could I go on vacation with this person for a week and be comfortable?" If the answer is no, then they shouldn't be on the list!
Did you have any 'issues' with the small guest list from friends and family? If so, how did you address them?
Yes.  My mother-in-law was not happy that her neighbors, friends, friend of friends and an ex-girlfriend of my brother-in-law were not included in our wedding.  Neither of us felt those people should be going on vacation on our tab so we didn't invite them and it created a bit of a family battle.  We stuck to our guns and said that since we were paying for it, we were choosing the guests and although it didn't make her happy, we were happy we stuck to it.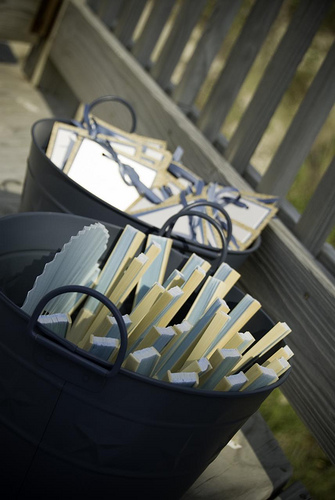 What were the highlights of the ceremony?
 Saying 'I do' of course… then laughing as my flower girl tried to tear down the arch!
What were the highlights of the reception?
The food was delicious and having our first dance –  in the pool.  I also forgot about the weight of my waterlogged dress later and managed to fall into the hot tub when trying to climb onto it.  I haven't laughed that hard in years.  By the end of the night about half of our guests were dancing with us in the pool and everyone still comments that our wedding was the best they've ever been to.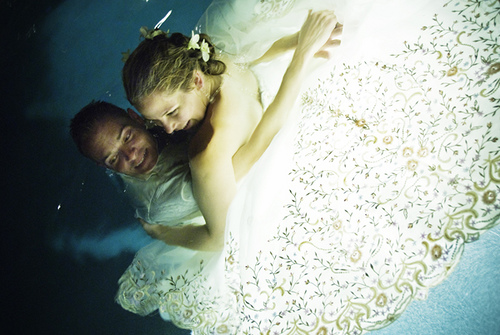 What was the best thing about having an intimate wedding?
 Every moment!  The people there are the ones that are nearest and dearest to your heart so you aren't embarrassed when things go wrong and you get a splinter in your foot from the deck.  They are the ones that will help you pull it out!  It was so wonderful to not have to ask people on the day of my wedding who they were.  If family had their way, that's how it would have ended up.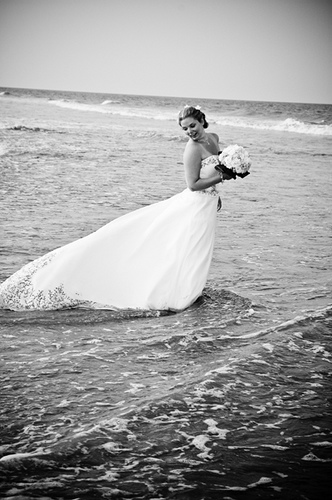 What advice do you have for couples who are considering an intimate wedding?
  Do it!  Especially if you are on a budget, this is the best way to have your dream wedding without breaking the bank.  Having a smaller guest list enabled me to not only have a destination wedding but to also have the best of what we wanted at our wedding.  I'd rather treat those near to my heart to a wonderful celebration than throw a semi-nice party back home for people I don't know that well.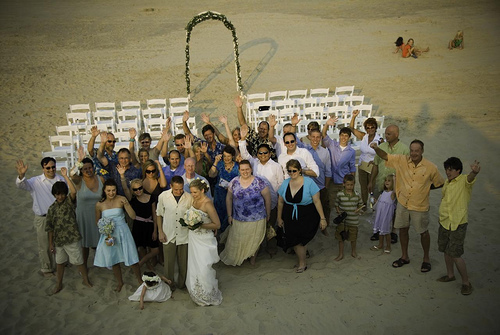 Vendors:
Photographer: Brooke Mayo Photography
Caterer: The Delectable Dish
Event Planner: The Proper Setting   
Venue:  The Saltaire Event Home in Duck, NC
Officiant: Dr. Dave
Florist and Decorator: BLOOMS Design Studio
Photos: Brooke Mayo Photography