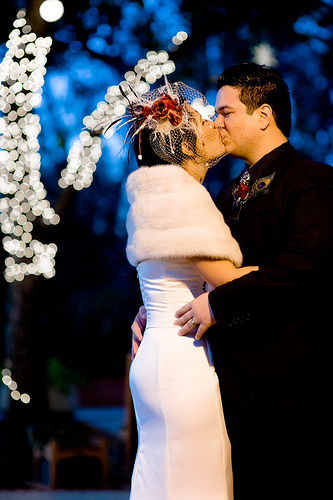 Elizabeth, 27 and Hedi, 31
Holbrook Palmer Park, Atherton, CA
Wedding Date:  December 27, 2008
Number of Guests: 59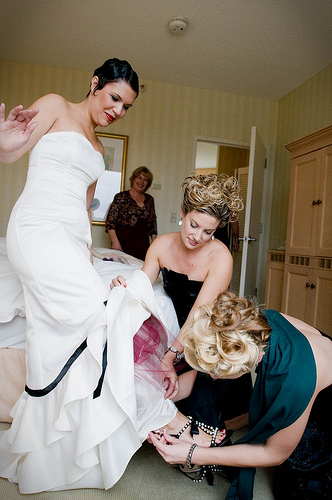 Wedding Cost: $15,000
Wedding Ceremony Location:  Holbrook Palmer
Wedding Reception Location: Holbrook Palmer
Why did you have an intimate wedding?
We really wanted this to be a special, memorable and personal time shared only with the people who matter most to us. We didn't want it to turn into a show or spectacle, just a fun time with our very closest friends and family that we could always remember forever.
What are some the challenges that you faced planning an intimate wedding?
I did feel really bad leaving some people off the guest list, and we chose to have the wedding in Northern California instead of Southern California where we all live in order to kind of make it easier to explain why we were keeping it so small. Also, choosing a day two days after Christmas kind made it less desirable unless you REALLY loved us 🙂
Was it difficult to pare down the guest list?
It was hard. Unfortunately, due to the time and travel involved, there were many people who weren't able to make it. We felt sad not to have them with us, but overall I wouldn't change anything about the day.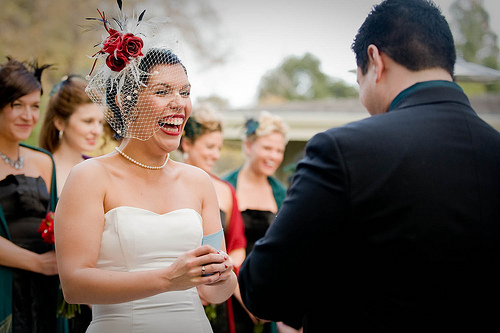 Did you have any issues with the small guest list from friends and family? If so, how did you address them?
Not really. If anything, what I heard over and over were people noticing the intimacy of the group and telling us they felt honored to be invited, which was really awesome.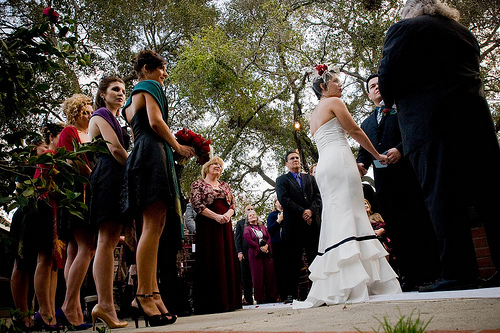 What were the highlights of the ceremony?
Definitely the fact that our officiant has known me since birth. He has been like a father/mentor figure ever since I can remember and to have him officiate our ceremony and give us his unwavering blessing and joyous part in our ceremony was incredible.
What were the highlights of the reception? 
Just sharing the fun and love with all our friends and family.
What was the best thing about having an intimate wedding?
Really knowing everyone there, and feeling like every single person that surrounds you truly knows you, and your relationship, and is there to celebrate that love.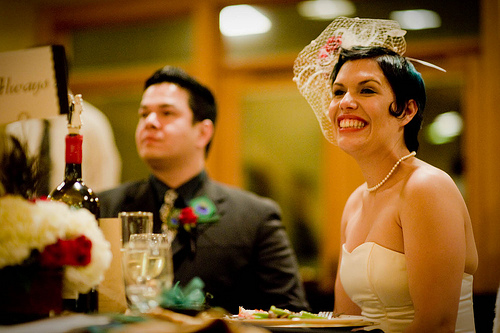 What advice do you have for couples who are considering an intimate wedding?
Just go with your gut!  If you want to be able to hug every person at your wedding, have the time to spend at least a few meaningful moments with everybody and feel like you have all shared something truly memorable, this is definitely the way to go!  Also, it worked out great for being on a fairly modest budget but still wanting lots of unique and interesting details. We had incredible food, handmade favors, belly-dancers and all sorts of things I could have never dreamed of doing if I had to do it for 200 people. For 50ish guests, I could really splurge on the stuff I thought was most important. A small wedding gives you the chance to maximize quality over quantity.  No matter what, it is going to be an incredible day for you, just do what you want!
Vendors:
Photographer – Robert Her from nLightenImages. (An absolutely phenomenal photographer who was also friendly, professional and accomodating. He made everyone happy and comfortable and got amazing shots!)
Coordinator – Frankie Regan Rogers at  Breath of Fresh Air Events (breathoffreshairevents@yahoo.com ) She was awesome. I had a big vision of this event, only four months to plan, and 400 miles seperating me and my venue/vendors.  I am not sure I could have pulled this off without her!
 Food – Chef Stephanie Hibbert . She created a personalized organic, natural, sustainable menu for us that was also delicious and affordable!  Not to toot our own horn, but this was definitely the best wedding food I had ever had!
Entertainment – Belly dancers, Ashley Lopez with Orchid Belly Dance. They were beautiful, skilled in traditional belly dance as well as more modern styles and got our guests involved and having a great time!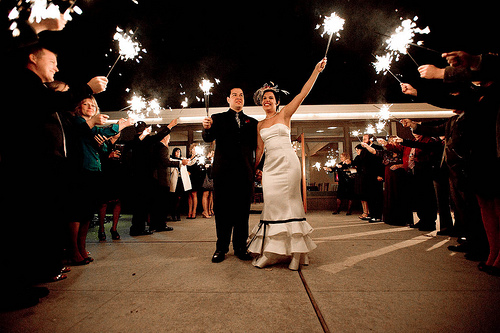 Photos: nLightenImages