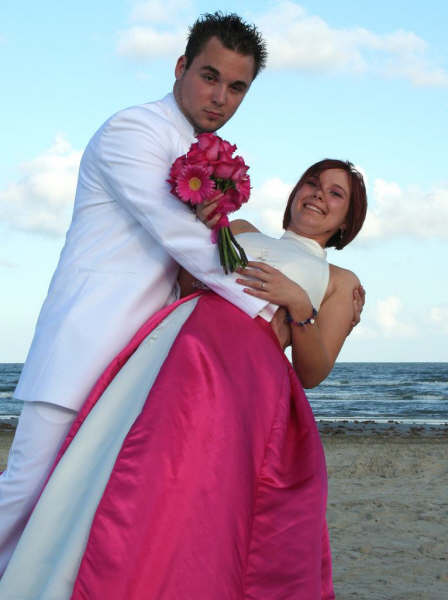 Jennifer, 22  and Richard, 21
Houston, Texas
Wedding Date: May 30, 2008
Number of Guests: 75
 Wedding Cost:  $3,000
 Wedding Ceremony Location: Stewart Beach, Galveston, Texas
 Wedding Reception Location: Wedding Chapel , Galveston, Texas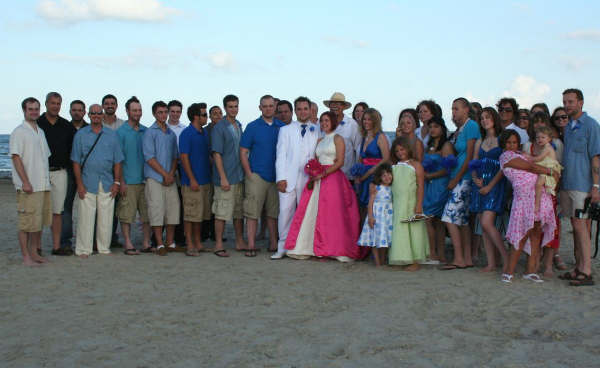 Why did you have an intimate wedding?
We knew that not all of my family  was going to be able to attend since they are out of town, so we planned for all his local family to attend plus some of my close friends. Also, since we were paying for it all ourselves, we knew that we had to keep the guest list below 100.
 What are some of the challenges that you faced planning an intimate wedding?
The hardest thing was our location. We originally planned a restaurant ceremony but were faced with last minute seasonal inflation charges and we had to find a new ceremony location fast. Luckily our ceremony venue was understanding and was able to accommodate us.
Was it difficult to pare down the guest list?
It was hard to not invite everyone we knew but we already knew that most of my family was unable to attend and so we filled in those slots with close friends.
 Did you have any 'issues' with the small guest list from friends and family? If so, how did you address them?
We didn't really run into any trouble with anyone asking to come who weren't already invited. Most people we talked to understood that we were young, and since we were paying for it ourselves, knew the wedding would be small.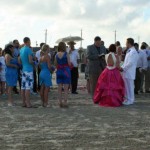 What were the highlights of the ceremony?
The intimacy. I loved how it wasn't a traditional "sit down" ceremony. All the guests were up close and personal with us. We faced our guests instead of having our backs to them which was great.
What were the highlights of the reception?
I think everyone really enjoyed our slideshow that our maid of honor and Richard put together. We had pictures of us growing up from before we met and then tons of us together over the years. The songs they chose really fit our personalities. Also I personally found the toasts from the maid of honor and best man very touching.
 What was the best thing about having an intimate wedding?
Being able to visit each and every guest and actually holding a conversation. We got to thank each person personally and hug everyone goodbye at the end of the night.
What advice do you have for couples who are considering an intimate wedding?
I really wish more couples would consider having one. I know that most people want to have as many people there as possible but at the end of the night, all the people that mean the most to you are the ones that you'll see the following days, weeks, etc. and those will be the ones you'll talk about the wedding with. It's great knowing that you were able to talk to and thank everyone individually.
 Vendors:
Dress: Custom by Helen Touchet
Cake: Custom by Melanie Lance
Photography: Freelance by Amanda Schilling from AP Schilling Events and Professional by John Stone Photography
Flowers: Grapevine Florist
Hair: Tisha Varas
Tux: Al's Formalwear
Ceremony/Reception: Wedding Chapel
Photos: Amanda Schilling from AP Schilling Events