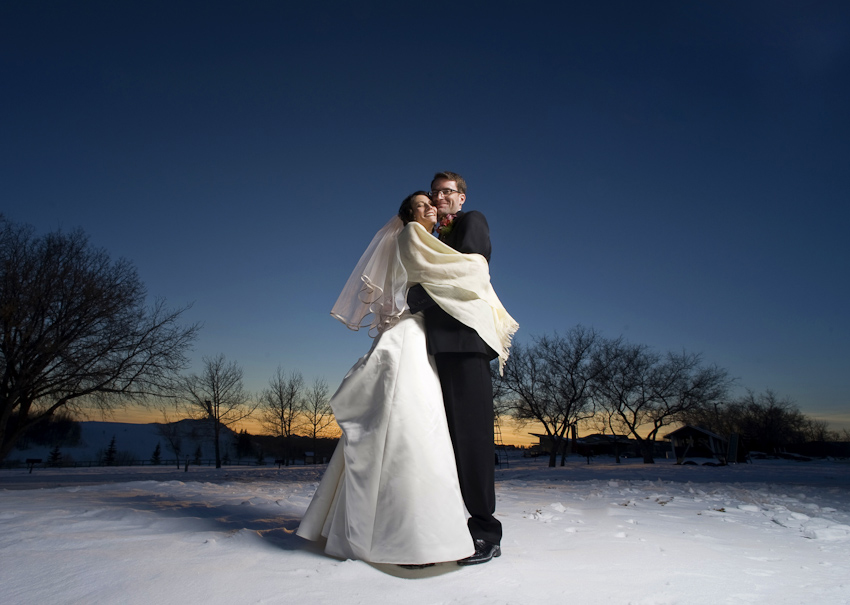 Leah, 34 & Scott, 33
Alberta, Canada
Wedding Date: January 12, 2008
Number of Guests: 35

Wedding Cost:  $5,000 including 7 day honeymoon backpacking in Cuba
Wedding Ceremony Location: Scandia Lutheran Church, Armena, Alberta

Wedding Reception Location: Ramada Inn, Camrose, Alberta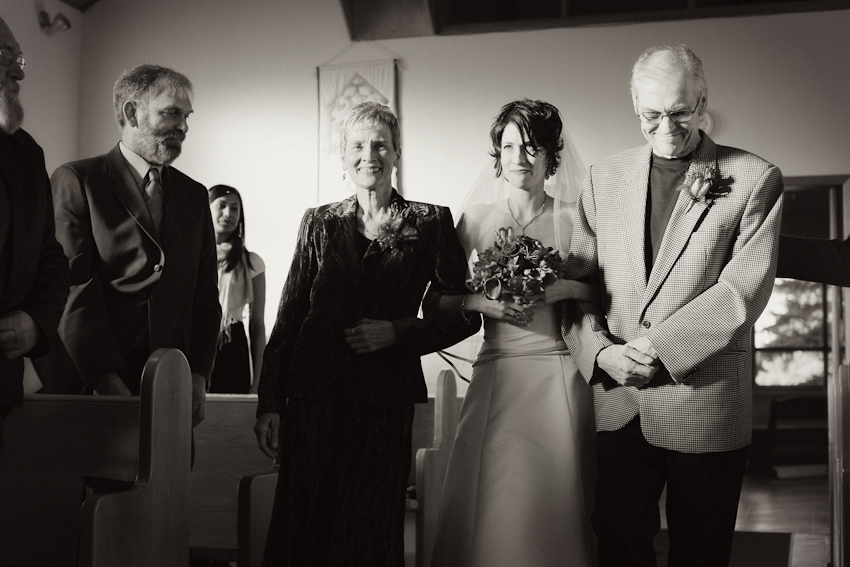 Why did you have an intimate wedding?
First of all, neither of us had ever wanted a large wedding.  We knew that before we got engaged. Practically, we were completely against the idea that our wedding would put us into debt. We wanted to start our lives together in good financial shape, not with a new debt to bring into the marriage.  But, as it happened, there was a critically important emotional reason: this was also an intense and sad time for my immediate family.  My father was terminally ill with cancer.  He was weak and in pain.  We wanted him to be able to participate in the whole day, if he could, and knew that a large crush of people would make that hard for him.  It was already an intimate time for our loved ones; it was a time of closeness and a profound time for our family. We felt that the circle of people we shared this day with needed to be the people we were absolutely closest to.  It was so important to us that our immediate families and closest friends be able to share in the joy of the day and we didn't want any kind of wedding where we wouldn't get a chance to talk to people, or acknowledge the realities of my dad's physical needs.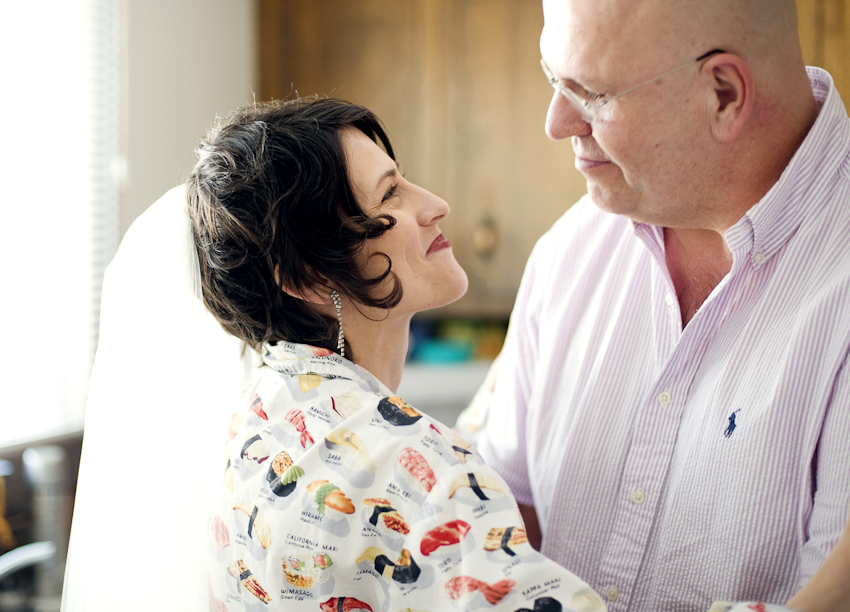 What are some the challenges that you faced planning an intimate wedding?
We didn't wait long; we had about 9 weeks to get it done. We found out that a small wedding doesn't necessarily mean fewer tasks, but it does require a certain flexibility around 'perfection'.  I found out that my husband and two best friends had started calling me "Little Miss Spreadsheet" behind my back 🙂 because I had checklists and schedules and the guest list and a running to-do list.  But later shared these lists with a friend who also had a small wedding that he didn't have much time to plan and he really appreciated them!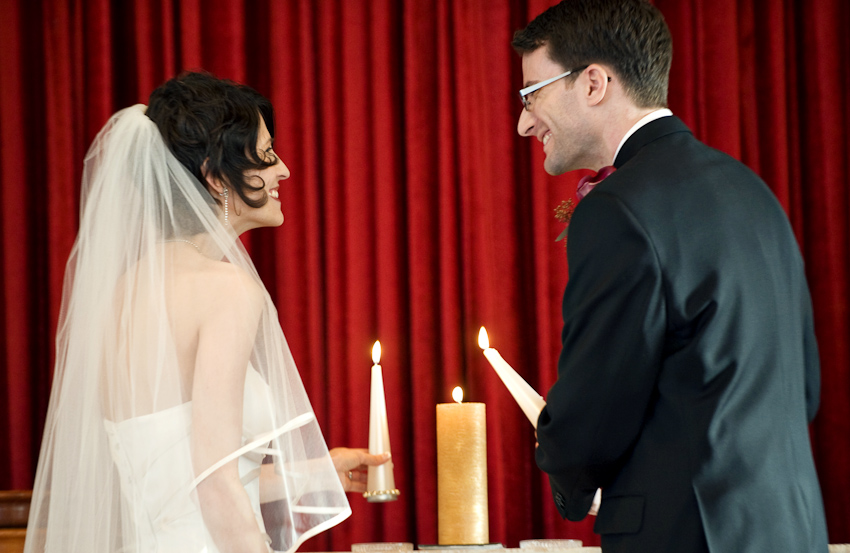 Was it difficult to pare down the guest list?
Actually, we started small: 18 guests.  Then my dad called me and pointed out a couple of obvious oversights I would have felt badly about.  He also requested that people who had supported him through his illness be there to witness this joyful day and of course we wanted that too.  We invited a few more couples, and balanced things out on my husband's side with his closest friends.  Once we had the list together, we felt it was just right.  There were people we wish now could have been there, but that is more because those friendships have grown since the wedding, and you can't go back in time. Again, you'll never have the perfect guest list, whether your wedding is big or small.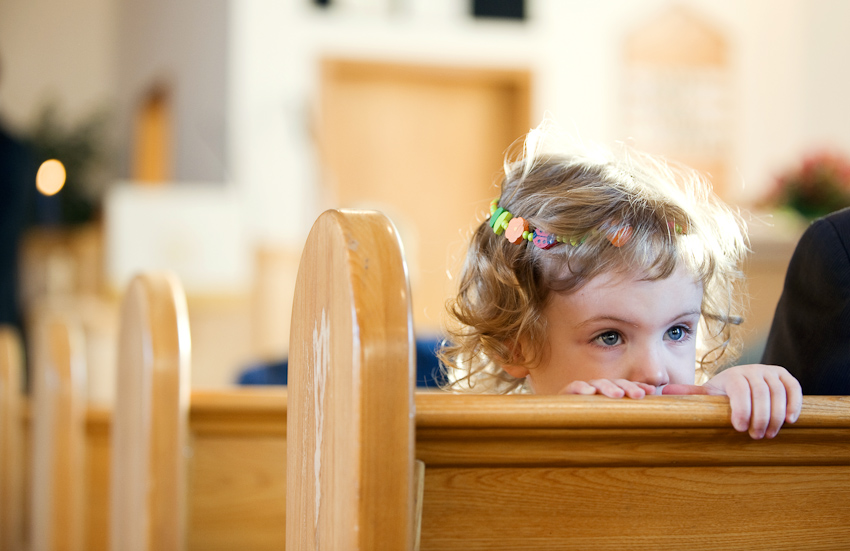 Did you have any 'issues' with the small guest list from friends and family?
We did have to make some hard choices, but that was our difficulty, not theirs.  My husband's family, which is large, was particularly wonderful about this.  There are many aunts and uncles and cousins on his side we did not invite but not one of them seemed to take it personally given the situation with my dad.  They all still sent us cards with thoughtful notes, and made sure we knew they supported our union. That meant a lot to me.
If so, how did you address them?
We think our moms ran a fair bit of interference on this for us.  No one bothered us about it.  I know that they were behaving out of respect for my dad, but I think that if we had said "we need for this to be small", that would have been just slightly more difficult.  Honestly, people just accepted it.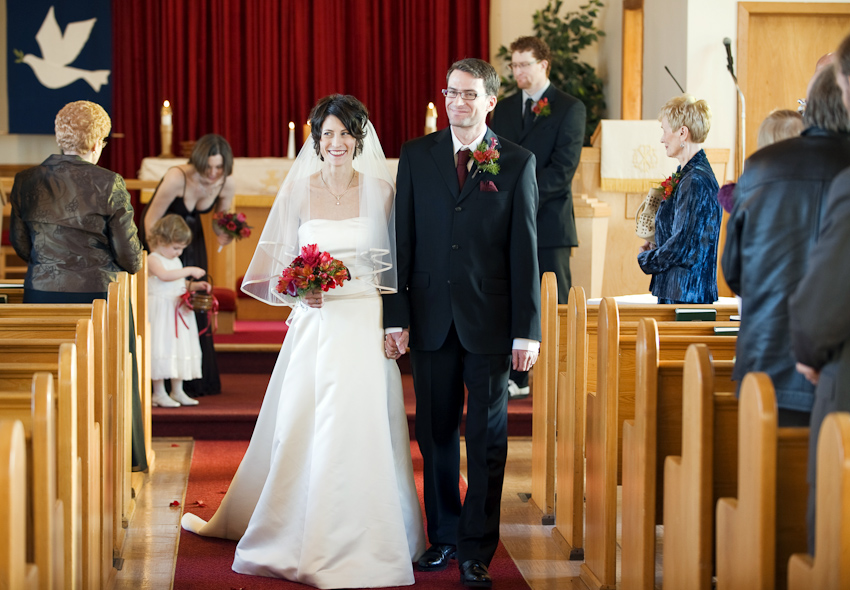 What were the highlights of the ceremony?
There are so many!  Of course, by far, the moment of our vows and the declaration of marriage. I was in awe of that. Other things: we came up the aisle to my favorite hymn, played by my godmother on piano (Lo, How A Rose E'er Blooming).  We sang an extremely joyful Lutheran hymn called "Earth and All Stars" which literally celebrates everything under the sun: a family favorite, and a melody people caught on to. Our readings were two simple ones: how to live in the world with kindness, and a description of how powerful devoted love is: "Place my love as a seal upon your heart […] love is as strong as death."  My niece, three at the time, didn't realize that she didn't have to pick up the flower petals down the aisle at the end of the ceremony and put them back in her little basket, and so she had to be stopped from 'cleaning up' – that was so cute!  She also got her little tights stuck in her bum, and we have hilarious pictures of her going back down the aisle trying to yank them out.  As part of a typical Lutheran ceremony, we lit a unity candle: first our moms light our own candles at the beginning of the ceremony, and when you are declared married, you use those candles to light a candle that represents your union.  My husband and I looked at each other after, smiled like little kids, both thinking: "Holy crap we are married!"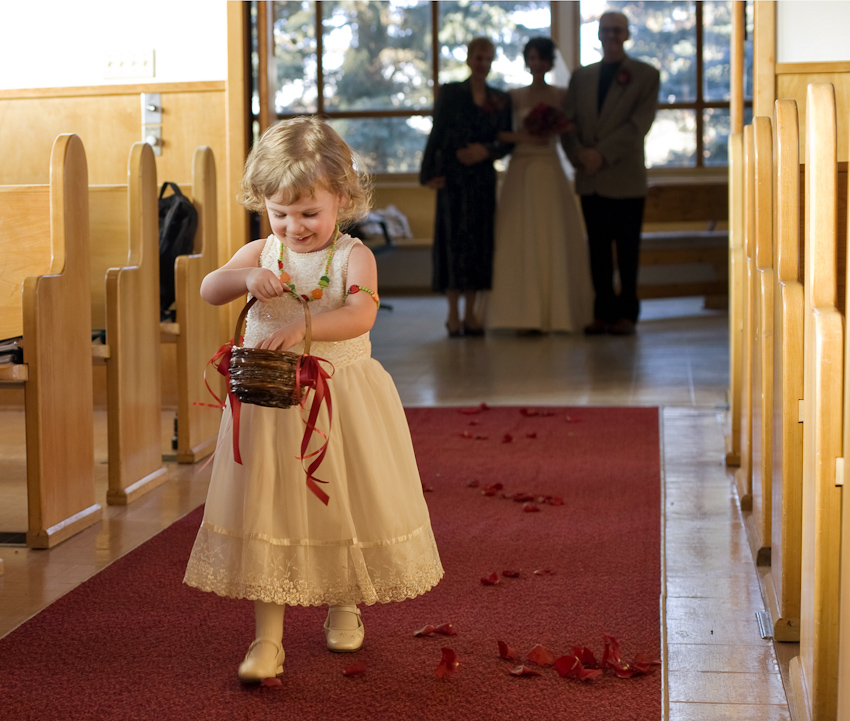 What were the highlights of the reception?
First of all I freaked out because the caterer was not at the hotel when we arrived and so I literally had to be taken home to my parent's house for 10 minutes (which was very close to the hotel).  My sister realized I needed to be removed from the situation so I could let someone else resolve it.  Don't think that just because it's small, you're going to be immune from moments of utter panic about logistics.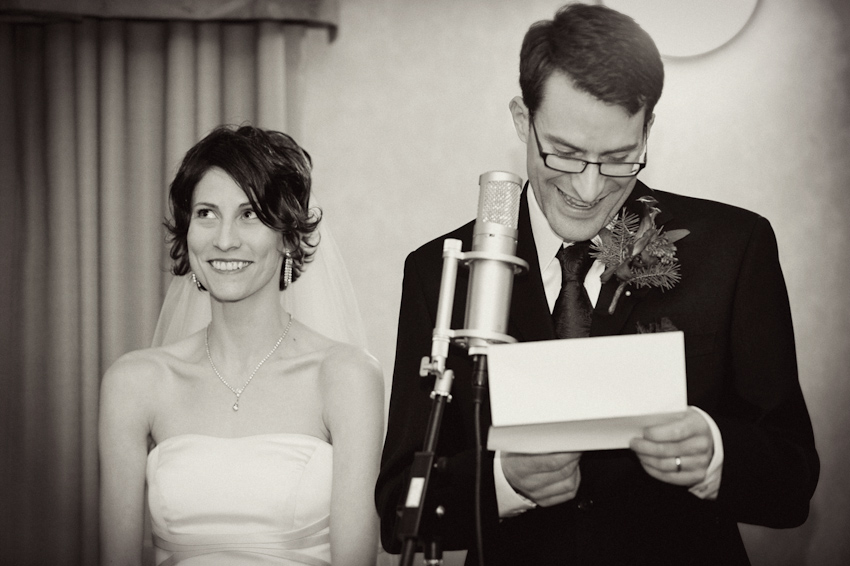 We didn't have a dance because we just didn't want one – instead, my brother, who is a singer-songwriter, performed a song after each speech. He has performed hundreds of times and since told me he'd never been so nervous in his life to play.  He played "You Were There" by Ron Sexsmith which is a love song to family after the 'welcome to the family' speeches, and a very gentle version of "You're My Best Friend" by Queen to thank my sister and Scott's brother for their toasts to the bride and groom.  The toast from my sister absolutely knocked me over and I will never forget how loved I felt by her.  And he played "I Believe In You" by Don Williams after Scott and I read our speeches to each other.  Then he surprised us with Bob Dylan's version of "Forever Young" at the end, and that was pretty much the end of my makeup.  Happy-hearted tears of gratitude and just an amazing feeling of closeness.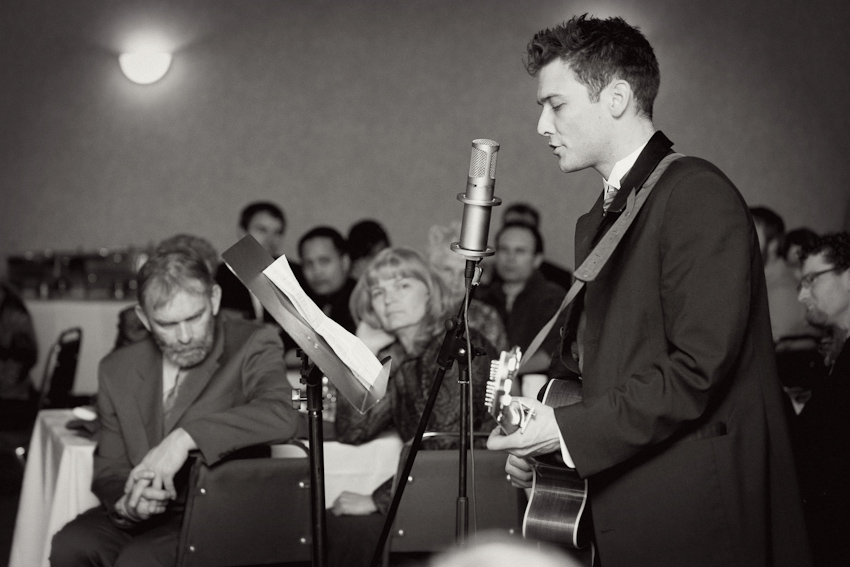 What was the best thing about having an intimate wedding?
We actually got to spend time with everyone who was there.  We didn't have to make any sacrifices that way.  My husband and I have said many times: if we had it to do over, we would have changed absolutely nothing, unless we'd had the power to make my dad healthy.  He passed away 3 months after our wedding.  Many people say to me that we gave my dad an important gift by getting married before he died.  This does not make me feel like it wasn't 'our day'.  My dad wanted it to be our day, and it was.  We told the minister that we wanted it to be a joyful celebration, and he made sure that his small sermon focused on that.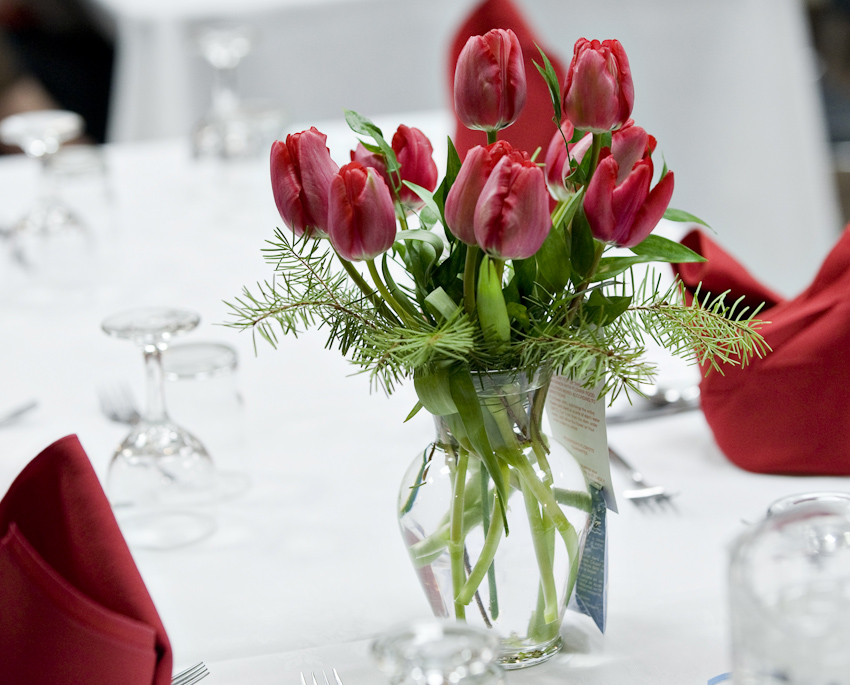 What advice do you have for couples who are considering an intimate wedding?
There is absolutely no point in trying to control for every detail and make sure it is perfect or in some way 'matches' a large reception.  Do your own thing, relax and be flexible. You need to remember that this is just the beginning, not an end in itself.  Not being able to invite people is not the end of the world: remember, many people will support your marriage throughout your life, not just the ones who are present at your wedding.  About costs: you would not believe how inexpensive things can be if you just relax; don't limit yourself to buying everything from wedding stores. The flower girl dress from the large department store chain where we got it was very, very inexpensive compared to the flower girl dresses in the bridal stores.  Same with the dress for the maid of honor.  I just said to her, "chocolate brown" and she found something perfect.  I knew she'd look beautiful.  Remember how much of this is fleeting and will not matter.  Honestly! You'll be surprised and amazed by what people remember and love about your wedding that have nothing to do with how much you spend. The things you'll remember are the things that are off-script, the little things that go wrong that you laugh about the next day. Intimate weddings are not different from large weddings in that respect.  For our wedding, aside from all kinds of special moments, everyone always raves about how delicious the cabbage rolls were at our reception!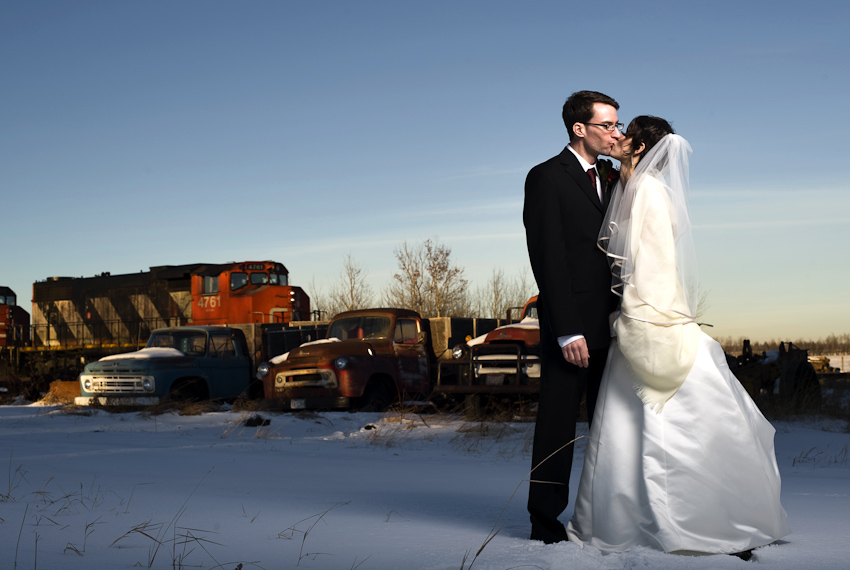 Vendors:
Photography:  Buffy Goodman Photography
Reception and wedding night accommodations: Ramada Inn, Camrose Alberta
Catering: A-1 Catering Ltd.
Dress: Denilore Bridal
Suits: Tip Top Tailors (the boys looked hot!)
Bride's shoes: Joneve (30 bucks and my husband found them)
Jewelery: Antique art deco glass from an auction mart: total cost $22
Cake: Grandin Bakery, St. Albert, Alberta
Flower girl dress: The Bay, Edmonton, Alberta
Invitations: We made ourselves; supplies from Le Papier, Edmonton, Alberta
Flowers: Pederson's Florists, Camrose, Alberta
Transportation: Pick-up trucks of our friends, like all proper prairie weddings!