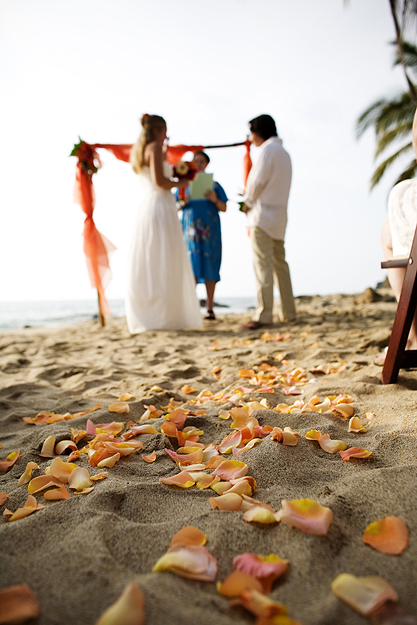 Lindsay, 27  & Tim, 26
San Pancho, Mexico
Wedding Date: June 14th, 2008
Number of Guests: 18
Wedding Cost: $8,000
Wedding Ceremony Location: Private beach in San Pancho, Mexico.
Wedding Reception Location: The palapa at Bungalows Lydia.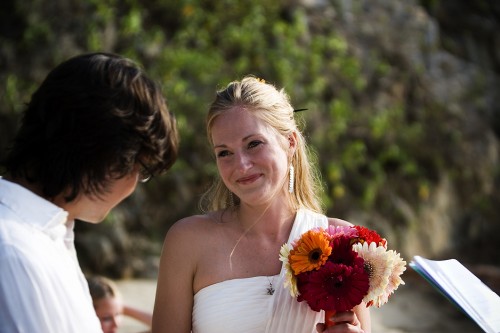 Why did you have an intimate wedding?
We wanted to keep it casual.  I felt that we could focus on each other, our families, and having a good time rather than sweating over the insignificant details.
What are some the challenges that you faced planning an intimate wedding?
Initially I was worried about offending people by not inviting them, but then we decided to take it across the border. Having the wedding in Mexico gave us a great excuse to keep the guest list small.
Was it difficult to pare down the guest list?
Not for me.  We only invited immediate family members and one friend each. Easy.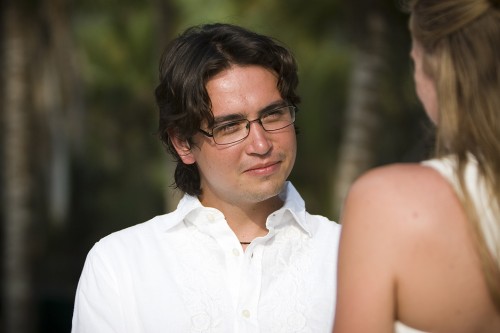 Did you have any 'issues' with the small guest list from friends and family?
Some people gave me a hard time about it– but mostly in good fun.
If so, how did you address them?
Actually the guests we had completely maxed out the quaint hotel/bungalow location. Adding people to the guest list would have complicated the accommodations and the "add-ons" would end up having to stay some place else.  Considering that the bungalow was 3K into the jungle that would have been a pretty big inconvenience.
What were the highlights of the ceremony?
The beautiful beach setting and the stroll we took immediately afterward.
What were the highlights of the reception?
Again, the setting was gorgeous.  The dinner took place under a thatched roof palapa at sunset, while our fresh seafood was grilled on the spot.  After dinner, we danced on a sandy patio that served as a dance floor.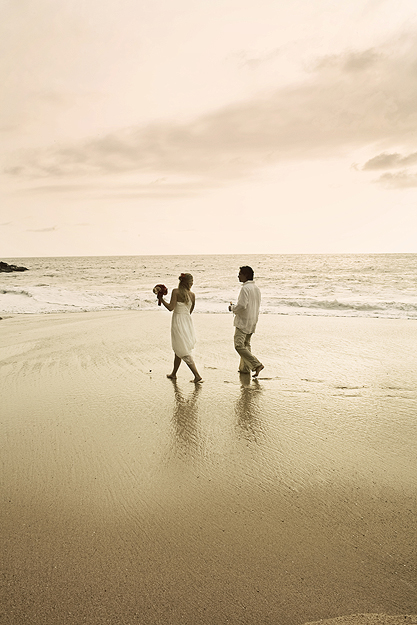 What was the best thing about having an intimate wedding?
The wedding was truly about having a good time with the people you love, rather than making sure everyone is happy and having a good time.  We didn't have to bother with social graces or going through motions we really weren't interested in just because it was someone else's expectation.
What advice do you have for couples who are considering an intimate wedding?
Just do it.  I know that some people dream of a big church wedding, but that just wasn't for us.  I have always been grateful that we did it the way we did.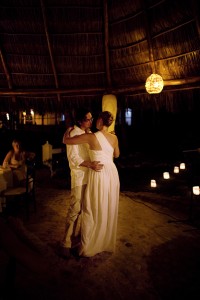 Vendors:
Planner: Mar Weddings took care of everything for us– they worked tirelessly to make our special day happen.
Venue: Bungalows Lydia
Photographer: Kate Harrison Photography
Photos: Kate Harrison Photography