This wedding took place in 2006, but it was still worth featuring. I love the Chicago skyline backdrop and the lovely U-shaped reception table – sans tent!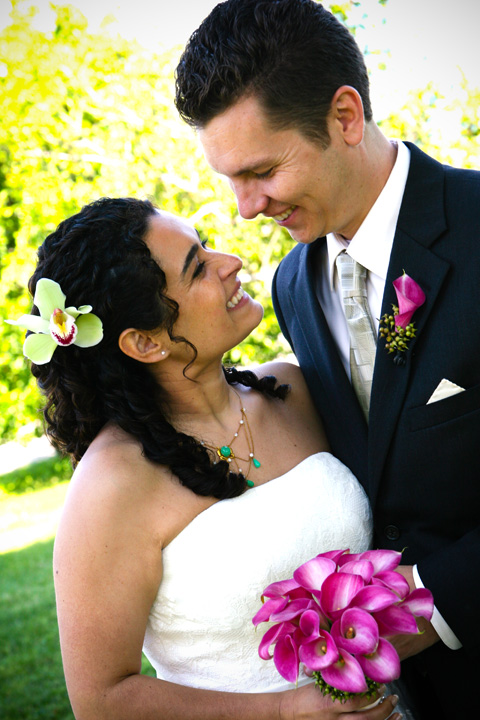 Sandra, 34 & Ian, 39
Chicago, IL
Wedding Date: June 4, 2006
Number of Guests: 40
Wedding Cost: $12,000
Wedding Ceremony Location: Promontory Point  in Chicago, Il. We chose to have our ceremony on the lawn right next to Lake Michigan.
Wedding Reception Location: Also Promontory Point on the patio of the field house.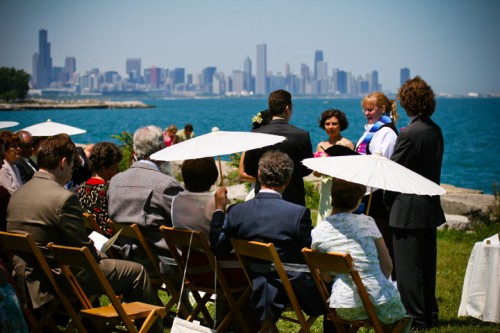 Why did you have an intimate wedding?
We wanted to have a memorable wedding with only those that are truly close to us.  This meant immediate family, best friends and a select few others that could not be missed.
What are some the challenges that you faced planning an intimate wedding?
Limiting the guest list because we did not want to offend or alienate anyone.
Was it difficult to pare down the guest list?
Yes, we had to go over it multiple times and put our foot down on a couple of occasions when relatives tried to invite others.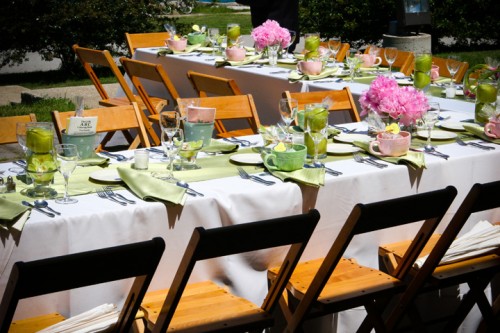 Did you have any 'issues' with the small guest list from friends and family? If so, how did you address them?
We did have a few people that wanted to invite more people.  We kindly made our feelings known and insisted that the main wish for our wedding was to have an intimate wedding and did not want to feel pressured to do otherwise.
What were the highlights of the ceremony?
It was an amazing day.  Because it was a small and intimate wedding we were able to involve everyone in the ceremony.  For example we had guests read poems that they composed for the occasion. Also, we adapted a Mexican tradition of the coin ceremony so that multiple guests would hold and bring coins forth at the appropriate time. And we had a garland surrounding during the ceremony with the name of every guest attached to it.  We had a tribute to our deceased grandparents in which family tied their names to the garland.
The location was also perfect for a small wedding because we were able to select a spot for the ceremony at the end of the point that offered a perfect view of Lake Michigan and the Chicago skyline.  The space worked because we had a small number of guests.
What were the highlights of the reception?
Here again we were able to personalize every aspect of the reception because it was an intimate wedding.  For example for our favors we hand-painted cappuccino cups with each person's name and included a special message for each guest.  We were able to display pictures of special moments of each of our guest's lives (wedding day, births etc…).  We were able to take a group photo of the whole wedding.
The U-shaped table that seated everybody was decorated beautifully and very appropriate for the venue and season.  It was nice to be able to see everyone at the table and to be able to spend quality time with every guest.   The size also allowed for some guests to surprise us with performances.  While this was not our plans, these moments turned out to be truly special and some of the most memorable.  The best man, for example, performed a song with guitar that he wrote for our wedding.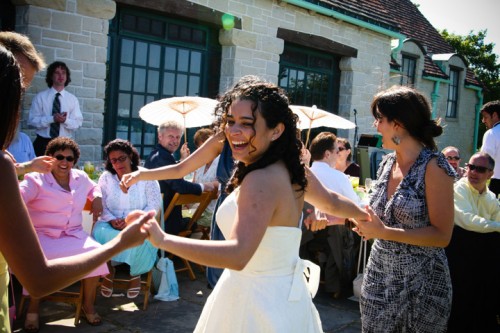 What was the best thing about having an intimate wedding?
The whole ambiance of the occasion perfectly suited our personalities.  It was also nice that  we were able to spend quality time with each guest and we remember everyone that was there.  We had fun at our wedding and did not stress one bit!
What advice do you have for couples who are considering an intimate wedding?
Go for it and don't let the family and friends that wish to expand it take control.  You will be so glad in the end.
Vendors:
Photographer: Amanda Hein Photography
Catering: Blue Plate Catering
Cake: Tipsycake
Flowers: The Flower Firm
Venue: Promontory Point  in Chicago, Il.
Musicians were hired individually.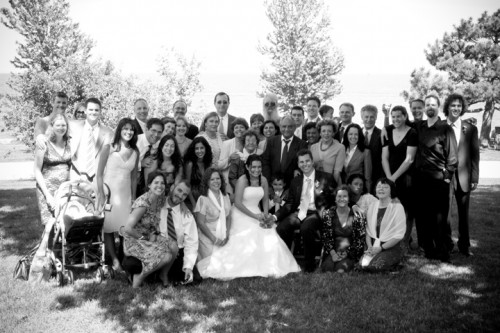 Photos:  Amanda Hein Photography