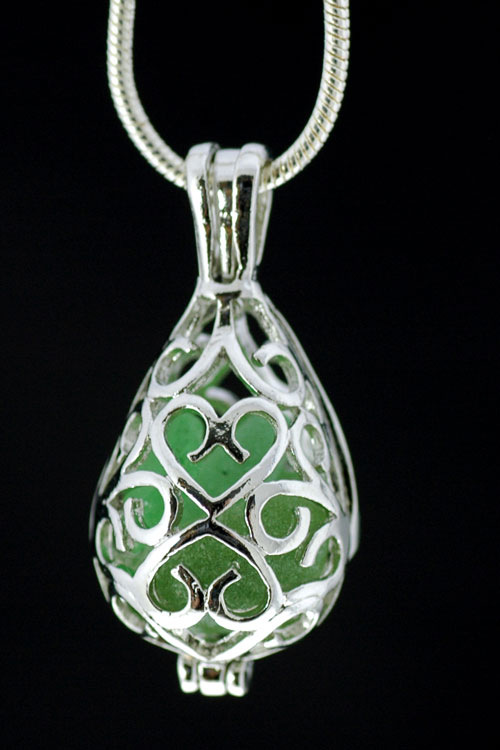 Sea glass has me by the heart. It is so much more to me than pretty glass that washes up on the beach. It is food for my soul.  It is a connection to Mother Nature. It is meditation. That's how big it is to me.
And now it is a creative outlet. I have collected  so much gorgeous sea glass from Lake Erie during the past year, that I am thrilled to be able to highlight some of the best pieces in sea glass jewelry.
To celebrate the launch of my Etsy store, I'll be having regular giveaways of my sea glass jewelry here at IW.
Handmade sea glass jewelry is perfect for bridesmaids gifts. You can match the sea glass to their dresses! (I make custom sea glass necklaces to suit your colour scheme.)
If you are having a beach wedding, a sea glass necklace is a perfect accessory to your wedding dress.
And if you don't want to wear sea glass around your neck, what about a "Something Blue" charm that you can add to your wedding bouquet?
This week I am giving away a lovely filigree teardrop locket filled with green sea glass. It comes with a 20 inch sterling silver plated necklace.
All you have to do is Like Me on Facebook and leave a comment here telling me if you have ever collected sea glass. I'd also love to know your favourite colour of sea glass.
The contest, which is open to residents of all countries, will close on December 1, 2010, 11:59 pm EST.  The winner will be picked by the Random Number Generator.
And don't forget to check out my Etsy shop and buy handmade for Christmas.