I love these sewn DIY wedding programs by Merriment. But I do not sew. I envy people who can sew.
A couple of years ago I went out and bought myself a really cheap sewing machine from Canadian Tire.
I had a big idea that I was going to make book purses and sell them on Etsy. Well, my husband's aunt, who happens to be the Sewing Queen, had the patience to sit me down at her big, fancy machine and show me how to sew. I felt like a new woman –  that is until I got home and sat down at my really cheap sewing machine. It didn't take long for me to realize that it would be a monumental feat if I got through even one purse.
But I was determined. I wanted to make a book purse and I would let NOTHING stop me. Even a really cheap sewing machine that couldn't sew a straight line wouldn't get in my way. (Okay, maybe it was me that couldn't sew a straight line.)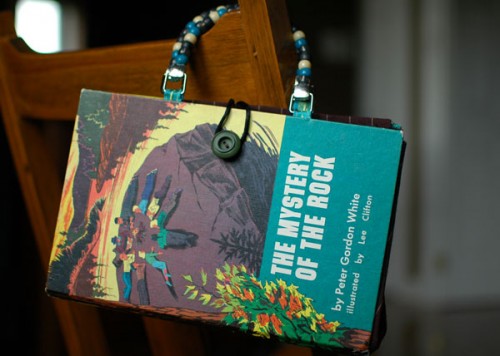 And guess what? I did it. And I never did it again. My really cheap sewing machine sits idle in the art room.
If you're like me and you've never mastered the sewing machine, but you love the look of these DIY wedding programs by Merriment- don't fret! There's bound to be someone in your circle of friends and family members who can sew – or why not take them to a seamstress?
The only supplies you need for these programs are:
Yellow thread
Sewing machine (or somebody else's sewing machine)
Program templates: name, pages 1-4, page 5 (PDFs open in Adobe Illustrator CS3 with Spoleto and Copperplate fonts)
Paper cutter (or ruler and box cutter or scissors)
Want the full tutorial? Check out Merriment's step by step instructions for sewn DIY wedding programs.
Save