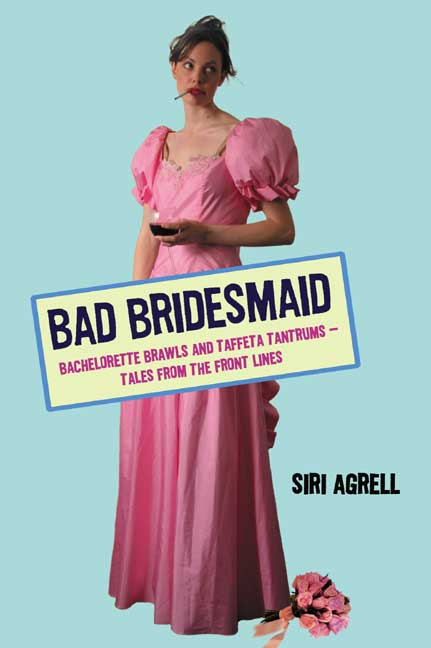 Want to know how not to piss off a bridesmaid? Be kind. Be grateful. And read Siri Agrell's Bad Bridesmaid: Bachelorette Brawls and Taffeta Tantrums–Tales from the Front Lines
.
Bad Bridesmaid
gives an inside glimpse into the mind of a bridesmaid. How does she feel about all of those obligatory bridesmaid outings? What does she really think when she hears you obsess over napkins, pew bows and cake toppers? How does she feel when she walks down the aisle in a dress that's too tight, too sweaty and really not her colour?
If you're a bride-to-be, Bad Bridesmaids will remind you that a little appreciation can go a long way. Sure, your ladies are there to help, but it's good to keep your demands in check and realize that your wedding is not likely the most important thing in their lives.
Agrell wrote the book after she was stripped of her title as bridesmaid in her friend's wedding. The reason for her dethronement? Penning a newspaper column in the National Post that highlighted some of the absurdities that go along with the bridesmaid role.
Although there are two sides to every story (I would love to read the column that infuriated her friend), Agrell makes a strong case that bridesmaids are oftentimes used and abused all in the name of wedding day perfection.
Not only does Agrell discuss her own experience as a jilted bridesmaid, she interviews dozens of other bridesmaids who had a less than stellar experience as wedding attendants.
Some of the experiences relayed are pee-your-pants funny, while others are almost painful to read. Sadly, friendships are not an uncommon casualty of wedding planning madness.
Thankfully, I am one reader and former bridesmaid who does not have any horror stories about being a lady-in-waiting. (I just had to buy the dress and show up.) I've never planned (or even attended) a bachelorette party and I've yet to partake in a 'themed' shower. Before reading Bad Bridesmaid
I was rather ignorant about the duties that so many bridesmaids are forced to graciously accept – many from brides who have lost their manners along with their marbles. These poor souls have my pity.
Although I found the book a bit gossipy at times (there were moments when I felt like I was stuck inside a bathroom stall  inside a college dorm jammed with sorority sisters), for the most part I enjoyed Agrell's writing style. She's brutally honest and very funny. That said, I can't help but want to hear her friend's side of the story. Maybe she'll be the next to write a book: "Bad Brides: How to Fire Your Bridesmaids in One Easy Step."