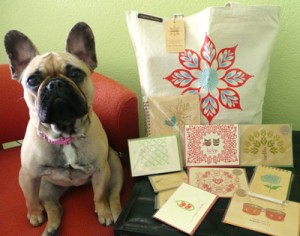 Looks like romance is in the air – and soon to be in the mail for Sara, whose comment was the 119th comment on the Night Owl Paper Goods Giveaway. Her number was chosen by True Random Number Generator.
She wrote:
"As for romantic: My fiance sets up blankets and pillows for us to lay on the back of his flat bed truck and snuggle while we look at the stars and chat until we fall asleep—not in the dead of winter of course! The first time he did this was the evening after we had announced to our family we were getting married. I can't wait for spring to get here so we can start doing this more often!"
Sara will win a whole bunch of fantastic loot from Night Owl Paper Goods! Congrats!
BTW, I loved reading all of your comments about how you define romance! It's obvious you ladies snagged some good ones!:) Thanks so much to all of you for participating! And thanks to Night Owl Paper Goods for the generous prize!