Your bedroom is your sanctuary – or at least it should be – and starting your life with someone is the perfect opportunity to create the  boudoir of your dreams. If a unique registry full of just the right pieces for your dream oasis is what you're looking for, then Crate and Barrel has exactly what you need. Crate and Barrel collaborates with designers, artists, and artisans to bring you the most interesting and exclusive housewares around. Rounding up some of our favorites, this is what our dream bedroom registry would look like, what about yours?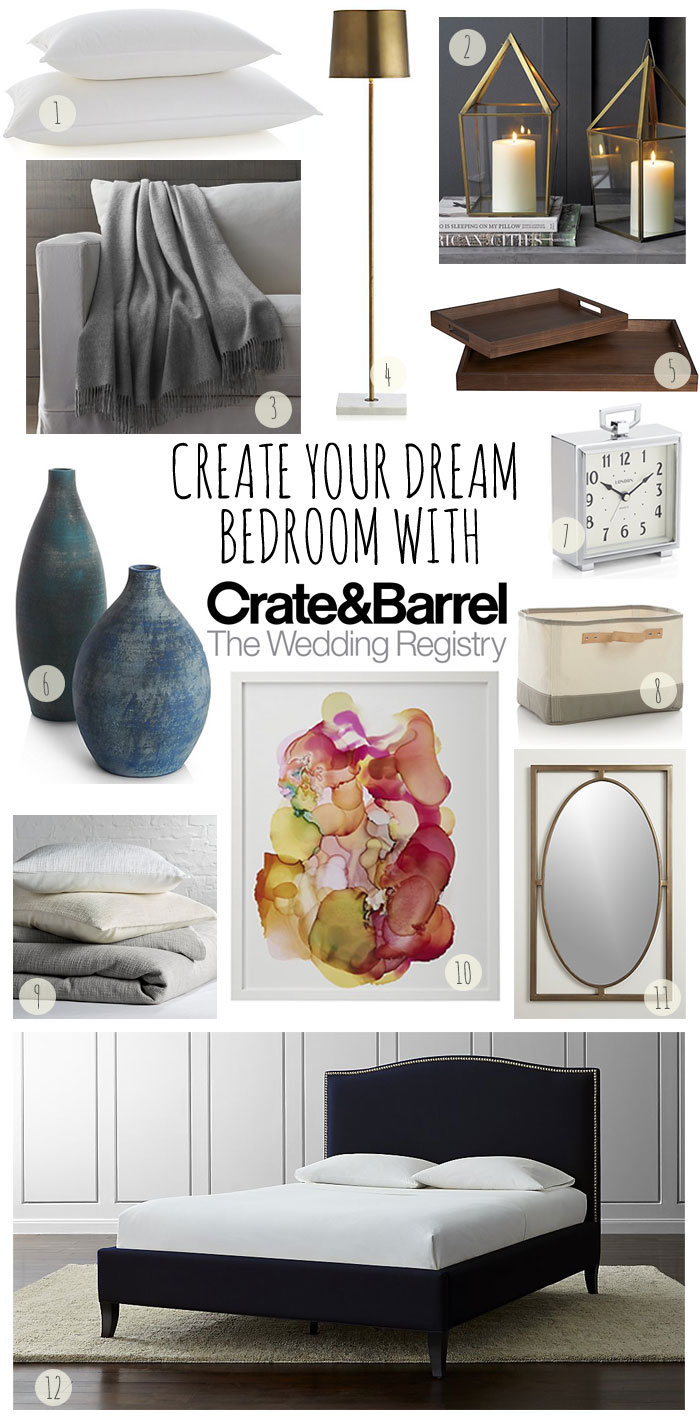 1 – When creating the perfect space to rest our weary head at the end of the day, we believe having the absolute best pillow possible is key to a good night's sleep; and you can't get much better than these plush and luxurious Premium Down Bed Pillows filled with soft natural duck down.
2 – Ideally our dream bedroom would have a fireplace, but since that isn't always possible we think these Lillian Brass Metal Lanterns are the next best thing.
3 – Is there anything cozier than this super soft Alpaca Wool Throw? We certainly don't think so! Just add some candles and a bottle of wine and we're all set for a romantic night in.
4 – Good lighting is essential for setting the mood, and making the bedroom the calm oasis it's meant to be. The Astor Floor Lamp is a classic, yet bold option that effortlessly ties the room together while adding warmth to the space.
5 – One of our favorite ways to spoil the one we love is with breakfast in bed and a beautiful Willoughby Tray would make it that much easier to do just that.
6 – Fresh flowers are a simple and pretty way to brighten up any room including the bedroom. These Patina Vases are so gorgeous on their own, however, we think adding flowers is completely unnecessary.
7 – In a perfect world alarm clocks wouldn't exist, but since they are a necessary evil they might as well look good, don't you think? This chic Bedside Alarm Clock, created by the London Clock Company exclusively for Crate and Barrel, might even make us into a morning person (but probably not).
8 – Nothing kills a mood faster than a room full of clutter. These Canvas Bins are a great way to keep the bedroom organized so that it can remain a serene and relaxing place to retreat to at the end of the day.
9 – We believe that slipping into a freshly made bed is one of life's greatest simple pleasures. Choosing the right linens can be overwhelming, but we personally love these elegant and wonderfully textured Lindstrom Duvet Covers and Shams.
10 – While clean neutral tones are great in a bedroom, this Paradise Found Giclée Print is the perfect way to add a splash of color into the space while still keeping the overall feeling of the room calm and relaxed.
11 – Every bedroom needs a mirror and this Amal Wall Mirror is not only a functional, but also a beautiful choice.
12 – Last, but not least, what would our dream bedroom be without our dream bed? The Colette Upholstered Bed, with its curved legs and soft headboard, is both elegant and all kinds of sexy! It might seem excessive, but we recommend getting the king size; when it comes to beds, bigger is definitely better in our opinion!
Inspired? Create your dream registry now! Need a little advice? Check out Crate and Barrel Private Registry Events for some one-on-one time with one of their registry experts.
Sponsored Post.