There are so many questions to ask when setting up a wedding registry: Where do I register? How do I let my guests know? How many things do I need? But really, one of the most important questions should be: "What do we really want?"
Maybe you fancy cash contributions towards a honeymoon or money to help pay for the big expenses in your lives such as a house down payment or other household items. Whatever your registry wishes, Wedding Republic can make them happen.
Wedding Republic is an online cash wedding registry that lets you pick the things you really want for gifts. Add gifts and descriptions from their gallery of suggestions or pick your own.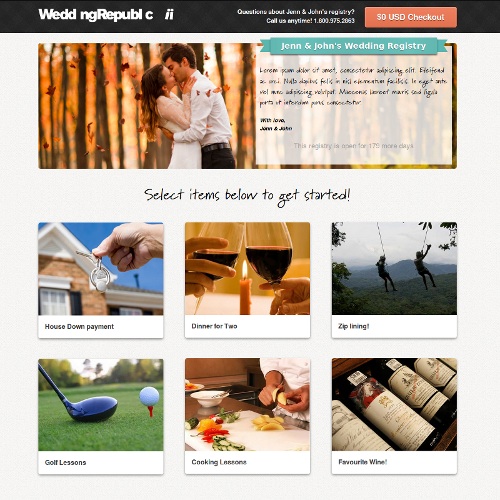 This couple chose to  have guests donate to a favorite charity. I love this idea!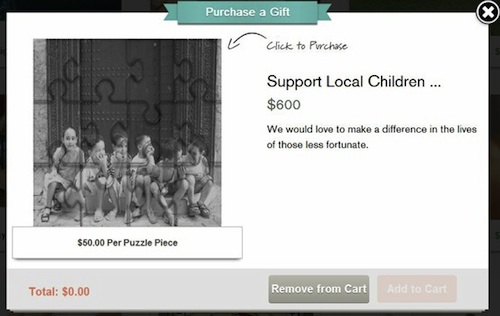 With Wedding Republic you won't have to worry about return policies or shipping and they'll guide you each step of the way – from setting up the registry to etiquette questions. You've even have access to your own personal registry consultant.
So how does it work? The registry lets you customize each gift with a price and description to add your own personal touch. For larger items, you can break them into smaller, affordable pieces so guests can contribute to a portion of something more expensive. They'll be able to see what their cash is going towards and they won't have to trek to various stores to find something.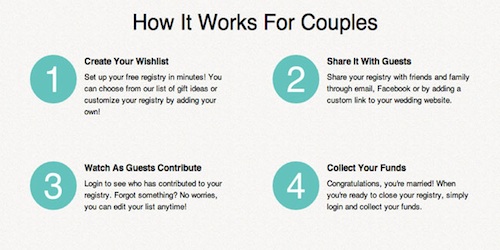 Go ahead – create your own dream registry at Wedding Republic.
Sponsored Post


// <![CDATA[ // ]]>