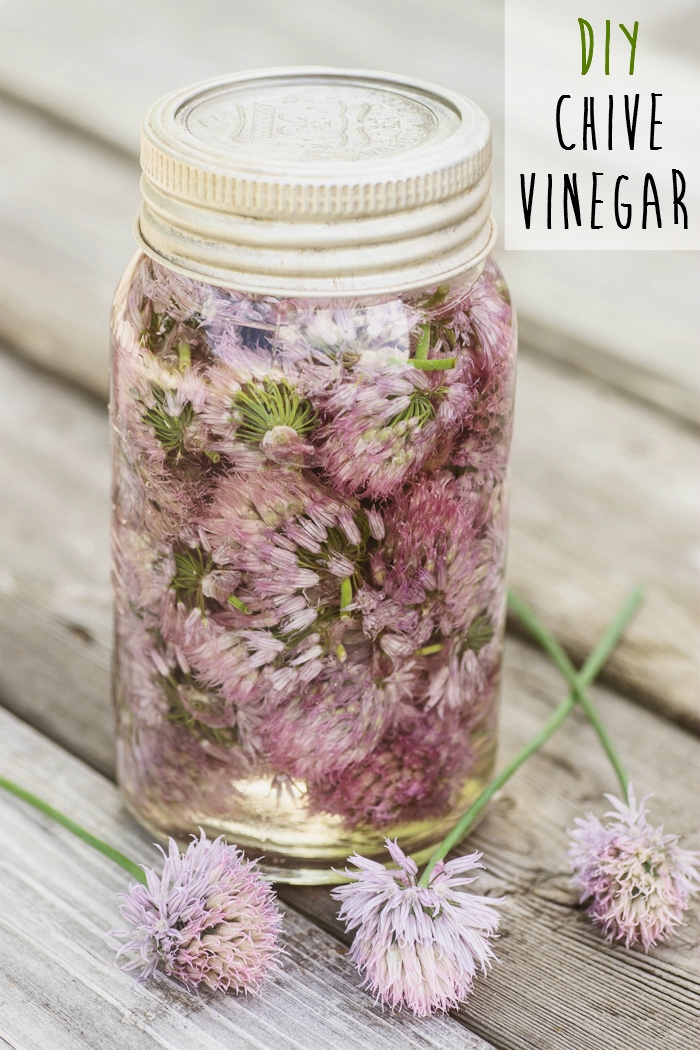 Every spring, our herb garden comes alive with glorious purple blooms. For us, that means our salads are about to get a lot more exciting!
Chive flowers not only add beauty to a garden – they add aesthetic appeal and flavor to salads. One of our favorite uses of chive flowers to make chive infused vinegar. We add the vinegar to everything from green beans to cucumbers to potato salad. Mix with some olive oil, and it makes a delicious salad dressing.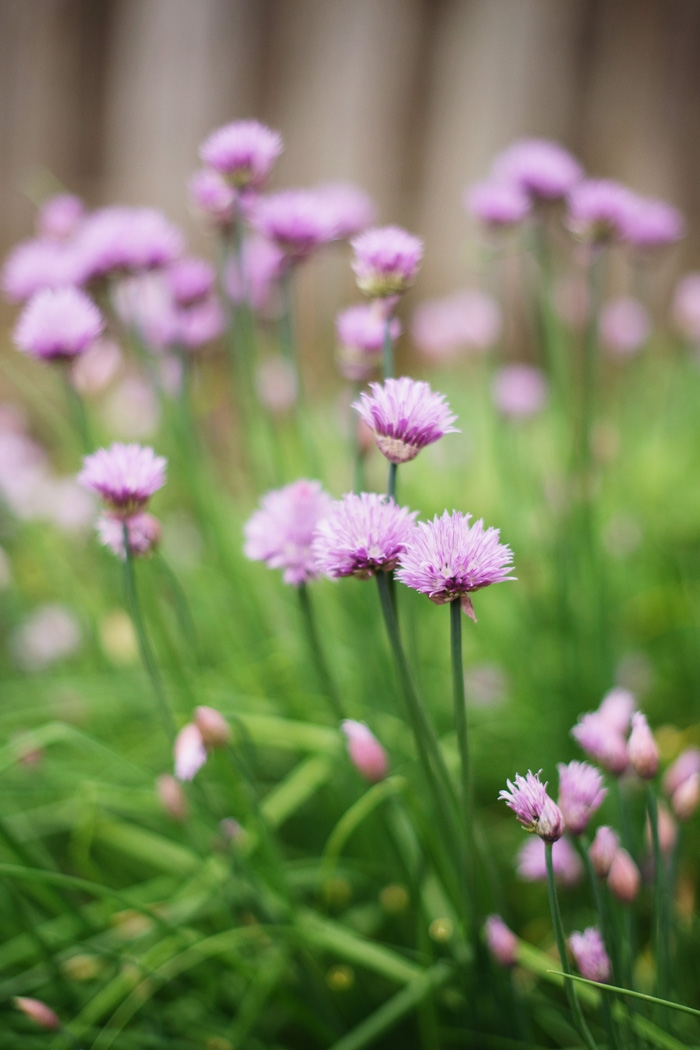 With its gorgeous purple hue, chive vinegar looks lovely in small decanters. Why not make some chive vinegar and herb infused oil to give as favors at your bridal shower or wedding? It's easy, it's inexpensive – and it's got a touch of culinary sophistication that foodies on your guest list will love.
Here's what you will need to make a one liter jar of vinegar:
One liter sterilized mason jar with lid (we used the oven-method to sterilize our jars.)
parchment paper
3 – 3.5 cups white wine vinegar
3-4 cups of chive

blossoms

, snipped beneath the head
In a small non-reactive saucepan (stainless steel or copper will work) over low heat, heat vinegar until warm. Do not boil. The warmth of the vinegar will help release the flavor of the chives.
Meantime, wash flowers in a bowl of cold water. Swish them around to make sure dirt and bugs are removed. Rise the flowers in a colander.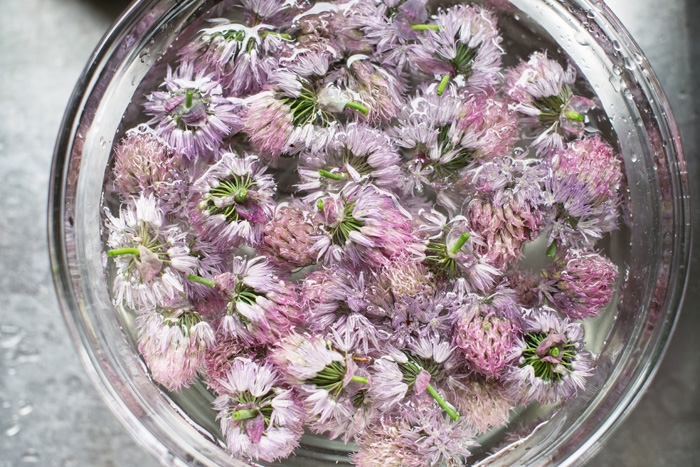 Place washed blooms on a paper towel and gently pat dry.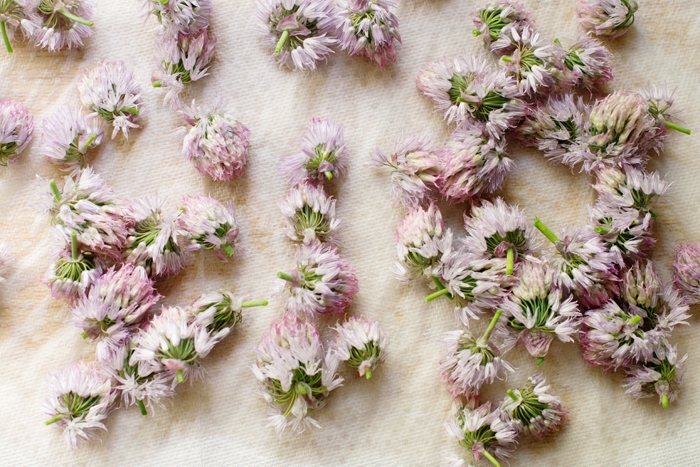 Stuff sterilized mason jar with the blooms.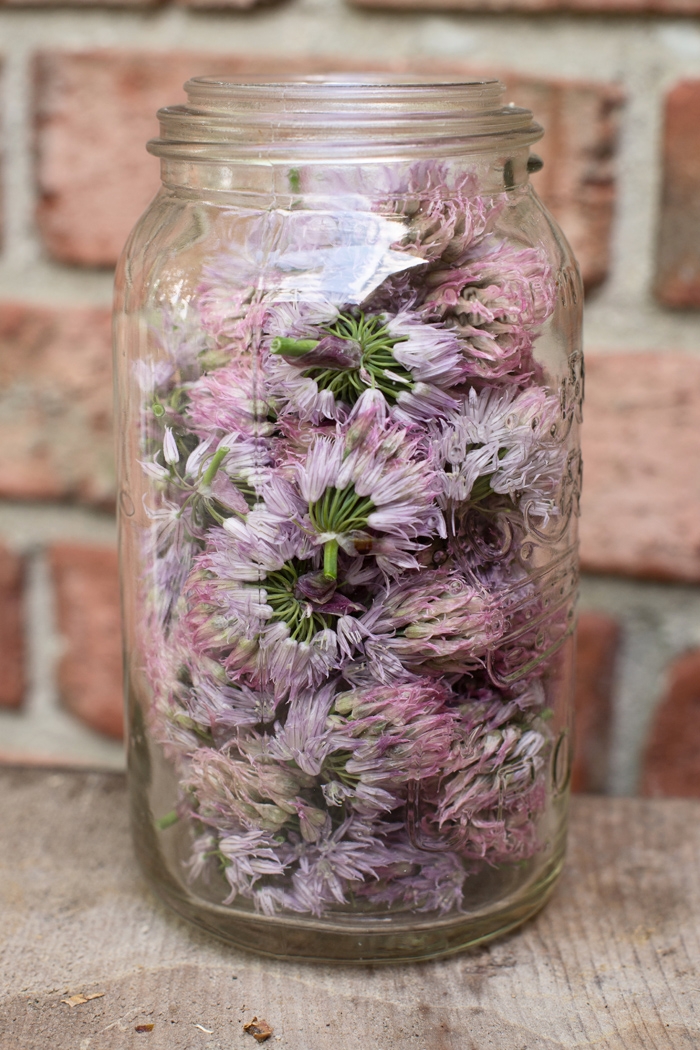 Cover the blooms with warm vinegar, making sure blooms are submerged. Let the vinegar cool. If you don't have a glass lid (our mason jar is vintage, and happened to have a glass lid), place a square of parchment paper over the opening of the jar and screw on the metal top. The parchment paper will prevent the vinegar from coming in contact with the metal lid, which could potentially wreak havoc on your vinegar.  Place the container in a dark, cool spot and let steep for one to two weeks minimum. When the vinegar is ready, strain it through a fine sieve or cheese cloth and pour into a sterilized glass decanter. The vinegar will last up to six months.