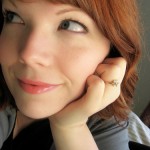 By Carey, IW Bride Blogger
I told Nathan early on that the invitations were probably the most important pre-wedding piece of planning a wedding. Now since he is the real creative one in this relationship, I guess that put a little undue pressure on him because ultimately we are planning a marriage! But it worked to our advantage as I LOVE love love our DIY invitations. They are different. They are us. They are handmade. They didn't break the bank. And, I hope they created a bit of wonderment and discovery for our guests.
We knew we wanted to do them ourselves, and that we didn't have a huge budget. I also wanted Nathan to draw something for them since he is an illustrator. Our first idea was similar but we were using too many ideas to make them – we had photos, post-it notes, writing, stickers. I loved them, but Nathan decided to do a rework one day while I was at the job. When I got home I realized I loved them even more now!
The invitation has 3 parts. The love story (we created a little book about our love story), the actual invitation, and the map. Our materials were chipboard (from Pearl art supply), paper (from Kinkos), stickers (from kinkos), the darling-est "Admit One" tickets (from Papier Valise), book binding tape (from Paper Source), rubber bands, paper clips, dried moss, and card boxes (from Papermart).
If we had planned a little better, we wouldn't have lost some money in "trial and error" with the copy machines at Kinkos. But we made good friends with one of the copy boys, and the invitations sparked Nathan's overall creative energy. The invitations took about 2 weeks to make.
Here ya go!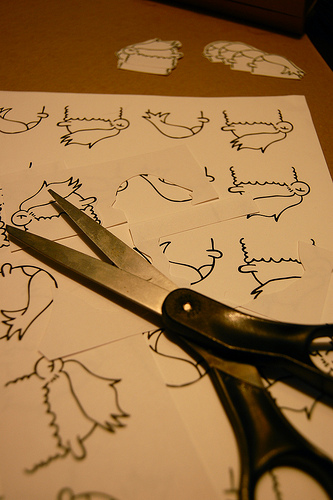 We cut each of the sticker's (Nathan and me) out by hand for the front of the Love Story book.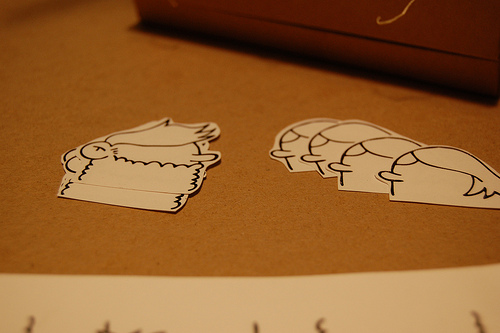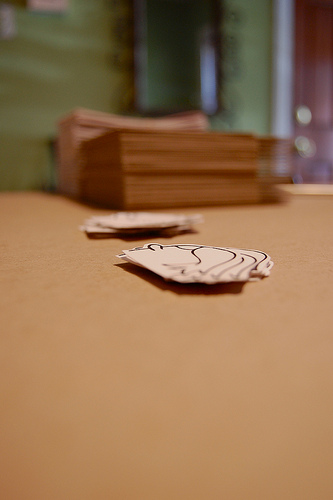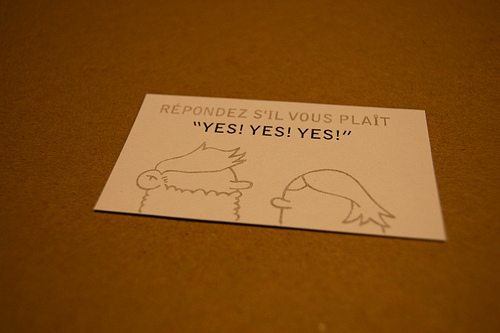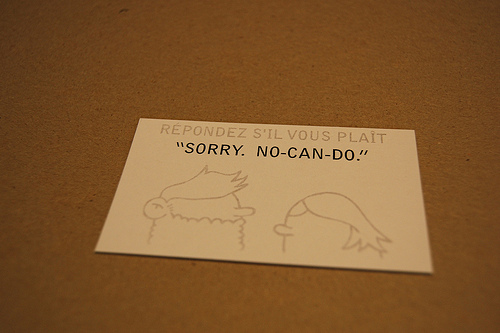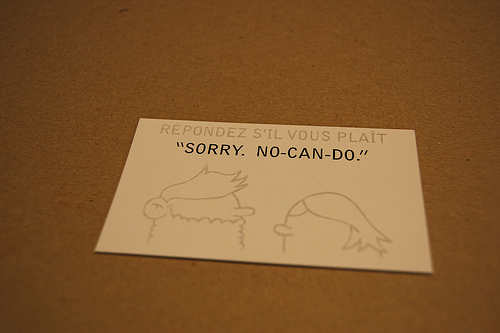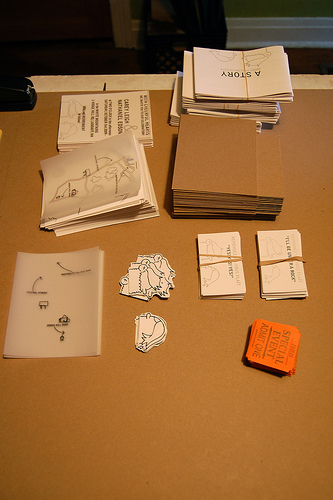 We did about 8 different sayings for the RSVP cards. These were sort of pointless as we had a strong idea already who was going to be able to attend and who was not. We didn't include the normal envelope/return address which might have seemed odd to a lot of people, I know. We just thought they were cute, and said why not?
Up tomorrow…. the final product!