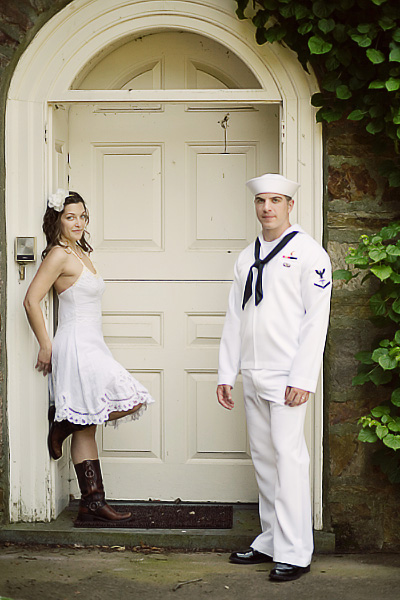 Imagine having one week to plan your wedding! Angelina and Kevin not only pulled it off, their small wedding couldn't have been more personal and meaningful. With Kevin's grandfather as the officiant, the couple had an intimate ceremony amongst immediate family and close friends, followed by a casual reception filled with laughter and good times. What better way to say "I do"?
Angelina, 22 & Kevin, 22
Ambler, Pennsylvania
Wedding Date: Sunday June, 7th 2009
Number of Guests: 26
Wedding Cost: $2,400
Wedding Ceremony Location: Prophecy Creek Park in Whitpain Township, PA
Wedding Reception Location: Angie's home in Ambler, PA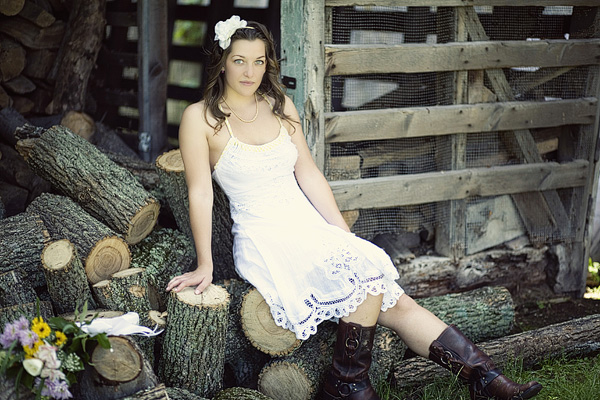 Why did you have an intimate wedding?
We had an original wedding date set for August 1st 2009 with about 80 people. Kevin's orders to be stationed were changed MANY times(first it was Japan, then California, and finally North Carolina) which put our plans of having an August 1st wedding on hold since we weren 't even sure where he was going to be and when. Then he got final orders for NC & we decided to get married when he came home on leave. Reason being is the fact that with the military we never know when he'll be able to come home again. So I had a WEEK, yes a WEEK to plan the wedding. I was going to have an intimate wedding before, but the sudden change in plans made the wedding really intimate.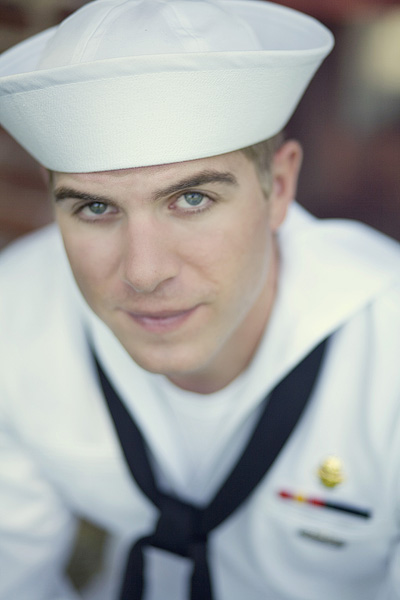 What are some the challenges that you faced planning an intimate wedding?
For me it was the fact that I was planning a wedding in a week. I was frantically calling our friends and family telling them we are getting married June 7th and we are sorry it was short notice, but we would love for them to be there. It was uncomfortable and completely nontraditional, but everyone understood and stood behind us. Another challenge was the wedding dress. I had bought a Melissa Sweet wedding gown for super cheap and I didn't get it altered in time. So I went to King of Prussia mall with my best friend/Maid of Honor and thank God I found something that I can still wear! I stayed up the night before the wedding burning CD's for the wedding(which was not fun), my girlfriends went out that morning to buy me flowers, and thankfully my next door neighbor is a hairstylist. The major challenge was trying to make it look somewhat like a wedding in such short notice.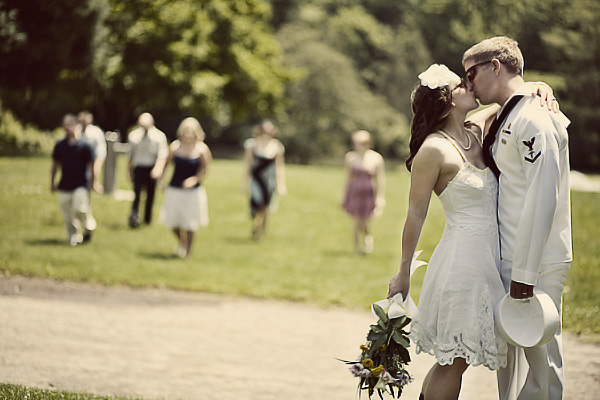 Was it difficult to pare down the guest list?
When we had our original date of August 1st, it was difficult to pare down the guest list. Especially when it came down to children. It was difficult because Kevin and I are young, so telling our cousins who were only a few years younger that they couldn't come because we aren't having kids at the wedding didn't seem fair. Thank  God we didn't have to deal with any of that since our plans completely changed. We didn't invite any aunts, uncles, or cousins. It was just parents, siblings, grandparents, and close friends.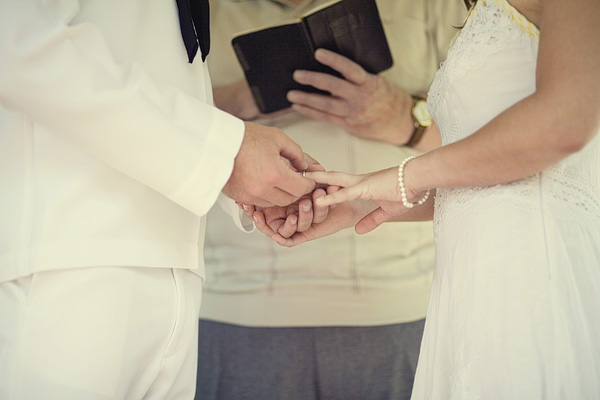 Did you have any 'issues' with the small guest list from friends and family? If so, how did you address them?
We didn't because it was short notice and everyone understood that. The only "issue" I had was the fact that my mother was not there. We had planned on having a second wedding, so I told my mother who was in MN not to worry about coming because I was going to have another one. Honestly, that was the biggest mistake I have ever made because after the wedding was over my husband and I decided that things went so well we shouldn't worry about another one. So ANYONE having a wedding, and thinking of having a second –  think twice. As for addressing it? My only thing to "fix" it was to remind my mother that I'll be having many more milestones in life that she'll be apart of. Like buying a home and having kids.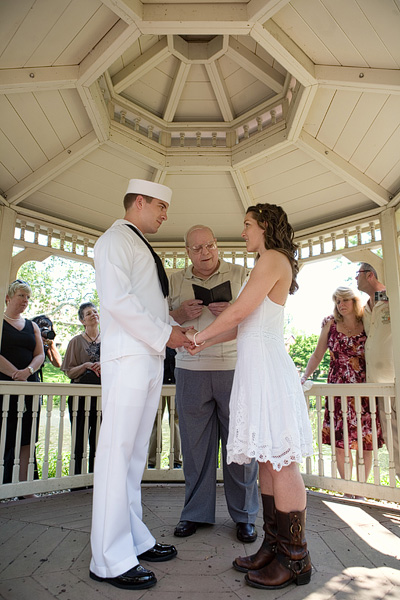 What were the highlights of the ceremony?
This gets me teary eyed even as I type, but the last moment with my dad is something I'll never forget. We were all alone on top of the hill while everyone was waiting, and he looked in my eyes with his big brown teary eyes and gave me the most beautiful speech a daddy's girl could ask for. The other part of the ceremony, and one reason why we wanted to get married as soon as possible, was the fact that Kevin's grandfather married us. He later told us we were his last couple he was going marry. I always loved the idea of having our loved ones form a circle around Kevin and I as we pledged our vows to one another. By having such a small wedding I was able to have just that. Last, but most important, the best moment was seeing Kevin in his dress whites vowing his life and love to me. That look he gives me tells me without words that I'm his world.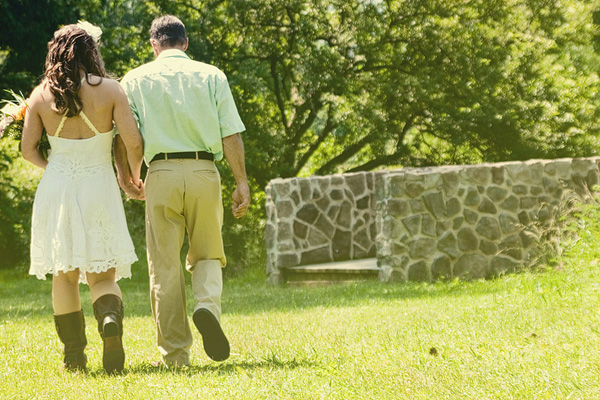 What were the highlights of the reception?
Our first dance as husband and wife was special because it was to a song that we first danced to and both times were very intimate moments. After our dance I told everyone to change into something else if they were uncomfortable in their dress pants and dresses. I wanted the rest of the day to be laid back and FUN! I wanted two families to mingle and they did just that. The best moment was when we heard the ice cream man. Kevin ran after it, then me, then my sisters, dad, niece, and nephew. We were all kids again at that moment. We all put funny hats on and played Bocci & Catch Phrase, drank, ate, & LAUGHED! I was able to socialize with everyone and spend quality time with Kevin, which does not happen very often with him being away in the military. In fact I had a close friend tell me if she could re-do her wedding she would have an intimate wedding.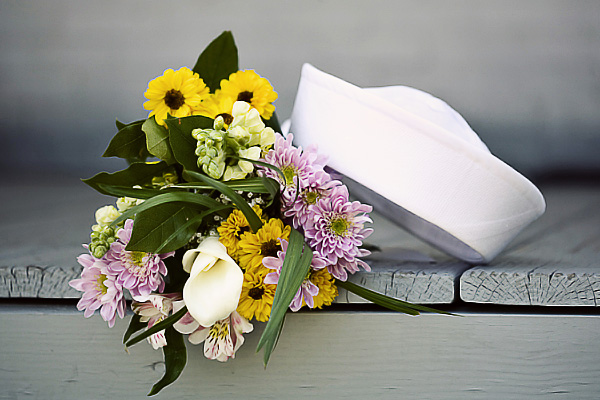 What was the best thing about having an intimate wedding?
EVERYTHING! by the time the wedding day came nothing bothered me. If something didn't go the way I planned or hoped for, I didn't complain about it. The less I put into the wedding the less I stressed about it not going "my" way. You know that saying: "If you want to tell God a joke, tell him your plans." A wedding is just that. And by not having a large, expensive wedding I was able to focus on what was important: marrying the love of my life.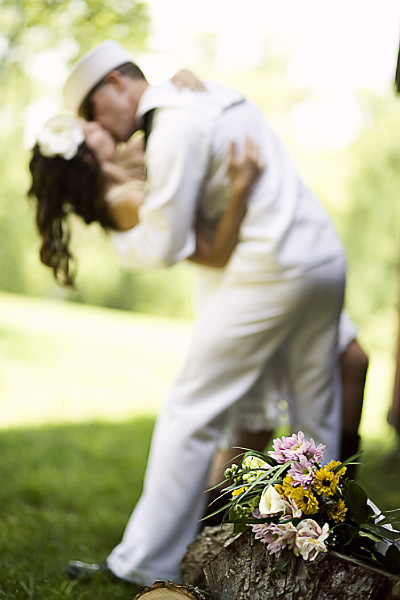 What advice do you have for couples who are considering an intimate wedding?
Make sure you have longer then a week to plan (lol). But don't allow the wedding industry tell you that you have to do this or that, buy this or that, or have this or that. There is no rule book with weddings, and the more fun you have with it, the less stressed you'll be. If you want to impress other people, make it as unique as possible.
Vendors:
Photographer: Isabel March
Food: Friends and Family
Wedding Attire: Bride Free People & boots from Frye (Bride); US Navy (Groom)
Ceremony site: Prophecy Creek Park, Whitpain Township
Reception site: Home in Ambler, PA
Cupcakes: Friends
Camera cake (given to photographer as a thank you): The Murphy Girl's Sweet Shop