By Amanda Colyer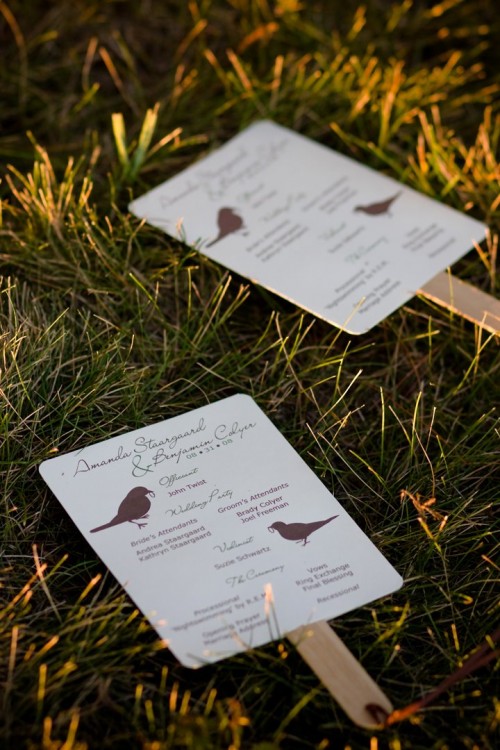 For our DIY Wedding
programs, I wanted to keep it simple and inexpensive, but still provide my guests with some entertainment. I decided on fan programs — with a fun twist — after seeing some great examples on the web.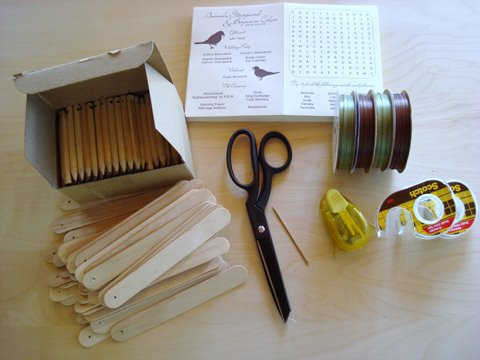 Materials for DIY Wedding Programs:
– A2 sized folded cards (or card stock
cut to size and folded)
– Golf pencils
, pre-drilled with holes wide enough for ribbon to pass through
– Popsicle sticks
, also pre-drilled
– Scissors
– Needle with a large eye
– Corner Rounder Punch

– Thin ribbon
– Double Sided Tape
Note: A2 is a great size because there's room for content, but they're not so big that they're floppy. If you go with a different size, make sure that when folded, the programs will be sturdy enough to write on.
Designing my programs was a snap with Microsoft Word. On the front, I put the basics – names, ceremony details, and bird graphics to match our wedding theme. To jazz up the back, I came up with three wedding related games for our guests to play while they waited for the ceremony to start: a Mad Lib, a fill-in-the-blank, and a word search.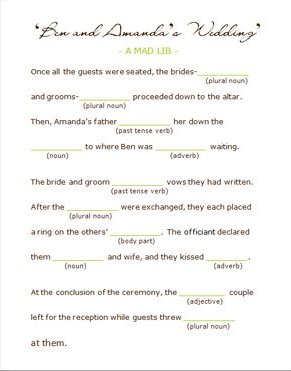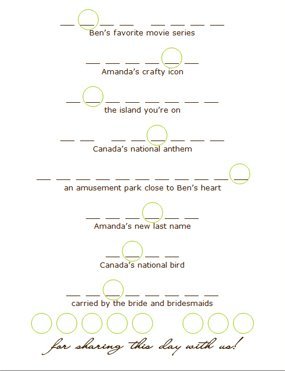 I had tons of ideas for games that I ran out of time to use. How about a crossword puzzle, Sudoku, maze, or connect the dots?
Once you've designed your programs (making sure to fit the card dimensions), print the front and back onto the outside of the cards. I used my regular ink jet printer
and had no problems.
To start assembling, open up a card and put double stick tape on three sides.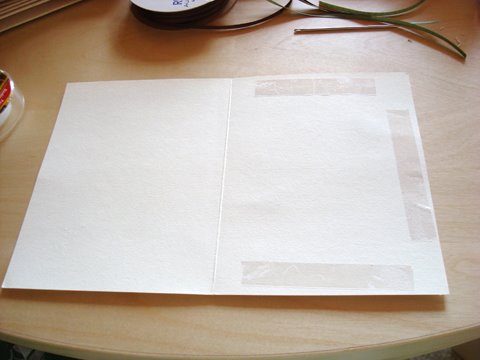 Then put double stick tape on both sides of a popsicle stick, covering about half of the stick. Center on the card and press in place.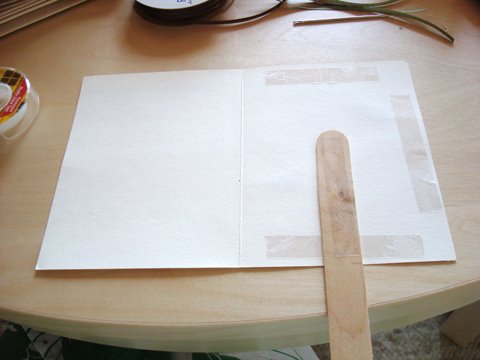 Close the card, pressing to seal the edges.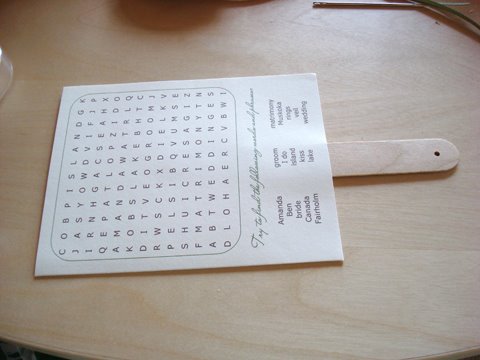 Using the corner rounder punch, carefully round all four corners.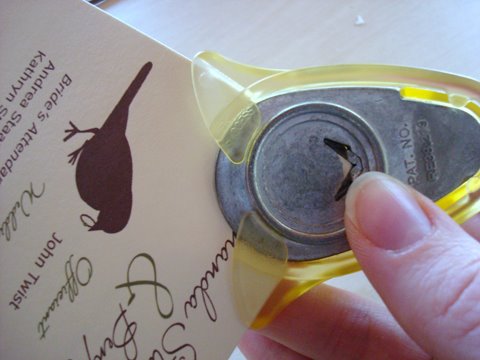 Cut a piece of ribbon that, when halved, is long enough to reach from the end of the popsicle stick to the end of the pencil, while still allowing enough slack to write on the program.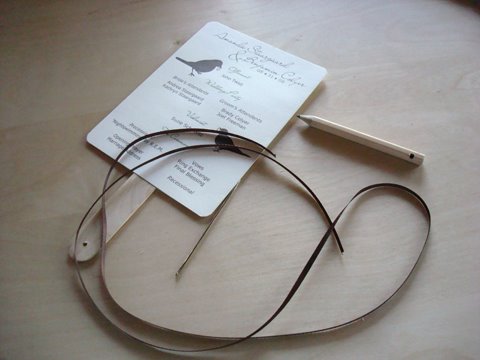 Thread the halved ribbon through the hole in the popsicle stick.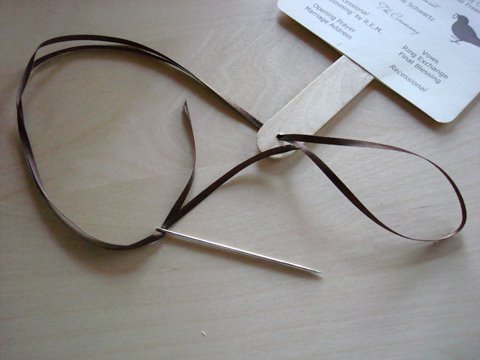 Use a lark's head knot to secure.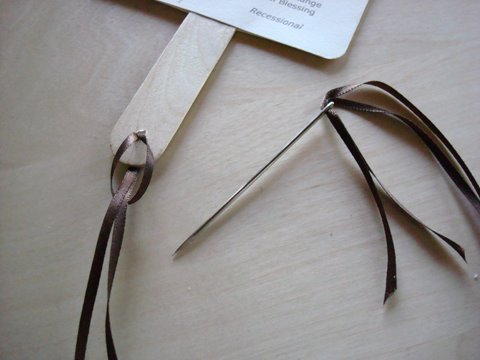 Thread the two cut ends of the ribbon of the ribbon through a golf pencil.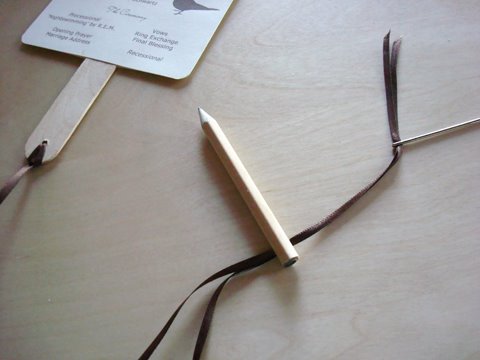 Knot the ends to secure, then trim.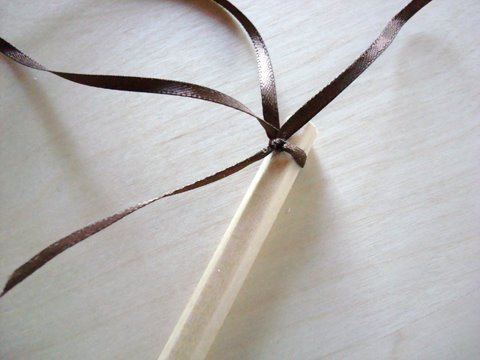 Here's the back of a finished program. Word search, anyone?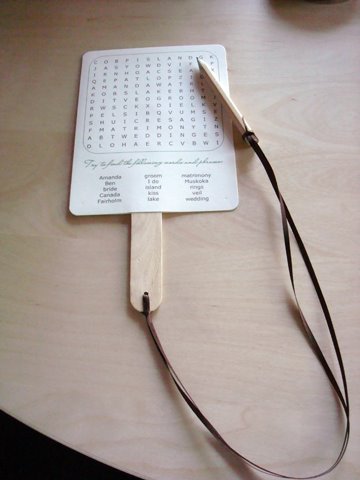 And the finished stack of about 50 wedding programs.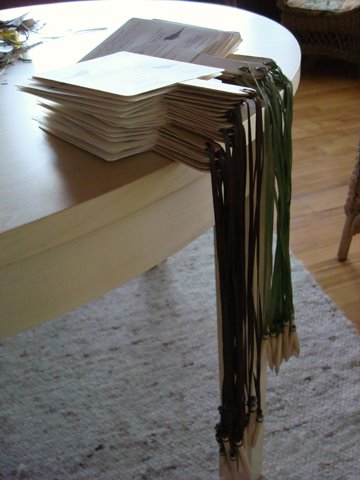 Our guests loved them! I had people coming up to me during the reception to read me their wedding Mad Libs. We got such a kick out of the reactions to these programs — I'm really glad I took the time to do them. They were quick and easy to put together, and total cost ended up being around $25 for 50 programs. The hardest part was drilling holes in the pencils and popsicle sticks. I'm dangerous around power tools, so my husband very nicely did them for me. And isn't helping each other what marriage is all about?