By Kathryn Storke, Snippet & Ink
Here are some of my DIY favorites:
CAKE STAND BORDER
I love paper, and all of the many forms it takes. This pretty cake stand border is such an easy way to dress up an otherwise simple cake, and all it costs is the price of paper and a pair of scissors. For complete DIY instructions go to Craftstylish.
FAVORITE DIY WEDDING
This is one of those weddings that comes together so perfectly, you would never know that the bride did almost everything herself – and on a reasonable budget! It doesn't hurt that one of my favorite photographers (Punam Bean Photography) captured it all on film. See more photos of this DIY wedding here.
CREPE PAPER FLOWERS
Not only are these beautiful, but they won't wilt, so you can make them as far in advance of your wedding as you're able, and they will stay a fresh keepsake for you or your guests long after the wedding is over. (Crepe paper daffodil by Jordan Ferney; Shaped crepe paper flowers by Martha Stewart Weddings.)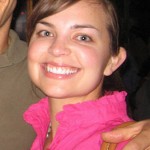 Snippet & Ink started as a creative outlet for fun, but I'm lucky enough that something I enjoy so much has also become my full-time job. Snippet & Ink is a blog of daily wedding inspiration, in the form of inspiration boards and real wedding features. It's a place where, hopefully, people can see how many different ways there are to have a wedding, that there's no one right way to do it, that simple can be beautiful, and that inspiration can be found anywhere. I suppose my sense of color and design comes from my mother, an artist and interior designer, and her various creative friends – I grew up surrounded by women who taught me an appreciation for beauty and thoughtful details.
Save