By Jaime Haywood, It's a Jaime Thing
DIY BOTTLE & VASE DECOR, WINE CORK DECOR & MORE
 Using Modge Podge and a paint brush, you can apply anything from tissue or wrapping paper, magazine clippings, pictures and more to decorate wine bottles, vases, glass candle holders, gifts and other items for your wedding!  I've enjoyed making personalized bottles for friends using Modge Podge, as a little keepsake of memories all glued together.
 Recycled wine bottles are wonderful to use as vases for your wine themed wedding!  You can also dress them up by tying ribbon around the neck of the bottle, complete with a bow, brooch or rhinestones appliques!
 Ask friends and family members to save their bottles or wine corks for you.  With wine corks, you can create cake stands, picture frames and placecard holders or use them as fillers for the bottoms of your centerpiece vases!
 DIY PHOTO MAGNETS, ORNAMENTS AND PICTURE CONFETTI
Using metal favor tins, you can create all sorts of fun little treasures to use as decor, favors or gifts.  To make the ornaments, I just popped out the plastic from the lids on the favor tins, tied a ribbon, then popped the plastic back in.  I cut photos into circles to fit the shape of the tin, then popped the picture in.  I used the white round stickers that came with the favor kit to place on the back of the photo and write things such as "Christmas 2008?, etc.
Ornaments don't have to be used only at Christmas, either!  Use them to hang on tree branches for your centerpieces, perhaps with a picture of each guest or as the start of a family tree.  When the wedding is over, let one family member from each table take the tree home as a keepsake!
To create magnets as favors, use the back of the favor tin, you know – the part that holds the candy.  Place the picture (with tape on the back) inside the tin like you would candy.  Then cut old magnets from your fridge and superglue them to the back of the tin…wa-la!  Instant photo magnets!
 Looking for something a little easier?  Print out special or fun photos from your computer and use a round object to trace a circle over the center of your picture.  Cut the circles out and scatter across your tables to use as large photo confetti.  Fabulous, creative and fairly affordable!
 DIY SEXY CANDLES IN A CINCH!
These candles are so fun to make and make excellent bridesmaids gifts or bachelorette party decor!  All you'll need is a hole puncher, some pretty cardstock or vellum in the pattern or color of your choice, ribbon and whatever embellishments you'd like to add.  Simply cut the paper to fit the candle, leaving a small space so you can show off the ribbon when you lace it up like a corset!  Gorgeousness.  Throws a whole new spin on the phrase, "mood lighting"!
 DIY DO NOT DISTURB DOOR SIGNS
Create adorable "Do Not Disturb" signs for the guests to hang on their hotel doors after the wedding is over.  Print a funny message like we did for my cousin's wedding saying, "Do Not Disturb, We Partied All Night At The K.S..R Wedding!"
 Simply design the message on computer paper and place over cardstock and secure with ribbon through the top long enough for guests to tie around the door knob.  They'll love being able to sleep in the next morning!
 The fun doesn't stop there, visit the wedding blog I write at www.itsajaimething.com for even more wedding inspiration, ideas and all things creative, including several other of my favorite DIY Ideas.  Happy crafting!  ~Jaime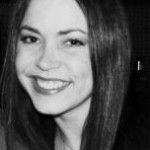 "Hi Everyone!  My name is Jaime, I'm a wedding blogging, high-heel wearing, dark chocolate loving, red wine drinking Chicago girl who loves to plan, create, try to inspire and make people smile!  I write the wedding blog at It's a Jaime Thing I created "It's A Jaime Thing" to help organize all of my ideas, creative findings and inspiration into one spot.  I continue to write daily not only because I enjoy it, but also to hopefully inspire others along the way!"
Save