By Sara Cotner, 2000 Dollar Wedding
I undertook several DIY projects for my wedding, including our embroidered life story around the bottom of my dress, my partner's tie, our invitations, flower pins for the wedding party, name tags for the 'Welcome Picnic', program fans for the ceremony, wedding favors, a wedding quilt, cloth napkins for the reception, our wedsite,  and a ring pillow.
Not only did these projects help us save money, they also allowed us to infuse our wedding with meaning. With each project, I found myself working through the same stages.
Stage One: Pure Excitement
I love the brainstorming phase. I love conducting research on Google to read how-to tutorials (I usually undertake projects I have no experience with). I love searching for ideas and sorting through pictures of other people's  amazing crafts.
Stage Two: Self-Doubt
Sometime during the brainstorming stage, I look at everyone else's stuff and wonder if I'll be able to make something half as good. I start to get mired in all my ideas and flounder a bit because I'm a perfectionist and I'm always striving for the one perfect thing.
Stage Three: Commitment
My Jiminy Cricket voice reminds me that there's no such thing as "the one perfect thing" in arts and crafts (I haven't gotten to the stage in my development where I'm willing to admit that about everything else in life…hmm…). I decide on an idea and I commit to doing it.
Stage Four: Pure Fun
It can be relaxing and meditative to do crafts. Sometimes I reconnect with friends or family while I cut or sew or embroider. Sometimes I just think through the day. Other times I just let my mind go blank and sing along to the stereo. I think, "This is fun! I'm so glad I started doing this." In my highest moments, I start scheming ways to turn my crafts into a business. I start thinking through the details of making millions of them.
Stage Five: Regret and Frustration
Sometime in the middle of all the fun I'm having, I start to realize that I have undertaken something that requires way more work than I realized. And it's hard. And it stops being fun. And I'm making mistakes. I even play a little game with myself. It goes something like this: Self, "How much would someone have to pay you to get you to make one of these for them?" Depending upon how deep into the stage of regret I'm in, my answer is usually along the lines of a thousand or a million dollars (that's how frustrated I am!).
Stage Six: Sheer Pride
And then the damn thing gets done. And it's not perfect. It's crooked or smaller than I anticipated or not as comfortable as I thought it should be. But I am so, so proud of producing something useful with my own two little hands. I end up feeling more connected to myself and the world around me. The best part is I get to re-live the sheer pride stage over and over again whenever I pass by the aforementioned craft.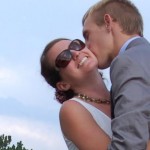 When Sara Cotner and her partner-in-crime/crafting decided to tie the knot, they resisted the pressure to create the wedding of someone else's dreams and instead forged their own path in a budget-minded, eco-friendly, hand-crafted way. Attempting to steer clear of the Wedding Industrial Complex and avoid losing their sanity and savings, they pulled off a weekend wedding extravaganza in the mountains of Colorado for a whopping $2,000 and bought their first house two days later. Sara advocates daily for meaningful and memorable weddings that focus on community, commitment, connection, and fun at http://2000dollarwedding.com. Her part-memoir, part-how-to handbook is due out this spring.
When she's not thinking about weddings, Sara is a tomato-growing, yogurt-making, vintage pottery-collecting, Scrabble-playing, document-producing, fondue-eating, bloodhound-babysitting, dishtowel-knitting crafter and creator who spends her days closing the achievement gap as an educational consultant.
Her crafting compulsion started at age eight when she read Ramona Quimby and decided to take up sewing. She proudly produced her first scrunchie (it was, afterall, the 1980s). Now she dabbles in knitting, sewing, stamp-making, embroidery, appliqué, graphic design, magnet-making, and anything else that has an internet tutorial.
Save